Main Dishes
Main dishes recipes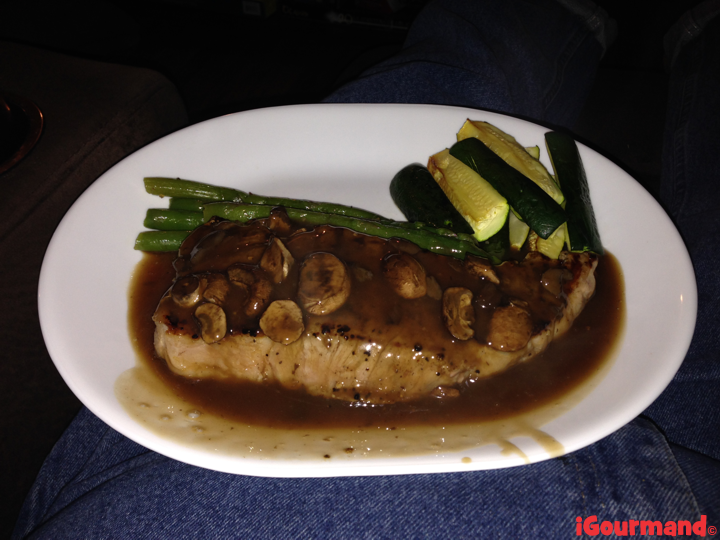 (December 2014)
2 New York Strip
Montreal Steak Seasoning
Zucchini
Asparagus
Red Wine Mushroom Sauce
Lucito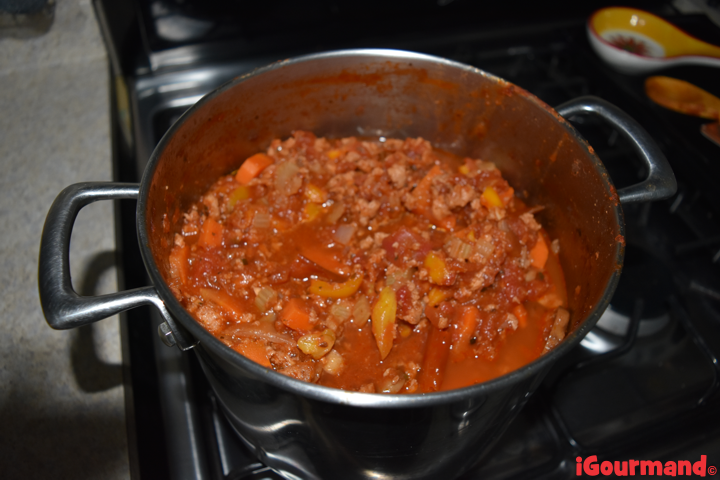 Ingredient
1 pounds soybean meal
1 onions red chopped
2 carrots chopped
3 celery chopped
3/4 pound mushrooms chopped
1 sweet yellow pepper chopped
5 medium cans tomatoes crushes
1 larges cans whole peeled tomatoes
6 chile de arbol
3 tbs dried sweet basil
3 tbs dried oregano
3 tbs dried chive
2 tbs dried mustard
2 tbs dried lemon & pepper salt
2 tbs dried cilantro leaves
1 tbs white pepper
4 garlic minced fine
1/4 cup olive oil extra-virgin
Preparation
1. Chopped & vegetables
2. Cooks soybean meal & olives oil
3. Melt onions & garlics
4. Put ingredient in larges pot
5. Cook very low simmer open for 2-3 hours
Lucito
New Year 2018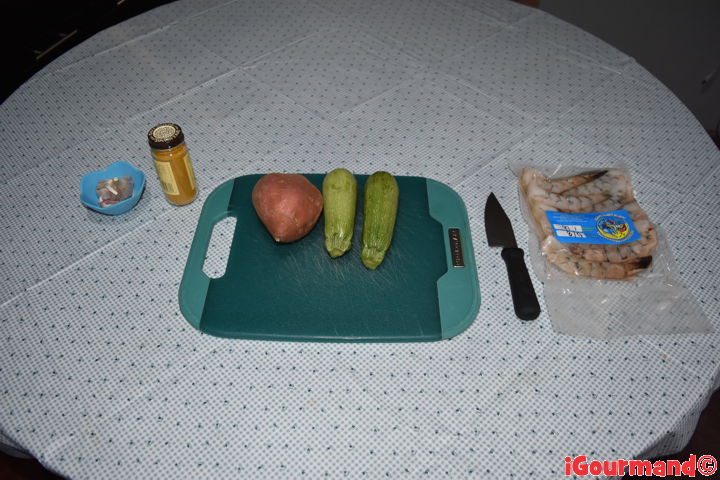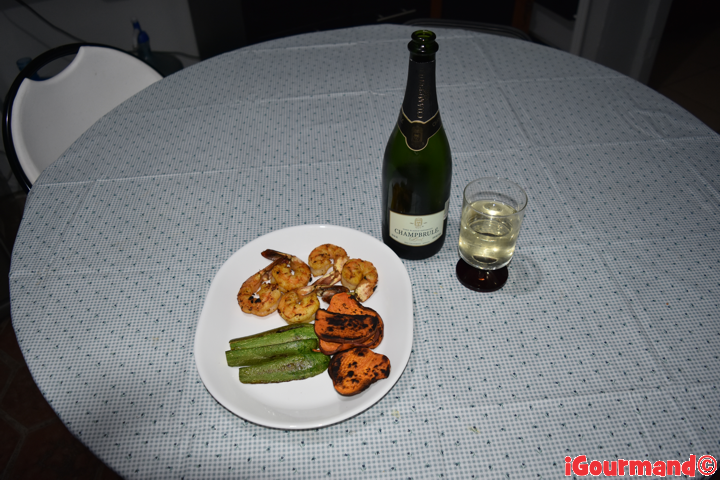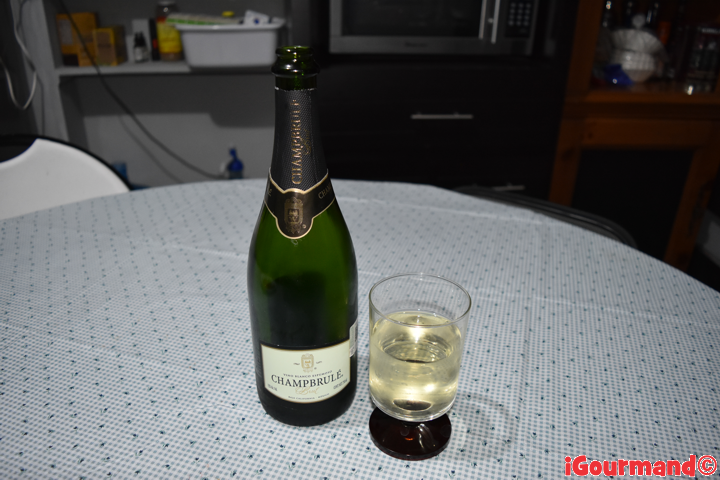 Ingredient
9 giant shrimp
3 cloves garlic
1 sweet potato
2 zucchini
Curry
Olive oil
Preparation
1. Zucchinis 4 cut lengthwise.
2. Sweet potato cut rounds of thickness.
3. Garlic chopped.
4. Giant shrimp towels.
5. Sweet potato, olive oil fried skillet.
6. Zucchini, olive oil fried skillet.
7. Giant shrimp, olive oil fried wok.
Lucito
Ingredient
1 diced onion
2 tbs dried sweet basil
2 tbs dried chives
4 oz mushrooms sliced
4 eggs, lighty beaten
1 cups half and half
6 oz Smoked Atlantic Nova Salmon
3 oz Baby Swiss
3 oz sharp cheddar
3 oz extra shard cheddar
1 unbaked 9 inch pie crust
salt and pepper
Preparation
1. Preheat oven to 425 degrees F (220 degrees C).
2. In a medium bowl, whisk together eggs, half and half, salt, pepper, basil, chives, onion, salmon and cheese.
3. Pour mixture into pastry shell.
4. Bake 15 minutes in the preheated oven. Reduce heat to 300 degrees F (150 degrees C), and bake an additional 30 minutes, or until a knife inserted 1 inch from edge comes out clean. Allow quiche to sit 10 minutes before cutting into wedges.
Lucito
Ingredient
2 pounds minced beef
4 onions chopped
4 carrots chopped
4 celery chopped
3/4 pound mushrooms chopped
1 sweet green pepper chopped
1 sweet yellow pepper chopped
2 larges cans tomatoes crushes
1 larges cans tomatoes
2 cans concentated tomatoes pasted
2 oz double concentated tomatoes pasted
3 bay leaves
6 chile de arbol
2 tbs honey
4 tbs dried parsley
4 tbs dried sweet basil
4 tbs dried oregano
4 tbs dried thyme
2 tbs dried mustard
4 cloves
4 garlics minced fine
1/2 cup olive oil
Parmesan
Preparation
1. Cooks meat & olives oil
2. Melt onions & garlics
3. Put ingredient in larges pot
4. Cook very low simmmer open for 3-4 hours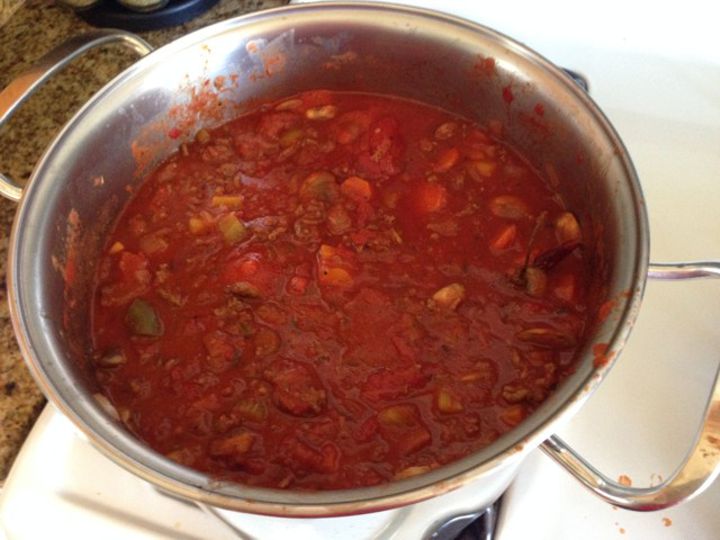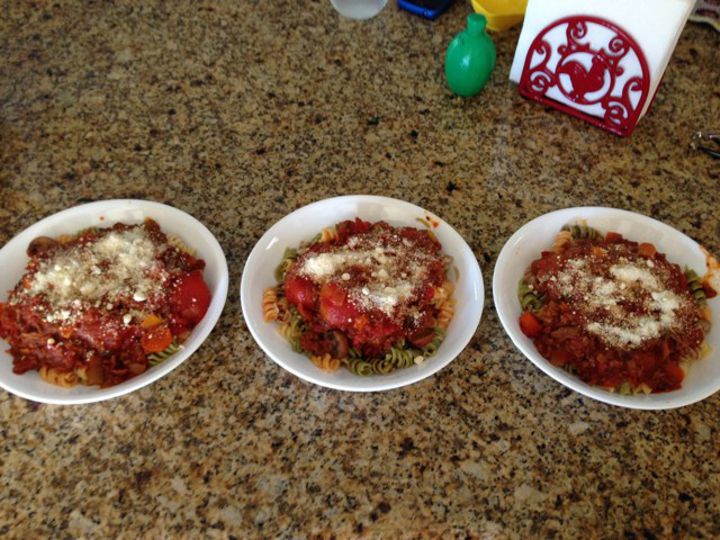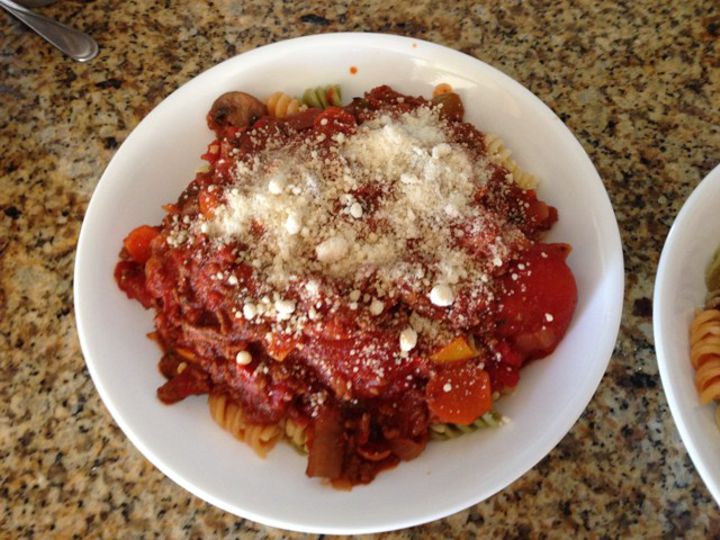 Lucito
Today's day is only marginally going better than yesterday's, but I prepared a decent meal anyways. I was not sure what the fish I thawed yesterday was, as I have the bad habit of putting stuff in zipper bags and then freezing them and trying to rely on my memory to know what it is. It does not work and I really need to make an effort to start systematically labeling things with content and freeze date as opposed to only occasionally do it.
It turned out to be one of the last pieces of local "dorado" (mahi-mahi) from the over 1 meter fish we bought some months ago. At the same time we also bought a few large "huachinango" (red snapper). We are now down to our last few packs, so we need to plan another trip to the central fish market. The two pieces in the pack were from the tail tip of the filet and not well cut to cook as a whole.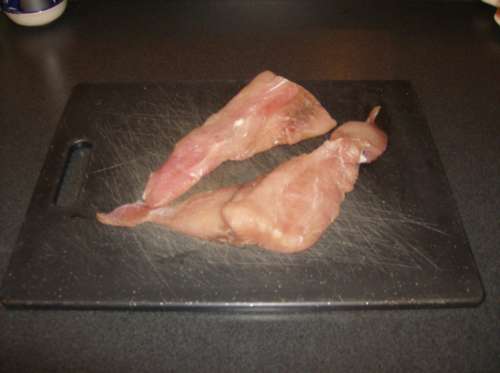 Yesterday I had though of baking them in a tomato sauce, but today I was pressed for time and I wanted something quicker to prepare and something that gives a satisfying crunch when eating, as everybody knows that crunchy food is fun food. I decided to cut the pieces in small chunks, then bread them quickly with some savory breading.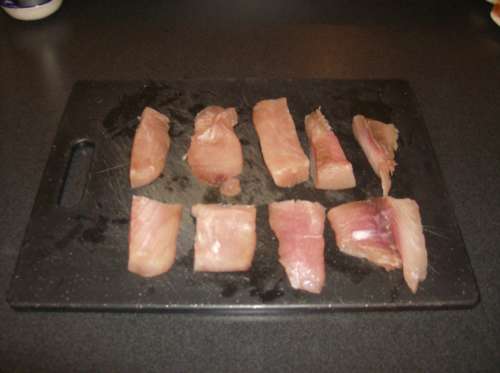 I prepared a quick bound breading with first some flour mixed with garlic salt, herbes de Provence, citric chile powder and white pepper to lightly flour the pieces. I them passed them through a wash with eggs mixed with a bit of sesame oil, salsa "Maggi", and heavy cream. Then I completed the bound breading with some hand-crushed Corn Flakes.
I pan-fried the fish in a few tablespoons of soy oil and it yielded incredibly crunchy pieces of fish with a moist juicy interior. I served it with the leftover sweet potato purée from 2 days ago. It turned out to be an very quick and easy meal to prepare that was very satisfying and very tasty.
Lucito
I am about to go to the kitchen to prepare the meal and I am starving. I have been working in the office preparing various proposals since early this morning and I have yet to take a 5 minute break, so I feel understandably lightheaded.
When I got up I thawed some of those thinly sliced pork chops we bought on sale last weekend. I plan to bake them with some fresh pineapple we bought at the same time. I am not sure exactly yet how I will do that, and I will let whatever inspiration that hits me when I actually start cooking take over.
If it turns out well I will post the results later this week. Wish me luck…
Lucito
As mentioned yesterday we found some great pork meat on sale and bought various cuts enough to make 7-8 meals. What we will have today is deboned pork rib halves that looked very tasty.
We only paid around MN$55 a Kg for them (~US$1.90 a pound) and they look and feel very juicy. I am not sure how I will cook them, as I would love cooking them on the barbecue, but around here it is very difficult to plan this ahead of time as it might be raining by the time we are ready to eat, or it might be too windy. We'll see what happens and depending on the weather or my mood I will either do them outside as planned or in the oven.
As it is somewhat hot these days I wanted to prepare them in a lighter way so I prepared a marinade inspired by the high temperature. It is based on tangerine juice, with some "piloncillo" (raw cane sugar cones reconstituted in boiling water to form a heavy syrup reminiscent of molasses), Sambal Olek (oriental chili paste), soy sauce, sesame oil, a roughly pealed piece of fresh ginger, powdered "chile ancho" and citric zests, salt and pepper with lime zest. The result as a somewhat sweetish marinade with a bit of bite to it. Perfect for the weather. The meat is currently marinating in the refrigerator and in a few hours I will just turnover the meat in it so it is well marinated and whenever it is time I will decide how to cook it and what garnishes I will make.
If the results are great I will post the full recipe in the coming weeks…
Lucito
As mentioned yesterday in the "Daily Express", Normita prepared some of her great pozole rojo with a quick recipe that is a little bit less traditional in preparation, but that yields exceptional results. It is less heavy than the traditional recipe we make on special occasions as it is only made with chicken instead of chicken and pork. The traditional recipe is available here and has been the all-time favorite recipe on this site for many years.
Here is the illustrated version of Normita's quick recipe…
You can seen the bag of pre-cooked corn, the chiles, the chicken before removing the skin and fat, and the dry ingredients. Even though the corn is said to be pre-cooked, what it really means is that the though skin has been removed with lie and it has been blanched. It still requires many hours of cooking to be tender.
The corn requires washing very well as it still has some lie that was used to remove the tough skin. It is washed in the pot with at least 3 changes of water until the water comes out clean. This also has the advantage of removing all the little particles and bits of stuff left from the processing. You then add the condiments.
Once the condiments are added, you then add your water.
The corn is now ready to cook and you let it simmer gently on a low setting for at least 2 hours.
After about an hour that the corn is cooking, it is time to prepare the chicken. In another pot put the chicken, the condiments, and cover it with water. simmer on a low setting for about an hour. The corn and chicken should normally be ready about the same time.
When the chicken and corn is about done it is time to prepare the chiles. First you need to devein and seed them. You then wash them very well under running water. Then are then placed in a blender covered in water and reserve them until you are ready to use them.
By now the chicken and corn should be ready. Remove the chicken from the cooking stock and place in a large bowl to cool down.
You then pour the stock from the cooked chicken into the pot with the cooked corn.
It is now time to finish preparing the chiles. Put the chiles with water in the microwave and cook at high for about a minute and a half until the liquid is boiling. Blend the chiles until you have a smooth liquid and pour that liquid in the pot with the corn through a fine sieve. Mix well and your pozole is ready.
The pozole is now ready and you need to prepare the traditional garnishes. These include finely diced onions and radishes, chopped avocado, shredded lettuce, oregano, fresh limes cut in half, and hot sauce (in this case Normita's favorite "Valentina"). The garnishes are put in bowls that are placed on the table and the people add to their bowl of pozole what they want. The chicken has now cooled down enough to shred with your fingers in small pieces, so it is time to do so.
Finally we are ready eat! To serve you place some of the shredded chicken at the bottom of a large soup bowl. You then ladle a generous amount of corn over it and then cover with some of the broth.
Now the fun begins at the table and you now place all the garnishes you wish in your pozole and then top with a generous helping of shredded lettuce. You then mix well and enjoy an heavenly bit of Mexican traditional food. If you wan to be even more traditionial you can prepare yourself a few tostadas topped with some heavy clotted cream and a sprinkling of salt to go with it.
After preparing this post on pozole I am now starving. Luckily it is now near our lunchtime and we have some leftover pozole from yesterday that should be even better than freshly cooked. I am really looking forward to it.
Here is the recipe again step by step…
The pozole
Ingredients
1. Complete chicken breast with skin and fat removed
2. 1 Kg bag of pre-cooked pozole corn
3. 1 chile ancho
4. 1 chile pasilla
5. 1 chile guajillo
6. 1 1/2 tbs dessicated garlic
7. 1 tbs dried oregano
8. 3 tbs dessicated onions
9. 2 tbs powdered chicken broth
10. 8 or more cups of water
11. Water to cover the chicken
Instructions
1. Place the pre-cooked corn in a large cooking pot
2. Wash it well changing the water at least 3 times until the water is clean
3. Add the oregano, 1 tbs garlic, and 2 tbs of onions
4. Add the 8 cups of water and simmer for at least 2 hours on a low setting you might need to add some water as it evaporates and gets absorbed by the corn
5. After about an hour than the corn is simmering place the chicken breast in another pot
6. Put the remaining onions and garlic and the powdered chicken broth
7. Cover with water and simmer on a low setting for about an hour until the chicken is well cooked. Add water if the level goes down too much.
8. Around the time that the chicken and corn are ready, seed, devein, and wash the chiles well
9. Place the cleaned chiles in a blender and cover them in water and reserve them until ready
10. Remove the chicken from the cooking stock and place in a large bowl to cool
11. Pour the stock from the cooked chicken into the pot with the cooked corn
12. Microwave the chiles and water for about a minute and a half on high to bring the water to a boil
13. Blend the chiles until you have a smooth paste
14. Pour the chiles in the pot with the corn through a fine sieve
15. Mix well the finished pozole in the pot
Garnishes and How to Serve
Ingredients
1. Shredded cooked chicken breast
2. Finely diced onions
3. Finely dices radishes
4. Oregano
5. Shredded iceberg lettuce
6. Chopped avocado
7. Fresh limes
8. Hot sauce
9. Tostadas
10. Heavy clotted cream
11. Salt
12. Pozole
Preparation
1. Once cooled shred the cooked chicken breast with your fingers into small pieces
2. Prepare the various garnishes and place in individual bowls
3. Place some of the shredded chicken in the bottom of large bowls and cover with cooked corn and broth
4. At the table add the garnishes of your choice to the pozole, mix well and enjoy with some tostadas with a buttering of heavy cream and a dash of salt
Lucito