Main Dishes
Main dishes recipes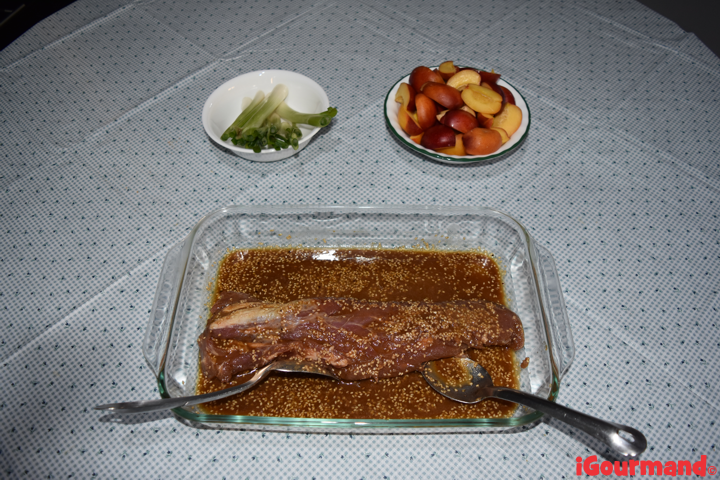 Piece A
Ingredients
1 1/2 to 2 pounds pork tenderloin
6 nectarines, quartered and pitted
10 cambray onion
3 tbs Tequila
2 tbs Hoisin sauce
2 tbs soy sauce
2 tbs sesame oil
2 tbs grated ginger
2 cloves garlic
3 tbs roasted sesame seed
Preparation
1. In a small bowl, combine nectarines, cambray onion. Tequila, Hoisin sauce, soy sauce, sesame oil, ginger, garlic and roasted sesame seed.
2. Cut pork 1/2 lenght.
3. Place pork tenderloin in medium casserrole dish.
4. Coat with marinade. Cover casserolle dish with plastic wrap. Refrigate at least 2 hours.
Lucito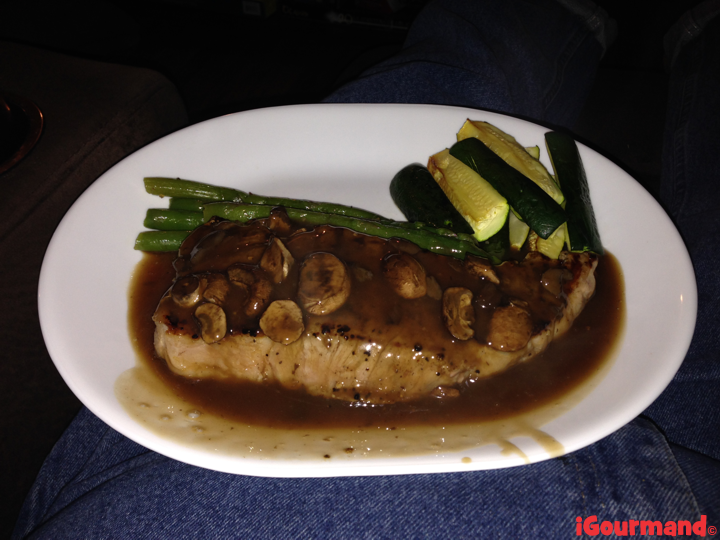 (December 2014)
2 New York Strip
Montreal Steak Seasoning
Zucchini
Asparagus
Red Wine Mushroom Sauce
Lucito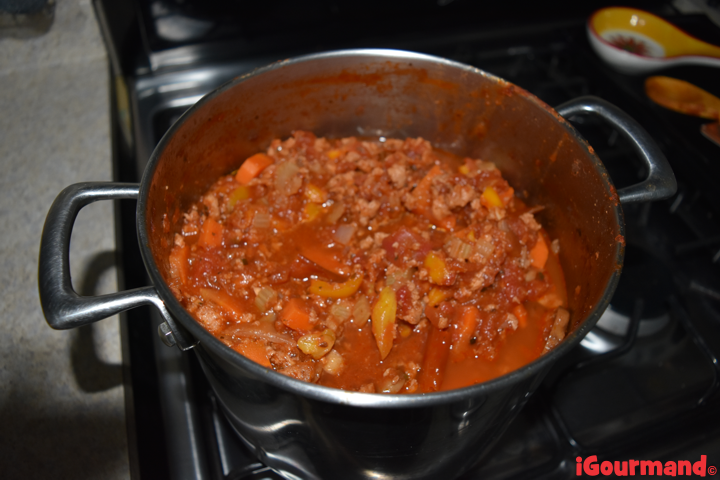 Ingredient
1 pounds soybean meal
1 onions red chopped
2 carrots chopped
3 celery chopped
3/4 pound mushrooms chopped
1 sweet yellow pepper chopped
5 medium cans tomatoes crushes
1 larges cans whole peeled tomatoes
6 chile de arbol
3 tbs dried sweet basil
3 tbs dried oregano
3 tbs dried chive
2 tbs dried mustard
2 tbs dried lemon & pepper salt
2 tbs dried cilantro leaves
1 tbs white pepper
4 garlic minced fine
1/4 cup olive oil extra-virgin
Preparation
1. Chopped & vegetables
2. Cooks soybean meal & olives oil
3. Melt onions & garlics
4. Put ingredient in larges pot
5. Cook very low simmer open for 2-3 hours
Lucito
New Year 2018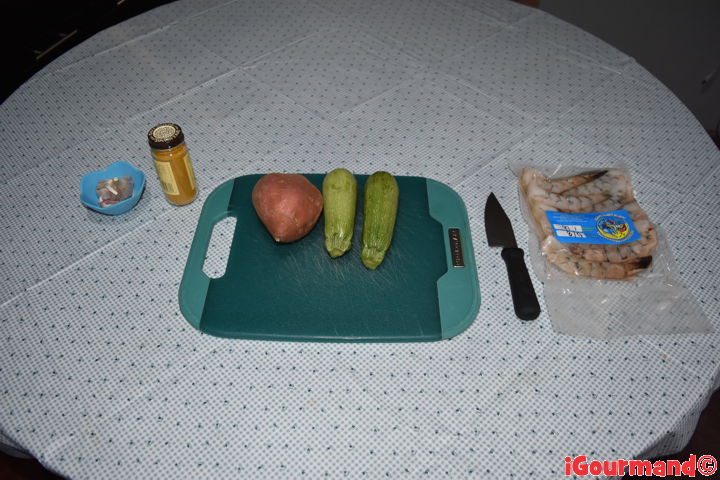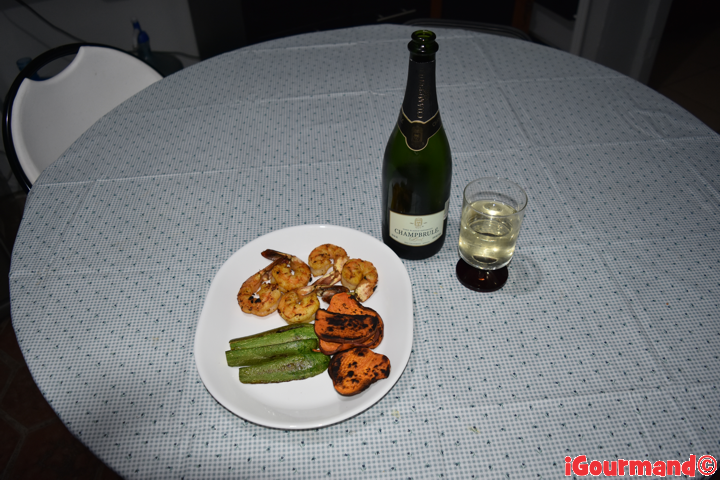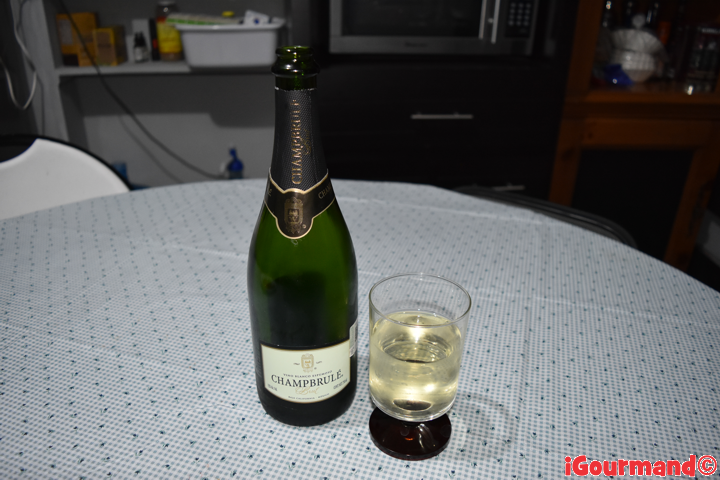 Ingredient
9 giant shrimp
3 cloves garlic
1 sweet potato
2 zucchini
Curry
Olive oil
Preparation
1. Zucchinis 4 cut lengthwise.
2. Sweet potato cut rounds of thickness.
3. Garlic chopped.
4. Giant shrimp towels.
5. Sweet potato, olive oil fried skillet.
6. Zucchini, olive oil fried skillet.
7. Giant shrimp, olive oil fried wok.
Lucito
Ingredient
1 diced onion
2 tbs dried sweet basil
2 tbs dried chives
4 oz mushrooms sliced
4 eggs, lighty beaten
1 cups half and half
6 oz Smoked Atlantic Nova Salmon
3 oz Baby Swiss
3 oz sharp cheddar
3 oz extra shard cheddar
1 unbaked 9 inch pie crust
salt and pepper
Preparation
1. Preheat oven to 425 degrees F (220 degrees C).
2. In a medium bowl, whisk together eggs, half and half, salt, pepper, basil, chives, onion, salmon and cheese.
3. Pour mixture into pastry shell.
4. Bake 15 minutes in the preheated oven. Reduce heat to 300 degrees F (150 degrees C), and bake an additional 30 minutes, or until a knife inserted 1 inch from edge comes out clean. Allow quiche to sit 10 minutes before cutting into wedges.
Lucito
Ingredient
2 pounds minced beef
4 onions chopped
4 carrots chopped
4 celery chopped
3/4 pound mushrooms chopped
1 sweet green pepper chopped
1 sweet yellow pepper chopped
2 larges cans tomatoes crushes
1 larges cans tomatoes
2 cans concentated tomatoes pasted
2 oz double concentated tomatoes pasted
3 bay leaves
6 chile de arbol
2 tbs honey
4 tbs dried parsley
4 tbs dried sweet basil
4 tbs dried oregano
4 tbs dried thyme
2 tbs dried mustard
4 cloves
4 garlics minced fine
1/2 cup olive oil
Parmesan
Preparation
1. Cooks meat & olives oil
2. Melt onions & garlics
3. Put ingredient in larges pot
4. Cook very low simmmer open for 3-4 hours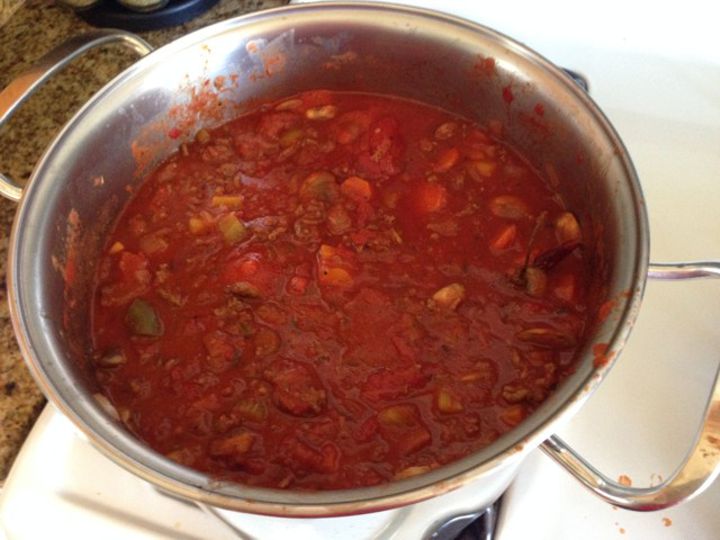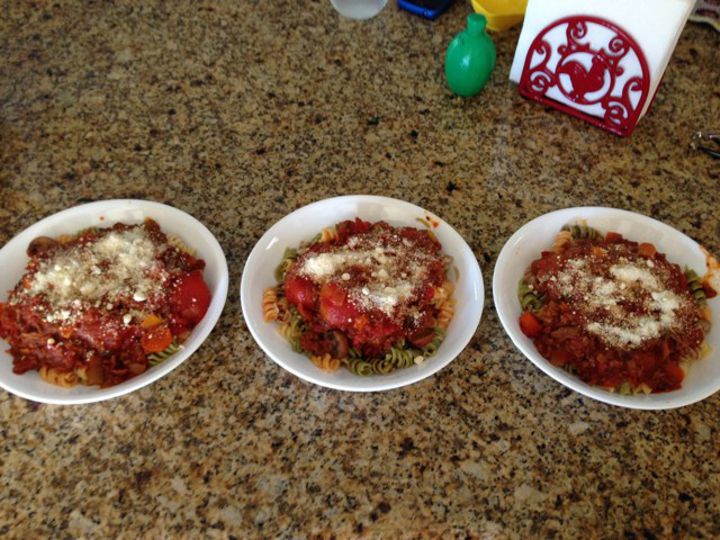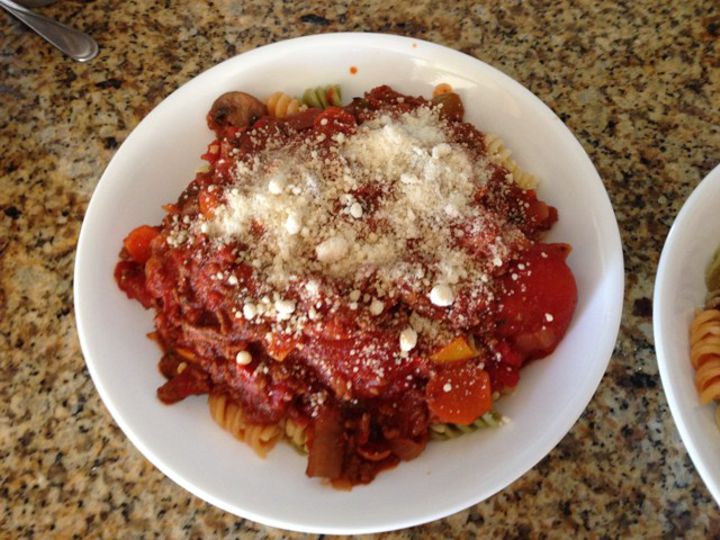 Lucito
Today's day is only marginally going better than yesterday's, but I prepared a decent meal anyways. I was not sure what the fish I thawed yesterday was, as I have the bad habit of putting stuff in zipper bags and then freezing them and trying to rely on my memory to know what it is. It does not work and I really need to make an effort to start systematically labeling things with content and freeze date as opposed to only occasionally do it.
It turned out to be one of the last pieces of local "dorado" (mahi-mahi) from the over 1 meter fish we bought some months ago. At the same time we also bought a few large "huachinango" (red snapper). We are now down to our last few packs, so we need to plan another trip to the central fish market. The two pieces in the pack were from the tail tip of the filet and not well cut to cook as a whole.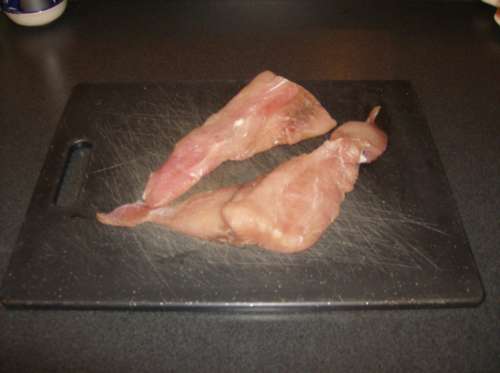 Yesterday I had though of baking them in a tomato sauce, but today I was pressed for time and I wanted something quicker to prepare and something that gives a satisfying crunch when eating, as everybody knows that crunchy food is fun food. I decided to cut the pieces in small chunks, then bread them quickly with some savory breading.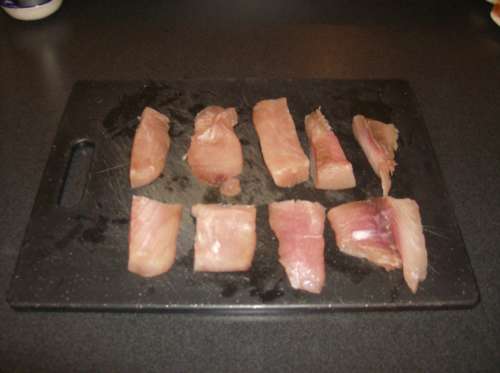 I prepared a quick bound breading with first some flour mixed with garlic salt, herbes de Provence, citric chile powder and white pepper to lightly flour the pieces. I them passed them through a wash with eggs mixed with a bit of sesame oil, salsa "Maggi", and heavy cream. Then I completed the bound breading with some hand-crushed Corn Flakes.
I pan-fried the fish in a few tablespoons of soy oil and it yielded incredibly crunchy pieces of fish with a moist juicy interior. I served it with the leftover sweet potato purée from 2 days ago. It turned out to be an very quick and easy meal to prepare that was very satisfying and very tasty.
Lucito
I am about to go to the kitchen to prepare the meal and I am starving. I have been working in the office preparing various proposals since early this morning and I have yet to take a 5 minute break, so I feel understandably lightheaded.
When I got up I thawed some of those thinly sliced pork chops we bought on sale last weekend. I plan to bake them with some fresh pineapple we bought at the same time. I am not sure exactly yet how I will do that, and I will let whatever inspiration that hits me when I actually start cooking take over.
If it turns out well I will post the results later this week. Wish me luck…
Lucito