Ingredient
2 pounds minced beef
4 onions chopped
4 carrots chopped
4 celery chopped
3/4 pound mushrooms chopped
1 sweet green pepper chopped
1 sweet yellow pepper chopped
2 larges cans tomatoes crushes
1 larges cans tomatoes
2 cans concentated tomatoes pasted
2 oz double concentated tomatoes pasted
3 bay leaves
6 chile de arbol
2 tbs honey
4 tbs dried parsley
4 tbs dried sweet basil
4 tbs dried oregano
4 tbs dried thyme
2 tbs dried mustard
4 cloves
4 garlics minced fine
1/2 cup olive oil
Parmesan
Preparation
1. Cooks meat & olives oil
2. Melt onions & garlics
3. Put ingredient in larges pot
4. Cook very low simmmer open for 3-4 hours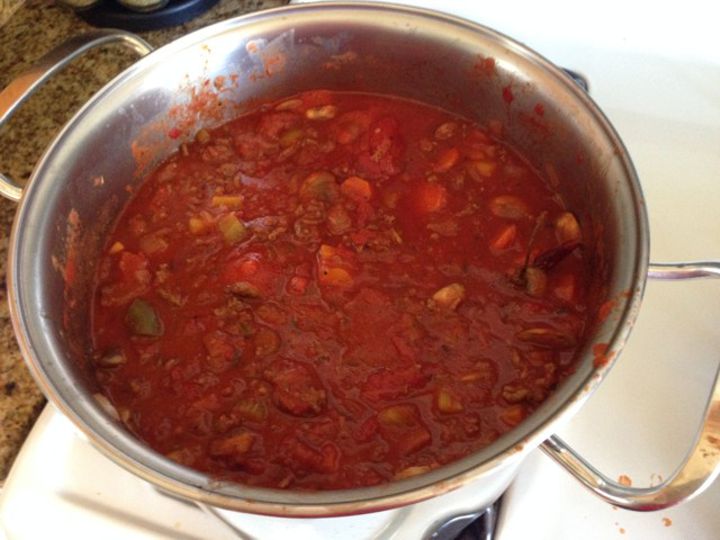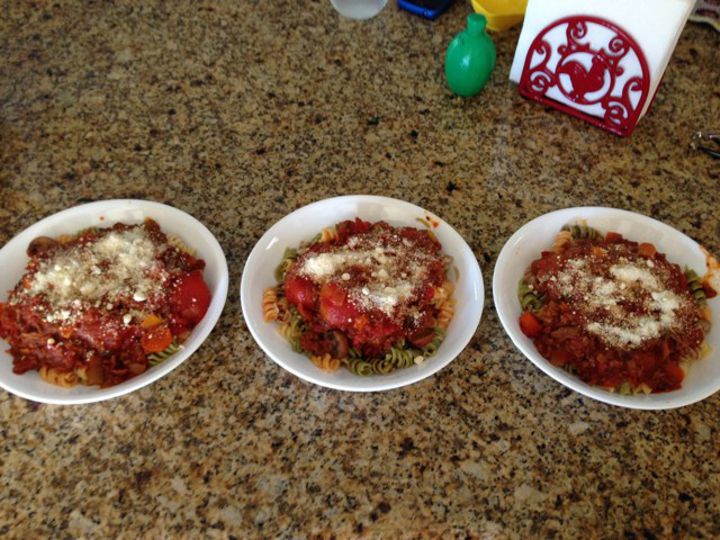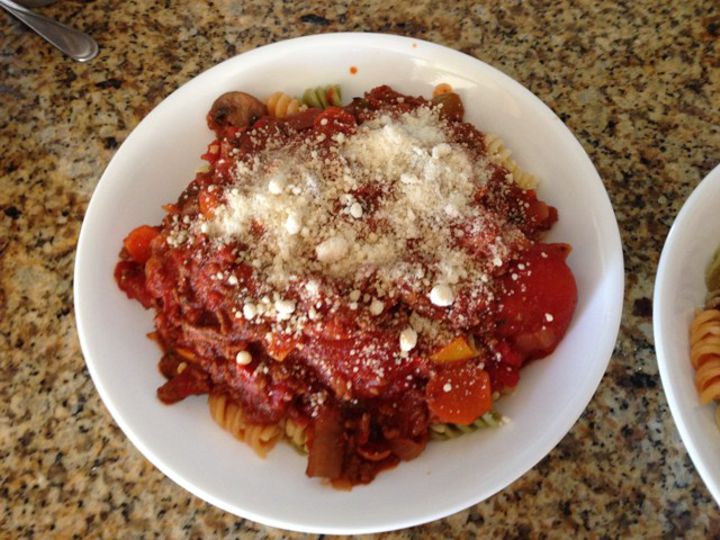 Lucito
Ingredients
2 Eggs
5 Sausage Cheese Lit'l Smokies
2 tbs Cheese Italian Truffle
1 tsp Basil
1 tsp Chives
Olive Oil Spray
Hawaiian Black Salt
Peppercorn Medley
Preparation
1. Chopped sausage.
2. Olive oil, eggs, sausage, cheese, basil, chives, peppercorn and salt.
3. With a fork whisk the eggs gently until you have a smooth homogeneous mixture.
4. In a frying pan on a medium fire the olive oil spray.
5. 2 minutes scrambles eggs.
Lucito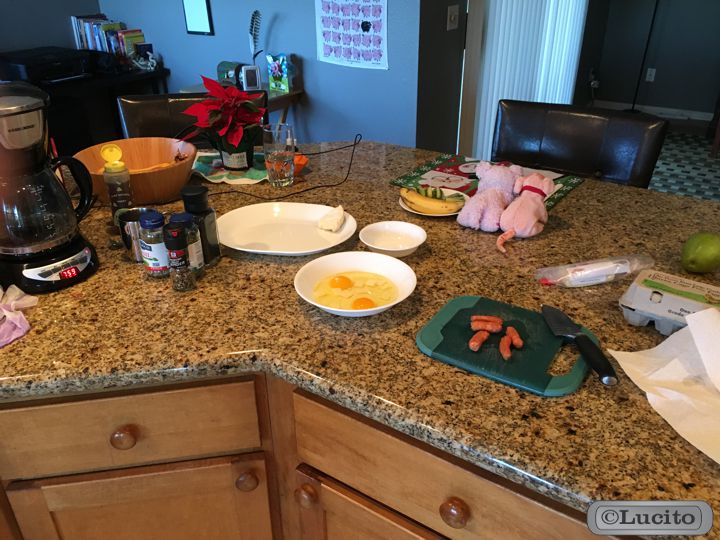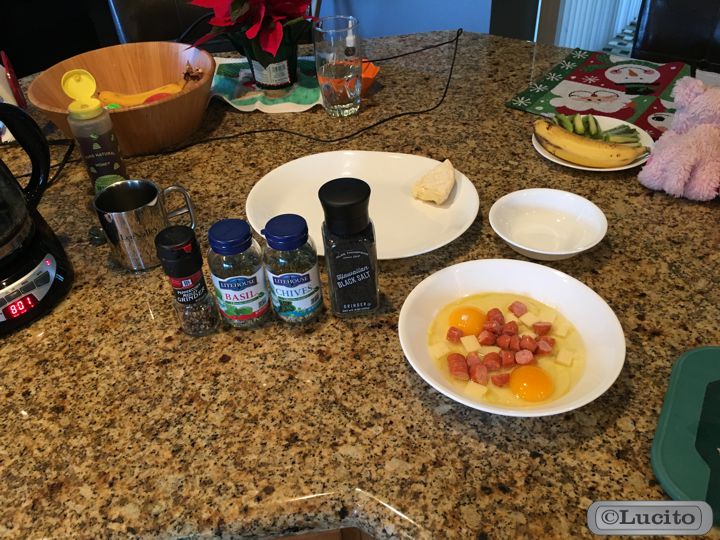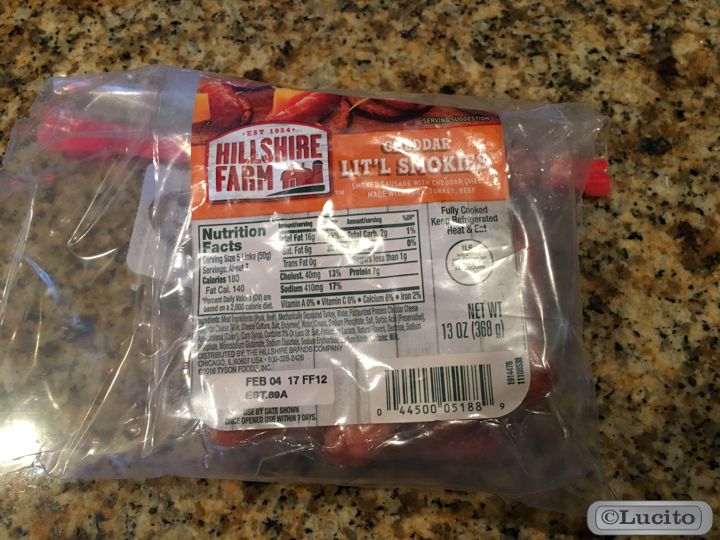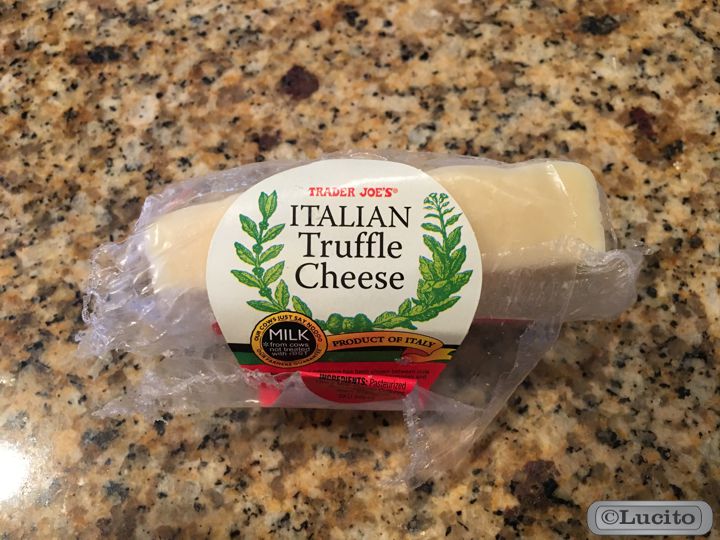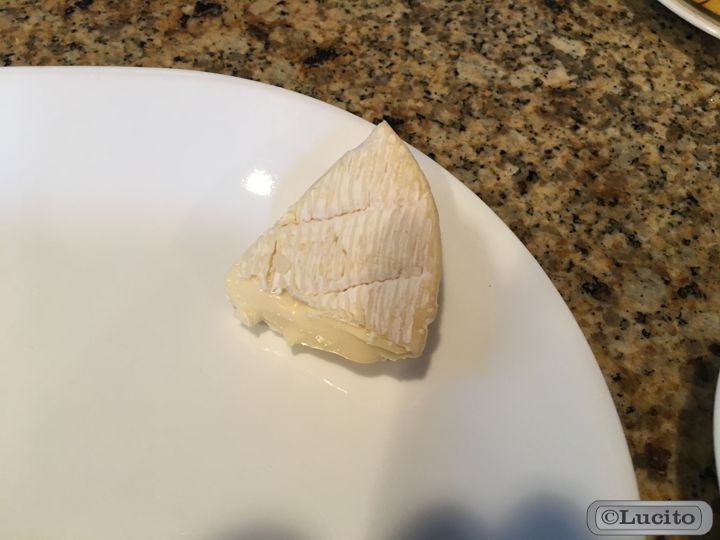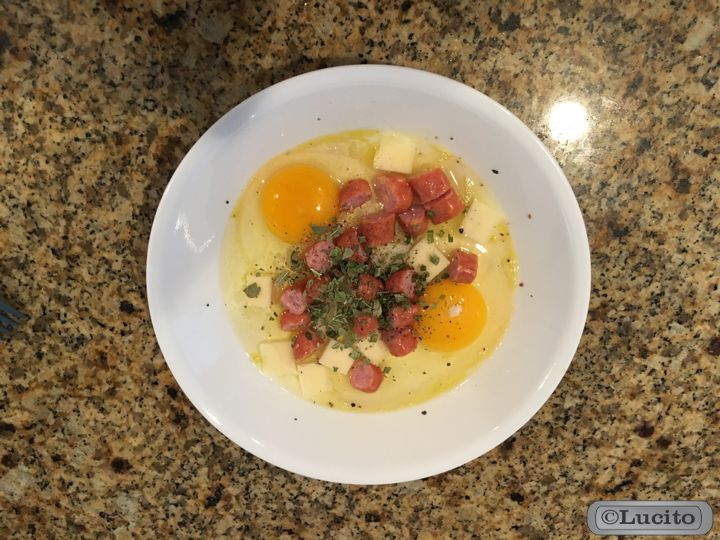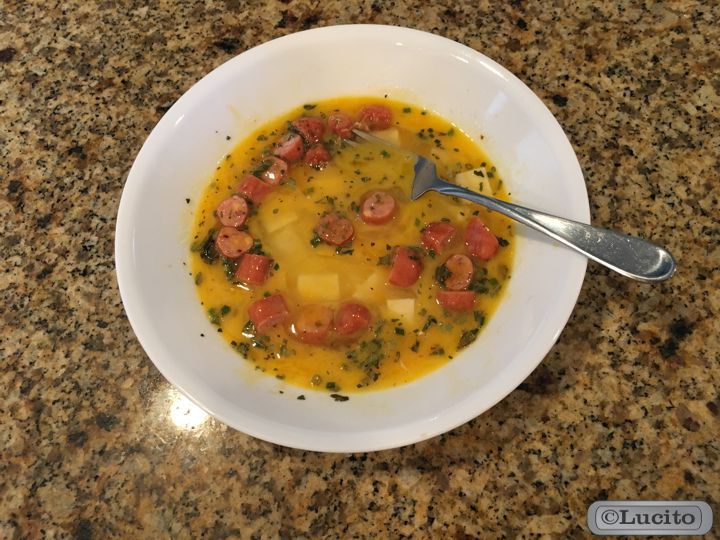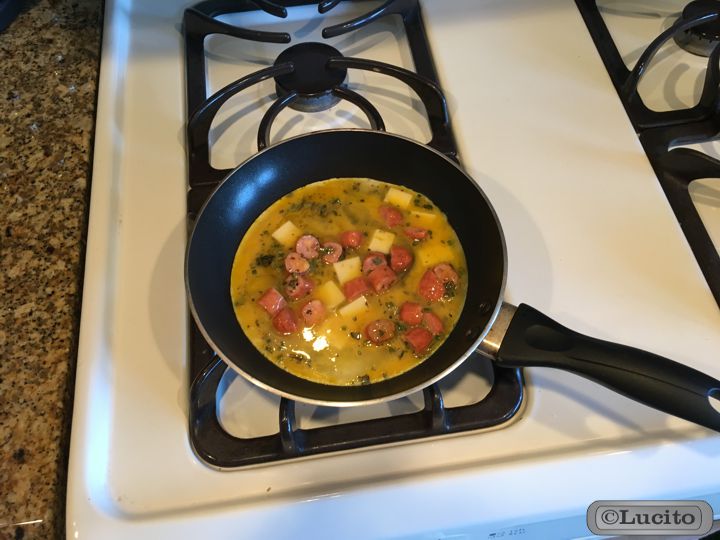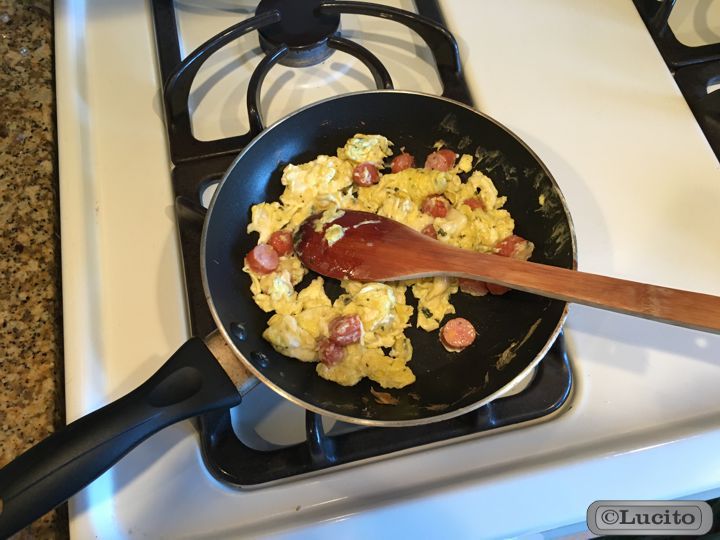 Lee Valley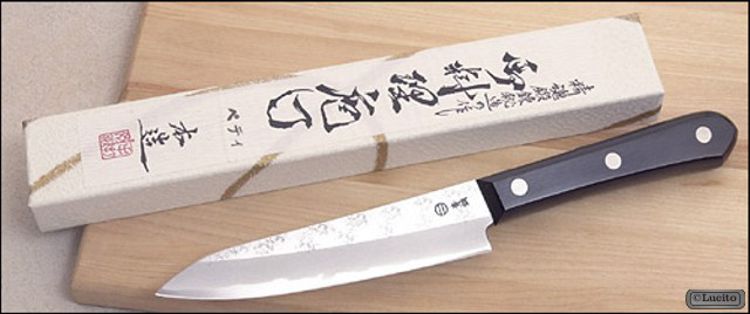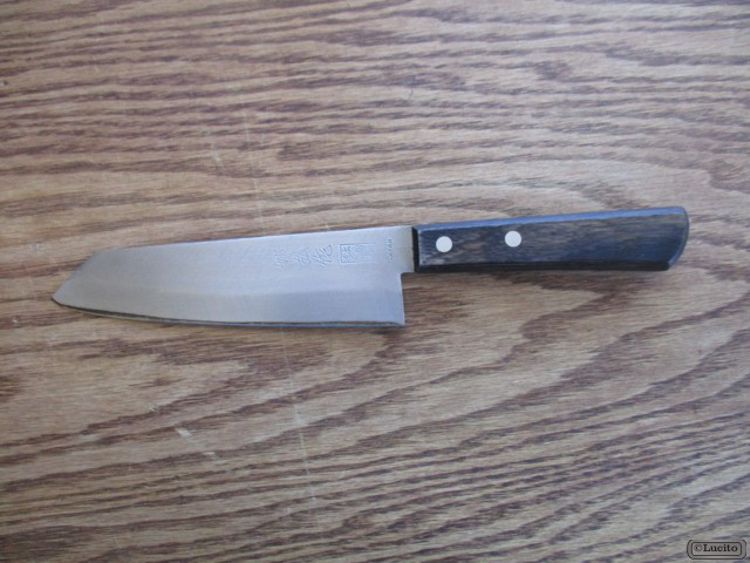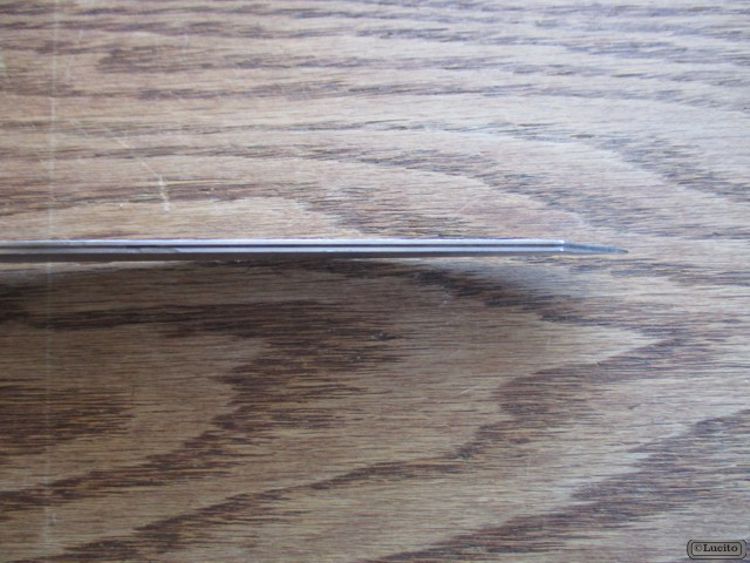 The wavy line along the forge weld is known as the "hamon" and was one of the judgment points of traditional Japanese swords.
11″ long overall with an ebony composition handle, this knife has a particularly beautiful, lightly textured blade.
The knife has exterior layers of stainless steel forge-welded to a high-carbon steel core. The carbon steel central layer gives you a knife that will hold a razor edge, but has the easy maintenance features of stainless steel.
It is best sharpened on a 1000 grit water stone which uses ordinary tap water for flushing. (Do not use sharpening steels.)
Comes in a decorative presentation box.
Lucito
Victorinox: 47022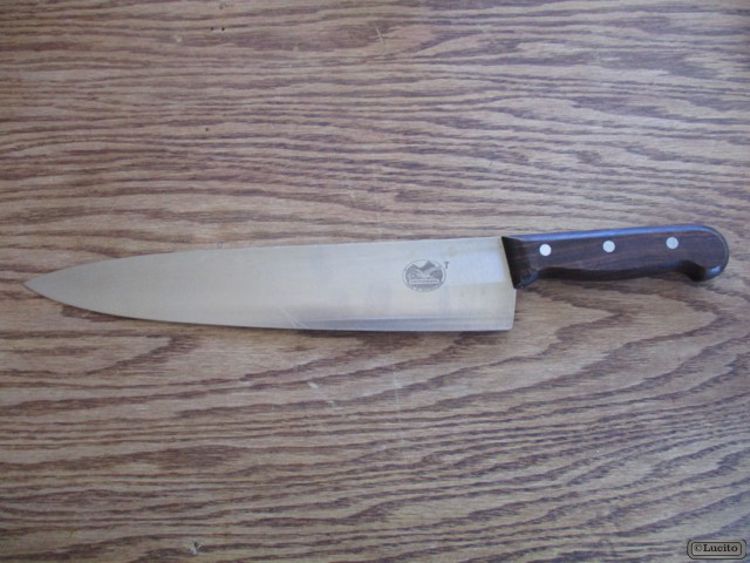 As one of our most popular knives, we know that the 12-inch Chef's Knife can handle any kitchen task we put it through. The stainless steel blade can move from job to job without ever compromising its sharpness.
Details
One of our most popular knives, the versatile, multipurpose 12″ Chef's Knife is a must-have for every serious cook. The high-carbon stainless steel blade is perfect for large chopping jobs and carries a lifetime warranty against defects in materials and workmanship. And the natural beauty of our Rosewood design is ergonomic, lightweight, balanced for extended use, and will not discolor or corrode.
12″ Stainless Steel Blade
Ergonomic, lightweight, and balanced for extended use
Will not discolor or corrode
Lifetime warranty against defects in materials and workmanship
Lucito
The hot weather is back with us again today and after we had lunch we went back to the offices and after a few hours it was too hot to work. I went to give the dogs their supper and when I was coming back inside Normita wanted to go get a bit of fresh air. I joined her and we kept company to the boyz while they literally wolfed down their big bowl of food. I don't know where they get the energy to eat so quickly on a hot day like this.
We walked around the yard a bit and then decided to harvest the peaches from the small tree next to the kitchen entrance. We had been saying we would do it since last week, but never got around to it. The neighborhood's birds came down on that tree last week in day and feasted on the peaches and destroyed over 80% of the crop by eating half of most of the fruits and letting the other half rot. Normita went for a bad and a small stepladder and I went up in the tree and tried to salvage most of the peaches that were ripe and not half eaten by the birds.
Bacchus and Uriel, the boyz, were around us and catching whatever peaches they could grab that were falling from the tree. They eat them in one bite crushing the stone. It is awe inspiring to see them do it. I hope that tomorrow that tomorrow they do not wake up with a store stomach, but from past experience they have eaten much worse without any problems. They seem to have cast iron stomachs.
Here is a picture of the peaches that awaits in the sink the first one who will have the courage to go wash them:
We will keep the ripest ones to eat and tomorrow or Friday we will probably prepare some "compote de pêches" with the rest. We will use that as a dessert over ice cream and I think that I did see that we had a frozen Cornish hen the other day and we might roast it covered with the peaches next weekend if we have some time.
Lucito
Yesterday when I posted the Daily Express I mentioned that I came in so quick that I did not even think of take a picture of the finished hamburger. Today I could correct my mistake as we thawed 2 of the frozen patties and made hamburgers again with some grilled potatoes. Normita had her's Mexican Style with avocados, ketchup, mustard, tomatoes, onions, pickles, Oaxaca cheese, and a nice big chipotle.
I am a lot more simpler in my taste and I simply put some ketchup and some pickles over the Oaxaca cheese and it was enough for me today.
Lucito
We have been very silent since the middle of last week as we had lots of meetings in town last Thursday and Friday and we had a very successful wine course on Saturday. Sunday we totally collapsed from the back and forth driving between here and the center of Mexico City we had business. With a drive of between 2-3 hours each way we were exhausted from the ordeal. Sunday we totally collapsed and I prepared some hamburgers with some nice ground beef we had bought on the way back from the course Saturday night. It was as complicated as I could manage in the condition I was.
I like my hamburgers nice and juicy and well flavored. Depending of my mood I used different ingredients and on Sunday it was a combination of ground beef, rum, soy sauce, Worcestershire sauce, dried onions, some chipotle-based seasoning, and some sesame oil. The recipe is easy you first put the meat in a bowl, put the ingredients on top, and then with your hand you make a big mess like my Chinese cooking teacher used to say.
Once the mess is made I like to hand-form thick patties and it made a lot more than Normita and I could eat in one sitting. I individually wrapped the patties and froze them so that we can enjoy some nice burgers in the coming weeks with even less effort than I did Sunday.
I went outside to cook the hamburgers on the barbecue, and of course the barbecue was barely hot when it started raining. When I finished cooking them I ran inside and we had a great meal, but with all the excitement I only remember to take a picture of the final product when only crumbs remained. Too bad… It will be for next time…
Lucito
Today when I went to prepare the meal I found some unexpected ingredients for the marinade in the back of the refrigerator. A while back Normita had bought a bottle of Torito and we only had a few little sips and it has sat unused in there. Torito is an alcoholic drink typical of Veracruz, a state in the east of the country on the Golf of Mexico coast. It is a cream of peanuts, and I quickly thought of doing something like a cross between Thai and Mexican food. Torito is very sweet so I needed to cut that to make it palatable with the fish. I also found some tamarind pulp and some fresh limes so I made a mixture of Torito with tamarind pulp and lime juice. It lacked salt and chile to balance the flavor so I added some soy sauce and some chile paste until I got a satisfactory mixture. I then put my 2 pieces of fish filet in the marinade and refrigerated for 15-20 minutes while I finished preparing the rest of the meal.
I had found some large potatoes while searching for ingredients for the marinade and decided to grill them with the fish. I sliced them, and then sprinkled some salt, pepper, oregano, and olive oil on them. I like to grill them on high heat until slightly burned. They get a great flavor like that.
We had some frozen vegetables as a second side dish, simply heated in the microwave with a bit of butter, salt, pepper, and herbes de provence on top. I grilled the fish directly on the barbecue with the potatoes and the meal turned out surprisingly tasty. I served a little bit of the reserved marinade on the fish as a light tangy sauce.
Lucito
After I wrote the previous post about inspiration I hit the kitchen directly to prepare the tomato salad as I wanted it to cool down a bit once prepared and it could do so while I took my shower. I looked into the larder and found 4 small tomatoes that were good, a small bag of olives and I collected other assorted ingredients including some fresh basil from the plant growing wildly in Normita's office. Starting with these ingredients I assembled the salad.
I have been doing those kinds of salads for over 25 years and I love the basic combination of tomatoes, basil, and olives. I normally prefer something like a Kalamata olives, but the only thing I found was a small bag of Spanish olive filled with peppers. They are overly salty so I rinsed them a few times in water to tame the saltiness. Assembling a salad like that is very easy, as you just make layers of ingredients starting with the thinly sliced tomatoes. Thus went it the tomatoes followed by cubed apples, sun-dried tomatoes in olive oil, shredded Oaxaca cheese, grated Parmesan cheese, the fresh basil, ground coarse salt, a fresh grind of black pepper, some balsamic vinegar, and extra virgin olive oil.
You the build the salad layer by layer until you have no more tomatoes. The process is simple. The salad that it yields is very tasty and I like to return it to the refrigerator for a while so the flavors gets well blended and that it gets very cold. I like fresh tomatoes to be very cold. I remember in another life when I was young and handsome, that often during the hottest part of summer when I was working on afternoon shifts from 2pm to 7pm. Before I left for work I would prepare a similar salad to that one with Kalamata olives and feta cheese to keep with the Greek olives, and I would put it in the refrigerator and eat it when I returned home after work. By that time it was ice cold like I like it and the flavors were blended to perfection.
Once the salad was ready I put it in the refrigerator, did the dishes, and I then hit the showers. We sat down and relaxed a bit in front of an electric fan as it is still like a furnace in here. We had this cold refreshing and tasty salad and all of the problems of this stressful weeks we just went through just disappeared.
When we sat down to eat Normita reminded me that I had forgotten to put some walnuts in the salad, so I added a handful of them in each of our plates over the salad. It made a nice addition to the salad.
Lucito