Normita
——
#iGourmand #Lucito #Normita #Food #Recipe #Dessert #FruitCake #Consultant
——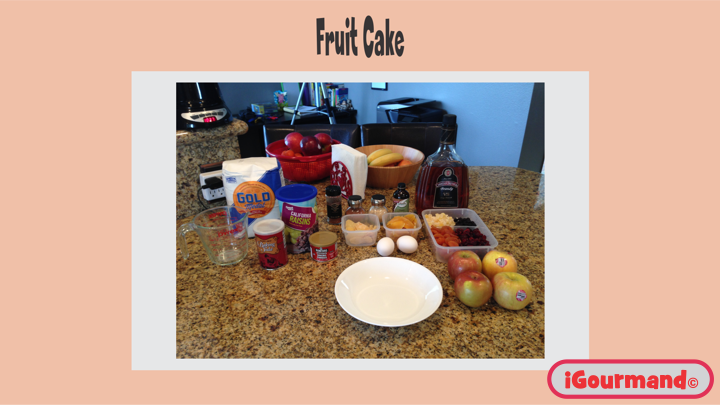 ——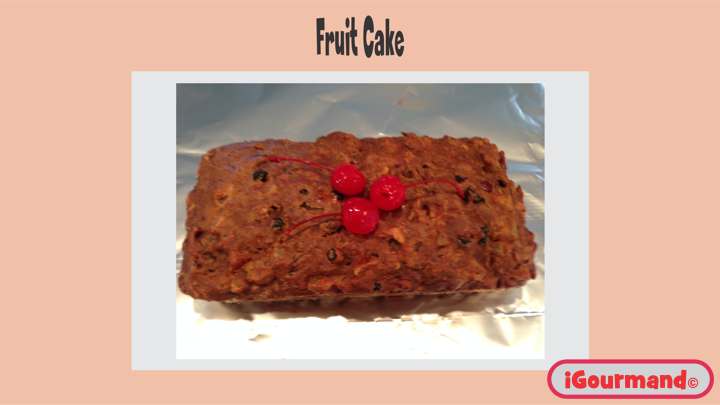 ——
Fruit Cake
Fruit cake made with soaked unsweetened dried fruit. A festive, flavorful, and moist fruit cake to enjoy all holiday season. This family recipe will make you a fruit cake convert. A traditional moist fruit cake made with brandy soaked dried fruit, and candied ginger. The best fruit cake recipe you'll ever make. It turns cynics into converts. This fruit cake recipe yields two loaves cakes.
Ingredient
1/4 cup Dried Peaches
1/4 cup Dried Apricots
1/4 cup Dried Pears
1/4 cup Dried Dark Raisins
1/4 cup Dried Candied Ginger
1/4 cup Dried Dried Fig
1/4 cup Dried Cherry
3/4 cup Walnuts
1 cup Brandy
2 cup Flour
1 tbsp Baking Powder
1 tbsp Baking Soda
2 tbsp Nutmeg
2 tbsp Cinnamon
2 tbsp Ginger
3/4 cup Olive Extra Virgin Oil
2 Eggs
2 tbsp Vanilla Extract
2 tbsp Maple Syrup
2 tbsp Honey
2 Apple Sauce
6 Maraschino Cherry
Syringe 1 ml
Brandy
Preparation
1. Chopped Dried Fruits
2. In a bowl, stir together the fruits, walnuts, and brandy.
3. Cover and let soak for at least 4 hours or up to 24 hours, stirring a few times during the soak.
4. Aluminum foil two loaves cakes.
5. Preheat the oven to 300F.
6. In a bowl, whisk together the flour, baking soda, spice, baking powder. Set aside.
7. In a bowl, whisk together the olive extra virgin oil, vanilla extract, maple syrup, honey, apple sauce, eggs. Set aside.
8. Bowl olive and dried fruits, whisk together.
9. Bowl olive, dried fruits, and flour, whisk together.
10. Divide the batter evenly among the two baking pans.
11. Bake for 2 hours or until a toothpick inserted into the center comes out clean.
12. Let the cakes cool in the pan for 10 minutes.
13. Run a knife around the cake to release it from the edges.
14. Remove and place them on a cooling rack.
15. Aluminum foil two loaves cakes.
15. Generously syringe of the cakes with brandy.
16. Maraschino Cherry.
17. Aluminum foil for wrapping fruit cake.
18. Store the cakes for up to 8 weeks.
Follow Us
Web: https://www.igourmand.com/
Facebook: https://www.facebook.com/neosteam.labs.9/
YouTube: https://www.youtube.com/@thesass2063
Twitter: https://twitter.com/labs_steam
Pinterest: https://www.pinterest.com/NeoSteamLabs/
Instagram: https://www.instagram.com/luc.paquin/
Normita
Last Wednesday I did not know what to prepare for my lunch for the next day as we did not have much time to go to the supermarket and we were running out of everything. I looked into the cupboard and found some cans of tuna and I decided to prepare one of my favorite dishes "Atún a la Vizcaína". This time I decided to invent a new version "Pasta with Atún a la Vizcaina"; I prepared my tuna recipe and I then boiled some pasta with salt and when it was cooked I drained it and served it with tuna dish and added some parmesan cheese, it really became a great dish.
This tuna recipe we can be served by itself or presented in a wide variety of ways. Our nice Alejandra really likes it in empanadas or as a pie. This can easily be done by rolling out some fresh or frozen puff pastry dough and for the empanadas you cut 5" circles out of the dough and place a large spoonful of the tuna dish in the middle and fold in half and pinch the edges to seal well. You then cut some slits on the top with a sharp knife and place them on a cookie sheet and bake in a medium oven until golden. You can do the same thing as a pie, by lining a pie dish with the puff pastry, then filling it with the tuna dish and then placing another sheet of dough on top. You then seal the edges and cut some vents in it and you might even decorate it with some nice fish shapes cut from the dough. You bake it like the empanadas, and if you prefer a shiny crust you can paint it with a beaten egg white. Another nice way of serving this dish is to cool it and then make a nice sandwich with a nice large crusty bread roll.
Ingredients
1 can of tuna in olive oil
1 tomato, chopped
1/2 medium onion, chopped
1 garlic clove, finely chopped
1/2 chile jalapeño, finely chopped
1 tbs parsley, chopped
1 tbs soy sauce
5 stuffed olives, chopped
1 tbs capers, chopped
1 handful almonds, chopped
1 handful pine nuts
1 handful walnuts, chopped
1 tbs. olive oil
Preparation
1. Sautee the onion and garlic in the olive oil in a pan over medium heat until the onions are translucent.
2. Add the chile, parsley, tomato, and soy sauce.
3. Add the rest of the ingredients and the tuna can without the liquid.
4. Let it cook some minutes until the flavors melt together and serve.
Normita
Hi, this time I am writing from Canada because we came to celebrate the Holidays with the family. I have prepared a nice "cocktail de camarones y ostiones" (Shrimps and oysters cocktail) that everyone has loved so I decided to share the recipe with you. This can be the first course for a nice meal.
Ingredients
1 pound of shrimps
1 pound of oysters
3 Italian tomatoes, chopped
1/2 red onion, chopped
1 avocado, cut in small pieces
1 chile jalapeño, chopped
1 or 2 limes, juiced
3 tbs olive oil
200 ml ketchup
Cilantro (coriander), chopped
Salt to taste
Salsa Valentina (Louisiana hot sauce, Tabasco, or any hot sauce to taste)
Preparation
1. In a bowl put the chopped onion, tomatoes, chile jalapeño, cilantro and the avocado.
2. Add salt to taste.
3. Add the lime juice, the olive oil, and the ketchup.
4. At the end add the shrimps and the oysters.
5. Mix all the ingredients smoothly.
6. Serve in small bowls and decorate with a slice of avocado and a leave of coriander. Everyone adds the hot sauce to taste.
Normita
Hola amigos, this time I came out with a very Mexican recipe "Mole Poblano". Mole is one of the most important dishes in my country, you can find it prepared in many different ways depending on the region it is prepared. It is a type of aromatic sauce in which different foods are cooked and it can be red, black, green, etc. This particular Mole comes from Puebla. The city of Puebla is a beautiful colonial town located 132 km from Mexico City by the federal highways 150D and 190 in the State of Puebla, Mexico. If you want to know more about them, please follow these links:
Mexico City: http://www.tourbymexico.com/df/df.htm
State of Puebla: http://www.tourbymexico.com/puebla/puebla.htm
Town of Puebla: http://www.tourbymexico.com/puebla/puebla/puebla.htm
Puebla: http://en.wikipedia.org/wiki/Puebla

Here is the recipe:

Mole Poblano with turkey (optionally with chicken)

Ingredients
Mole
1/2 cup, plus 2 tbs of vegetable oil
1/2 pound of chili anchos deveined and seeded
2 pounds of chili pasilla deveined and seeded
3/4 pounds of chili mulatos deveined and seeded
5 chilies chipotle in adobo (or to taste)
1 1/2 pounds of tomatoes
1 medium onion finely diced
10 cloves of garlic
1/3 pound of peeled almonds
1/4 pound of peeled peanuts
8 cloves
1 tsp of black pepper
1 2" piece of cinnamon
1/2 teaspoon of anise seeds
1/4 pound of seedless raisins
1/5 pound of bitter cooking chocolate
1 tsp of sugar
2 tbs of salt, or to taste
½ cup of sesame seeds
Turkey
9 pound turkey cut in pieces
16 cups of water
4 cloves of garlic
1/2 of an onion peeled
1 tbs of salt
Preparation
1. In a large cast iron pot, put the turkey, the water, the garlic, the onion and the salt. Set fire to high.
2. When it starts to boil cover it and lower heat to medium and cooks for one hour or until the meat is well cooked.
3. Remove the meat from turkey and save the broth.
4. Put 2 tbs of oil in a pan, add the chilies anchos, pasillas, and mulatos and sauté them for a few minutes.
5. Put them in a pot with water and let them soak during 30 minutes.
6. Take out the chilies from the water and mix them in a blender. Reserve them.
7. Sauté the chilies chipotle and the tomatoes in the same pan.
8. Peel the tomatoes and mix them in a blender with the chipotle. Reserve them.
9. In the same oil where the chilies were fried, fry the diced onion and the garlic during 2 or 3 minutes, until they become transparent.
10. Take them out and mix them in the blender. Reserve them.
11. Fry the almonds during 5 minutes in the same oil, then add the peanuts, the cloves, the black pepper, the cinnamon and the anis seeds and fry them for 3 minutes more.
12. Mix these with the raisins in the blender and reserve them.
13. Heat the rest of the oil in your cast iron pot. Add all the reserved ingredients cook them during 5 minutes, stirring constantly.
14. Add the chocolate and the sugar without stopping the stirring.
15. When the mixture boils add 4 cups of the turkey broth.
16. Cover the pot and cook it on a low fire during 20 minutes.
17. Add the salt and taste the seasoning and adjust. If the Mole is very tick add more turkey broth.
18. Add the pieces of turkey, cover the pot, and cook on medium heat for 10 minutes.
19. Meanwhile roast the sesame seeds in a small pan on medium heat until they are well toasted and acquire a golden color.
20. Once the turkey is heated through, serve it with a sprinkling the sesame seeds and a generous amount of Mole.

Enjoy it!

Normita
This time I am going to share with you a nice recipe, this one is very popular at the Canadian Embassy in Mexico, somebody passed it to me but do not tell this to the creator of the recipe:
Ingredients
1/2 cup of cold water
1 1/2 envelope of gelatin
1 cup of chicken stock (can be made with powder)
1/2 cup of cream
1/2 cup of mayonnaise
1/4 pound of cream cheese
1 cup of chopped cilantro (coriander)
1 clove of garlic
1/2 of a large onion
1 1/2 chili jalapeños
Salt and pepper to taste
Preparation
1. Dissolve the gelatin in the cup of cold water.
2. Blend the rest of the ingredients in an electric blender or food processor.
3. Heat the gelatin and mix with the blended ingredients.
4. Pour In an antiadherent mold and let cool for one hour.
5. Refrigerate 3-4 hours or overnight.
6. Serve with crackers.
Normita.
Hola, I am Normita, finally I had the time to write a little introduction about myself as Luc had mention to you a while ago. As Luc said I am his Mexican wife, we have been married almost 5 years on November 25th, during this time we have had very happy times and some very hard time too but I have learnt that all of this is part of the life experience.
Luc and I met through the Internet, one day I was with my friend Lety who wanted to find somebody on the Internet but on that time she did not know how to use Internet so she asked me to do it for her.
I decided to research on the internet and I found a page in which I had to subscribe to know the way it was working so I could teach my friend how to use it so I navigated through that page and I reach into a place where you could search the kind of person you would like to meet.
On that occasion I search for a man that would meet my requirements and I found Luc.
I decided to write him a message in which I was introducing myself, I thought that he would never answered me, as I was not trusty on these kind of things, but I had a big surprise the next day, I had a message from him on my yahoo account.
Inside of me I felt very happy because I had a very happy feeling with him since the first day he wrote me, I liked a lot the way he wrote, I think I fell in love with him since he asked me if I wanted to share his keyboard with him. Since then we have been together at first through the Internet and later married. This happened about 8 year ago and this has been the best adventure I have had in my entire life.
When I met Luc I used to work for an Investment Company (Pioneer International) as an administrator, on that time I was really happy with my job as I had the chance to reach many of goals in my career. I had the chance to travel through Europe on that time too and I will confess you something; when I arrived to Italy to a little town called Padua I met the tomb of Saint Antonio of Padua, everybody said that Saint Antonio was very miraculous to find a couple, so I decided to ask him to send me a good man to share the rest of my life. I can tell you that it really worked because three months later I found Luc my beautiful and lovely husband.
I could tell you lots of stories about our life together but I think I would never finish writing them, so the only thing I can tell you is that with Luc I found my happiness.
Actually I am working in a Canadian company, of course, Canadian Education Centre, in which I am a counselor and my main job is to organize the events for the Centre. This job has been another challenge for me in my career as my new activities are totally different from the activities I used to do in my other job but I love it and it has given me the chance to meet a lot of nice people.
In this space that Luc has created for us I plan to share with you some of my Mexican recipes and other surprises I will prepare to share with you with the help of Luc and my padrino Kurt. I will talk to you later. Normita Carreño de Paquin (on the Mexican way).