——
#iGourmand #Lucito #LucPaquin #Vino #Uvas #Curso #Consultant
——
Los Tipos De Uvas O "Cepas"
Rojas
Pinot Noir
——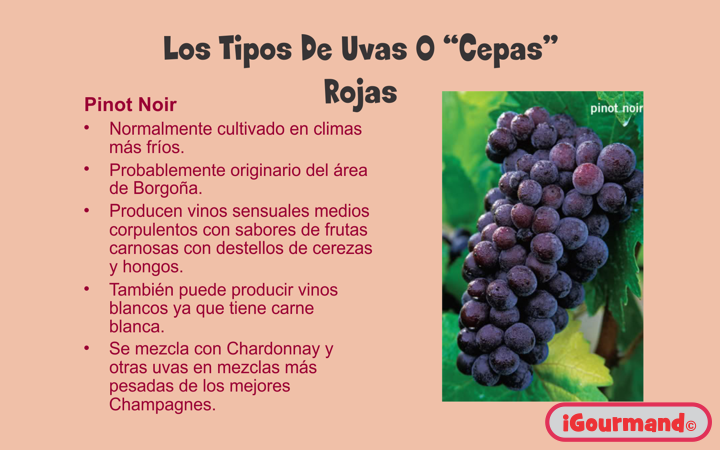 ——
Normalmente cultivado en climas más fríos.
Probablemente originario del área de Borgoña.
Producen vinos sensuales medios corpulentos con sabores de frutas carnosas con destellos de cerezas y hongos.
También puede producir vinos blancos ya que tiene carne blanca.
Se mezcla con Chardonnay y otras uvas en mezclas más pesadas de los mejores Champagnes.
——
Los Tipos De Uvas O "Cepas"
Rojas
——
——
Syrah
El Syrah, también conocida como Shiraz en Australia y partes de Sudamérica, es del Valle de Ródano en Francia Sudoriental.
Es una uva con piel obscura que produce poderosos vinos tintos.
Los vinos de cuerpo entero que produce tienen sabor a violetas y moras, chocolate y café fuerte.
——
Los Tipos De Uvas O "Cepas"
Rojas
Petite Sirah
——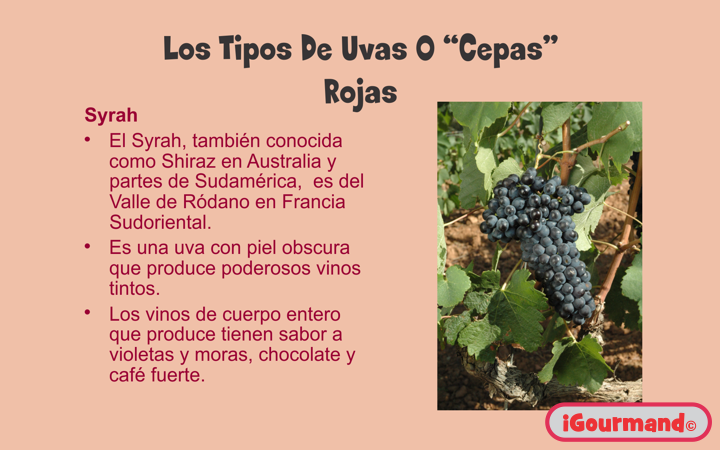 ——
Esta uva también es de Francia y es una cruza entre Syrah y Peloursin.
Es casi desconocida en su país de origen y ahora se está volviendo más y más popular en las áreas del Nuevo Mundo como California, Australia y Baja California.
Produce poderosos vinos tánicos con destellos de pimientos y ciruelas.
Follow Us
Curriculum Vitae 2022
J. Luc Paquin 2022 – English & Español
Luc Paquin
Languages Spoken and Written: French, English and Spanish.
Citizenship: Canadian
Luc Paquin
https://www.jlpconsultants.com/luc/
English
https://www.jlpconsultants.com/JLPFoodWineCV2022Mk1a.pdf
Español
https://www.jlpconsultants.com/JLPComidaVinosCVMk2022a.pdf
Web: https://www.igourmand.com/
Web: https://www.jlpconsultants.com/
Facebook: https://www.facebook.com/neosteam.labs.9/
YouTube: https://www.youtube.com/channel/UC5eRjrGn1CqkkGfZy0jxEdA
Twitter: https://twitter.com/labs_steam
Pinterest: https://www.pinterest.com/NeoSteamLabs/
Instagram: https://www.instagram.com/luc.paquin/
Lucito