——
#iGourmand #Lucito #LucPaquin #Vino #Uvas #VinoCurso #Curso #Wine #WineCourse #Consultant
——
Los Diferentes Tipos De Vinos
——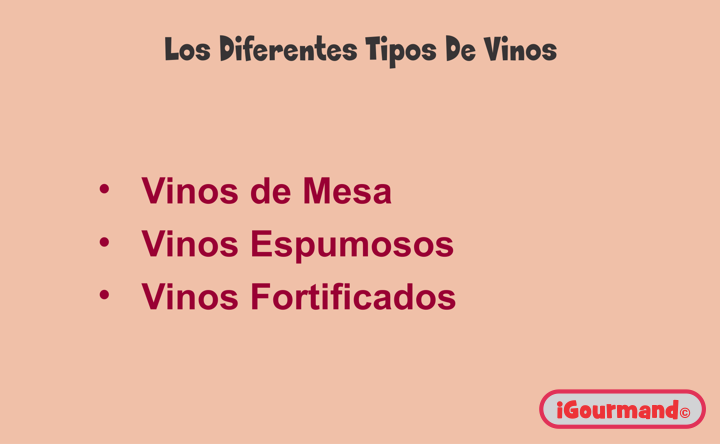 ——
Vinos de Mesa
Vinos Espumosos
Vinos Fortificados
——
Los Diferentes Tipos De Vinos
Vinos de Mesa
——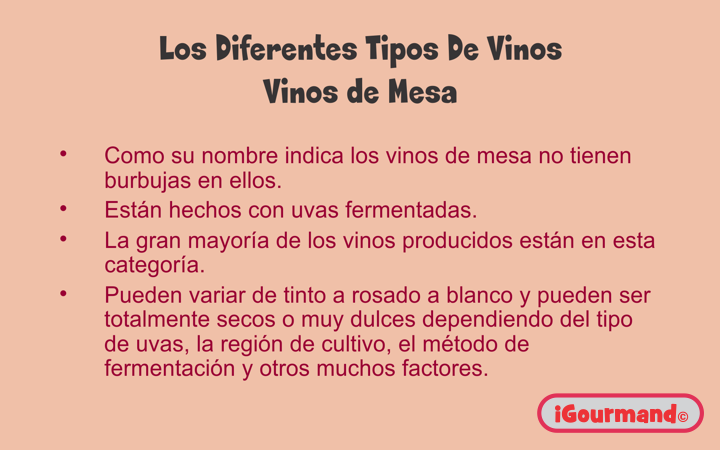 ——
Como su nombre indica los vinos de mesa no tienen burbujas en ellos.
Están hechos con uvas fermentadas.
La gran mayoría de los vinos producidos están en esta categoría.
Pueden variar de tinto a rosado a blanco y pueden ser totalmente secos o muy dulces dependiendo del tipo de uvas, la región de cultivo, el método de fermentación y otros muchos factores.
——
Los Diferentes Tipos De Vinos
Vinos Espumosos
——
——
Los vinos espumosos contienen burbujas que pueden ser a penas perceptibles con en los Vinho Verdes de Portugal con su a penas perceptible petulancia (pétillance), ligeros y espumosos como los vinos italianos frizzante, hasta vinos completamente espumosos con las Cavas españolas o los franceses Crémants o Champagnes.
Los vinos espumosos se pueden producir de muchas diferentes maneras que varían grandemente en calidad.
El mejor método es el tradicional, que se llama "Méthode Champenoise" en la región de Champagne en Francia.
Otro método que puede hacer vino espumoso en volumen a bajo costo es el método "Charmat".
El método menos costoso reservado sólo para varios vinos espumosos de baja calidad de es embotellar vino e introducirle gas de dióxido de carbono como si se estuvieran haciendo refrescos.
——
Los Diferentes Tipos De Vinos
Vinos Fortificados
——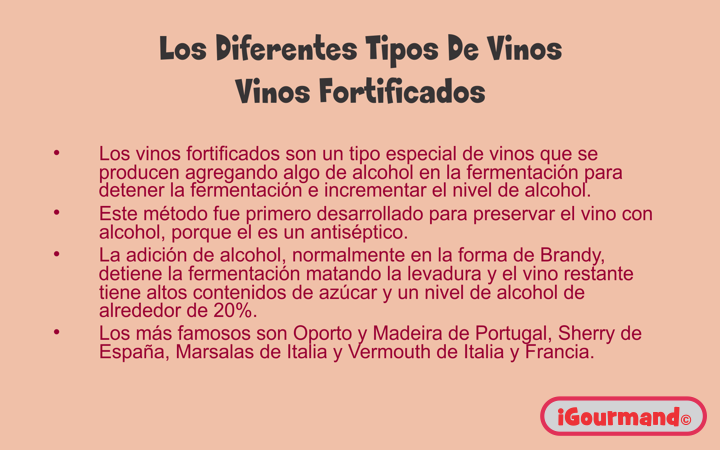 ——
Los vinos fortificados son un tipo especial de vinos que se producen agregando algo de alcohol en la fermentación para detener la fermentación e incrementar el nivel de alcohol.
Este método fue primero desarrollado para preservar el vino con alcohol, porque el es un antiséptico.
La adición de alcohol, normalmente en la forma de Brandy, detiene la fermentación matando la levadura y el vino restante tiene altos contenidos de azúcar y un nivel de alcohol de alrededor de 20%.
Los más famosos son Oporto y Madeira de Portugal, Sherry de España, Marsalas de Italia y Vermouth de Italia y Francia.
Follow Us
Curriculum Vitae 2022
J. Luc Paquin 2022 – English & Español
Luc Paquin
Languages Spoken and Written: French, English and Spanish.
Citizenship: Canadian
Luc Paquin
https://www.jlpconsultants.com/luc/
English
https://www.jlpconsultants.com/JLPFoodWineCV2022Mk1a.pdf
Español
https://www.jlpconsultants.com/JLPComidaVinosCVMk2022a.pdf
Web: https://www.igourmand.com/
Web: https://www.jlpconsultants.com/
Facebook: https://www.facebook.com/neosteam.labs.9/
YouTube: https://www.youtube.com/channel/UC5eRjrGn1CqkkGfZy0jxEdA
Twitter: https://twitter.com/labs_steam
Pinterest: https://www.pinterest.com/NeoSteamLabs/
Instagram: https://www.instagram.com/luc.paquin/
Lucito