——
#iGourmand #Lucito #LucPaquin #Vino #Uvas #CursoDeVino #VinoCurso #Curso #Wine #WineCourse #Consultant
——
¿Cómo Catar El Vino?
En catas más formales se espera que tome notas. Estas notas son muy útiles para mantener un registro sobre cual fue su experiencia al probar el vino.
——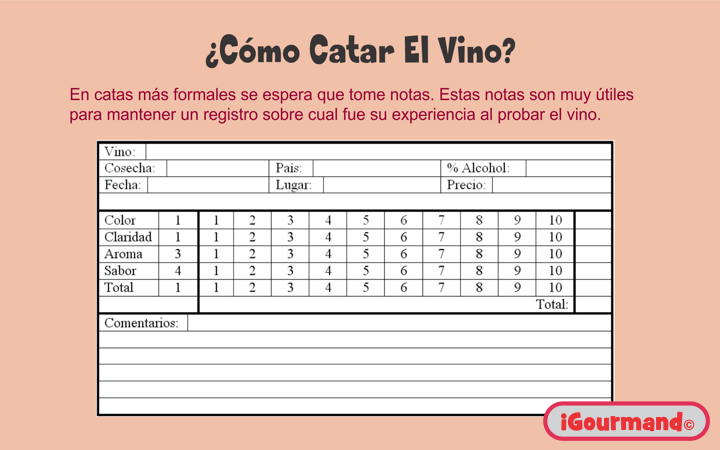 ——
¿Cómo Catar El Vino?
¡Primero Utilizamos Nuestros Ojos!
Primero empezamos con nuestros ojos e inspeccionamos el vino por su color y claridad.
Esto se hace poniendo la copa de vino contra un fondo blanco para inspeccionarlo.
Por esto utilizamos copas de vinos sin color y ponemos manteles blancos sobre las mesas.
¿Es el color profundo o muy claro?
¿Es el color del vino lo como debe ser?
¿Está el vino brillante u oxidado en su copa?
¿Es el vino claro o nebuloso?
——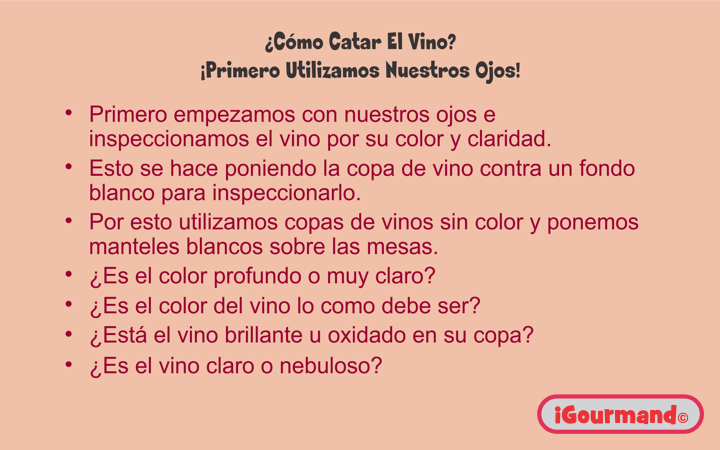 ——
¿Cómo Catar El Vino?
——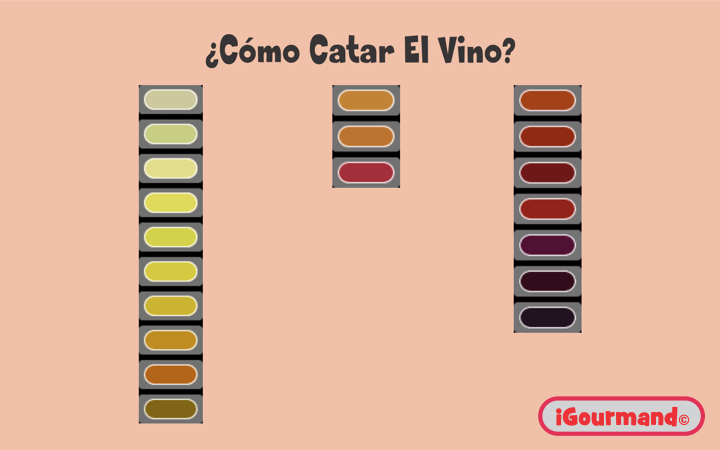 ——
¿Cómo Catar El Vino?
¡Segundo Nosotros Utilizamos Nuestra Nariz!
Después de inspeccionar el vino uno gira su copa para levantar el vino al lado de la copa.
Ahora ponemos nuestra nariz en la copa y tomamos un respiro profundo dentro de esta.
¿Existe algún olor desagradable en la copa?
¿El aroma del vino es poderoso o muy delicado?
El olfato es uno de nuestros sentidos más poderosos y puede despertar recuerdos olvidados hace tiempo.
Existe un lenguaje complejo que los catadores profesionales de vino utilizan para describir ambos el olfato y el gusto de un vino.
——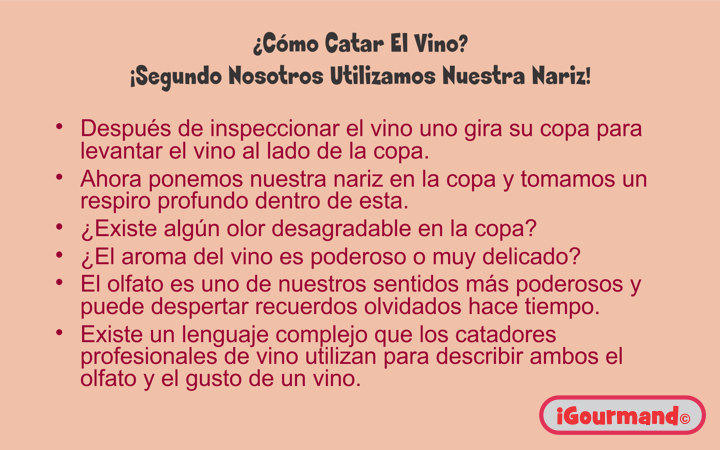 ——
¿Cómo Catar El Vino?
——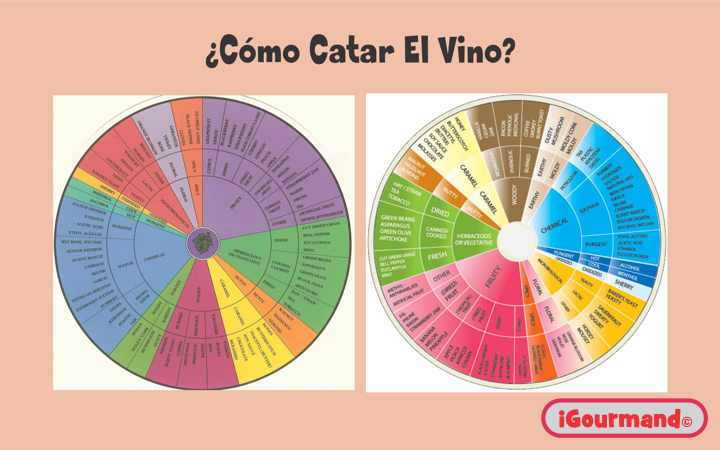 ——
¿Cómo Catar El Vino?
¡Tercero Utilizamos La Boca!
Para hacer eso se necesita tomar un trago muy pequeño del vino.
Necesita saborear y dejarlo descansar sobre la parte frontal de su lengua.
Entonces se abren los labios ligeramente sin derramar nada de vino y aspirar algo de aire sobre el vino en su boca hacienda un sonido de sorbo.
Entonces se sacude el vino en su boca para obtener una mejor idea de cómo se siente y como sabe en su boca.
A este punto un catador profesional que probará unas docenas de vinos a la vez, lo escupirá en la escupidera, pero como nosotros estamos haciendo esto por diversión nosotros tragaremos el vino.
——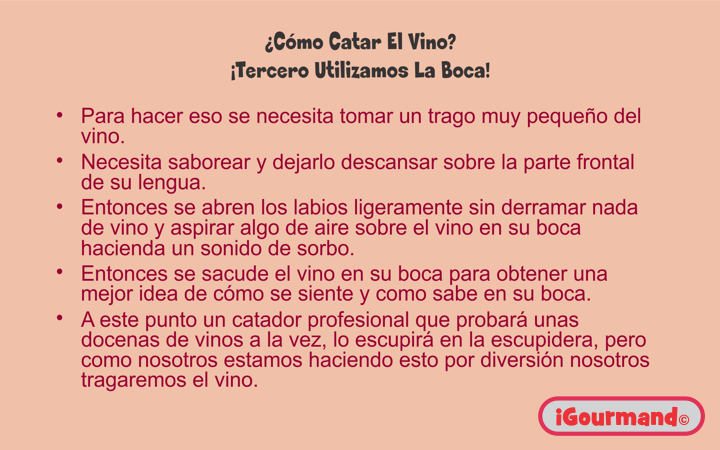 ——
Conclusión
Esto nos lleva al final de la parte teórica de este curso sobre el maravilloso mundo del vino. Comencé a estudiar los vinos hace más de 45 años y cada vez que pruebo una gran botella de vino es una gran experiencia para mí. Traté de pasarles algo de mi entusiasmo por el tema, y un poco de conocimiento básico para hacer a los vinos un poco menos misteriosos. Ustedes no necesitan hacer catas formales todos lo días, pero cada vez que abran una botella de vino sólo tómense unos pocos segundos para ir concientemente a través de los pasos básicos para probarlo adecuadamente y con el tiempo ustedes se volverán expertos en esto. Como todo en la vida la práctica hace al maestro, y ¿qué es más divertido que practicar la cata del vino diariamente?
Ahora pasaremos al aspecto práctico del curso y probaremos 7 vinos diferentes y tomaremos notas de ellos.
——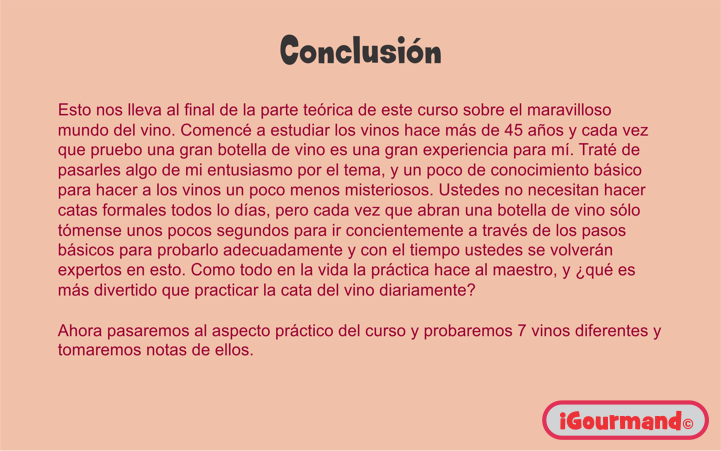 ——
Follow Us
Curriculum Vitae 2022
J. Luc Paquin 2022 – English & Español
Luc Paquin
Languages Spoken and Written: French, English and Spanish.
Citizenship: Canadian
Luc Paquin
https://www.jlpconsultants.com/luc/
English
https://www.jlpconsultants.com/JLPFoodWineCV2022Mk1a.pdf
Español
https://www.jlpconsultants.com/JLPComidaVinosCVMk2022a.pdf
Web: https://www.igourmand.com/
Web: https://www.jlpconsultants.com/
Facebook: https://www.facebook.com/neosteam.labs.9/
YouTube: https://www.youtube.com/channel/UC5eRjrGn1CqkkGfZy0jxEdA
Twitter: https://twitter.com/labs_steam
Pinterest: https://www.pinterest.com/NeoSteamLabs/
Instagram: https://www.instagram.com/luc.paquin/
Lucito