——
#iGourmand #Lucito #LucPaquin #Vino #Uvas #VinoCurso #Curso #Wine #WineCourse #Consultant
——
Las Regiones Más Importantes
——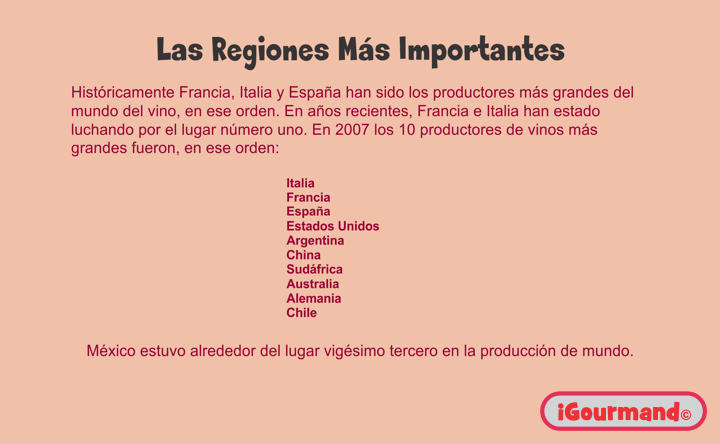 ——
Históricamente Francia, Italia y España han sido los productores más grandes del mundo del vino, en ese orden. En años recientes, Francia e Italia han estado luchando por el lugar número uno. En 2007 los 10 productores de vinos más grandes fueron, en ese orden:
Italia
Francia
España
Estados Unidos
Argentina
China
Sudáfrica
Australia
Alemania
Chile
México estuvo alrededor del lugar vigésimo tercero en la producción de mundo.
——
¿Cómo Leer Una Etiqueta De Vino?
——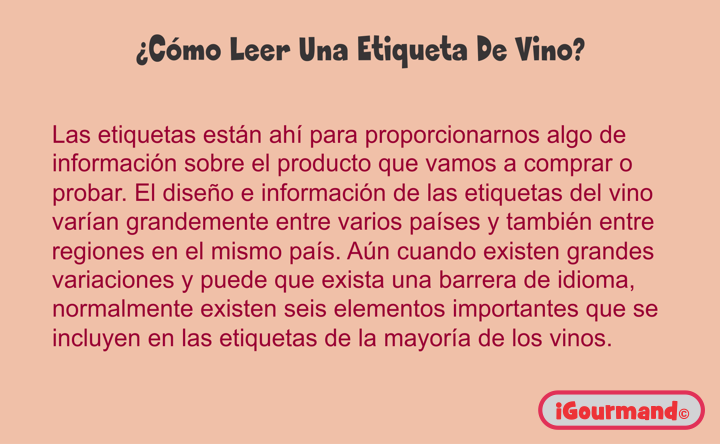 ——
Las etiquetas están ahí para proporcionarnos algo de información sobre el producto que vamos a comprar o probar. El diseño e información de las etiquetas del vino varían grandemente entre varios países y también entre regiones en el mismo país. Aún cuando existen grandes variaciones y puede que exista una barrera de idioma, normalmente existen seis elementos importantes que se incluyen en las etiquetas de la mayoría de los vinos.
——
¿Cómo Leer Una Etiqueta De Vino?
——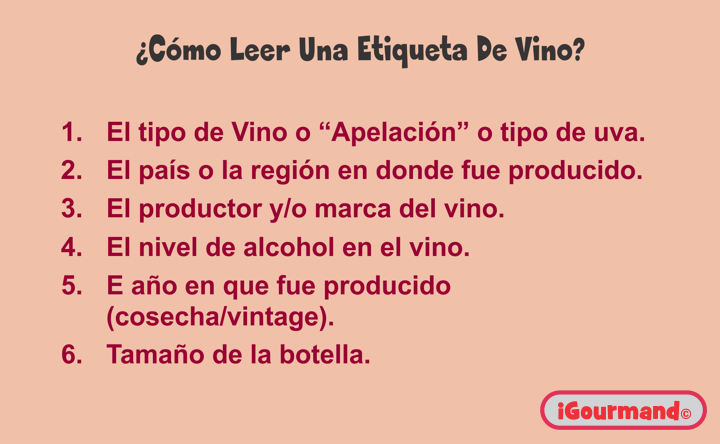 ——
El tipo de Vino o "Apelación" o tipo de uva.
El país o la región en donde fue producido.
El productor y/o marca del vino.
El nivel de alcohol en el vino.
E año en que fue producido (cosecha/vintage).
Tamaño de la botella.
——
Follow Us
Curriculum Vitae 2022
J. Luc Paquin 2022 – English & Español
Luc Paquin
Languages Spoken and Written: French, English and Spanish.
Citizenship: Canadian
Luc Paquin
https://www.jlpconsultants.com/luc/
English
https://www.jlpconsultants.com/JLPFoodWineCV2022Mk1a.pdf
Español
https://www.jlpconsultants.com/JLPComidaVinosCVMk2022a.pdf
Web: https://www.igourmand.com/
Web: https://www.jlpconsultants.com/
Facebook: https://www.facebook.com/neosteam.labs.9/
YouTube: https://www.youtube.com/channel/UC5eRjrGn1CqkkGfZy0jxEdA
Twitter: https://twitter.com/labs_steam
Pinterest: https://www.pinterest.com/NeoSteamLabs/
Instagram: https://www.instagram.com/luc.paquin/
Lucito