Lucito
Ingredient
2 pounds minced beef
4 onions chopped
4 carrots chopped
4 celery chopped
3/4 pound mushrooms chopped
1 sweet green pepper chopped
1 sweet yellow pepper chopped
2 larges cans tomatoes crushes
1 larges cans tomatoes
2 cans concentated tomatoes pasted
2 oz double concentated tomatoes pasted
3 bay leaves
6 chile de arbol
2 tbs honey
4 tbs dried parsley
4 tbs dried sweet basil
4 tbs dried oregano
4 tbs dried thyme
2 tbs dried mustard
4 cloves
4 garlics minced fine
1/2 cup olive oil
Parmesan
Preparation
1. Cooks meat & olives oil
2. Melt onions & garlics
3. Put ingredient in larges pot
4. Cook very low simmmer open for 3-4 hours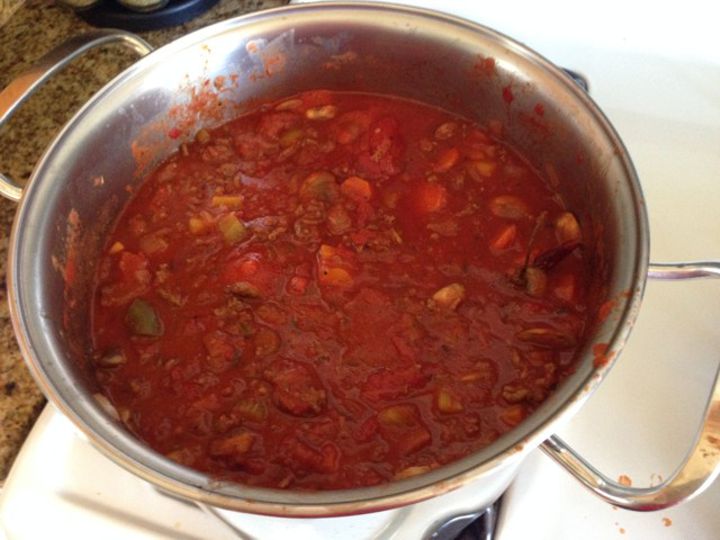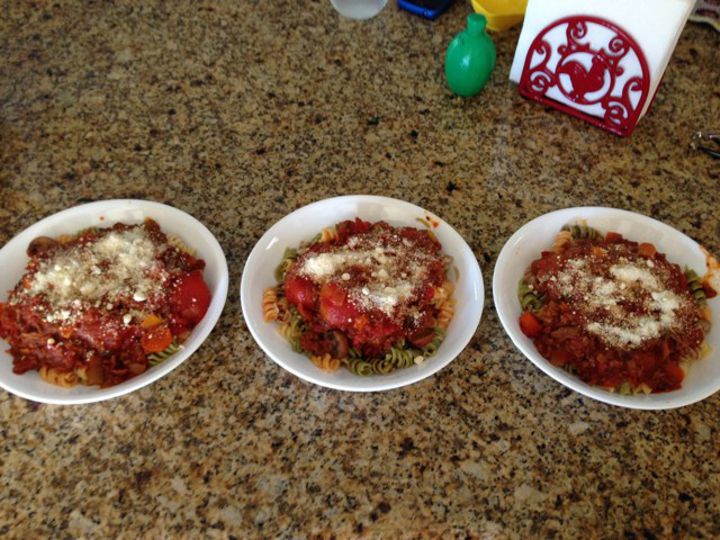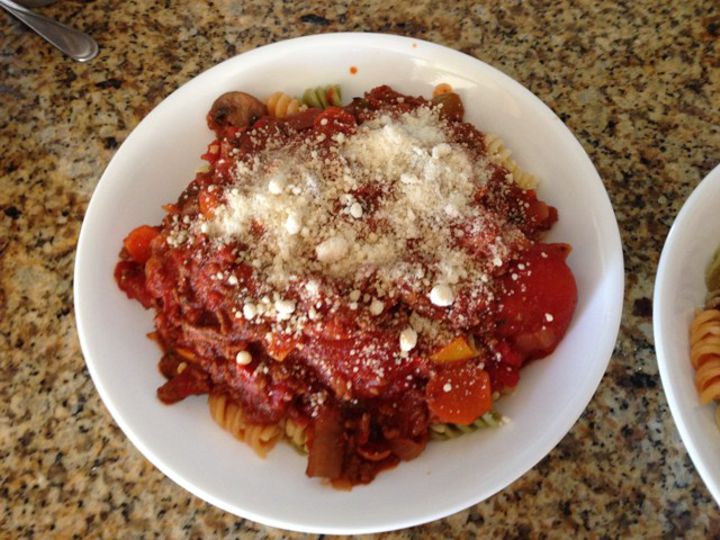 Lucito
Ingredients
2 Eggs
5 Sausage Cheese Lit'l Smokies
2 tbs Cheese Italian Truffle
1 tsp Basil
1 tsp Chives
Olive Oil Spray
Hawaiian Black Salt
Peppercorn Medley
Preparation
1. Chopped sausage.
2. Olive oil, eggs, sausage, cheese, basil, chives, peppercorn and salt.
3. With a fork whisk the eggs gently until you have a smooth homogeneous mixture.
4. In a frying pan on a medium fire the olive oil spray.
5. 2 minutes scrambles eggs.
Lucito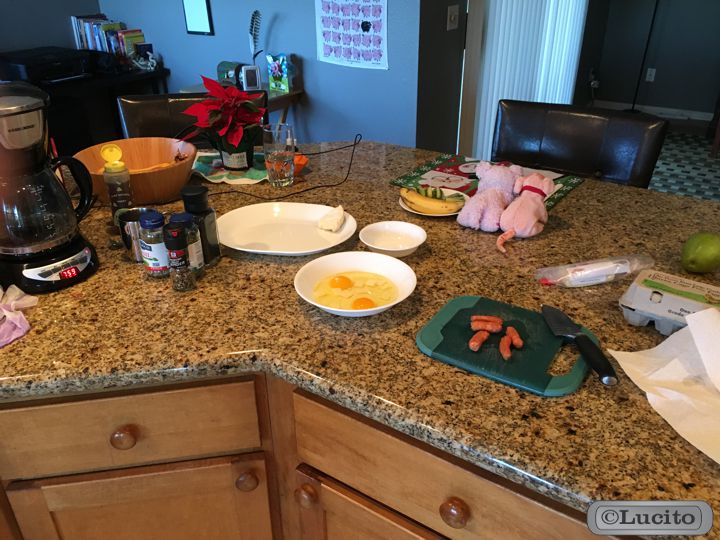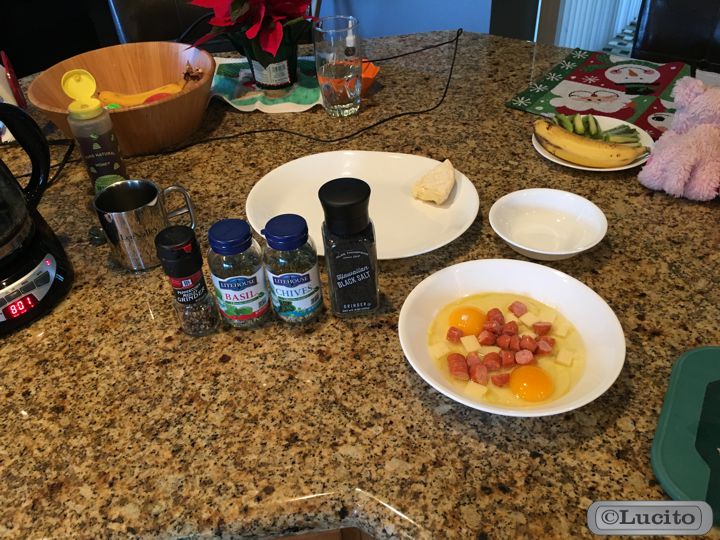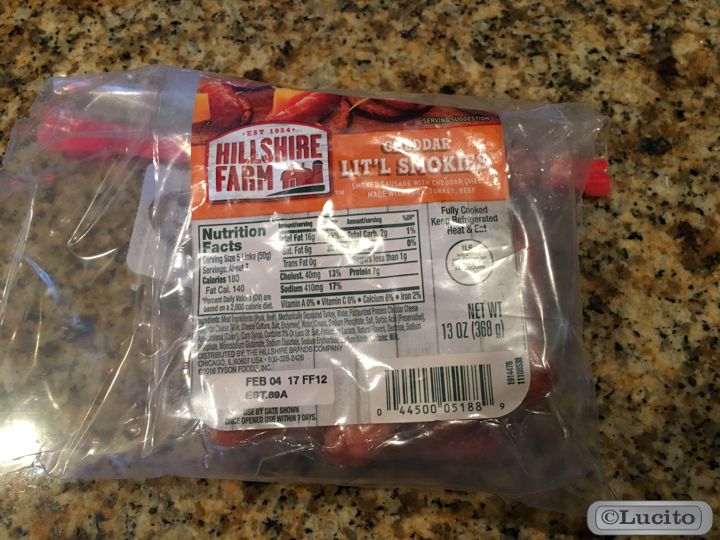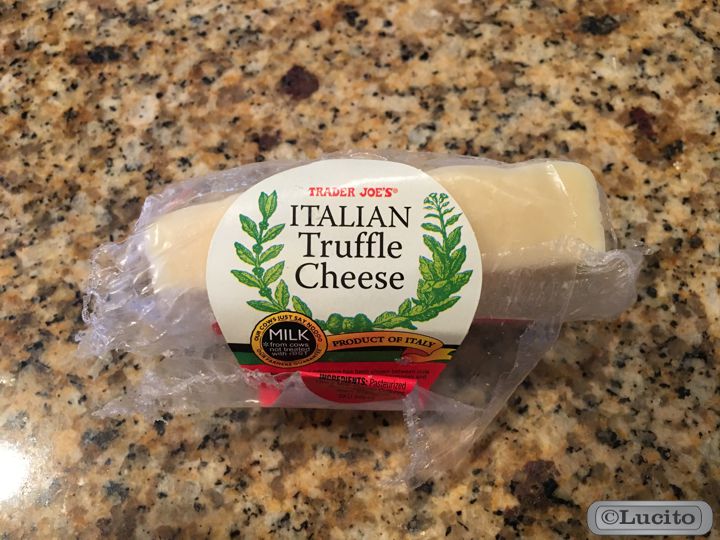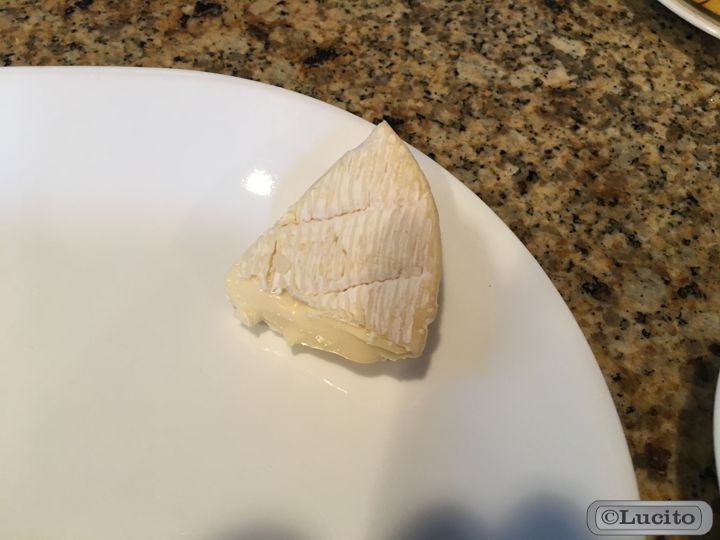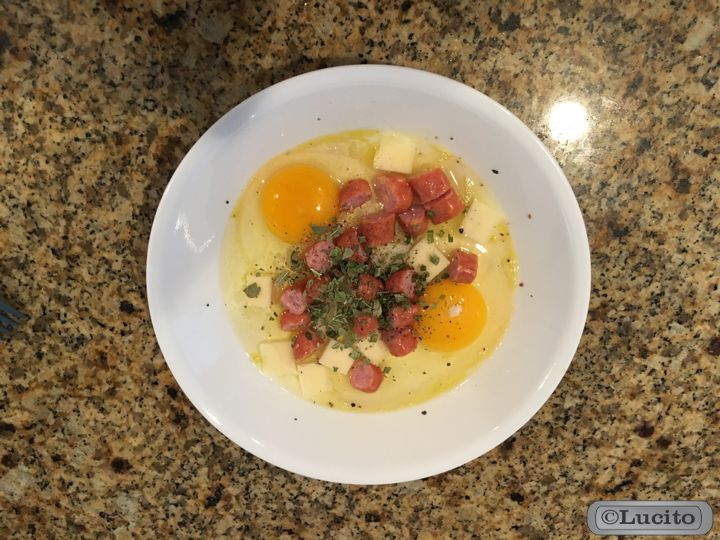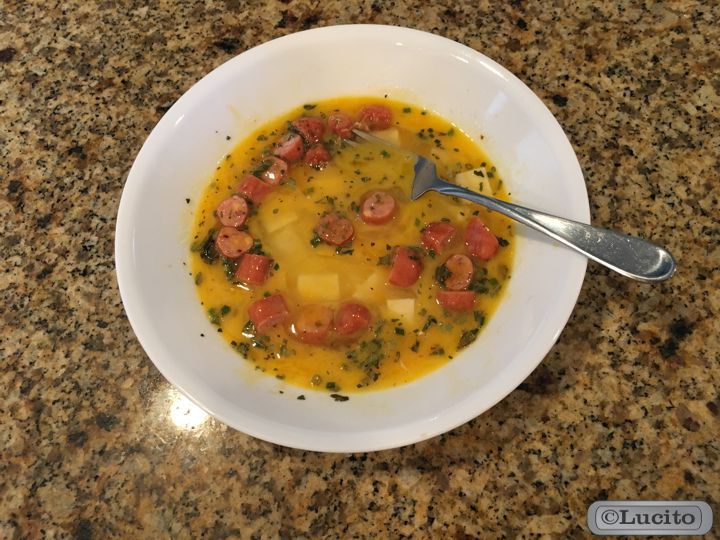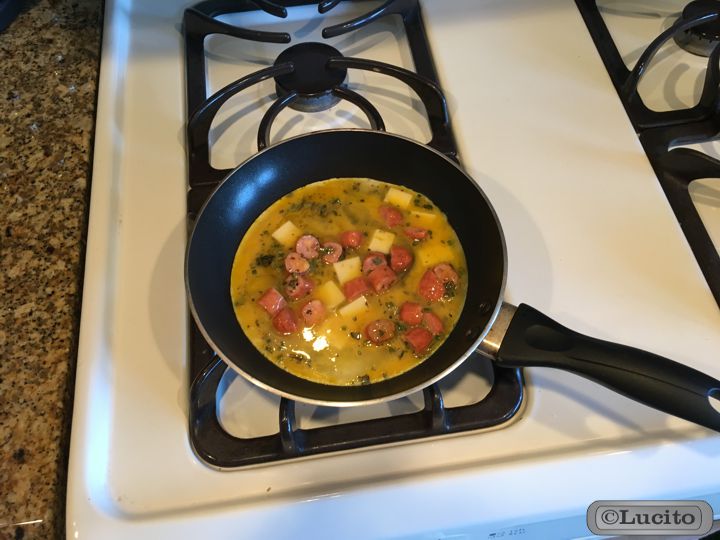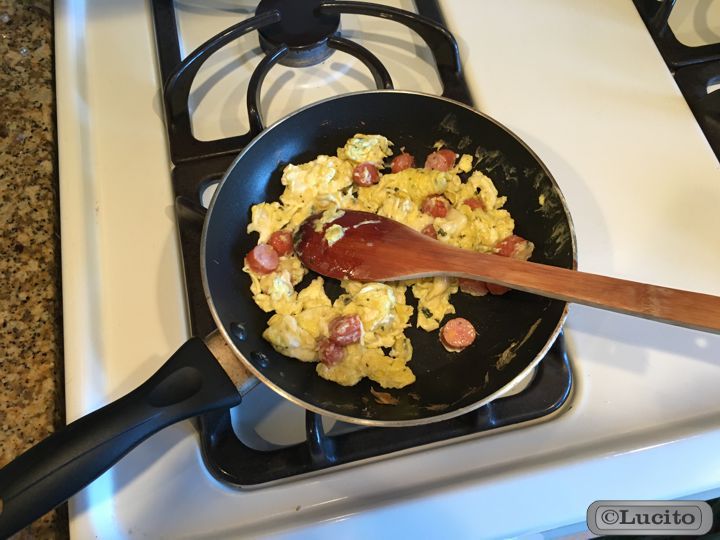 Lee Valley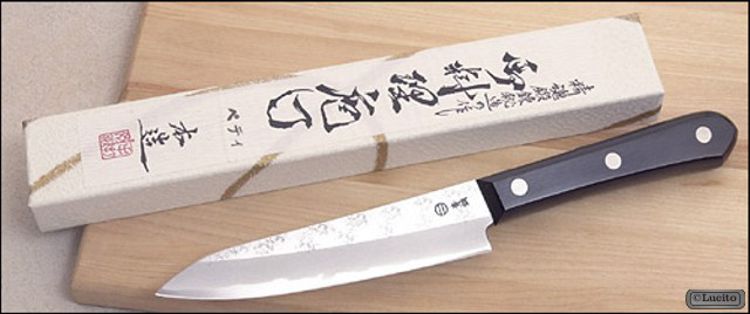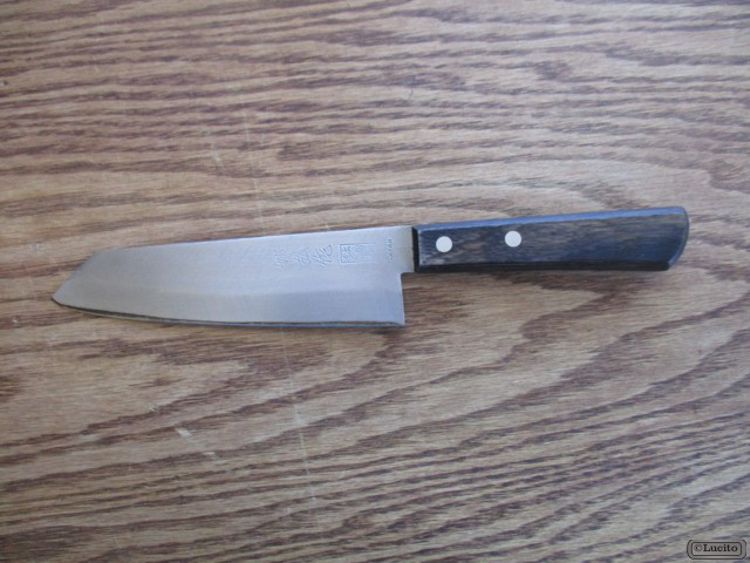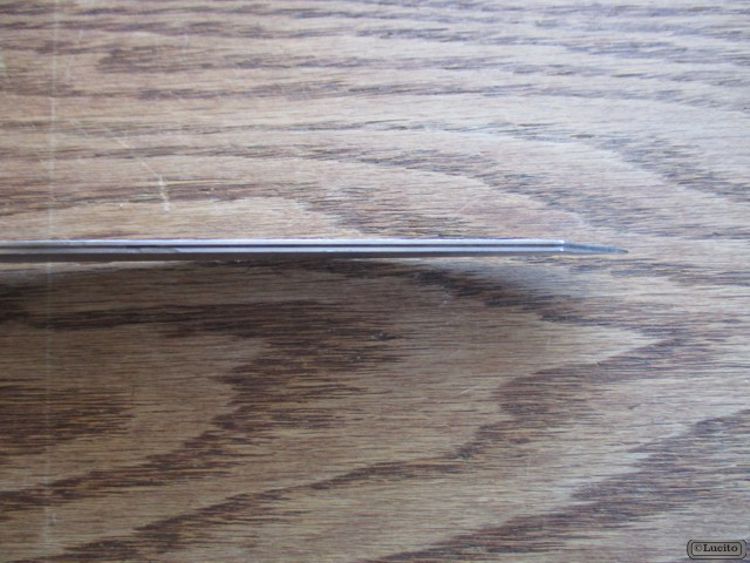 The wavy line along the forge weld is known as the "hamon" and was one of the judgment points of traditional Japanese swords.
11″ long overall with an ebony composition handle, this knife has a particularly beautiful, lightly textured blade.
The knife has exterior layers of stainless steel forge-welded to a high-carbon steel core. The carbon steel central layer gives you a knife that will hold a razor edge, but has the easy maintenance features of stainless steel.
It is best sharpened on a 1000 grit water stone which uses ordinary tap water for flushing. (Do not use sharpening steels.)
Comes in a decorative presentation box.
Lucito
Victorinox: 47022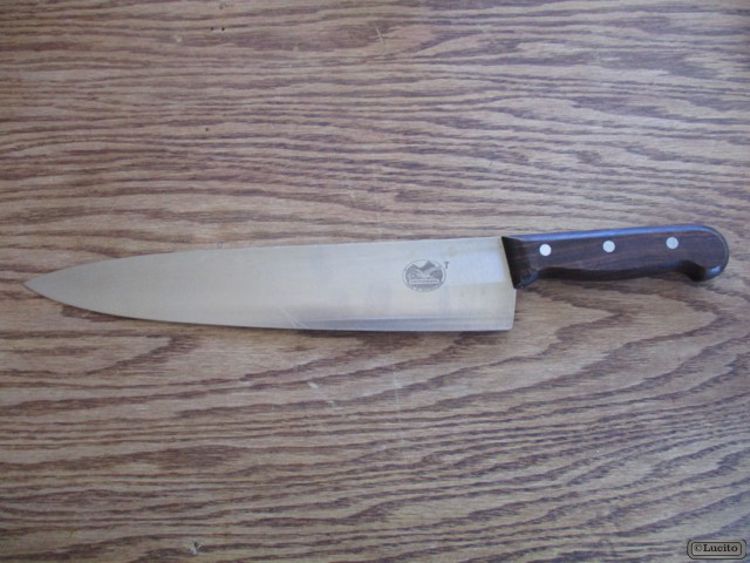 As one of our most popular knives, we know that the 12-inch Chef's Knife can handle any kitchen task we put it through. The stainless steel blade can move from job to job without ever compromising its sharpness.
Details
One of our most popular knives, the versatile, multipurpose 12″ Chef's Knife is a must-have for every serious cook. The high-carbon stainless steel blade is perfect for large chopping jobs and carries a lifetime warranty against defects in materials and workmanship. And the natural beauty of our Rosewood design is ergonomic, lightweight, balanced for extended use, and will not discolor or corrode.
12″ Stainless Steel Blade
Ergonomic, lightweight, and balanced for extended use
Will not discolor or corrode
Lifetime warranty against defects in materials and workmanship
Lucito
Lucito was born as the only child in a middle-class family in a small village famous for its ski resort north of Canada. An avid reader from before the time he started formally in school, he has had a lifelong interest in learning. He has always said;
"If you go do bed at night without learning something new that day, your day is not complete."
The quintessential "Renaissance Man", Lucito has always had deep passions for a wide variety of interest for as long as he can remember. He is self-learned on a wide variety of topics, and has developed a series of learning and creative techniques to assist him.
His early formative years were spent reading at least 6 books a week through the year while during his summers, while he was not reading, were mostly spent in the cold waters of a crystal-clear lake at his grandparent's cottage deep in the mountains where he was born.
A gipsy at heart from that period on, Lucito has lived, worked, and traveled all over the world.
Lucito started skiing at the age of 3, as everybody from his village was born with skis on their feet. He was an avid skier and cyclist until he tore one of his knees apart on the day of the 25th wedding anniversary of his parents in a stupid accident that happened while putting on the snow tires on his car.
Lucito was training in archery for the provincial Elite team but a shoulder injury just a few months before the 1976 Olympics prevented him from going further on this path. During that time he became a certified archery instructor. He later participated in shooting sports of all types, but decided not to compete except for fun because of the high level of politics involved in any organized sport. He did coach members of a pistol shooting team as his love for teaching and the sport was too great to entirely abandon it.
During his youth Lucito worked as a shop assistant, a metal worker, an assistant machinist, a draftsman, a biologist, and a blaster in a mine in the arctic. He finally graduated with a B.Sc. in science, and then a D.D.S., Canada.
In 1989 he took a short sabbatical to write a science-fiction fantasy novel. The idea had been in his mind for a long time, but his hectic lifestyle never gave him the time to actually sit down and write it. He actually applied the techniques of directed dreaming, that he had developed on his own and always used in his other endeavors, to write the entire book.
Through the 80's and 90's another great interest in his life, gourmet cooking and wines was developed. He has a lifelong interest in cooking that he developed since early childhood at the side of his mother and grandmother, who were consummate cooks. He was involved in the professional side of the wine and food business both as a consultant and a buyer for a variety of private concerns during that period. It permitted him to travel the world for that business and during the late 1980's he was all packed up to go manage a huge vineyard in Montenegro, part of the old Yugoslavia, when the war broke up in that part of the world. Luckily this happened before he had moved over there.
Another passion of Lucito is his love for anything having to do with technology and computers. At an early age, in the days he was spending his summers at the lake, he used to take apart everything mechanical around the cottage and actually put it back together in working condition. When electricity finally arrived with the new road deep in the woods, he started taking apart old radios and built himself a simple sound system from an old donated stereo turntable he mounted in a frame made of a few planks of wood, and the cassette recorder he had received that year as a Christmas gift. It was the start of an interest in technology that lasted until today. Those early experiences also lead him to build fine wood furniture and to become a licensed gunsmith and a metalsmith.
Being an avid photographer (1964-2016) and highly interested in the creative arts, Lucito in the early years of his consultancy, also offered graphic design, 3D animation, and multimedia creation services as the technology at the time was in its infancy and very complex. Most businesses could not afford having both the expensive equipment and the qualified personal to operate it on their staff so Lucito offered to fill the gap. Now he mainly uses his creative talents for relaxation, and occasionally for some interesting customer's projects.
With wide-ranging interests in technology, business management, and the food-wine business he offers a different and innovative approach to the traditional consulting business. He dedicates his work time on his consulting business, works daily on his line of software products, give conferences, workshops and classes on a variety of subjects.
In his spare he still writes extensively, enjoy cooking special meals for family and friends, and recently started teaching himself to play the guitar, something that had been on his extensive list of things to do in this lifetime, and that he never had the time to dedicate himself to do.
Lucito
I was just doing some simple site maintenance on our various websites and I was adding my Curriculum Vitae to some others so I decided to add the food and wine related ones here too in English and Spanish. Here they are:
Curriculum Vitae in English
Curriculum Vitae en Espanol
They are also listed on the "About Lucito" page of this blog.
Lucito
As most of you might have noticed, posting has been slow for the past few weeks. The reason has been a combination of many things. First the big heat wave that passed through central Mexico left us with not much energy to do anything productive and it was compounded by power failures and communication problems. We also have been working hard preparing a bunch of new features that we wanted to launch earlier this month, but due to various delays and infrastructure problems we will launch them when things quiet down a bit around here, probably in late June.
Though this site is hosted on a commercial host, we also maintain our own servers here for our other businesses, and for some clients. We spend the part of last week updating out Windows server, and now the next task is to do the same to the Linux one. I also need to add storage to our file server, so this sounds like it will keep me busy for a while judging the fun I had last week with the Windows server.
We also have been intensively looking for a new place for the school as right now it is an ordeal for us to travel to the place we give the cooking and wine courses as it is on the opposite side of town from where we live. On a good day with no traffic it takes us close to 3 hours to get there from here, so it is a tad tiring to give the courses. Also it is far north on the other side of town and most people in the more central areas of the city do not want to travel so far. We have been looking for a commercial space to rent, or ideally for a large out with enough space for us, the Boyz, and for the school and of course at a price we can afford. IT seems very difficult to find something that matches all of our criteria.
I think that this slowness of posting might last a few more weeks as I would love to find a proper place for the school and settle that once and for all, and also I need to do a lot of work both for the new things we want to launch here, and also on assorted other projects around the office. I will try to post something occasionally when I have a few free minutes, and we are taking picture and preparing new material for the site all the time. In the meantime keep cooking and enjoying good food and good wine and we will resume our regular posting schedule soon.
Lucito