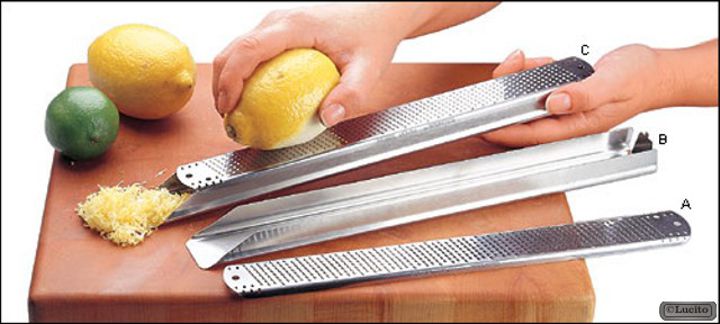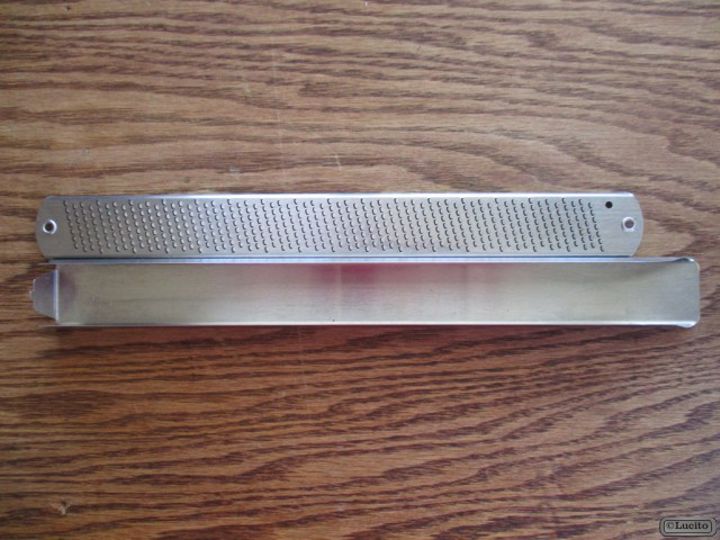 Lee Valley: 27W02.12
This rasp has been the subject of articles in The New York Times, the Chicago Tribune, the Los Angeles Times, The Globe and Mail (Toronto), and dozens of other newspapers. It can be seen regularly on TV cooking shows and is enthusiastically praised by leading chefs. For a tool that started life as a lowly wood rasp, this is high living.
Fame in the food world came about when a Lee Valley woodworker's wife discovered that her husband's new wood rasp would zest oranges. This discovery rapidly led to expanded uses such as zesting lemons, grating nuts and ginger, reducing a clove of garlic to near liquid in seconds, etc.
The single most spectacular and practical use was with hard cheese for use on pasta or in salads. Because it actually cuts the cheese into gossamer-thin shavings rather than grating it into small chunks, it is possible to use much less cheese for equivalent flavor impact when compared with grated cheese. Rasp is stainless steel, 12″ long.
All of this utility has been enhanced by our patented design of a stainless-steel base that makes the rasp easier to hold and also contains the zested material.
Rasp made in USA, zester holder made in Canada.
Lucito
Measures for Pans and Dishes
Inches
Centimeters
9 by 13 inches baking dish
22 by 33 centimeter baking dish
8 by 8 inches baking dish
20 by 20 centimeter baking dish
9 by 5 inches loaf pan (8 cups in capacity)
23 by 12 centimeter loaf pan (2 liters in capacity)
10 inch tart or cake pan
25 centimeter tart or cake pan
9 inch cake pan
22 centimeter cake pan
Lucito
| Oven Temperature Conversions | | |
| --- | --- | --- |
| Fahrenheit | Celsius | Gas Mark |
| 275F | 140C | Gas Mark 1 – Cool |
| 300F | 150C | Gas Mark 2 |
| 325F | 165C | Gas Mark 3 - Very Moderate |
| 350F | 180C | Gas Mark 4 – Moderate |
| 375F | 190C | Gas Mark 5 |
| 400F | 200C | Gas Mark 6 - Moderately Hot |
| 425F | 220C | Gas Mark 7 - Hot |
| 450F | 230C | Gas Mark 9 |
| 475F | 240C | Gas Mark 10 - Very Hot |
Lucito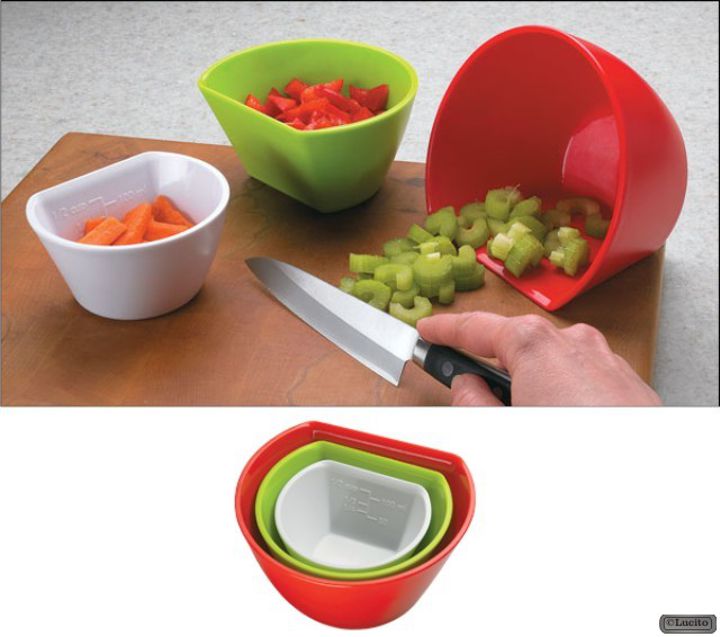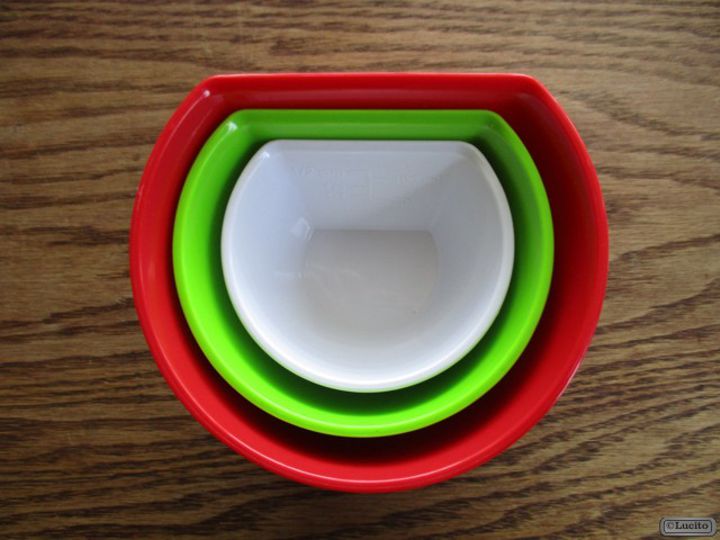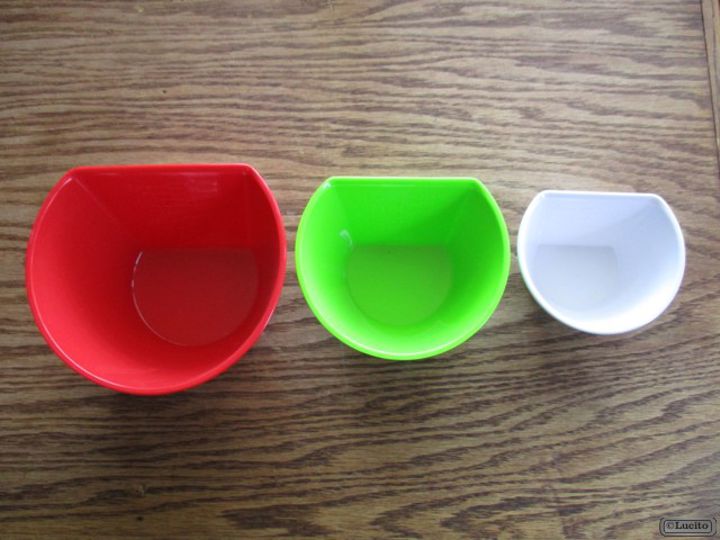 Lee Valley: EV149
The broad, flat side of these bowls makes collecting ingredients directly from a cutting board a snap. The bevelled edge rests flush on the cutting board to ensure ingredients go into the bowl, not under the lip, and you can use one of the corners as a pouring spout.
Comes as a set of three nesting bowls (1/2 cup, 1 cup and 2 cups) with Imperial and metric graduations marked on the inside. Made of hard ABS plastic, they are BPA free and dishwasher safe in the top rack. Not microwaveable. A practical improvement over regular prep bowls.
Lucito
Ratios for Selected Foods
Measure
Equivalents
Butter
1 stick
4 oz = 113 grams
8 tbs
1/2 cup
4 sticks
16 oz = 452 grams
32 tbs
2 cups
Lemon
1 lemon
1 to 3 tbs juice, 1 to 1? tsp grated zest
4 large lemons
1 cup juice
1/4 cup grated zest
Chocolate
1 oz
1/4 cup grated = 40 grams
6 oz chips
1 cup chips = 160 grams
cocoa powder
1 cup = 115 grams
Creams
Half and Half
1/2 Milk 1/2 Cream
10.5-18% Butterfat
Light Cream
18% Butterfat
Light Whipping Cream
26-30% Butterfat
Heavy cream
Whipping Cream
36% or More Butterfat
Double Cream
Extra-Thick Double Cream,
Clotted or Devonshire
42% Butterfat
Lucito
Measurements Conversion Chart
US Dry Volume Measurements
MEASURE
EQUIVALENT
1/16 tsp
dash
1/8 tsp
a pinch
3 tsp
1 tbsp
1/8 cup
2 tbsp
1/4 cup
4 tbsp
1/3 cup
5 tbsp plus 1 tsp
1/2 cup
8 tbsp
3/4 cup
12 tbsp
1 cup
16 tbsp
1 pound
16 oz
US liquid volume measurements
8 oz
1 cup
1 pint
2 cups = 16 oz
1 quart
2 pints = 4 cups
1 gallon
4 quarts = 16 cups
US to Metric Conversions
1/5 tsp
1 ml
1 tsp
5 ml
1 tbsp
15 ml
1 oz
30 ml
1/5 cup
50 ml
1 cup
240 ml
2 cups = 1 pint
470 ml
4 cups = 1 quart
.95 liter
4 quarts = 1 gallon
3.8 liters
1 oz
28 grams
1 pound
454 grams
Metric to US Conversions
1 ml
1/5 tsp
5 ml
1 tsp
15 ml
1 tbsp
30 ml
1 oz
100 ml
3.4 oz
240 ml
1 cup
1 L
34 oz
1 L
4.2 cups
1 L
2.1 pints
1 L
1.06 quarts
1 L
0.26 gallon
1 gram
0.035 oz
100 grams
3.5 oz
500 grams
1.10 pounds
1 kg
2.205 pounds
1 kg
35 oz
Lucito
Lucito was born as the only child in a middle-class family in a small village famous for its ski resort north of Canada. An avid reader from before the time he started formally in school, he has had a lifelong interest in learning. He has always said;
"If you go do bed at night without learning something new that day, your day is not complete."
The quintessential "Renaissance Man", Lucito has always had deep passions for a wide variety of interest for as long as he can remember. He is self-learned on a wide variety of topics, and has developed a series of learning and creative techniques to assist him.
His early formative years were spent reading at least 6 books a week through the year while during his summers, while he was not reading, were mostly spent in the cold waters of a crystal-clear lake at his grandparent's cottage deep in the mountains where he was born.
A gipsy at heart from that period on, Lucito has lived, worked, and traveled all over the world.
Lucito started skiing at the age of 3, as everybody from his village was born with skis on their feet. He was an avid skier and cyclist until he tore one of his knees apart on the day of the 25th wedding anniversary of his parents in a stupid accident that happened while putting on the snow tires on his car.
Lucito was training in archery for the provincial Elite team but a shoulder injury just a few months before the 1976 Olympics prevented him from going further on this path. During that time he became a certified archery instructor. He later participated in shooting sports of all types, but decided not to compete except for fun because of the high level of politics involved in any organized sport. He did coach members of a pistol shooting team as his love for teaching and the sport was too great to entirely abandon it.
During his youth Lucito worked as a shop assistant, a metal worker, an assistant machinist, a draftsman, a biologist, and a blaster in a mine in the arctic. He finally graduated with a B.Sc. in science, and then a D.D.S., Canada.
In 1989 he took a short sabbatical to write a science-fiction fantasy novel. The idea had been in his mind for a long time, but his hectic lifestyle never gave him the time to actually sit down and write it. He actually applied the techniques of directed dreaming, that he had developed on his own and always used in his other endeavors, to write the entire book.
Through the 80's and 90's another great interest in his life, gourmet cooking and wines was developed. He has a lifelong interest in cooking that he developed since early childhood at the side of his mother and grandmother, who were consummate cooks. He was involved in the professional side of the wine and food business both as a consultant and a buyer for a variety of private concerns during that period. It permitted him to travel the world for that business and during the late 1980's he was all packed up to go manage a huge vineyard in Montenegro, part of the old Yugoslavia, when the war broke up in that part of the world. Luckily this happened before he had moved over there.
Another passion of Lucito is his love for anything having to do with technology and computers. At an early age, in the days he was spending his summers at the lake, he used to take apart everything mechanical around the cottage and actually put it back together in working condition. When electricity finally arrived with the new road deep in the woods, he started taking apart old radios and built himself a simple sound system from an old donated stereo turntable he mounted in a frame made of a few planks of wood, and the cassette recorder he had received that year as a Christmas gift. It was the start of an interest in technology that lasted until today. Those early experiences also lead him to build fine wood furniture and to become a licensed gunsmith and a metalsmith.
Being an avid photographer (1964-2016) and highly interested in the creative arts, Lucito in the early years of his consultancy, also offered graphic design, 3D animation, and multimedia creation services as the technology at the time was in its infancy and very complex. Most businesses could not afford having both the expensive equipment and the qualified personal to operate it on their staff so Lucito offered to fill the gap. Now he mainly uses his creative talents for relaxation, and occasionally for some interesting customer's projects.
With wide-ranging interests in technology, business management, and the food-wine business he offers a different and innovative approach to the traditional consulting business. He dedicates his work time on his consulting business, works daily on his line of software products, give conferences, workshops and classes on a variety of subjects.
In his spare he still writes extensively, enjoy cooking special meals for family and friends, and recently started teaching himself to play the guitar, something that had been on his extensive list of things to do in this lifetime, and that he never had the time to dedicate himself to do.
Lucito
Yesterday I posted HERE that we would be having that nice suadero meat that we had bought Sunday and that has been marinating since then. It turned out that when Normita and I went to sit down and relax before the meal we were both so exhausted that we would not have enjoyed the meal. We decided to make a quick sandwich and keep the nice meat for today. Of course this means that it marinated for an extra day and that hopefully there is still something left in there and that the meat did not just dissolve completely. I have yet to check on that…
So we will have the suadero today with some oven-roasted baby potatoes and grilled asparagus, as planned yesterday. This time I hope that we actually eat it as I am starting to be very hungry, though Normita says she is not. We'll see how this turns out today… If we actually do eat it I will try to post some photos of the results later.
Lucito
I want to wish all of our regular readers the best for the New Year. 2010 will be a big year for us as one of our New Year resolutions is to work full time on our full line of food and wine services. We are currently looking for a permanent place to give wine appreciation and cooking classes in Mexico City.
If anybody know of a suitable place at an affordable rate in one of the nicer areas of town please get in touch with me on the phone at 1736 9016 or via email at jlpaquin@igourmand.com. Watch for an announcement on the next courses in the coming weeks and on a variety of new services. We will also start posting in the blog in both English and Spanish within the next few weeks.
Have a great New Year!
Lucito
As some of you might have noticed, the main part of the website was extensively updated in the middle of last week. We finally had time to add the various services we are offering here in Mexico City. Those services are both for the general public and the food and beverage trade.
We have an introduction to wine course that is scheduled for November and also a motivational conference. All of our industry services are available worldwide and can be done remotely or on site as required.
Have a look at the main site to get an idea of what we do, and for those interested more information on the courses is available here.
In the new year we will start offering regular weekly classes once we are installed in our new premises.
We will also be launching a Spanish version of the blog in the coming month and doing an extensive revamp of the current site. The main site is already in both languages.
Have fun exploring the new features,
Lucito