——
#iGourmand #Lucito #LucPaquin #Food #Recipe #HorsOeuvre #Aperitif #Consultant
——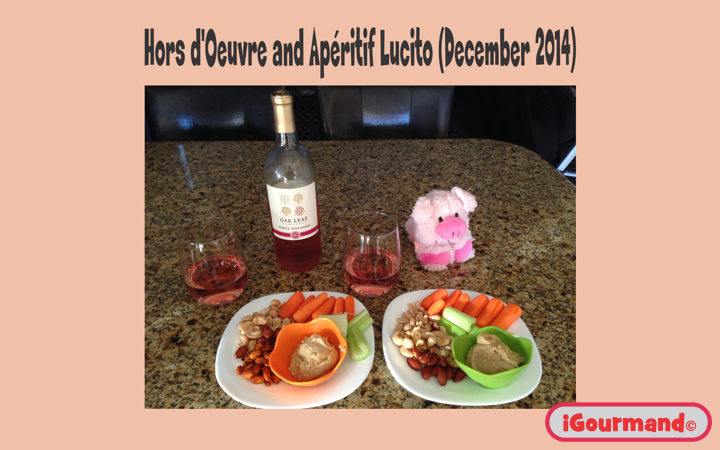 ——
Hors d'Oeuvre
Hors d'Oeuvre in modern French table service and that of much of the is a dish served before the main course of a meal. Hors d'Oeuvres may be served at the dinner table as a part of the meal, or they may be served before seating, such as at a reception or cocktail party.
Apéritif
An apéritif is an alcoholic beverage usually served before a meal to stimulate the appetite, and is usually dry rather than sweet. Common choices for an apéritif are vermouth; champagne; pastis; gin; ouzo; fino, amontillado or other styles of dry sherry.
Hors d'Oeuvre and Apéritif Lucito
Ingredient
4 tbs Peanuts
4 tbs Cashews
4 tbs Almonds
2 tbs Peanuts Chile
4 tbs Classic Hummus
2 Medium Glass Oak Leaf White Zinfandel
Preparation
1. Ingredients
2. Wine
Follow Us
Curriculum Vitae 2022
J. Luc Paquin 2022 – English & Español
Luc Paquin
Languages Spoken and Written: French, English and Spanish.
Citizenship: Canadian
Luc Paquin
https://www.jlpconsultants.com/luc/
English
https://www.jlpconsultants.com/JLPFoodWineCV2022Mk1a.pdf
Español
https://www.jlpconsultants.com/JLPComidaVinosCVMk2022a.pdf
Web: https://www.igourmand.com/
Web: https://www.jlpconsultants.com/
Facebook: https://www.facebook.com/neosteam.labs.9/
YouTube: https://www.youtube.com/channel/UC5eRjrGn1CqkkGfZy0jxEdA
Twitter: https://twitter.com/labs_steam
Pinterest: https://www.pinterest.com/NeoSteamLabs/
Instagram: https://www.instagram.com/luc.paquin/
Lucito