——
#iGourmand #Lucito #LucPaquin #Food #Recipe #Salad #ShreddedTurkey #Turkey #Tomato #DressingCaesar #Cheese #Consultant
——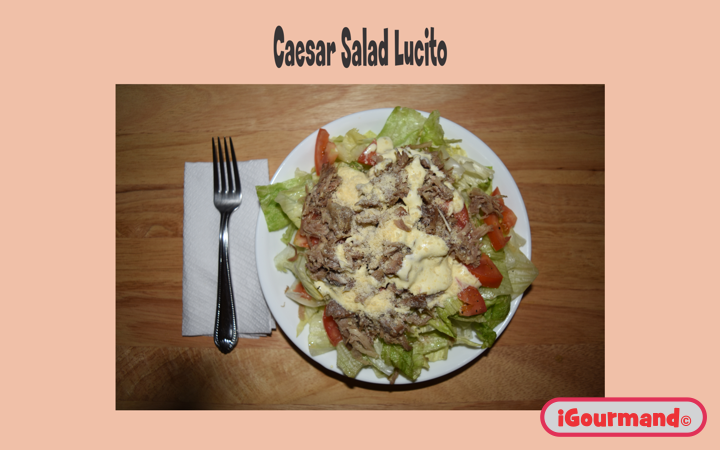 ——
Caesar Salad
A Caesar salad is a green salad of romaine lettuce and croutons dressed with lime juice, olive oil, egg, Worcestershire sauce, anchovies, garlic, Dijon mustard, Parmesan cheese, and black pepper. In its original form, this salad was prepared and served tableside.
The salad's creation is generally attributed to the restaurateur Caesar Cardini, an Italian immigrant who operated restaurants in Mexico and the United States. His daughter Rosa recounted that her father invented the salad at his restaurant Caesar's, at the Hotel Caesar in Tijuana, Mexico, when a Fourth of July rush in 1924 depleted the kitchen's supplies. Cardini made do with what he had, adding the dramatic flair of the table-side tossing "By The Chef". Cardini was living in San Diego, but he was also working in Tijuana, where he avoided the restrictions of Prohibition.
Caesar Salad Lucito
Ingredient
1/2 Iceberg Lettuce
1 Tomato
4 oz Shredded Turkey
4 tbsp Caesar Salad Dressing
3 tbsp Parmesan and Romano Cheese
Salt and Pepper
Preparation
1. Iceberg Lettuce
2. Diced Tomato
3. Turkey
4. Caesar Salad Dressing
5. Parmesan and Romano Cheese
Follow Us
Curriculum Vitae 2022
J. Luc Paquin 2022 – English & Español
Luc Paquin
Languages Spoken and Written: French, English and Spanish.
Citizenship: Canadian
Luc Paquin
https://www.jlpconsultants.com/luc/
English
https://www.jlpconsultants.com/JLPFoodWineCV2022Mk1a.pdf
Español
https://www.jlpconsultants.com/JLPComidaVinosCVMk2022a.pdf
Web: https://www.igourmand.com/
Web: https://www.jlpconsultants.com/
Facebook: https://www.facebook.com/neosteam.labs.9/
YouTube: https://www.youtube.com/channel/UC5eRjrGn1CqkkGfZy0jxEdA
Twitter: https://twitter.com/labs_steam
Pinterest: https://www.pinterest.com/NeoSteamLabs/
Instagram: https://www.instagram.com/luc.paquin/
Lucito