Main Dishes
Main dishes recipes
As mentioned yesterday we found some great pork meat on sale and bought various cuts enough to make 7-8 meals. What we will have today is deboned pork rib halves that looked very tasty.
We only paid around MN$55 a Kg for them (~US$1.90 a pound) and they look and feel very juicy. I am not sure how I will cook them, as I would love cooking them on the barbecue, but around here it is very difficult to plan this ahead of time as it might be raining by the time we are ready to eat, or it might be too windy. We'll see what happens and depending on the weather or my mood I will either do them outside as planned or in the oven.
As it is somewhat hot these days I wanted to prepare them in a lighter way so I prepared a marinade inspired by the high temperature. It is based on tangerine juice, with some "piloncillo" (raw cane sugar cones reconstituted in boiling water to form a heavy syrup reminiscent of molasses), Sambal Olek (oriental chili paste), soy sauce, sesame oil, a roughly pealed piece of fresh ginger, powdered "chile ancho" and citric zests, salt and pepper with lime zest. The result as a somewhat sweetish marinade with a bit of bite to it. Perfect for the weather. The meat is currently marinating in the refrigerator and in a few hours I will just turnover the meat in it so it is well marinated and whenever it is time I will decide how to cook it and what garnishes I will make.
If the results are great I will post the full recipe in the coming weeks…
Lucito
As mentioned yesterday in the "Daily Express", Normita prepared some of her great pozole rojo with a quick recipe that is a little bit less traditional in preparation, but that yields exceptional results. It is less heavy than the traditional recipe we make on special occasions as it is only made with chicken instead of chicken and pork. The traditional recipe is available here and has been the all-time favorite recipe on this site for many years.
Here is the illustrated version of Normita's quick recipe…
You can seen the bag of pre-cooked corn, the chiles, the chicken before removing the skin and fat, and the dry ingredients. Even though the corn is said to be pre-cooked, what it really means is that the though skin has been removed with lie and it has been blanched. It still requires many hours of cooking to be tender.
The corn requires washing very well as it still has some lie that was used to remove the tough skin. It is washed in the pot with at least 3 changes of water until the water comes out clean. This also has the advantage of removing all the little particles and bits of stuff left from the processing. You then add the condiments.
Once the condiments are added, you then add your water.
The corn is now ready to cook and you let it simmer gently on a low setting for at least 2 hours.
After about an hour that the corn is cooking, it is time to prepare the chicken. In another pot put the chicken, the condiments, and cover it with water. simmer on a low setting for about an hour. The corn and chicken should normally be ready about the same time.
When the chicken and corn is about done it is time to prepare the chiles. First you need to devein and seed them. You then wash them very well under running water. Then are then placed in a blender covered in water and reserve them until you are ready to use them.
By now the chicken and corn should be ready. Remove the chicken from the cooking stock and place in a large bowl to cool down.
You then pour the stock from the cooked chicken into the pot with the cooked corn.
It is now time to finish preparing the chiles. Put the chiles with water in the microwave and cook at high for about a minute and a half until the liquid is boiling. Blend the chiles until you have a smooth liquid and pour that liquid in the pot with the corn through a fine sieve. Mix well and your pozole is ready.
The pozole is now ready and you need to prepare the traditional garnishes. These include finely diced onions and radishes, chopped avocado, shredded lettuce, oregano, fresh limes cut in half, and hot sauce (in this case Normita's favorite "Valentina"). The garnishes are put in bowls that are placed on the table and the people add to their bowl of pozole what they want. The chicken has now cooled down enough to shred with your fingers in small pieces, so it is time to do so.
Finally we are ready eat! To serve you place some of the shredded chicken at the bottom of a large soup bowl. You then ladle a generous amount of corn over it and then cover with some of the broth.
Now the fun begins at the table and you now place all the garnishes you wish in your pozole and then top with a generous helping of shredded lettuce. You then mix well and enjoy an heavenly bit of Mexican traditional food. If you wan to be even more traditionial you can prepare yourself a few tostadas topped with some heavy clotted cream and a sprinkling of salt to go with it.
After preparing this post on pozole I am now starving. Luckily it is now near our lunchtime and we have some leftover pozole from yesterday that should be even better than freshly cooked. I am really looking forward to it.
Here is the recipe again step by step…
The pozole
Ingredients
1. Complete chicken breast with skin and fat removed
2. 1 Kg bag of pre-cooked pozole corn
3. 1 chile ancho
4. 1 chile pasilla
5. 1 chile guajillo
6. 1 1/2 tbs dessicated garlic
7. 1 tbs dried oregano
8. 3 tbs dessicated onions
9. 2 tbs powdered chicken broth
10. 8 or more cups of water
11. Water to cover the chicken
Instructions
1. Place the pre-cooked corn in a large cooking pot
2. Wash it well changing the water at least 3 times until the water is clean
3. Add the oregano, 1 tbs garlic, and 2 tbs of onions
4. Add the 8 cups of water and simmer for at least 2 hours on a low setting you might need to add some water as it evaporates and gets absorbed by the corn
5. After about an hour than the corn is simmering place the chicken breast in another pot
6. Put the remaining onions and garlic and the powdered chicken broth
7. Cover with water and simmer on a low setting for about an hour until the chicken is well cooked. Add water if the level goes down too much.
8. Around the time that the chicken and corn are ready, seed, devein, and wash the chiles well
9. Place the cleaned chiles in a blender and cover them in water and reserve them until ready
10. Remove the chicken from the cooking stock and place in a large bowl to cool
11. Pour the stock from the cooked chicken into the pot with the cooked corn
12. Microwave the chiles and water for about a minute and a half on high to bring the water to a boil
13. Blend the chiles until you have a smooth paste
14. Pour the chiles in the pot with the corn through a fine sieve
15. Mix well the finished pozole in the pot
Garnishes and How to Serve
Ingredients
1. Shredded cooked chicken breast
2. Finely diced onions
3. Finely dices radishes
4. Oregano
5. Shredded iceberg lettuce
6. Chopped avocado
7. Fresh limes
8. Hot sauce
9. Tostadas
10. Heavy clotted cream
11. Salt
12. Pozole
Preparation
1. Once cooled shred the cooked chicken breast with your fingers into small pieces
2. Prepare the various garnishes and place in individual bowls
3. Place some of the shredded chicken in the bottom of large bowls and cover with cooked corn and broth
4. At the table add the garnishes of your choice to the pozole, mix well and enjoy with some tostadas with a buttering of heavy cream and a dash of salt
Lucito
Today Normita prepared a "Quick" version of he great "Pozole Rojo de Jalisco". We will have enough food with this for today and tomorrow and the boyz, our huge Bouvier de Flanders dogs Uriel (Normita's boy, ~80Kg) and Bacchus (my boy, ~70 Kg), should have enough leftover broth to enjoy some with their dry food tomorrow night.
Since our regular pozole recipe is our all time favorite recipe based on the number of visits here on the site, we documented this quick version that we normally enjoy at least once or twice a month. It is simplified version made with only chicken and it easy to prepare and stunningly tasty. It is one of Normita's best recipes. We will post the full pictorial and recipe of this version in the coming days, so lookout pozole fans.
Lucito
Last weekend when we went food shopping we found on sales some huge shrimps at a price so low to make a ham and cheese sandwich look expensive. Strangely enough they were actually fresh, or at least freshly thawed, and they did smell like proper shrimps.
In the last year in the area where we now live, due to the financial crisis, the availability of any decent produce has been marginal at best and normally leaves us wondering about what to eat. A lot of times even the dogs do not want to eat what they sell around here. It is one of the main reasons we want to move back closer to civilization as the local stores do not stock anything decently edible as it does not sell at all. Besides chicken which is somewhat edible when you are lucky, normally any meat or fish is a luxury as nothing of quality or that is actually safe to eat is on sale. Judging from the smell in the stores, most of it just rots away, and we are talking major supermarket chains like Wal-Mart or others.
In any case we were pleasantly surprised to find very nice large shrimps at a very low price and we bought some for our Sunday meal. I had planned to do some brochettes or something similar on the grill, but the weather did not cooperate. I ended up inventing a recipe on the spur of the moment with whatever leftover ingredients I encountered in the larder.
With what I found it ended up to become a nice pasta in an Mexican-Oriental style that turned out extremely good and satisfying. It was a long time that we had not enjoyed something so good at home, just due to the unavailability of good products at the supermarket.
Ingredients
¾ to 1 pound cleaned and deveined large shrimps
1 medium échalotte chopped fine
3 chiles guajillos seeded, deveined, and cut into thin strips
3 pieces of candied ginger finely chopped
3 garlic cloves
3 sundried tomatoes in oil
A small handful of shelled walnuts
½ tsp Sambal Oelek chili paste
2 tbs of a mixture of dried citrus peels, salt, pepper, and sesame seeds
Tequila reposado
Olive oil
½ pound dried pasta of your choice
Salt and pepper to taste
Preparation
1. Cook the dried pasta until al dente in plenty of boiling salted water.
2. Once cooked strain the pasta, return it to the pot, and fill with cold water to stop the cooking.
3. After a minute or so strain the pasta again and return to the pot. Put a tablespoon or two of olive oil on the pasta and mix well with a spoon. Cover and set aside for now.
4. About 10-15 minutes before cooking the meal, place the cleaned and deveined shrimps in a bowl, sprinkle the mixture of citrus peels and sesame seeds, and add a few tablespoons of the tequila.
5. In a very hot wok sauté the shrimps in a little olive oil. When they start to be opaque carefully add some tequila to the wok and flambé them. Return them to the bowl.
6. Add a bit more olive oil to the wok and briefly sauté the échalotte, guajillos, and garlic.
7. Add the reserved pasta, the sundried tomatoes, the walnuts, the candied ginger, and the Sambal Oelek. Sauté until warm.
8. Add the shrimp and warm them up in the mix and add a splash of tequila, and some sesame oil to finish them.
Lucito
We are currently trying to clean up the freezer from assorted stuff we had accumulated over the past year or so. Like everybody we tend to accumulate a bunch of frozen stuff and before it gets too old and needs to be thrown out, we recently decided it was time to use everything so that we can slowly restock it with things we are using more regularly.
Yesterday we took out a piece of beef tenderloin that had been frozen for a while. It was of local origin, and like most local meats it tends to be much lower in fat content, thus it has a tendency to be a lot dryer and harder than imported beef. Last week I had prepared a nice piece of the filet I had removed from a big imported T-Bone roast that we did last summer for Normita's birthday and it was stunning as a small roast. I stir-fried half of the tenderloin I had defrosted yesterday, and it turned out a bit dry and chewy. I did not want to repeat the experience and today I decided to marinate it all day to see if we could salvage the meat.
We had not been out food shopping since last week, so I improvised something with what I had at hand in the kitchen. The tenderloins turned out very tender and juicy this time. We ate them with steamed chayotes and a carrot salad Normita made.
Ingredients
1 pound beef tenderloin cut in 4 1 ½" thick slices
1 tbs desiccated onions
1 tbs desiccated garlic
1 tbs vegetal meat tenderizer
1 tbs crushed peppercorns
1 tbs finely diced fresh ginger
1 tbs sesame seeds
1 tbs sesame oil
1 tbs Worcestershire sauce
2 tbs soy sauce
½ bottle red wine
Preparation
1. In a large bowl place the wine, soy sauce, Worcestershire, sesame oil and seeds, ginger, peppercorns, tenderizer, garlic, and onions and mix them well.
2. With the flat part of a meat hammer flatten the tenderloin slices until they are reduced to ¾" and then with the toothed part of the hammer down to a bit over ¼".
3. Place the flattened tenderloins in the marinade and cover with plastic wrap and place in the refrigerator for at least 3-4 hours.
4. Take the bowl out of the refrigerator about 30 minutes before cooking the meal and grill over high coals, or on the stove in a grill pan.
Lucito
We're back from a very long period away from the blog that happened for a lot of personal reasons that kept me away from the kitchen on a regular basis. I will try to start posting regularly again as I have a backlog of new recipes to post as well as some articles from myself and others that have been sitting around here for way too long.
This morning the Padrino asked me about a recipe for Irish Stew, to better celebrate St-Patrick's day, and I decided to post it here instead of sending it to him directly. Traditionally Irish cooking is very similar to French Canadian cooking from Quebec, one of the reason is that a lot of the French families there have some Irish blood since there was a lot of Irish immigrants coming into Quebec in the old days. The traditions mixed and many of the old style recipes are very similar. It is also true that some of the traditional stew recipes have common roots across Northern Europe and especially with peasant-style cooking from rural France.
Irish Stew was traditionally a root vegetable stew made with mutton, but these days mutton is rarely available at most butcher's shops, so it is normally made with lamb. A nice deboned shoulder of lamb works well, especially if you keep the bones to make a nice lamb stock first. I like those kinds of stews to be rich and thick so I normally prefer prepare a strong stock the day before, and then cooking the stew after the stock has cooled overnight and the fat is removed. If the stew is still a little on the clear side after cooking, I might thicken it a bit with a bit of cornstarch or flour diluted in some Guinness, just to give it a little bit of texture of course…
Ingredients
Stock
2 tbs butter
3 pounds lamb bones
6 quarts water
1 branch celery
1 large carrot, peeled
1 large clove of garlic
1 medium onion cut in half
2 large branches of parsley
Stew
2 tbs butter
4 tbs flour
3 quarts lamb stock
3 pounds deboned lamb shoulder with the fat removed, cubed
1 bottle Guinness
1 glass of tannic red wine
1 pound carrots, sliced
2 pounds potatoes, diced
1 pound turnip, diced
1/2 pound small pearl onions
1 pound button mushrooms, sliced
1 large branch of parsley
2 tsp thyme, crushed
2 bay leaves
4 cloves
3/4 tsp nutmeg
3/4 tsp ground dry ginger
2 tsp corn starch dissolved in some Guinness
Salt and pepper to taste
Preparation
Stock
1. In a large stock pot brown the bones in the melted butter for a few minutes over high heat.
2. Add the water and the other ingredients and bring to boil.
3. Reduce the fire and simmer from 4 to 6 hours until the water is reduced by half while skimming the foam regularly.
4. Cool down the stock and filter using a metal colander.
5. Refrigerate overnight and skim the fat off the surface the next day.
Stew
1. Coat the lamb cubes well with the flour.
2. In a large stock pot brown the meat well in melted butter over high heat.
3. Add the Guinness and the wine and bring to boil.
4. Add the lamb stock as well as the herbs and spices and bring to a boil.
5. Reduce the heat and simmer gently for an hour.
6. Add the root vegetables and simmer for thirty minutes.
7. Add the mushrooms and pearl onions and simmer for another thirty minutes.
8. If the stew is still a little bit clear thicken with the cornstarch dilute in Guinness and simmer for 10-15 minutes more.
9. Adjust the salt and pepper, and remove the cloves, bay leaves and parsley.
10. Serve in a wide soup bowl accompanied with some crusty country bread and lots of fresh farm butter and a few Guinnesses.
Lucito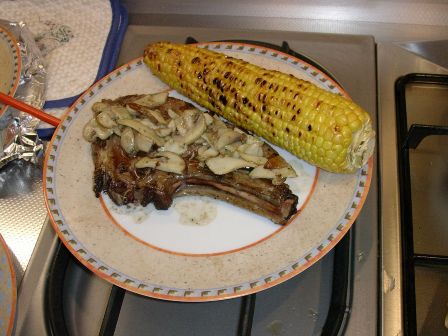 Dinner is served…
Summer is drawing to an end in Europe but in our equivalent of Indian summer, we still enjoy barbecue a lot. Evenings may be a little chilly, but we have that big Weber monster of a gas grill on our balcony right in front of our living room/kitchen and it's easy and convenient in almost any weather. So for yesterday we decided to invite my mom for dinner and treat her with some nice barbie-food.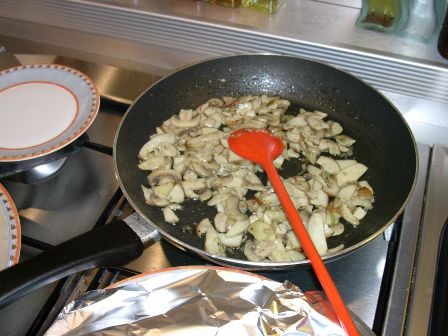 The mushrooms cooking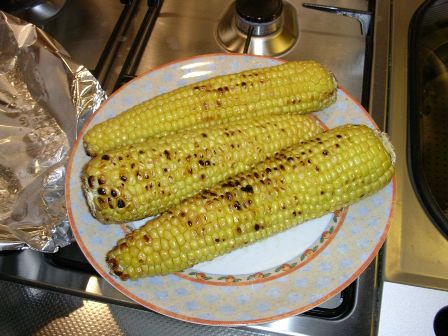 The tasty corn is ready…
We started with aperitif on the balcony and served an light, dry, Austrian white of SÅ mling 88 varietal, also called Scheurebe, with some olives and marinated mushrooms. Around Sundown we moved to the table and had appetizers – sweet melon with prosciutto and our own balcony-grown cherry tomatoes with little mozzarella spheres, basil (also from the terrace plantation) and an abundance of olive oil. Then we fired up the grill for the following recipe:
Ingredients
4 veal chops with the bone in, about 1" thick
1 lime
8 sprigs of thyme
4 tbs extra virgin olive oil
4 small porcini mushrooms
4 small regular mushrooms (as porcini are pretty expensive over here, instead you could double the porcini)
2 échalottes
1 tbs butter
Salt & pepper to taste
Preparation
1. Blot the meat dry with a paper towel and salt and pepper it to taste.
2. Prepare the marinade by removing 8 zests from the lime with a peeler.
3. Juice the lime and mix the olive oil with the lime juice.
4. Put a lime zest and a thyme sprig on each side of every chop.
5. Put them in a non-corrosive bowl and pour the marinade over them.
6. Let the chops marinate for at least 3 hours, occasionally pouring the marinade over them with a spoon.
7. For the corn, remove any leaves or 'hair', cover them with olive oil (or butter if you prefer)
8. If you want some more smoke flavor on the gas grill, fill the smoking compartment with soaked wood chips or prepare a 'smoking pouch' by wrapping them in double heavy duty aluminum foil, poke some small holes in the foil and place on the flavorizer bars.
9. When ready to grill, preheat the grill to high, brush and oil the grate. Put the chops on first, followed by the corn on the cob.
10. For medium doneness, turn the chops 90 degrees after 3 minutes.
11. Turn them over after another 3 minutes and 90 degrees again after 3 more minutes, for a total of 12 minutes. The 90 degree turns ensure that your cops will get handsome criss-cross marks on them.
12. You can turn the cobs as needed, depending on the heat.
13. When done put the chops on a plate, add some olive oil, thyme and salt to them as desired and cover with aluminum foil. Let them rest – we usually use the oven for that, preheated to 125F and double use it to warm the plates to be used. The meat should rest about 10 minutes for best results.
14. When the corn is finished – easy to see as the color is turning to bright gold – put it on a plate and likewise cover with aluminum foil.
15. For the sautéed porcini the mushrooms are cut in thin slices. The échalottes are to be cut in small cubes.
16. Heat the butter in a pan, add the échalottes and once they turn nicely glaassy, add the sliced mushrooms.
17. Sauté at medium heat for about 8-10 minutes. After 4-5 minutes you will notice the intense aroma of the porcini in the air, reduce the heat as required so the mushrooms don't dry out.
18. Serve by putting a chop on each preheated plate, put the corn on the side and cover the chops with the sauteed porcini. If you like, you can decorate with further thyme sprigs.
Enjoy with a nice, full bodied white – we had an Austrian chardonnay from Weingut Leberl which is only partly oaked and comes at a good natured 12.5% Alcohol.
Kurtito
For all of those visitor that come daily to this recipe we have posted a lighter and quicker to prepare version of this traditional Jalisco dish HERE. This other recipe is one that we normally eat at home at least once or twice a month. Enjoy both recipes.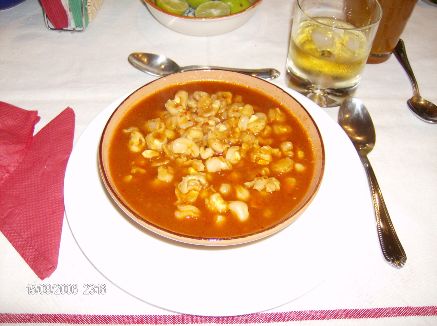 The served pozole de Jalisco before topping it with goodies
Last Mexican Independence Day we prepared some pozole for the entire family as part of the traditional celebration for the day. There are many styles of this dish and we prepare the version from Jalisco, which is a red pozole that is colored by the addition of dried chiles. Other regions like the Pozole Verde de Guerrero use green tomatillos, and there are also white versions without chiles. The red pozole from Jalisco is the traditional one in Normita's family as her grandmother was from Guadalajara in the hearth of Jalisco.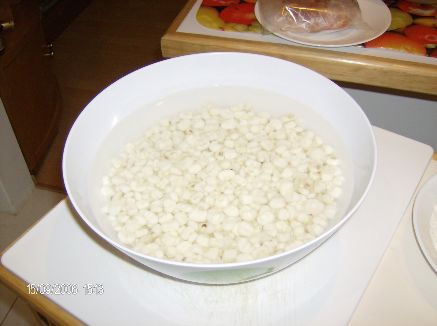 The pozole corn soaking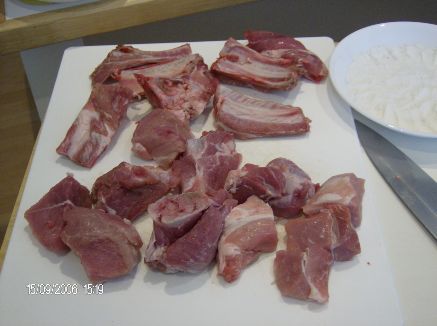 The pork we used for the recipe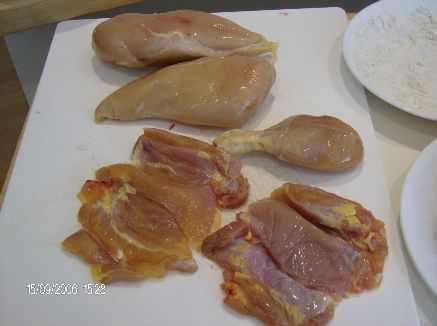 The chicken we used in the recipe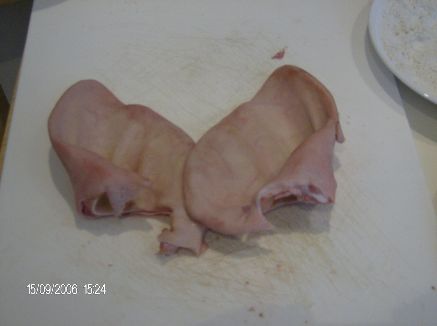 The pig's ears used in the recipe
Pozole is essentially a rich corn soup made with a special variety of corn with very large kernels called 'cacahuacintle'. The corn kernels are puffed by a special treatment with a light solution of lime, the stuff you make mortar with, not the fruit. It is a process that yields results a bit like when you make popcorn, but with juicy moist kernels of corn. I will not go through the process of preparing the corn, as we normally buy the corn at the market already prepared and we only have to soak it overnight and then cook it for 3 to 4 hours. If somebody wants the instruction to prepare the corn from scratch, please let me know and I will post them.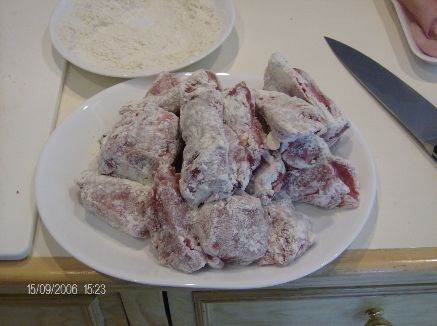 The meat dredged in flour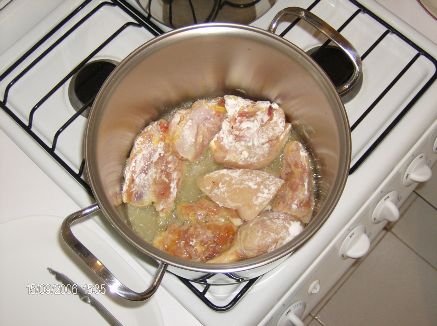 Browning the meat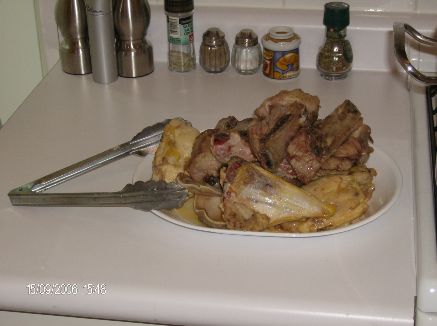 The browned meat
To this nice rich soup normally some pork or chicken meat is added. We decided to prepare both types of meats as well as some pig's ears. You can also add bits and pieces of pig's head if you wish.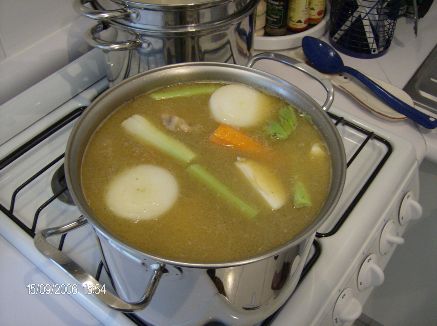 The cooking stock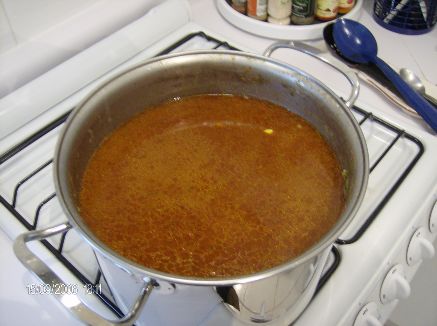 The stock is ready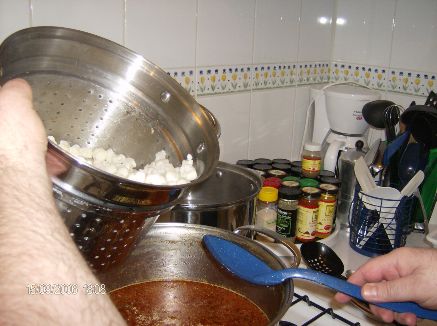 Adding the cooked corn to the stock
The meat is cooked in one large pot and the stock will become the base for the soup. The corn is cooked in its own separate pot, and is added to the stock prior to seasoning. Once cooked all of the meat is shredded using your fingers and the method of serving is to put the type of meat you prefer in an empty bowl, then ladle the corn soup over it.
The dried chiles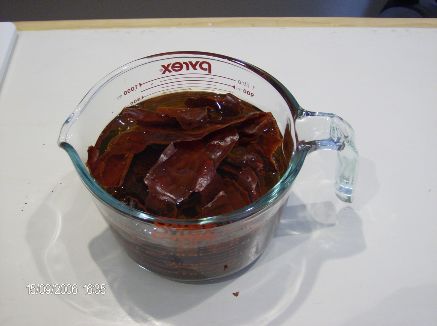 The soaking chiles
Traditionally the soup is topped at the table with finely shredded lettuce (we used romaine), finely chopped red onions, crushed dried oregano, finely chopped radish, and lime juice. It is served, at least in our family, with some nice 'tostadas de crema', essentially tostadas (flat fried corn tortillas) topped with a thick layer of thick clotted cream, salt, and grated 'queso fresco'. Of course both the pozole and the tostadas can be spiced up with the addition of your favorite spicy sauce, and we had a variety on had for the occasion.
The shredded chicked waiting to be served
The basic pozole itself is not very spicy as the chiles used (anchos and guajillos) give a lot of flavor, but not much heat. This is a great dish to prepare for a group as it tastes much better if prepare in large quantities. It is ideal for the type of celebrations like we had, and is traditionally served on Mexican Independence Day's eve (September 15).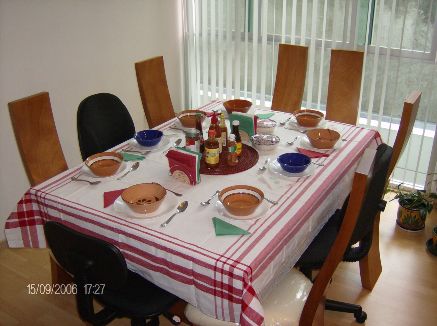 The table is ready
Ingredients
Corn Base
3-4 pounds of prepared pozole or hominy type corn
1 medium peeled onion
1 large peeled clove of elephant garlic or 5 regular ones
7 quarts water
Meat Base
2 pounds of whole chicken breast with bone
2 pounds of pork meat with bones, a mixture of ribs and leg is great
1/2 pound pig's ears
1 large peeled carrot
1 medium peeled onion
1 large branch of celery
1 large peeled clove of elephant garlic or 5 regular ones
Flour to dredge the meat
Coarse sea salt to taste
4 tbs of olive oil
5 chiles ancho, seeded and with ribs and stems removed
5 chiles guajillo, seeded and with ribs and stems removed
7 quarts strong chicken or pork stock
Garnish
4 Ounces finely chopped red onion
4 Ounces finely chopped radish
4 Ounces finely chopped romaine lettuce
12 limes halved
Dry oregano
Your favorite chile salsa
Preparation
1. Soak the corn for 24 hours and change the water at least 4 times.
2. In a large stock pot put the prepared corn in enough water to cover deeply.
3. Add the onion and garlic to the pot.
4. Simmer for 3 to 4 hours until the corn is tender and doubles in size opening like popcorn.
5. Reserve the cooked corn.
6. Once the corn starts cooking cut the meat in medium sized chunks.
7. Dredge the meat in flour.
8. In another large stock pot heat up the oil and brown the meat in batches to seal it.
9. Once the meat is all browned return it to the stock pot and add the stock.
10. Add the onion, carrot, celery, garlic, and salt to taste to the pot.
11. Simmer the meat for 2-3 hours until tender and skim the surface to remove foam and fat regularly.
12. While the corn and meat are cooking prepare the chiles and soak them in some warm chicken stock.
13. Remove the meat from the stock and let cool.
14. Once the meat is cooled shred it with your fingers.
15. Pass the stock where the meat cooked through a fine sieve and return it to the stock pot.
16. Add the cooked corn to the stock.
17. Puré the chiles with the stock they were soaked in and add to the stock pot.
18. Mix well and gently simmer for 15 minutes then add salt if needed.
19. Place meat or chicken at the bottom of a large soup bowl and ladle the pozole over it.
20. At the table each tops their pozole with lettuce, onions, radishes, oregano, lime juice, and their favorite salsa.
Lucito
Last weekend was a very lazy one. On Saturday morning Normita went out with some friends to celebrate the birthday of Viky over breakfast, and I stayed home to work. In the afternoon I was getting very lazy and I was not in the mood to prepare anything elaborate in the kitchen. Normita mentioned that she was in the mood of some pasta with maybe pesto, so I jumped in the car to go to the super and pick up some fresh basil, some pasta, and a bottle of white wine. I prepared a quick and dirty pesto, which takes about as much time as boiling the water for the pasta. I had bought some tagliatelle pasta, but you can substitute the pasta of your choice. It is a true lazy Saturday dish…
Ingredients
5 quarts water
1 1/2 tbs salt
1/2 pound dry tagliatelle pasta
1 cup loosely packed fresh basil leaves
1 large clove elephant garlic or 4-5 cloves regular garlic
3/4 cup extra virgin olive oil
1/2 cup pine nuts
1/4 cup toasted pine nuts
Salt and pepper to taste
Parmesan to taste for garnish
Preparation
1. In a large pot bring the water with salt to boil and cook the pasta until tender.
2. While waiting for the water to boil, in a sauté pan over medium high heat toast the 1/4 cup of pine nuts until golden brown. Make sure not to burn them. Set aside for garnishing.
3. Using a food processor or blender place the roughly chopped garlic and basil, the 1/2 cup of pine nuts, and the olive oil. Pulse until smooth.
4. Drain the pasta when cooked and return it to the pot. Pour the pesto sauce over it and toss over medium heat until the sauce and the remaining water is well absorbed into the pasta.
5. Server and season with salt and pepper to taste and top with freshly grated parmesan.
Lucito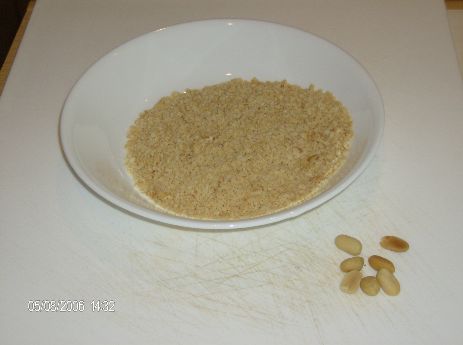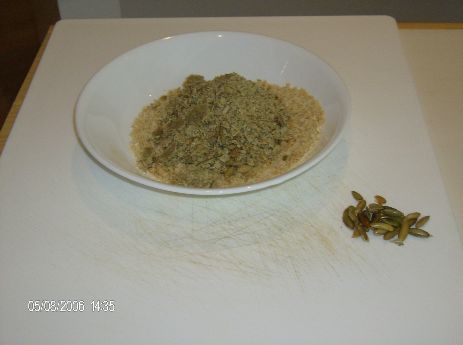 Here is another new recipe from last Saturday when Johnny Boy dropped by. When we left for the market I asked Normita what she felt like eating, and she wanted some fish. Our fish merchant had some nice thick robalo filets, a common fish here from the snook family, fresh from Golf Coast. We selected a particularly thick one and had 6 nice fish sticks about 1" square and 5" long cut out of the filet. I still was not sure how I would prepare them, but I finely decided to do something simple and bread them in a crust of peanuts and pumpkin seeds.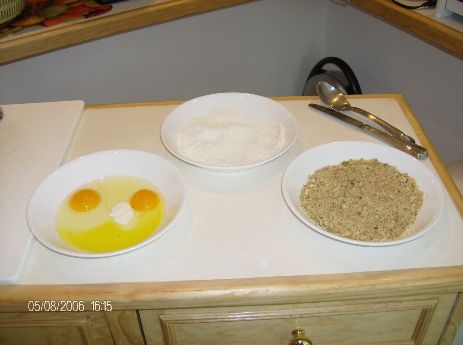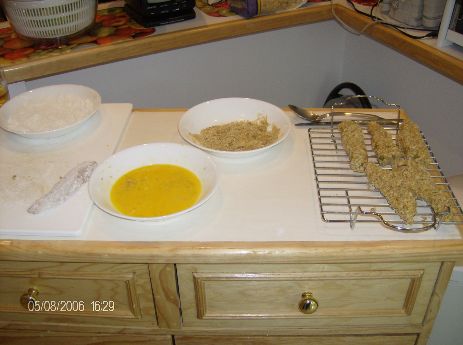 The fish turned out meltingly juicy and tender, in a nice crispy crust. A great tasting combination, from a very simple and easy recipe.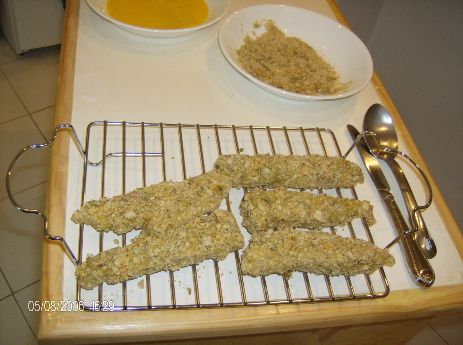 Ingredients
1 1/4 pound robalo cut into 8 fish stick about 1" square by 5" long
4 heaping tbs flour
1 heaping tsp onion powder
1 tsp salt
1/2 tsp white pepper, freshly ground
2 eggs
1 tsp extra virgin olive oil
1 tsp heavy cream
3/4 cup ground peanuts
3/4 cup ground pumpkin seeds
2 tbs butter
1 tbs olive oil
Preparation
1. Prepare 3 bowls wide enough to be able to dip the fish sticks in them.
2. In the first bowl place flour, onion powder and salt, and mix with spoon until well combined.
3. In the second bowl break the 2 eggs, add the tsp of olive oil, and the tsp of heavy cream.
4. With a fork whisk the eggs gently until you have a smooth homogeneous mixture.
5. In the third bowl place the ground peanuts and pumpkins and mix together well.
6. Take a fish stick and place in the flour bowl until well coated on both sides.
7. Pass the fish stick through the egg mixture until well coated on both sides, then let drip the excess.
8. Place the egg-coated fish stick in the nut mixture until all sides are coated well.
9. Place on a wire rack to dry.
10. Rinse your fingers and repeat with the other fish sticks.
11. Place the wire rack in the refrigerator for 20-30 minutes for the breading to dry.
12. In a large frying pan on a medium fire melt the butter and add the olive oil.
13. Cook fish sticks in the butter 3-4 minutes per side, until well browned for a total of around 7-8 minutes.
14. Put on a plate lined with paper towels to drain, and serve.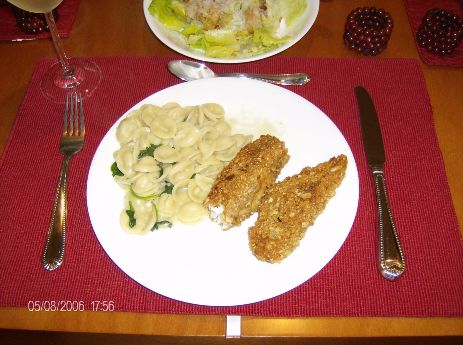 Lucito