Today's day is only marginally going better than yesterday's, but I prepared a decent meal anyways. I was not sure what the fish I thawed yesterday was, as I have the bad habit of putting stuff in zipper bags and then freezing them and trying to rely on my memory to know what it is. It does not work and I really need to make an effort to start systematically labeling things with content and freeze date as opposed to only occasionally do it.
It turned out to be one of the last pieces of local "dorado" (mahi-mahi) from the over 1 meter fish we bought some months ago. At the same time we also bought a few large "huachinango" (red snapper). We are now down to our last few packs, so we need to plan another trip to the central fish market. The two pieces in the pack were from the tail tip of the filet and not well cut to cook as a whole.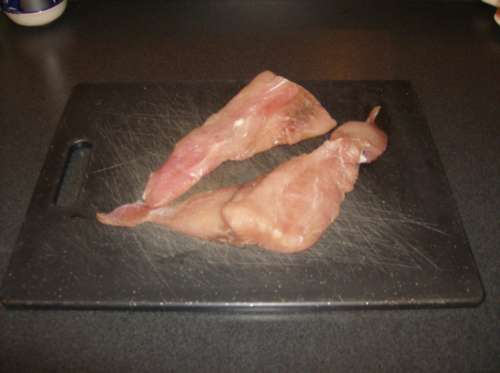 Yesterday I had though of baking them in a tomato sauce, but today I was pressed for time and I wanted something quicker to prepare and something that gives a satisfying crunch when eating, as everybody knows that crunchy food is fun food. I decided to cut the pieces in small chunks, then bread them quickly with some savory breading.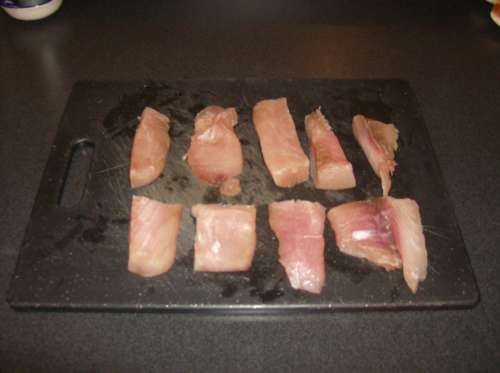 I prepared a quick bound breading with first some flour mixed with garlic salt, herbes de Provence, citric chile powder and white pepper to lightly flour the pieces. I them passed them through a wash with eggs mixed with a bit of sesame oil, salsa "Maggi", and heavy cream. Then I completed the bound breading with some hand-crushed Corn Flakes.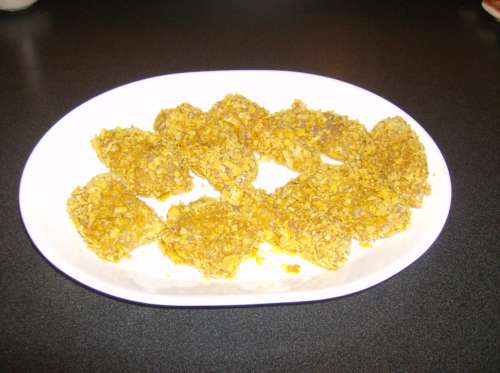 I pan-fried the fish in a few tablespoons of soy oil and it yielded incredibly crunchy pieces of fish with a moist juicy interior. I served it with the leftover sweet potato purée from 2 days ago. It turned out to be an very quick and easy meal to prepare that was very satisfying and very tasty.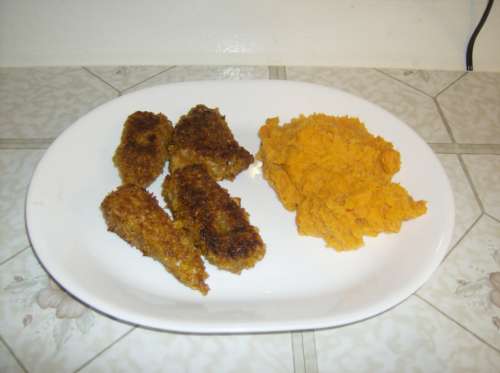 Lucito