Sidedish
——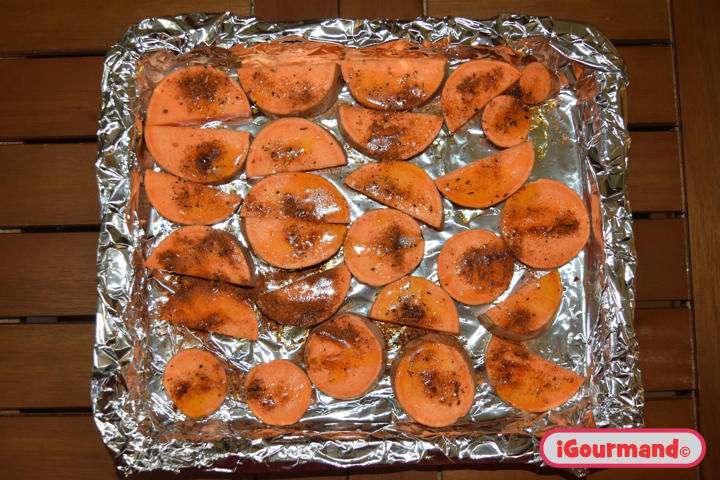 ——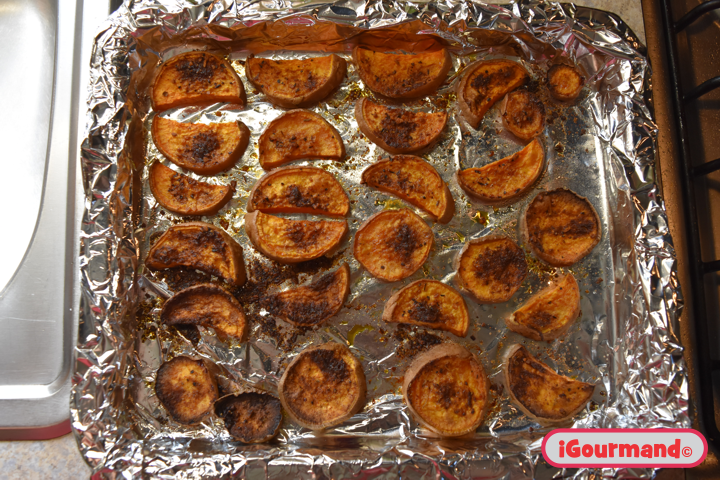 ——
#igourmand #Lucito #Lunch #Camote #SweetPotato #Food #Recipe #Vlog #Aphasia
Sweet Potato
Ingredients
1 Sweet Potato
6 tbs Weber N'Orleans Cojun
Oil Olive Extra Virgin
Preparation
1. In baking dish & heavy duty aluminum foil.
2. Cutting a sweet potato.
3. Baking dish even press them down lightly.
4. Sprinkle a Weber N'Orleans Cojun over in sweet potato.
5. Drizzle with olive oil.
6. Preheat oven to 375°F (190°C).
7. Bake for 45 minutes.
Follow Us
Web: https://www.igourmand.com/
Facebook: https://www.facebook.com/neosteam.labs.9/
YouTube: https://www.youtube.com/channel/UC5eRjrGn1CqkkGfZy0jxEdA
Twitter: https://twitter.com/labs_steam
Pinterest: https://www.pinterest.com/NeoSteamLabs/
Instagram: https://www.instagram.com/luc.paquin/
Lucito
After I wrote the previous post about inspiration I hit the kitchen directly to prepare the tomato salad as I wanted it to cool down a bit once prepared and it could do so while I took my shower. I looked into the larder and found 4 small tomatoes that were good, a small bag of olives and I collected other assorted ingredients including some fresh basil from the plant growing wildly in Normita's office. Starting with these ingredients I assembled the salad.
I have been doing those kinds of salads for over 25 years and I love the basic combination of tomatoes, basil, and olives. I normally prefer something like a Kalamata olives, but the only thing I found was a small bag of Spanish olive filled with peppers. They are overly salty so I rinsed them a few times in water to tame the saltiness. Assembling a salad like that is very easy, as you just make layers of ingredients starting with the thinly sliced tomatoes. Thus went it the tomatoes followed by cubed apples, sun-dried tomatoes in olive oil, shredded Oaxaca cheese, grated Parmesan cheese, the fresh basil, ground coarse salt, a fresh grind of black pepper, some balsamic vinegar, and extra virgin olive oil.
You the build the salad layer by layer until you have no more tomatoes. The process is simple. The salad that it yields is very tasty and I like to return it to the refrigerator for a while so the flavors gets well blended and that it gets very cold. I like fresh tomatoes to be very cold. I remember in another life when I was young and handsome, that often during the hottest part of summer when I was working on afternoon shifts from 2pm to 7pm. Before I left for work I would prepare a similar salad to that one with Kalamata olives and feta cheese to keep with the Greek olives, and I would put it in the refrigerator and eat it when I returned home after work. By that time it was ice cold like I like it and the flavors were blended to perfection.
Once the salad was ready I put it in the refrigerator, did the dishes, and I then hit the showers. We sat down and relaxed a bit in front of an electric fan as it is still like a furnace in here. We had this cold refreshing and tasty salad and all of the problems of this stressful weeks we just went through just disappeared.
When we sat down to eat Normita reminded me that I had forgotten to put some walnuts in the salad, so I added a handful of them in each of our plates over the salad. It made a nice addition to the salad.
Lucito
You might have noticed in the past few weeks that I am posting a lot of quick recipes and dishes made with frozen ingredients and dried condiments. The reason is twofold.
First we are actively looking for a place to move where we could give all of our courses in-house instead of renting space for each course or series of course. So we are trying to go through our supplies and frozen reserves to make the move easier on us. To achieve this we are buying a lot less and using what we already have in stock.
Second, in the area where we are currently living the availability of many ingredients we consider staples that we normally count on having in every grocery stores and on a regular basis are no longer available. Due to the very hard economic downturn of the past 18 months here in Mexico, and the high devaluation of the peso, the major grocery stores in our area are not stocking things that are not sold on a regular basis. Since the area is one of lower socioeconomical status this means what is not part of the daily diet is difficult to get. Case in point I have been trying to find for the past month some simple black peppercorns as I ran out, and they are not on the shelf anymore. I will have to make a list of basic things we cannot get anymore in the area, and the next time we go in town proper I will go shop for them. It is a real pain…
Getting back to the task at hand, I was not sure today what I would be serving with the thawed pork chops. I did not want to spend much time in the kitchen so I made one of my favorites, a simple couscous that takes about 10 minutes to prepare. I used some of last reserves of precooked couscous, which reminds me I should be adding that also to the list of things we will need to buy when we next go to town.
Couscous is one of those things that makes a very satisfactory and very tasty side dish. It can be prepared in about 10 minutes if you use the precooked type and I plain love it. There are essentially 3 steps in preparing it. First, you boil some water and flavoring.
Second, when it starts boiling you just shut the burner and mix in the couscous.
Third, you put the lid on the pot and wait 5 minutes for the couscous to absorb the water. You then add some butter and mix it in and server. It cannot be simpler.
I had a craving for nuts today, so I prepare a walnut couscous that was simply stunning. Here is the recipe:
Ingredients
1 cup water
1 tsp herbes de Provence
1 tbs dried onions
1 tsp dried garlic
1 tbs hazelnut oil
1 tbs chicken broth powder
1 cup precooked couscous
1 handful of hand-crushed walnuts
1 tbs butter or margarine
Preparation
1. Put the water, oil, onions, garlic, chicken broth powder and herbes de Provence in a small pot.
2. Bring the water to boil over high eat.
3. When it starts boiling shut the burner.
4. Add the couscous and nuts and stir them in.
5. Put the lid on the pot and let rest for 5 minutes until the water is all absorbed.
6. Add the butter and mix in, then serve.
Lucito