——
#iGourmand #Lucito #LucPaquin #Food #Recipe #Salad #ShreddedTurkey #Turkey #Tomato #DressingCaesar #Cheese #Consultant
——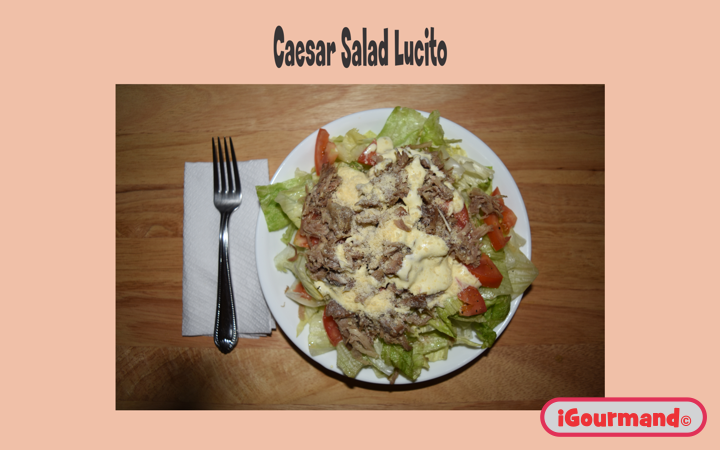 ——
Caesar Salad
A Caesar salad is a green salad of romaine lettuce and croutons dressed with lime juice, olive oil, egg, Worcestershire sauce, anchovies, garlic, Dijon mustard, Parmesan cheese, and black pepper. In its original form, this salad was prepared and served tableside.
The salad's creation is generally attributed to the restaurateur Caesar Cardini, an Italian immigrant who operated restaurants in Mexico and the United States. His daughter Rosa recounted that her father invented the salad at his restaurant Caesar's, at the Hotel Caesar in Tijuana, Mexico, when a Fourth of July rush in 1924 depleted the kitchen's supplies. Cardini made do with what he had, adding the dramatic flair of the table-side tossing "By The Chef". Cardini was living in San Diego, but he was also working in Tijuana, where he avoided the restrictions of Prohibition.
Caesar Salad Lucito
Ingredient
1/2 Iceberg Lettuce
1 Tomato
4 oz Shredded Turkey
4 tbsp Caesar Salad Dressing
3 tbsp Parmesan and Romano Cheese
Salt and Pepper
Preparation
1. Iceberg Lettuce
2. Diced Tomato
3. Turkey
4. Caesar Salad Dressing
5. Parmesan and Romano Cheese
Follow Us
Curriculum Vitae 2022
J. Luc Paquin 2022 – English & Español
Luc Paquin
Languages Spoken and Written: French, English and Spanish.
Citizenship: Canadian
Luc Paquin
https://www.jlpconsultants.com/luc/
English
https://www.jlpconsultants.com/JLPFoodWineCV2022Mk1a.pdf
Español
https://www.jlpconsultants.com/JLPComidaVinosCVMk2022a.pdf
Web: https://www.igourmand.com/
Web: https://www.jlpconsultants.com/
Facebook: https://www.facebook.com/neosteam.labs.9/
YouTube: https://www.youtube.com/channel/UC5eRjrGn1CqkkGfZy0jxEdA
Twitter: https://twitter.com/labs_steam
Pinterest: https://www.pinterest.com/NeoSteamLabs/
Instagram: https://www.instagram.com/luc.paquin/
Lucito
It is strange to be back home after a few week's of traveling. Especially since I managed to catch a bad cold over the weekend as the weather has been very cold here, and the new apartment freezing as it is not heated or insulated. I guess that I will have to stay active and wear warm clothes inside for the next month or so until the warm weather returns. As with most people, over the holidays, we managed to overeat more than a little bit. Combine that with a general lack of exercise and we both feel horribly bloated these days. Yesterday we mostly picked some fresh veggies and fruits at the tianguis for the week, and we will eat lightly and exercise a lot to get back in shape. Normita is starting her regular daily exercise regiment at the gym today and I will be taking long walks to go everywhere, so things should be back to normal in a matter of weeks. Today, to give some zest to a simple salad, I am offering a simple recipe of a tasty salad dressing that gives a lot of flavor without adding to many calories. That, of course, is if you do not use too much of it or munch on too many 'nuez garapiñadas'. Have fun trying it and let's start the New Year in style and try to keep our resolutions for more than a few days.
Ingredients
1/4 cup extra-virgin olive oil
3 tbs balsamic vinegar
3 tbs orange juice
2 tbs whole grain mustard
1 tbs rice vinegar
1 tbs honey
1 tsp sesame oil
2 limes, juiced
Salt and pepper to taste
2 Belgian endives
1 package of mixed baby greens
1/2 cup nuez garapiñada cut in half (sugar-coated walnuts)
Preparation
1. In a bowl put the ingredients up to, but not including the endives, and whisk together.
2. On individual serving dishes, place some Belgian endive leaves and add some mixed baby greens on top.
3. Sprinkle some of the nuez garapiñadas on top and drizzle a few tbs of the dressing over the prepared salad plates.
Lucito