——
#iGourmand #Lucito #LucPaquin #Vino #Uvas #VinoCurso #Curso #Wine #WineCourse #Consultant
——
Los Tipos de Copas – Vino Tinto
——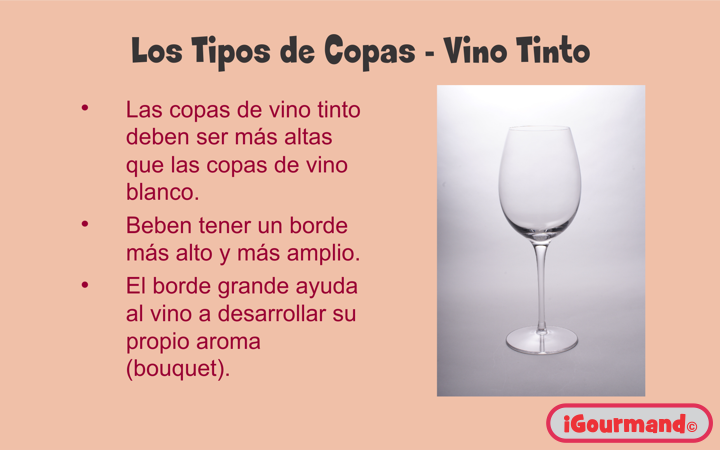 ——
Las copas de vino tinto deben ser más altas que las copas de vino blanco.
Beben tener un borde más alto y más amplio.
El borde grande ayuda al vino a desarrollar su propio aroma (bouquet).
——
Los Tipos de Copas – Vino Blanco
——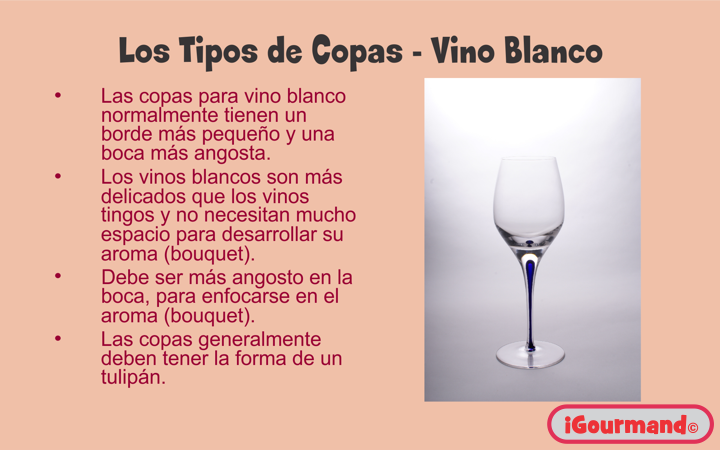 ——
Las copas para vino blanco normalmente tienen un borde más pequeño y una boca más angosta.
Los vinos blancos son más delicados que los vinos tingos y no necesitan mucho espacio para desarrollar su aroma (bouquet).
Debe ser más angosto en la boca, para enfocarse en el aroma (bouquet).
Las copas generalmente deben tener la forma de un tulipán.
——
Los Tipos de Copas – Vino Espumoso
——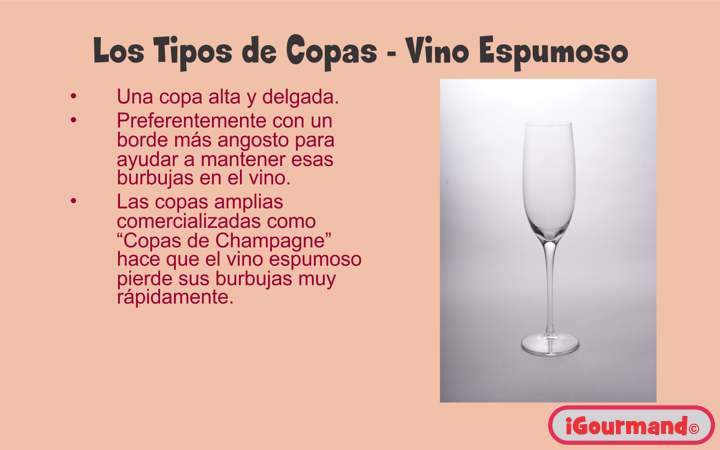 ——
Una copa alta y delgada.
Preferentemente con un borde más angosto para ayudar a mantener esas burbujas en el vino.
Las copas amplias comercializadas como "Copas de Champagne" hace que el vino espumoso pierde sus burbujas muy rápidamente.
——
Los Tipos de Copas – Cata
——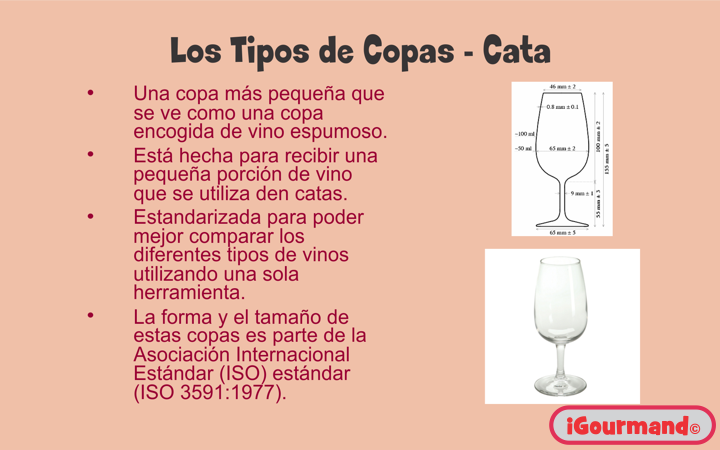 ——
Una copa más pequeña que se ve como una copa encogida de vino espumoso.
Está hecha para recibir una pequeña porción de vino que se utiliza den catas.
Estandarizada para poder mejor comparar los diferentes tipos de vinos utilizando una sola herramienta.
La forma y el tamaño de estas copas es parte de la Asociación Internacional Estándar (ISO) estándar (ISO 3591:1977).
——
Follow Us
Curriculum Vitae 2022
J. Luc Paquin 2022 – English & Español
Luc Paquin
Languages Spoken and Written: French, English and Spanish.
Citizenship: Canadian
Luc Paquin
https://www.jlpconsultants.com/luc/
English
https://www.jlpconsultants.com/JLPFoodWineCV2022Mk1a.pdf
Español
https://www.jlpconsultants.com/JLPComidaVinosCVMk2022a.pdf
Web: https://www.igourmand.com/
Web: https://www.jlpconsultants.com/
Facebook: https://www.facebook.com/neosteam.labs.9/
YouTube: https://www.youtube.com/channel/UC5eRjrGn1CqkkGfZy0jxEdA
Twitter: https://twitter.com/labs_steam
Pinterest: https://www.pinterest.com/NeoSteamLabs/
Instagram: https://www.instagram.com/luc.paquin/
Lucito