——
#iGourmand #Lucito #LucPaquin #Vino #Uvas #CursoDeVino #VinoCurso #Curso #Wine #WineCourse #Consultant
——
El Orden Para Servir Los Vinos
——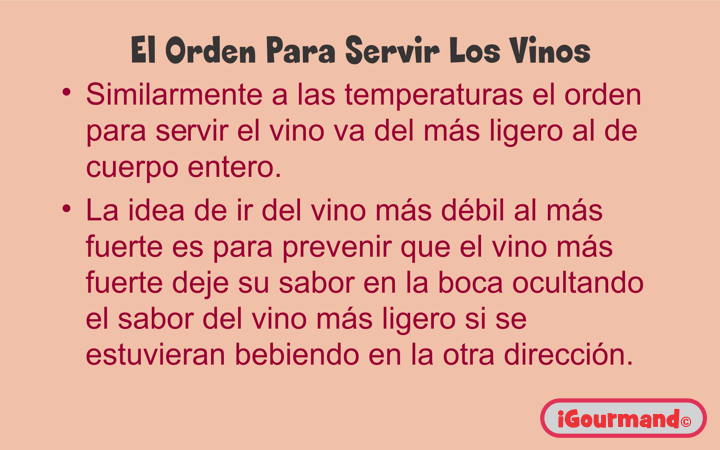 ——
Similarmente a las temperaturas el orden para servir el vino va del más ligero al de cuerpo entero.
La idea de ir del vino más débil al más fuerte es para prevenir que el vino más fuerte deje su sabor en la boca ocultando el sabor del vino más ligero si se estuvieran bebiendo en la otra dirección.
——
Combinaciones Básicas De Vino Y Comida
——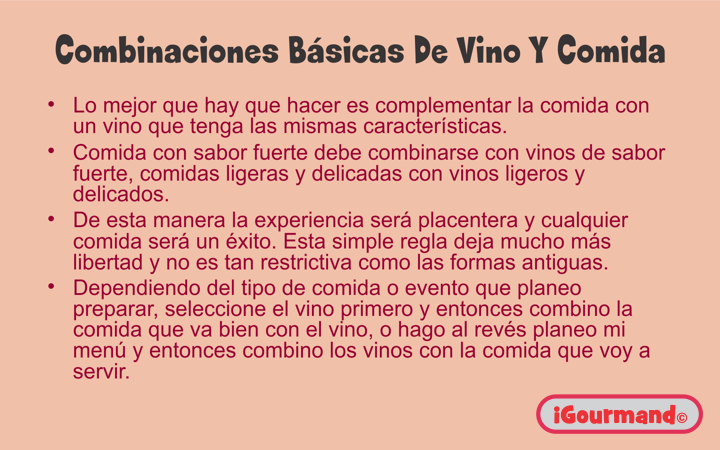 ——
Lo mejor que hay que hacer es complementar la comida con un vino que tenga las mismas características.
Comida con sabor fuerte debe combinarse con vinos de sabor fuerte, comidas ligeras y delicadas con vinos ligeros y delicados.
De esta manera la experiencia será placentera y cualquier comida será un éxito. Esta simple regla deja mucho más libertad y no es tan restrictiva como las formas antiguas.
Dependiendo del tipo de comida o evento que planeo preparar, seleccione el vino primero y entonces combino la comida que va bien con el vino, o hago al revés planeo mi menú y entonces combino los vinos con la comida que voy a servir.
Follow Us
Curriculum Vitae 2022
J. Luc Paquin 2022 – English & Español
Luc Paquin
Languages Spoken and Written: French, English and Spanish.
Citizenship: Canadian
Luc Paquin
https://www.jlpconsultants.com/luc/
English
https://www.jlpconsultants.com/JLPFoodWineCV2022Mk1a.pdf
Español
https://www.jlpconsultants.com/JLPComidaVinosCVMk2022a.pdf
Web: https://www.igourmand.com/
Web: https://www.jlpconsultants.com/
Facebook: https://www.facebook.com/neosteam.labs.9/
YouTube: https://www.youtube.com/channel/UC5eRjrGn1CqkkGfZy0jxEdA
Twitter: https://twitter.com/labs_steam
Pinterest: https://www.pinterest.com/NeoSteamLabs/
Instagram: https://www.instagram.com/luc.paquin/
Lucito