——
#iGourmand #Lucito #LucPaquin #Vino #Uvas #VinoCurso #Curso #Wine #WineCourse #Consultant
——
La Temperatura Adecuada Para Servir Vino
——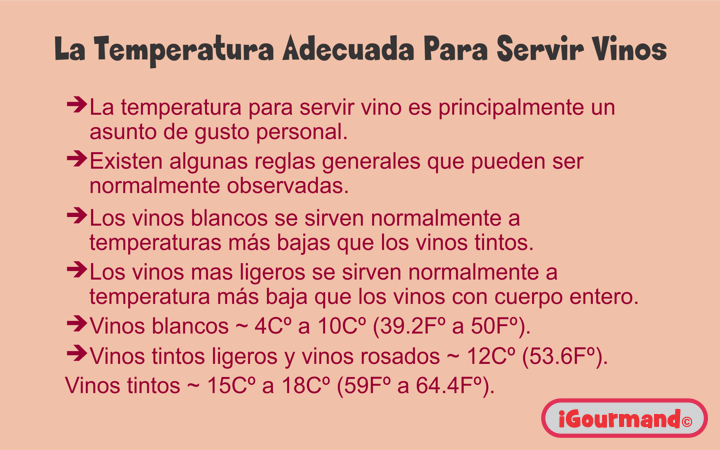 ——
La temperatura para servir vino es principalmente un asunto de gusto personal.
Existen algunas reglas generales que pueden ser normalmente observadas.
Los vinos blancos se sirven normalmente a temperaturas más bajas que los vinos tintos.
Los vinos mas ligeros se sirven normalmente a temperatura más baja que los vinos con cuerpo entero.
Vinos blancos ~ 4Cº a 10Cº (39.2Fº a 50Fº).
Vinos tintos ligeros y vinos rosados ~ 12Cº (53.6Fº).
Vinos tintos ~ 15Cº a 18Cº (59Fº a 64.4Fº).
——
Los Tipos de Copas
——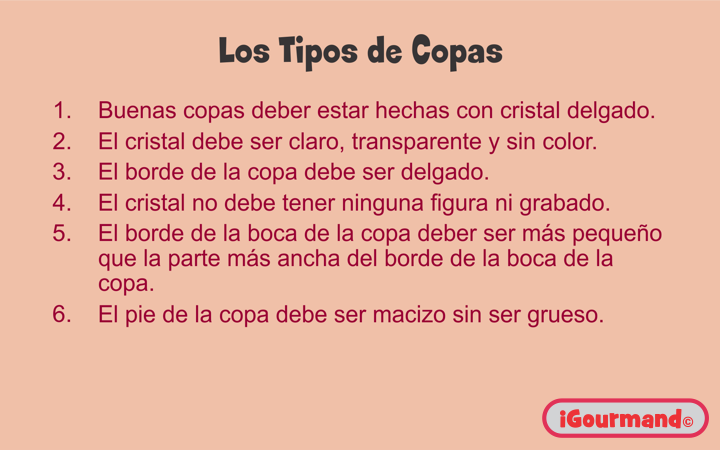 ——
Buenas copas deber estar hechas con cristal delgado.
El cristal debe ser claro, transparente y sin color.
El borde de la copa debe ser delgado.
El cristal no debe tener ninguna figura ni grabado.
El borde de la boca de la copa deber ser más pequeño que la parte más ancha del borde de la boca de la copa.
El pie de la copa debe ser macizo sin ser grueso.
——
Follow Us
Curriculum Vitae 2022
J. Luc Paquin 2022 – English & Español
Luc Paquin
Languages Spoken and Written: French, English and Spanish.
Citizenship: Canadian
Luc Paquin
https://www.jlpconsultants.com/luc/
English
https://www.jlpconsultants.com/JLPFoodWineCV2022Mk1a.pdf
Español
https://www.jlpconsultants.com/JLPComidaVinosCVMk2022a.pdf
Web: https://www.igourmand.com/
Web: https://www.jlpconsultants.com/
Facebook: https://www.facebook.com/neosteam.labs.9/
YouTube: https://www.youtube.com/channel/UC5eRjrGn1CqkkGfZy0jxEdA
Twitter: https://twitter.com/labs_steam
Pinterest: https://www.pinterest.com/NeoSteamLabs/
Instagram: https://www.instagram.com/luc.paquin/
Lucito