In this first entry of the "Daily Express" I prepared something very quick. For the past few days we have been frenetically working to give a new look for both this blog and the main site. We were supposed to go food shopping yesterday as we normally do, but with both of us concentrating on finishing this work (Normita on the main site which should be uploading as I write this, and me on the blog) we decided to finish the work instead and leave the shopping for later in the week.
I had a look at what we had in the refrigerator early this morning and found out I had a bit of frozen medium-sized cooked shrimps, and found that we still had half a pot of Mexican-style rice Normita prepared yesterday. She had made it with a bit of frozen veggies (peas, carrots, corn) and used some sushi rice as we had an old bag of it we recently found hidden in the back of the larder, and we want to use it before using fresher stuff. Due to the type of rice it is a bit stickier than normal, but it is very tasty indeed.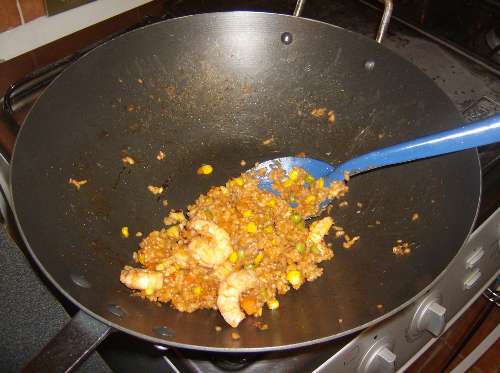 About an hour before lunch I threw the frozen shrimps in a bowl of water to thaw them and about 10 minutes before we wanted to eat I went to the kitchen. I took out my trusty wok and stir fried the leftover rice in a bit of soy oil. I then added some May Ploy oriental sweet chili sauce, some soy sauce, a big handful of crushed nuts and tossed in the shrimps.
It turned out to be so tasty that we ended up finishing even the portion we were planning to give to the dogs tonight… It's their lost!
Lucito