Monthly Archives:
April 2006
One late summer day, many years ago, I had found some nice fresh crab meat at the market and also some beautiful sweet corn. My original idea was to make some nice corn pancakes, and when I found the crab, I decided to combine the two and invent a crab pancake recipe. It was a great success, and for some reason I was thinking about them earlier today, and now I have to find some nice crab meat to make some over the weekend, as I suddenly have a craving for them…
This recipe can also be done with good quality canned or frozen crab meat, and I have made it successfully in the past with frozen corn kernels, and I am sure that canned kernels can be substituted without any problems. I like them by themselves, and they can be eaten with a nice tartar sauce, or even with salsa verde if you want to spice up things.
Ingredients
1 1/2 cups flour
1 cup sweet corn kernels
3/4 to 1 cup milk
1 pound crab meat
2 eggs
2 tbs sour cream
2 tbs melted butter
1 tbs sugar
1 tsp baking powder
1/2 tsp salt
1/4 tsp white pepper
1 grating nutmeg
Butter for cooking
Preparation
1. In a bowl sift together the flour, baking powder, salt, sugar, white pepper and nutmeg, and mix until uniform with a fork.
2. Add the eggs, the melted butter, and enough milk to make a fairly thick batter, and whisk together.
3. Fold in the corn and the crab meat until well incorporated.
4. In a non-stick pan melt a bit of butter over medium-low heat.
5. Place large spoonfuls off the batter in the pan to make several thick patties and cook until the edges are dry, then turn over and cook until set.
6. Keep the cooked pancakes warm and repeat with the rest of the batter.
Lucito
I was just watching some cooking and wine shows on TV and noticed that some of us in the food and wine business definitely take ourselves too seriously. I have to confess that I have a tendency to do the same thing myself at times, but it seems that the older I get the less I take myself seriously. By nature, being somewhat shy, I normally cover up the shyness by turning into a pompous bastard in social situations. I'm trying to control it more and more as I do not like myself when I do that, but it is difficult at time when the audience tends to be on the pompous side too. When I have to talk about subjects that are close to my heart and that I totally enjoy, be it food, wine, technology, or something else, I try to be less on the pontification side and more on the entertaining and preaching about my love of the subject side, as long as I do not get carried away too much.
I noticed that the cooking and wine shows I like the best are the ones where the hosts really like their subjects and seem to be enjoying themselves while presenting it. Enthusiasm tends to be contagious and if the host is truly enjoying himself, then you feel it and like to share this enthusiasm for the subject at hand. At the other end of the spectrum, the hosts that take the superior approach and sound like they are talking about a very serious subject as if they were in church, should remember that it is only food, and only fermented grape juice in case of wine, and that they are all destined to be eaten and drunk in the end. You know that happens a while after that part, do you?
I normally dislike the type of shows filmed in front of audiences, as they often time rely on gimmicks from the host, and tend to get repetitive after a while. The same is true of hosts who heavily rely on gimmicks of all sorts, often for shock value or just to cover the fact that they have nothing new to add to the genre, except for the gimmick.
I was also wondering what is it with all of those shows where the host cooks on a rickety table in the middle of a field or at the edge of the sea, with wind blowing things away, and flies all over the place? Is there a reason why those shows are done like that, besides looking at the nice scenery? Most of the time the host looks so uncomfortable, and seems to miss his real kitchen a lot.
While I'm on a roll, I really appreciate shows by hosts who knows how to cook well, but I cannot believe that some of those supposedly professional chefs, at least from the publicity surrounding them, barely seem to know basic preparation techniques, or at times seem to not have enough coordination to prepare a sandwich without injuring themselves, or even worse are not using a sharp knife, one of my pet peeves… There nothing more laughable that seeing a cooking show host who does not seem to know how to hold a knife, and that cannot cut something that should cut very easily with a sharp knife. I tend to lose confidence quickly in those cases.
Another thing, what is it with the Napoleon complex? Napoleon is a French dessert that is composed of layers of cookies and filling pile up high on a plate. Now it seems, especially amongst younger chefs, that food requires height, and they pile up stuff, Napoleon style, on the plate until they have a shaky sculpture that reaches the roof of the restaurant. It might look mighty nice on the close-up shot at the end of the show, but has any of those 'Chefs' tried to eat one of their creations? There is no way to eat one of these monstrosities without first disassembling it, and then eating the bits and pieces. That is if you are lucky that it can be transported to your table without collapsing into a singularity.
Yet another thing, when they prepare their pile-o-food that is sky high, why do they paint only about 1 tsp of that very complex beautiful sauce that they are so proud of, in the bottom of the plate where it is impossible to taste it? I know that I am of French extraction, and that my genes are programmed to love my sauces to excess, but can we get more than 1 tsp of sauce so that we can actually enjoy and taste them?
I am just rambling on now, so I will try to cut it short. First, to all the cooking show hosts out there, try to look like you are enjoying yourselves while preparing the food and that you really enjoy eating the food that you cook. Second, try to not be too repetitive and please do not rely only on gimmicks. Third and most important of all, stop taking yourselves too seriously as it is only food and wine, not a bloody cure to all that ails the world that you are talking about.
Great, now I go it off my chest…
Lucito
Today we did some extensive food shopping at the Mercado de Jamaica as over the last 8 months the price of food in and around the area we have moved to, has increased dramatically. Now that we are finally motorized again we can easily go back shopping to that fantastic covered market that specializes in flowers, but also has a huge amount of fruits and vegetables, as well as some decent chicken merchants. We also know a good butcher in the area, so we can buy there about 80% of what we need, and Normita is doing the accounting and we saved about 50-60% compared to shopping in our neighborhood. It is well worth going there, and we will start going regularly every Saturday morning.
We bought a huge pair of chicken breasts and had them prepared into what is locally called 'bistecs'. Each individual breast is cut in half and spread open then pounded between two sheets of plastic to make a nice large thin piece of meat. Today's 'bistecs' were huge considering that that both came from only a single breast. Normally we like to prepare them simply by seasoning with salt, pepper, and herbs, then squeezing some lime juice on them. You can then cook the 'bistecs' on a hot grill pan and have a tasty light meal.
Normita was in the mood for 'milanesa', which is the local name for taking one of those 'bistecs' and breading them. It is then cooked by pan frying. Those 'bistecs' can also be made with beef, veal, pork, and other meats. I decided to surprise her and prepare a gourmet version of the common 'milanesa'. I quickly invented a nice tasty breading and we came out of the table just a while ago satisfied by a very tasty meal that turned out fantastic. The 'milanesas' were juicy with an incredibly crisp breading. I served the 'milanesas' with simple side dishes, some nice mushrooms sautéed in butter, and creamy mashed potatoes.
To reinforce the philosophy of this blog, I want to remind our readers that all the recipes that we post are originals, family recipes, classic recipes that we have been doing for ages, or recipes contributed by friends that we have tested. A lot of effort goes into doing it like this, but I would not do it otherwise, as it is the only way for us to assure you that a recipe will yield good results. If we do not like cooking and eating it, we will not post it. I can safely say that we enjoyed this recipe that I just put together a few hours ago, and with a full belly tonight I bid you goodnight.
Ingredients
4 'bistecs' of chicken breast
4 heaping tbs flour
1 heaping tsp onion powder
1 heaping tsp dried herbes de Provence, finely ground
1 tsp garlic powder
1 tsp salt
1/2 tsp black pepper, freshly ground
1/2 tsp mixture of pink, green, white peppers, freshly ground
3 eggs
1 tbs extra virgin olive oil
1 tbs heavy cream
1 1/2 cups panko (Japanese bread crumbs)
1 heaping tbs parmesan cheese, grated
2 heaping tsp Spanish smoked paprika
1 heaping tsp dried parsley
Enough extra virgin olive oil to pan fry the 'bistecs'
Preparation
1. Prepare 3 bowls wide enough to be able to dip the 'bistecs' in them.
2. In the first bowl place flour, onion powder, herbes de Provence, garlic powder, salt and peppers, and mix with spoon until well combined.
3. In the second bowl break the 3 eggs, the tbs of olive oil, and the tbs of heavy cream.
4. With a fork whisk the eggs gently until you have a smooth homogeneous mixture.
5. In the third bowl place the panko, the parmesan, the paprika, and the parsley and mix with a spoon until well combined.
6. Take a 'bistec' and place in the flour bowl until well coated on both sides.
7. Pass the 'bistec' through the egg mixture until well coated on both sides, then let drip the excess.
8. Place the egg-coated 'bistec' in the panko mixture until both sides are coated well.
9. Dip it in the egg mixture again and then in the panko a second time to create a thick coating.
10. Place on a wire rack to dry.
11. Rinse your fingers and repeat with the other 'bistecs'.
12. Place the wire rack in the refrigerator for 20-30 minutes for the breading to dry.
13. In a large frying pan, place about 1/4" of extra virgin olive oil and heat up on a medium fire.
14. Place the breaded 'bistecs' in the oil and cook about 3-4 minutes per side, until well browned.
15. Put on a plate lined with paper towels to drain, and then keep warm in a low oven until all the 'bistecs' are cooked.
Lucito
Last Wednesday I did not know what to prepare for my lunch for the next day as we did not have much time to go to the supermarket and we were running out of everything. I looked into the cupboard and found some cans of tuna and I decided to prepare one of my favorite dishes "Atún a la Vizcaína". This time I decided to invent a new version "Pasta with Atún a la Vizcaina"; I prepared my tuna recipe and I then boiled some pasta with salt and when it was cooked I drained it and served it with tuna dish and added some parmesan cheese, it really became a great dish.
This tuna recipe we can be served by itself or presented in a wide variety of ways. Our nice Alejandra really likes it in empanadas or as a pie. This can easily be done by rolling out some fresh or frozen puff pastry dough and for the empanadas you cut 5" circles out of the dough and place a large spoonful of the tuna dish in the middle and fold in half and pinch the edges to seal well. You then cut some slits on the top with a sharp knife and place them on a cookie sheet and bake in a medium oven until golden. You can do the same thing as a pie, by lining a pie dish with the puff pastry, then filling it with the tuna dish and then placing another sheet of dough on top. You then seal the edges and cut some vents in it and you might even decorate it with some nice fish shapes cut from the dough. You bake it like the empanadas, and if you prefer a shiny crust you can paint it with a beaten egg white. Another nice way of serving this dish is to cool it and then make a nice sandwich with a nice large crusty bread roll.
Ingredients
1 can of tuna in olive oil
1 tomato, chopped
1/2 medium onion, chopped
1 garlic clove, finely chopped
1/2 chile jalapeño, finely chopped
1 tbs parsley, chopped
1 tbs soy sauce
5 stuffed olives, chopped
1 tbs capers, chopped
1 handful almonds, chopped
1 handful pine nuts
1 handful walnuts, chopped
1 tbs. olive oil
Preparation
1. Sautee the onion and garlic in the olive oil in a pan over medium heat until the onions are translucent.
2. Add the chile, parsley, tomato, and soy sauce.
3. Add the rest of the ingredients and the tuna can without the liquid.
4. Let it cook some minutes until the flavors melt together and serve.
Normita
Last weekend I was reminded by Normita that we have not had cheese fondue in a long time, especially since we did not have a fondue pot until recently and we have not even broken-in it yet. It is a dish we both like, but we normally indulge in it only a few times a year, as it is somewhat heavy. Traditionally it is something that we have been doing on Christmas Eve for over 20 years, but the stories of Christmas traditions will have to wait for the proper season.
My recipe for cheese fondue is a bit non-traditional. More than 25 years ago, when I started preparing cheese fondue in the traditional way, I had relatively good success. I used to do it with a mixture of imported gruyère and emmentaler cheeses. After some years of success, the imported cheeses were getting very expensive, and the market was flooded by local very cheap similarly name varieties. I still remember the first time I tried a cheese fondue with them, and the horrible experience I had. For some reason the cheeses, instead of melting smoothly, started to release a huge amount of oily substance. You had the melted cheese at the bottom of the pot, and then a layer an inch or more thick of oil. I remember spending a long time pouring this oil down the sink, and then mopping up the excess oil with paper towels, then throwing some flour on it to try to absorb it as much as possible.
After this fun experience, I decided to devise a way of doing fondues that would prevent this problem. After trial and error I came up with a different method that is both easy and will yield consistent results and a very smooth tasty fondue. The main thrust of the recipe is to prepare a white sauce with butter, flour, and wine, and then melt the cheese into that sauce. I still like the standard mixture of gruyère and emmentaler best, but in recent years I have played with local varieties with great success. I normally try to look for two or three firm cheeses with a complement of textures and tastes. For this Mexican Cheese Fondue I propose some local varieties and a locally made Dutch one. First I use Manchego that is made here with cow milk, not ewe milk like the original from Spain. It is a mild cheese with a neutral flavor. To add a bit more taste I chose next a cheese of similar texture, but with a slightly stronger taste, a locally made Edam. To add a bit more pizzazz the third variety is a Chihuahua, a more pungent type of cheese with a firm, slightly crumbly texture, and a bit of a salty aftertaste. They combine well together for a pleasant and tasty result. Dry white wine is used to make the initial white sauce, and most well-made cheaper varieties can be used. Of course to replace the traditional Kirsch I use tequila instead. I prefer a smooth, not too smoky reposado style for this. A nice side dish of Caesar salad is a great complement.
The fun of this is that you can experiment at length with cheeses, wines, and alcohol chasers to create an infinite variety of tastes. Please let us know your favorite combinations. The leftover fondue, especially the burnt part, is great to make dishes like French Onion soup, and is fantastic by itself melted over a piece of crusty breath in a broiler. Don't forget that the tradition says that if you lose your piece of bread in the fondue, you have to kiss the person on your left, so plan the seating arrangement accordingly…
Ingredients
1 pound Manchego cheese, roughly chopped in small pieces
1 pound Edam cheese, roughly chopped in small pieces
1 pound Chihuahua cheese, roughly chopped in small pieces
1 garlic clove, peeled and slightly crushed
3 tbs butter
3 tbs flour
1 1/2 cups dry white wine
2 1/2 Oz reposado tequila
White pepper to taste
Firm textured bread cut into cubes for dipping
Preparation
1. In the fondue pot, on the stove, melt butter over medium eat and cook the garlic clove for 2-3 minutes until golden.
2. Remove and discard the garlic clove.
3. Add the flour 1 tbs at a time, and incorporate well into the butter to create a roux.
4. Cook 4-5 minutes until it slightly starts taking color.
5. Add 1 Oz of tequila and mix well with the roux.
6. Slowly add the wine, a bit at a time and stir well to make sure that no clumps are formed.
7. Bring the sauce to a low simmer and lower the heat to minimum.
8. Add of the 3 cheeses a bit at a time and stir until all melted and smooth.
9. When all the cheese is melted add pepper to taste and the remaining tequila, and stir well to incorporate.
10. Light the fondue burner and place it at lowest setting and bring the fondue to the table to serve.
11. Eat by dipping a piece of bread speared on your fondue fork in it.
Lucito
Last night 'somebody who does not want to be named' (SWDNWTBN), an experienced cook who excels at making fantastic soups, had a fun little adventure in cooking. People always assume that experienced cooks always get perfect results, but I am the first to acknowledge that I make my share of mistakes and blunders in the kitchen like everybody else. Due to inattention or distraction, or just really not being in the mood for cooking, you can easily make messes and ruin dishes. The main difference between an average cook and a great one is that a great one can often salvage the dish or turn it into something else, if it is not too far along the path to oblivion.
This story is about one of those situations that went way too far down the path to oblivion. I was sitting in my office and SWDNWTBN was in the kitchen preparing a big pot of chicken and vegetable soup that would be our lunches for the rest of the week. The chicken would be used in chicken salads or sandwiches, and the soup first by itself, then as a nice purée with the adjunct of a bit of milk or cream. I started to notice a somewhat unpleasant smell in the air and asked SWDNWTBN what was going on. According to SWDNWTBN nothing out of the ordinary was going on, so I assumed that the smell was one of those strange emanations that the city's pollution level bring to you at times.
A bit later I visited SWDNWTBN in the kitchen and she was cutting the chicken legs into pieces and putting them into a plastic container for us to use in the coming days. I noticed again the strange smell and commented about it. It seemed to be coming from the chicken, but was not too overpowering at the time. A while later, when the large pot of soup was cooling, I passed by the kitchen again and SWDNWTBN asked me if I could smell the chicken that was now in the refrigerator. I opened the plastic container and I almost lost my supper right there and then. The chicken was after all the source of the bad smell and we were now sitting with a nice container of salmonella-infested chicken and a large pot of special salmonella soup, enough to kill the entire neighborhood and then some.
I asked SWDNWTBN if the chicken smelled strange before cooking, and she replied that she smelled it and it smelled really strange, and she wanted me to check it before cooking, but since she was very tired after a long stressful day at work, as she had to do the job of 2 people who are on holidays on top of hers, she totally forgot and cooked the chicken anyway. She mentioned to me that once cooked she did not feel like tasting the chicken as it smelled really bad. I still wonder why she prepared it all and kept cooking the soup, but let's put it as one of the hazards of cooking while distracted.
We ended up throwing the chicken and the soup away, as we did not want to take a chance in poisoning ourselves. What lessons can we extract from the adventure? First, if the chicken smells bad before cooking, throw it away first and don't use it in the soup. You might lose the chicken meals, but at least you will still have a pot of soup to eat. Second, when you are very tired and distracted, be careful in the kitchen and if you are not sure about the quality of an ingredient, ask a second opinion. SWDNWTBN almost lost a fingertip last weekend from a bread cutting accident, so it might be a good idea for her to relax a bit away from the kitchen. As mentioned before, a great cook can salvage badly messed-up dishes at times, but no amount of cooking skills can salvage a pot of salmonella soup, unless you need it to get rid of the entire neighborhood…
Lucito
Yesterday Kurtito discussed at length the various Easter traditions that his family followed in Vienna. Today I want to talk a bit on how we celebrated in Québec. I grew up in a Catholic family and Easter was normally celebrated with the entire family getting together for dinner at my paternal grandparent's house in St-Jovite. When I was very young, before the 'Révolution Tranquille' of the 60's when most people in Québec stopped going regularly to church due to their dissatisfaction with the church meddling with the government, we used to follow lent before Easter and also eat fish on Fridays most of the year.
I have vivid memories of sitting at the table in my grandmother's kitchen and eating hot-crossed buns during the weeks before Easter, and of going to get palms blessed at the church on Palm Sunday. Our regular family reunions were always on the small size, as the entire family from grandparents to grandchildren normally hovered around a dozen people. Only my uncle Jacques was living permanently with my grandparents, as my uncle Pierre was studying in Montreal at the time, and my father and us, and also his older sister Jeanine were living in Montreal. Normally on weekend the entire clan would drive up to my grandparent's place and spend the weekend there. In the summer, we were spending the entire season at the lake, where we used to live until recently, and my grandparents would visit us every Sunday for the ritual barbecued standing rib roast beef.
The door to my grandparent's house was rarely locked and you could walk in at anytime of the day or night and there would be food on the stove or in refrigerator. Normally there was a freshly cooked ham in the refrigerator that my grandmother would prepare before the weekend, and whenever somebody would arrive from Montreal the ritual was to go to the refrigerator, take the ham out, and cut and eat thin slices out of it, even on Friday nights when we were supposed to only eat fish. Looking back at it I guess that ham was not considered meat in those days. I have a few Jewish friends that similarly have always told me that ham and bacon are not pork, so I guess that every religion has its exceptions.
For Easter we normally would go to church in the morning, and I remember receiving all kinds of chocolate eggs and bunnies. I remember a type of egg in particular, that came in a yellow box. The chocolate egg was large around 3-4" long and wrapped in foil. Beneath it soft chocolate shell there was a white filling based on marshmallows and a yellow center. We would cut slices from it and eat it throughout the day. Normally the meal was either a huge roast beef or some nice large glazed ham.
In later years when most of the family stopped congregating weekly at the family house, we started to celebrate at the lake, and Easter was one of the few occasions throughout the year where the family would come together. The other occasions would be for Christmas and New Year, and irregular meetings throughout the year. Now that the family is spread all over the place we normally are all together only for Christmas and New Year, and we manage to attend those meeting only every few years since we moved to Mexico.
During the period I was in charge of cooking for the Easter feast at the lake, my dish of choice was always some nice deboned butterflied legs of lamb that I would marinate for a few days in a concoction made with pureed onions and jalepeños, honey, soy sauce, and other pungent ingredients. The lamb was almost cooked by the mixture…
I would sear the lamb on a very hot barbecue until a nice crust would form, then finish it slowly in a low oven. The meat would just melt in the mouth and would be accompanied by a variety of side dishes. As usual I would probably prepare a fish or seafood-based first course, and finish with a variety of desserts and a wide assortment of cheeses. Of course plenty of wine of all types would be served.
Regrettably in recent year we have not had the occasion to celebrate Easter with the family. The last few times we were in Canada for the occasion we went to a nice brunch all together. Since we arrived in Mexico we did celebrate it once with Normita's family, but for the last few years we did not have a chance to do so, as everybody was not in town at the time, so we did only did prepare a nice meal just for the both of us.
It seems that sadly some traditions are lost in our case, and that we should try to start new ones or revive old ones in the coming years.
Lucito
Every country with a noticeable Christian population has its own traditions around Easter. What's more, there are even different traditions for subpopulations in a single country due to religious and regional distinctions. The longer the Christian history, the more diversity you will find and even in a small country like Austria with barely 8 million people, due to long Christian history you will find hundreds of such subpopulations with different traditions.
As long as traditions are kept, they will start getting mixed when members from different beliefs and/or regions marry and both bring their own traditions to the new family. This is exactly what happened when my mom, who is from Styria province in Southern Austria and was brought up a Catholic, married my dad who was living in the capital city of Vienna all of his life and of European Protestant faith. The results are a host of nice traditions that we children have kept until today. Thus for example we don't eat meat in Good Friday and we eat the traditional (in Austria and Southern Germany) spinach and sunny-side up eggs the Thursday before, both from Catholic tradition, while we do celebrate Good Friday as highest clerical holiday from Protestant tradition, with our church ringing it's Lutheran bells and can start celebrating Easter Saturday early afternoon.
Even when we were kids and still went for the eggs, sweets and toys the 'Easter Bunny' hid for us, the main event always was the traditional Easter dinner on Saturday. When our grand parents were still alive, they often joined us as did my mother's sister, until she got married and founded a family of her own, sometimes friends, but always a happy family affair with lots of food and good times and memories.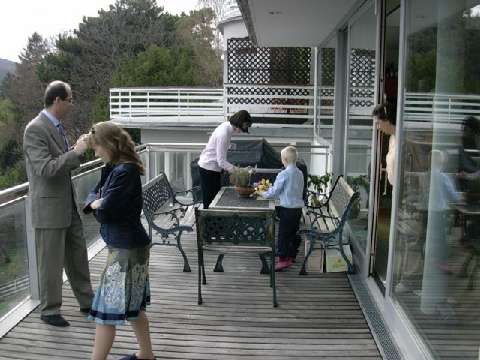 This year, like the last few, we invited the families – my wife's and mine – for the traditional lunch and it was great fun as always. And while we have subtly varied the beverages over the years and added a little here and there, the differences to the traditional Easter dinner from our childhood are minimal. The ingredients sound simple but trust me, it's a wonderful ensemble.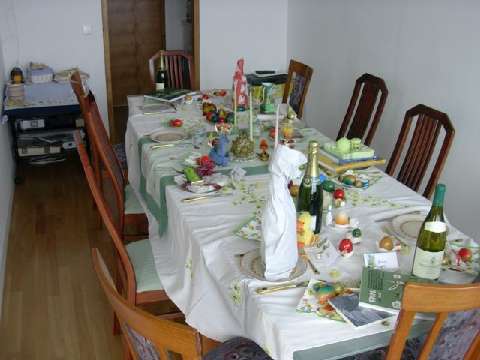 One basic ingredient for our traditional Easter meal is sweet bread. There are at least two varieties we have been using over time, one is called a 'Pinza' and it's made from biscuit dough and formed to show three loafs interconnected in one corner. The other is from my mom's home region Styria and is called 'potato bread', quite similar to traditional Irish soda bread in structure, and even taste, the recipe includes potato starch for a special taste. Potato bread is usually formed in a single extended loaf and it's available with or without raisins.
The next essential ingredient is cooked ham, which is sliced thickly from the bone, resulting in mighty chunks of rather varied geometry. As the Easter dinner traditionally marks the end of Catholic lent, this ham needs to be rich, both in flavor and in fat. Thus no fat is removed from it when slicing and everyone needs to decide for himself whether he wants to eat it or leave it on the side.
A variation of Easter ham is pre-cooked ham that is wrapped in some type of bread dough. That could be biscuit for a sweetish taste or sour bread for a more interesting contrast. The bread stuffed with ham is then baked and sliced. An interesting side effect of this process is that a lot of the fat will melt away while baking and is soaked up by the bread making its taste delicious.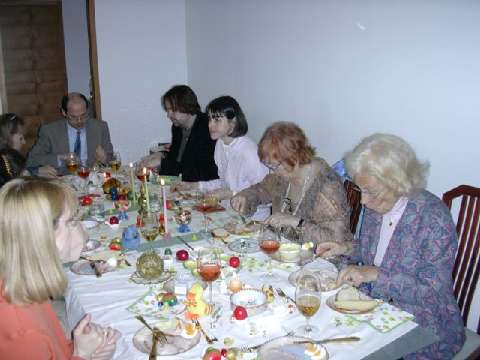 The third essential component is horseradish, and lots of it from the Styrian roots of the family. Combined these ingredients already give you an explosion of aromas, sweetness from the fresh bread, thickly covered with rich, fresh butter, topped with chewy, succulent ham and the harsh sharpness or fresh horseradish. For those who prefer it less spicy, there usually is also horseradish that has been marinated to reduce it's tanginess. Two year ago, as most recent addition to the menu, we discovered egg horseradish, a delicious mixture of finely chopped up or processed egg with horseradish, a good alternative if you're not that much into horseradish.
Finally the symbol of spring and fertility, Easter eggs with all their ancient heathen tradition are added. The special tradition with them is, after kid's search for them, they go for 'egg pecking'. Each contestant holds his egg and one hit's the other's egg with his own. Due to the properties of the shell usually only one egg will survive the contest. In olden days, when people were poorer and kids didn't get abundant amounts of sweets and Mattel brand toys, they went out for the contest and if you damaged another egg, you were allowed to keep it and take it home. Today eggs are cheap and we do it just for the glory. After they've been pecked the shells are peeled off and discarded and the eggs are cut in wedges or slices and used as side to the ham sandwiches.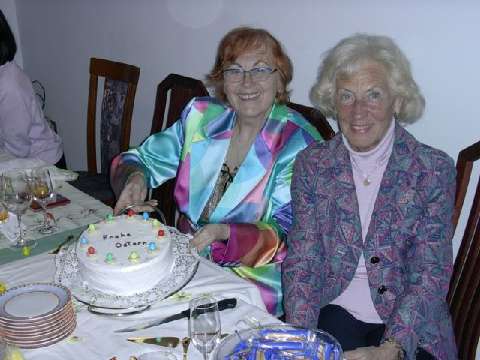 As for beverages, this is a tough one as horseradish is as tough on wine as it gets, next to vinegar and tomatoes. Again our family has established a tradition here, serving a choice of strong Easter Bock beer or an aromatic and acidic rose from Styria called 'Schilcher'. The Schilcher is made from an autochthonous grape called 'Blauer Wildacher' that can also produce fruity though acidic reds of light to medium body, but it's excellence is definitely in the rosé Schilcher and his family – some vintners also prepare sparkling wine varietals including a slightly sparkling Schilcher Frizzante that makes a wonderful apéritif.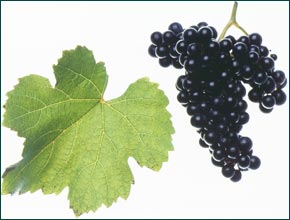 What about your families Easter traditions? Or maybe you're observing pessach? If so, what spices does your family use on the lamb? Share your tastes with us!
Kurtito
You might have noticed that posting has been light lately, so I wanted to briefly chime in and check around the place before resuming regular topical postings tomorrow. The last few weeks have been incredibly busy ones around here from both work and entertainment. Last Friday was the wedding of Marcelita, Normita's younger sister, and it was followed by the official party the following day. The party was tame by local standards, and only lasted from 1pm to 9pm.
The food was great and consisted mainly of Mexican dishes. After the party we returned home with Alejandra, Marcelita's oldest daughter at 9 years old. She stayed with us until last night to give her parents a bit of a rest and a mini-honeymoon. I think that they plan to go to Veracruz with the kids and the inlaws next week, so I guess that the real honeymoon will be for another time.
When I noticed that the blog had been stagnant for most of the week, I put on my task list for the day to do a regular post, but time really flies and this is the first minute I have all day to write something for the blog. The day turned out to be an organizational nightmare as I was planning to spend most of it programming, and I ended up spending it exchanging business emails and telephones. I will have to catch up on the programming until late tonight to keep up with the schedule, so I decided to only post a short note.
Tomorrow should be a tad lighter, as we are getting close to Easter and the city is already feeling empty as the kids are out school for 2 weeks and a lot of people are on holidays this week and next. There was almost no traffic when I dropped Normita at the Metro this morning. This should even get lighter there as the week progresses. I just wish that it would be like that all the time.
Lucito
Palm Sunday has mostly clerical traditions over here in Austria, a country with a noticeable catholic majority, though the nonbelievers are catching up. Typically kids take 'palm twigs' (willow catkin) to church and get them blessed and not much more. Also the palm weekend is the start of local school holidays and people in Vienna flock to the countryside like crazy.
With this background, we are getting to our friend, who has been 'domesticated' recently. The Greek, as we'll call him though he has no blood line to this beautiful country, has always been a wild one and one of the last holdouts about marriage or fixed relationships. However a few years back one of his earlier infatuations, the one he never had any real thing going with, became divorced and he jumped in to help and emotionally stabilize her. Thus he got a nice step family and became a replacement dad.
As he has to work this week and the girls are in the country side, he's returning to his primordial male lifestyle. Going out with friends, playing computer games until after midnight, guzzling humongous amounts of beer, eating unhealthy and abundantly, and so on… To help him in his temporary 'misery' – and to make sure for one day he would not eat nothing but junk food, we decided to invite him over. Why not start a new tradition, a Palm Sunday barbecue?
The weather is beautiful, lot's of sun, few clouds, temperature around 20C (70F) and thanks to daylight saving time it doesn't get dark until 8pm. Ideal weather to roll out the Webber gas grill and get broiling. It was easy to decide on the meat – chicken is very, very affordable right now while chicken flu hysteria is raging on. At the same time it's of good quality and better controlled for health than anytime else. So we had to decide which style to prepare things today. We considered some North African and Caribbean and then, thinking of Normita and Lucito, settled for Mexican.
As Normita was attending a family party yesterday we had no chance to ask her advice, but thanks to the web and some fine cooking books we found our way to – hopefully – proper recipes… though I'm sure that Normita will provide some fine tuning, refinements and corrections eventually. So this is what we decided on, with a little explanation on why:
Appetizer: We would have loved to try Lucito's Volcano-recipe alas we ran out of refritos so this has to wait for another time. Thus we'll settle for grilled quesadillas. The recipe we found sounds delicious though a tad risky as it mentions that they go up in flames easily. We'll see.
Main course: Both Aglaja and I love the taste of chipotle, the smoked jalapeno peppers. Unfortunately they are hard to come by over here. While it's too early to use homegrown jalapenos and smoke them – the plants are just starting to bloom – the canned variety is very nice and, for the adobo marinade we intend to make, even better. The marinade will add a lot of spice to the outer crust and provide a wonderful smoky flavor even on a gas grill. To enhance the smoky taste we'll add some mesquite chips in an aluminum foil pouch.
Sides: The Adobo is pretty spicy; I tried it while it's cooling. Thus we'll have a rather mild salsa on the side, a guacamole recipe from Oaxaca that has no tomatoes in it but a little spice from jalapenos – we're using our own, harvested last year, cut in thin slices and frozen. We'll also serve some corn tortillas, admittedly frozen ones, but at least they are really from México. I checked and we have both in the freezer, regular yellow-orange colored ones and my favorites, the blue ones. I might also to a freshly prepared Salsa Verde if I'm ambitious. I have a recipe I wanted to try for quite a while. We'll see. (Ed. I'm pouting because he didn't try the recipe we posted in the last weeks)
As for desert, let's see if we still are able to eat by then. I was thinking about frozen Margaritas or something with pineapples. Or we will just finish it off with a few shots of Tequila. That reminds me of the beverages and I have to admit, I'm a sucker for Mexican beer, especially Bohemia. Aglaja prefers white wine so we'll see what we can find that's up to the challenge. We'll report back soon with the results and recipes, provided all turns out as planned. Cheers from the pit in Vienna, saluting all reader with my grilling prongs.
Kurtito