I had promised a few weeks back to publish this recipe, but work took the better of me, and I never got around to it. Last night I was still in the office late in the evening cleaning up odds and ends that needed to be attended to, and I finally decided to do something about it. I was planning to post the recipe last night, but the pictures were on Normita's computer instead of on a network drive and I was too lazy to start her machine to move the files.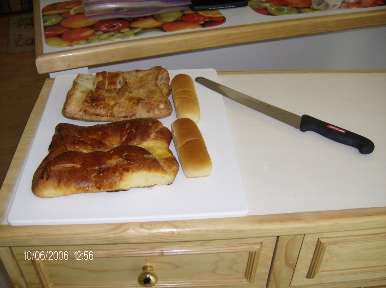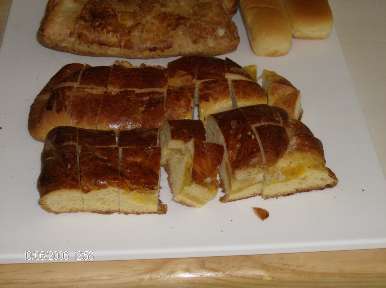 'Pouding au Pain' is a typical French Canadian dessert from my natal Québec. It was originally a recipe made by the poorer classes of society as it is based on stale bread and was usually made with leftover bread to make a cheap dessert that did not use to much fresh products beside some milk and sugar. The version I created here is more upscale and make for a great end to a nice meal. I replace the traditional brown sugar or molasses with maple syrup. Luckily, when I made it the other week when we had invited Normita's friends over for lunch, I still had a can of nice maple syrup from Québec in the cupboard, as it can be difficult to find here in Mexico City. The last time I saw some was a few years back at Costco, and I have not checked recently if they still have it in stock. I am sure that the gourmet section of the major department stores like Liverpool or Palacio de Hierro might have some, but probably at a price I would not want to pay for it.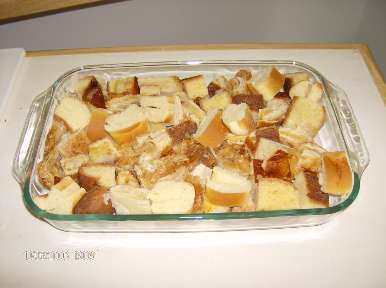 Pouding au Pain is better made with stale bread, and I used a variety of leftover sweet Mexican breads, plus whatever was left in the cupboard that was not fresh. You can freeze your leftover bread like I did, once it is somewhat stale, and use it at a later date. You can use anything from sliced white bread, to leftover hotdog or hamburger buns, to whatever stale bread you have. The sweet Mexican breads I used are typically eaten here in the evening as a light supper accompanied by 'atole', a flavored drink made and thickened with cornstarch.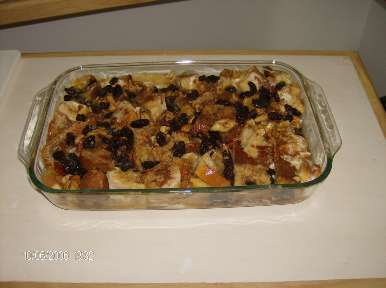 Our friends like this bread pudding so much that we ended up sending them home with most of the leftovers, so I guess that I will have to make more in the coming weeks as I still have some maple syrup left from the last batch.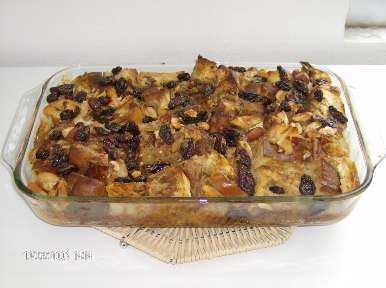 Ingredients
6 cups stale bread cut in cubes
1 1/2 milk
3/4 cup maple syrup
1/2 cup chopped mixed nuts
1/2 cup raising soaked in 3 tbs dark rum
1/2 cup heavy cream
1/4 cup brandy
5 eggs
2 tbs melted butter
2 tbs cinnamon
1 tbs nutmeg
1 tbs pure vanilla extract
1/4 tsp salt
Maple syrup and vanilla ice cream
Preparation
1. Place the stale bread cubes in a large buttered ovenproof baking dish
2. Mix the milk and heavy cream and pour over the bread and make sure that all the bread is well soaked
3. Let the bread absorb the milk mixture for 10 minutes
4. Dust the surface of the bread with the cinnamon and nutmeg
5. Spread the chopped nuts and the soaked raising evenly on the surface and push some of them in the soaked bread
6. In a bowl place the eggs and whisk them well
7. Add salt, vanilla, maple syrup, melted butter, and brandy, then whisk until well incorporated
8. Pour the egg mixture evenly over the bread making sure that there is some everywhere
9. Let soak for 10 minutes and then bake in a preheated 375F oven for around 30 minutes until the pudding is set
10. Serve warm with some maple syrup on it and a scoop of vanilla ice cream
Lucito