Cooking
General cooking tips and rumination
Measurements Conversion Chart
US Dry Volume Measurements
MEASURE
EQUIVALENT
1/16 tsp
dash
1/8 tsp
a pinch
3 tsp
1 tbsp
1/8 cup
2 tbsp
1/4 cup
4 tbsp
1/3 cup
5 tbsp plus 1 tsp
1/2 cup
8 tbsp
3/4 cup
12 tbsp
1 cup
16 tbsp
1 pound
16 oz
US liquid volume measurements
8 oz
1 cup
1 pint
2 cups = 16 oz
1 quart
2 pints = 4 cups
1 gallon
4 quarts = 16 cups
US to Metric Conversions
1/5 tsp
1 ml
1 tsp
5 ml
1 tbsp
15 ml
1 oz
30 ml
1/5 cup
50 ml
1 cup
240 ml
2 cups = 1 pint
470 ml
4 cups = 1 quart
.95 liter
4 quarts = 1 gallon
3.8 liters
1 oz
28 grams
1 pound
454 grams
Metric to US Conversions
1 ml
1/5 tsp
5 ml
1 tsp
15 ml
1 tbsp
30 ml
1 oz
100 ml
3.4 oz
240 ml
1 cup
1 L
34 oz
1 L
4.2 cups
1 L
2.1 pints
1 L
1.06 quarts
1 L
0.26 gallon
1 gram
0.035 oz
100 grams
3.5 oz
500 grams
1.10 pounds
1 kg
2.205 pounds
1 kg
35 oz
Lucito
Ingredient
1 diced onion
2 tbs dried sweet basil
2 tbs dried chives
4 oz mushrooms sliced
4 eggs, lighty beaten
1 cups half and half
6 oz Smoked Atlantic Nova Salmon
3 oz Baby Swiss
3 oz sharp cheddar
3 oz extra shard cheddar
1 unbaked 9 inch pie crust
salt and pepper
Preparation
1. Preheat oven to 425 degrees F (220 degrees C).
2. In a medium bowl, whisk together eggs, half and half, salt, pepper, basil, chives, onion, salmon and cheese.
3. Pour mixture into pastry shell.
4. Bake 15 minutes in the preheated oven. Reduce heat to 300 degrees F (150 degrees C), and bake an additional 30 minutes, or until a knife inserted 1 inch from edge comes out clean. Allow quiche to sit 10 minutes before cutting into wedges.
Lucito
Ingredient
2 pounds minced beef
4 onions chopped
4 carrots chopped
4 celery chopped
3/4 pound mushrooms chopped
1 sweet green pepper chopped
1 sweet yellow pepper chopped
2 larges cans tomatoes crushes
1 larges cans tomatoes
2 cans concentated tomatoes pasted
2 oz double concentated tomatoes pasted
3 bay leaves
6 chile de arbol
2 tbs honey
4 tbs dried parsley
4 tbs dried sweet basil
4 tbs dried oregano
4 tbs dried thyme
2 tbs dried mustard
4 cloves
4 garlics minced fine
1/2 cup olive oil
Parmesan
Preparation
1. Cooks meat & olives oil
2. Melt onions & garlics
3. Put ingredient in larges pot
4. Cook very low simmmer open for 3-4 hours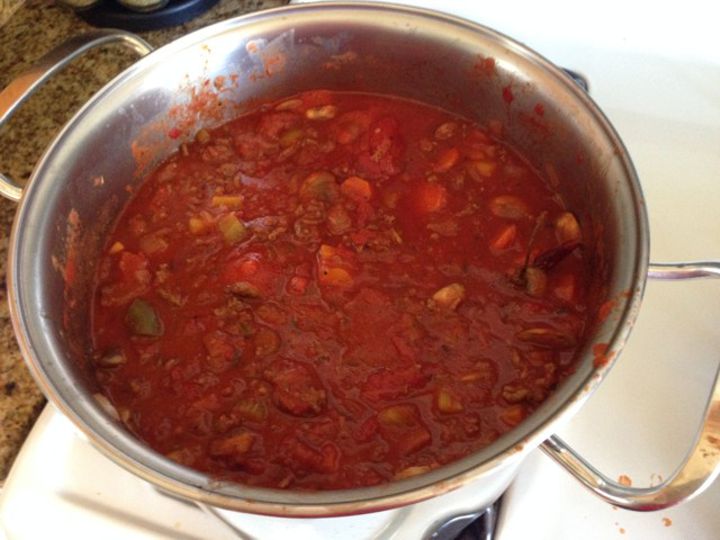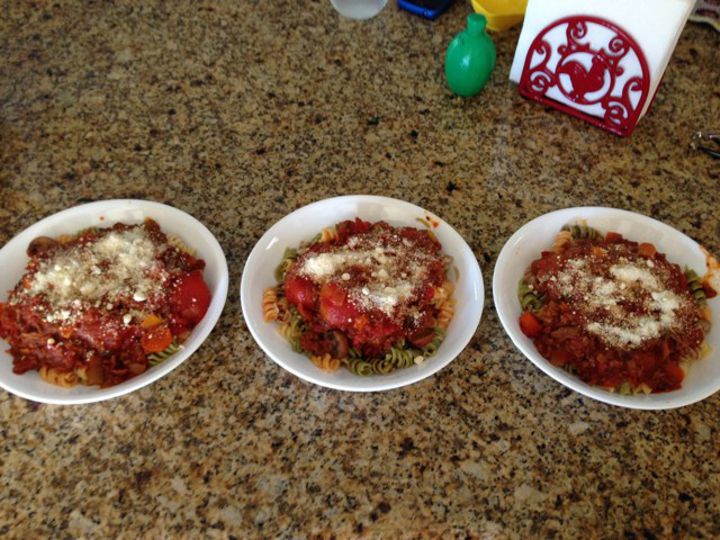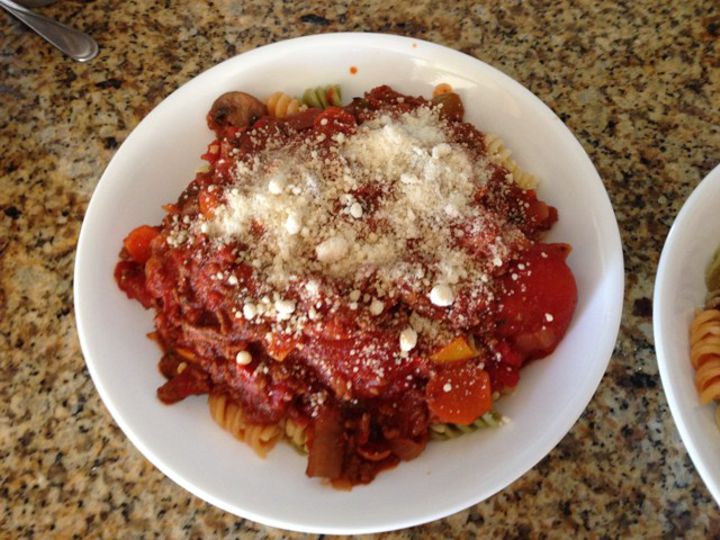 Lucito
Ingredients
2 Eggs
5 Sausage Cheese Lit'l Smokies
2 tbs Cheese Italian Truffle
1 tsp Basil
1 tsp Chives
Olive Oil Spray
Hawaiian Black Salt
Peppercorn Medley
Preparation
1. Chopped sausage.
2. Olive oil, eggs, sausage, cheese, basil, chives, peppercorn and salt.
3. With a fork whisk the eggs gently until you have a smooth homogeneous mixture.
4. In a frying pan on a medium fire the olive oil spray.
5. 2 minutes scrambles eggs.
Lucito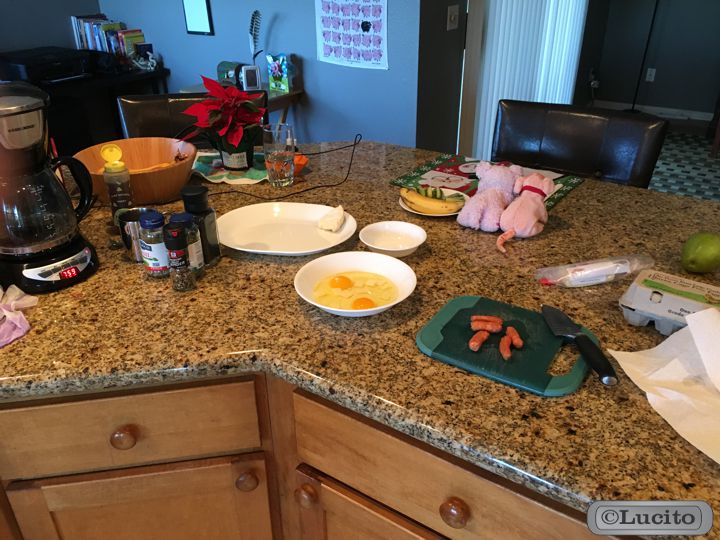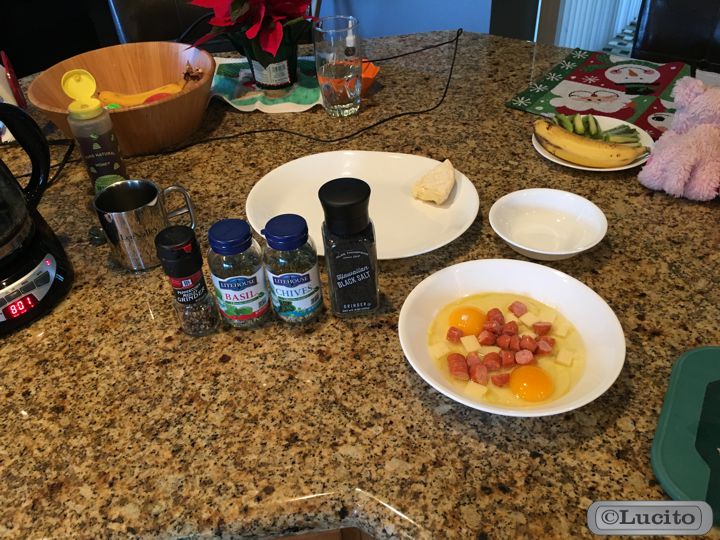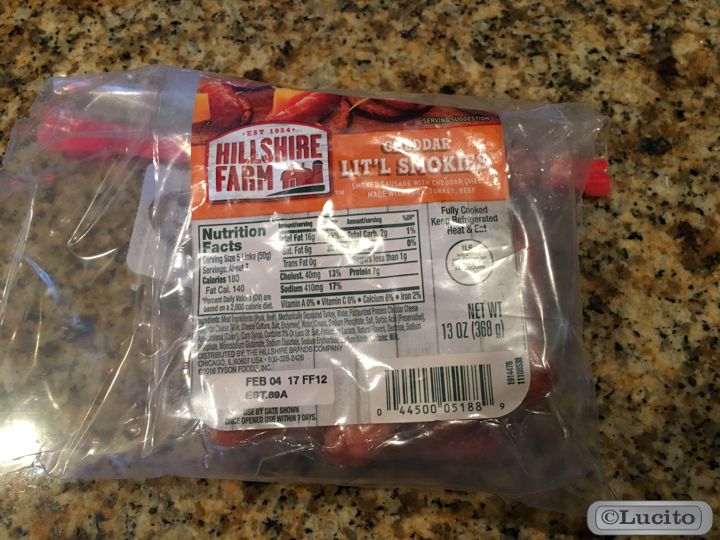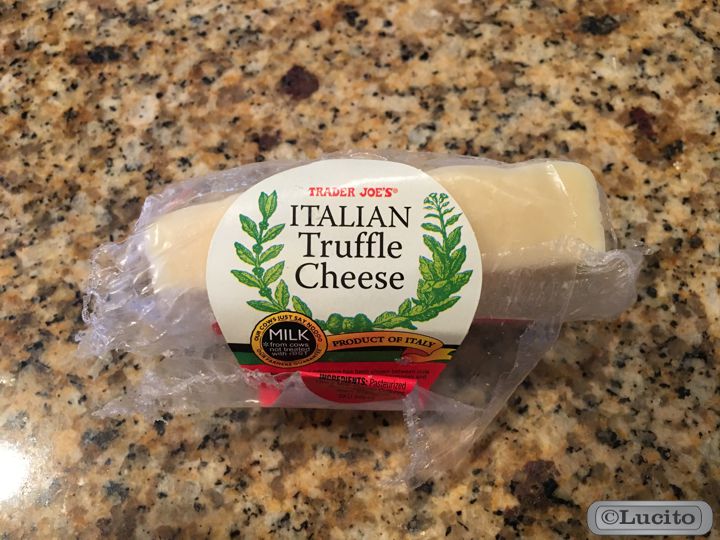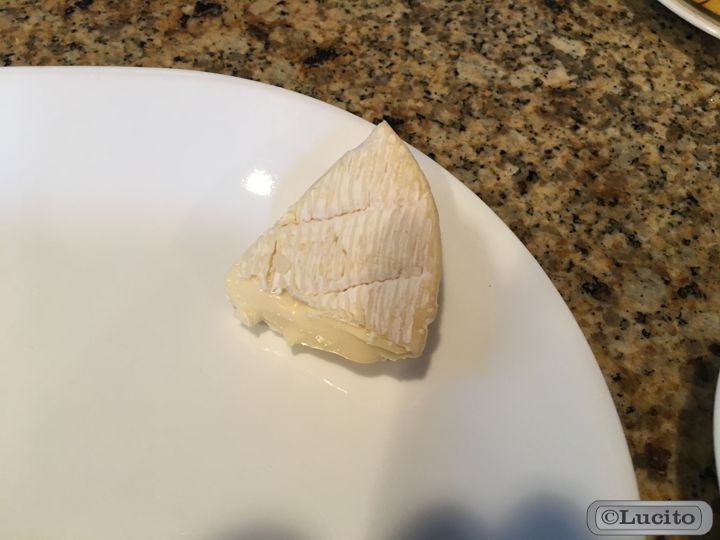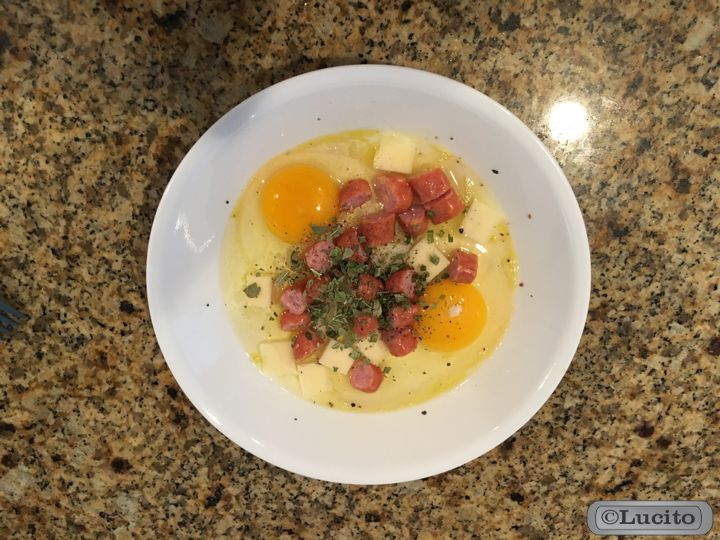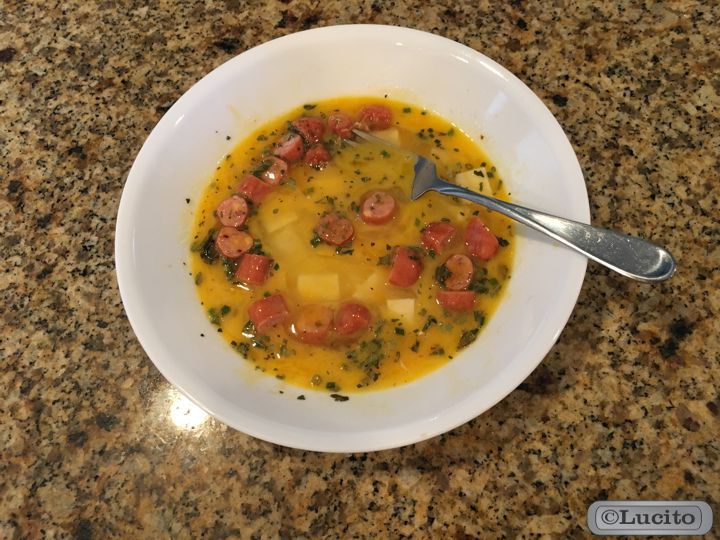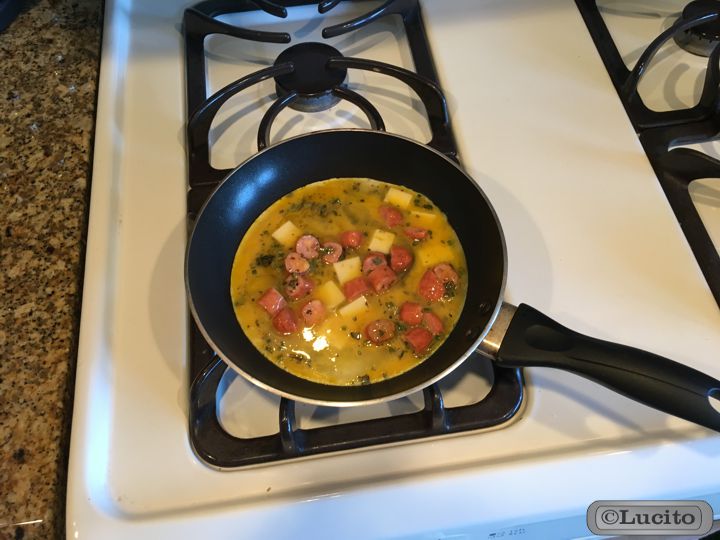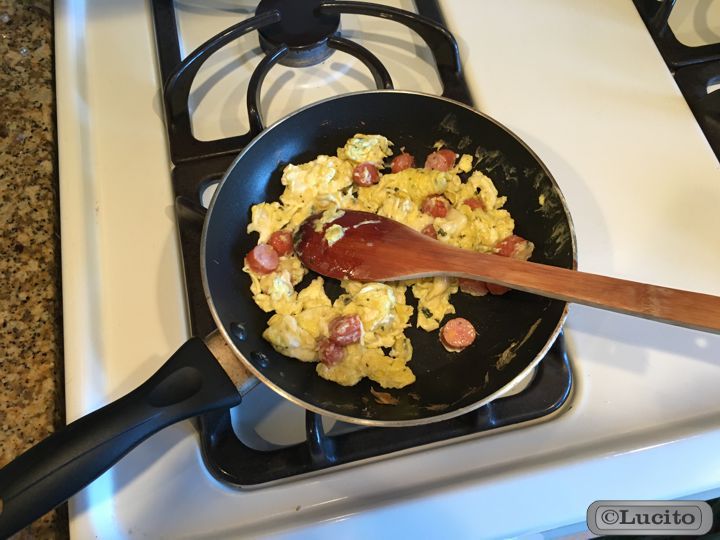 Victorinox: 47022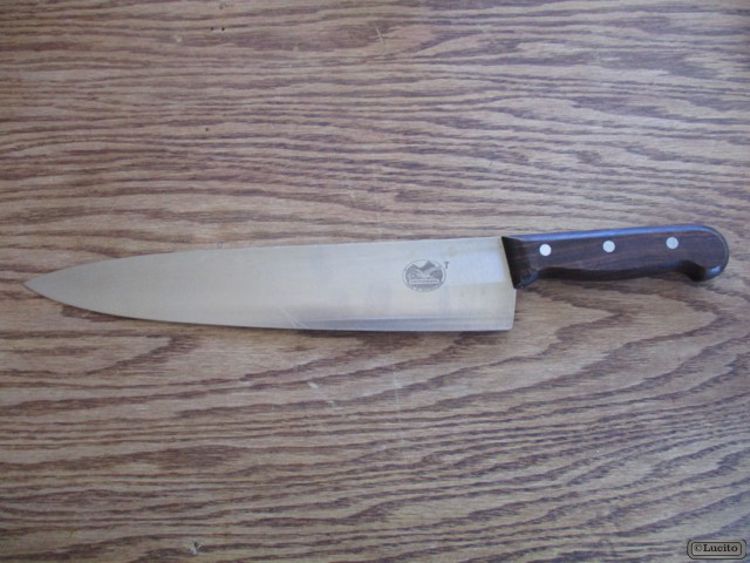 As one of our most popular knives, we know that the 12-inch Chef's Knife can handle any kitchen task we put it through. The stainless steel blade can move from job to job without ever compromising its sharpness.
Details
One of our most popular knives, the versatile, multipurpose 12″ Chef's Knife is a must-have for every serious cook. The high-carbon stainless steel blade is perfect for large chopping jobs and carries a lifetime warranty against defects in materials and workmanship. And the natural beauty of our Rosewood design is ergonomic, lightweight, balanced for extended use, and will not discolor or corrode.
12″ Stainless Steel Blade
Ergonomic, lightweight, and balanced for extended use
Will not discolor or corrode
Lifetime warranty against defects in materials and workmanship
Lucito
The heat wave that has hit central Mexico in the past week has debilitated us completely. People think about Mexico as a very hot place with beaches and jungles, but actually here in the center of the country the average temperature is nice and pleasant all year long without any extremes of heat and cold. You have to remember that the center of Mexico is a very high altitude plateau and that Mexico City is at around 7500 feet and where we live is closer to 8200 feet. We even have an active volcano within 25 miles that is close to 18000 feet, the Popocatépetl. Thus we are accustomed to temperatures in the mid-70's at midday almost all year long, and when it raises to over 90F our systems do not cope with it. I am from Quebec where I was used to extremes of temperature from -45F in the winter to over 95F and humid in the summer, but after living here for over 7 years you lose your adaptation to those extremes.
What does that has to do with inspiration? I have been cooking since I was a little kid when I started baking cookies with my grandmother when I was probably 4-5 years old. Being in a kitchen are amongst some of my earliest memory, and I have a sense of piece and accomplishment when I am working in the kitchen. I am used to the extreme heat of a working kitchen, but when I sit in my office trying to accomplish some work, concentrate on something, or plan what we will eat next and it is over 95F like it is now, my inspiration dies instantly with my transpiration. When you are in the eat of the kitchen you have a task and a goal, and you concentrate to reach it no matter how uncomfortable you get. Here in the office I am slowly dripping bit by bit to the floor, and creating a big puddle under my chair.
Yesterday we did not publish a Daily Express column as Normita was out at a school event with our nieces, and she had something to eat there. It was so hot that I did not even eat anything as I was not hungry. When Normita returned we decided to wait until it cooled down at night and see what we would eat. By 9pm we finally relented and went to eat something and she had the little bit of leftover chicken salad, and I had cold leftover rice from earlier in the week or last weekend. We had a few bites and that was it.
We both woke up starving and had some of the nice banana bread I baked earlier in the week and a nice grapefruit. Now it is getting late again and I have no real inspiration to prepare anything. The heat is not helping, but the fact that it is so hot up here that we do not have the energy to drive down the hill to the store where it must be over 110F in the sun is killing my creativity. Since we did not go shopping we have nothing fresh in the refrigerator. I looked around in there for inspiration earlier, and found a large moldy onion that was starting to sprout, a few old tomatoes, some limp radishes, and some potatoes. Not a great source of inspiration for a great meal.
As I am sitting here I am wondering what I will finally prepare and at least I do not have to prepare a "Menu du Jour" for a restaurant today, as I would simply tell people that the kitchen is closed for the day. I am sure I will figure out something in time. Normita is currently in the shower to refresh herself and I will go do the same soon. After that, refreshed, I am sure that the inspiration will come. Even just thinking of cooling down is helping a bit.
Let's see… Since I have nothing fresh except those tomatoes, what could I do with them? If they are still firm and nice maybe just a simple tomato salad. Sliced ice-cold tomatoes with some fresh basil, bits and pieces of nuts, some olives, cheese, a sprinkling of olive oil and balsamic vinegar, and whatever else the inspiration brings when I get into the kitchen.
See? It was not that difficult. When I cook for ourselves or invent new recipes I let inspiration direct me. Cooking for others is a different thing as some experiments are better left behind the kitchen's door. Do you hear that, young chefs of the world who are dying to cook something different? There are some reasons that after thousands and thousands of years that some things are not combined in strange ways that are not pleasant. Probably millions of chef trying to do something different tried those combination and found out it did not work, and left it at that…
Sorry about the digression, I did not want to turn this into a rant. Getting back to the title of this post, I found my inspiration just by focusing on this post and letting my mind drift away from the heat, and something interesting came out of it and hopefully the tomatoes in the fridge will be nice enough for what I have roughly planned for them. If not I will be mighty disappointed and there will probably be another post about it…
One last word, as strange as this may sound I actually just planned today's meal as I was writing this using a technique I developed when I was still a kid. It is somewhat related to directed dreaming, where you focus your mind on something and let your subconscious work the details out. It is a great method to find inspiration and also to find solutions to complex problems. I normally do it very differently, but since I wanted to post about finding inspiration I decided to try the method in finding a solution to my dilemma while I posted about it. It did work remarkably well and if people are interested in hearing more about this technique please let me know and I will elaborate more.
Until then, the shower awaits me and after that it will be the kitchen…
Lucito