As mentioned yesterday in the "Daily Express", Normita prepared some of her great pozole rojo with a quick recipe that is a little bit less traditional in preparation, but that yields exceptional results. It is less heavy than the traditional recipe we make on special occasions as it is only made with chicken instead of chicken and pork. The traditional recipe is available here and has been the all-time favorite recipe on this site for many years.
Here is the illustrated version of Normita's quick recipe…
You can seen the bag of pre-cooked corn, the chiles, the chicken before removing the skin and fat, and the dry ingredients. Even though the corn is said to be pre-cooked, what it really means is that the though skin has been removed with lie and it has been blanched. It still requires many hours of cooking to be tender.
The corn requires washing very well as it still has some lie that was used to remove the tough skin. It is washed in the pot with at least 3 changes of water until the water comes out clean. This also has the advantage of removing all the little particles and bits of stuff left from the processing. You then add the condiments.
Once the condiments are added, you then add your water.
The corn is now ready to cook and you let it simmer gently on a low setting for at least 2 hours.
After about an hour that the corn is cooking, it is time to prepare the chicken. In another pot put the chicken, the condiments, and cover it with water. simmer on a low setting for about an hour. The corn and chicken should normally be ready about the same time.
When the chicken and corn is about done it is time to prepare the chiles. First you need to devein and seed them. You then wash them very well under running water. Then are then placed in a blender covered in water and reserve them until you are ready to use them.
By now the chicken and corn should be ready. Remove the chicken from the cooking stock and place in a large bowl to cool down.
You then pour the stock from the cooked chicken into the pot with the cooked corn.
It is now time to finish preparing the chiles. Put the chiles with water in the microwave and cook at high for about a minute and a half until the liquid is boiling. Blend the chiles until you have a smooth liquid and pour that liquid in the pot with the corn through a fine sieve. Mix well and your pozole is ready.
The pozole is now ready and you need to prepare the traditional garnishes. These include finely diced onions and radishes, chopped avocado, shredded lettuce, oregano, fresh limes cut in half, and hot sauce (in this case Normita's favorite "Valentina"). The garnishes are put in bowls that are placed on the table and the people add to their bowl of pozole what they want. The chicken has now cooled down enough to shred with your fingers in small pieces, so it is time to do so.
Finally we are ready eat! To serve you place some of the shredded chicken at the bottom of a large soup bowl. You then ladle a generous amount of corn over it and then cover with some of the broth.
Now the fun begins at the table and you now place all the garnishes you wish in your pozole and then top with a generous helping of shredded lettuce. You then mix well and enjoy an heavenly bit of Mexican traditional food. If you wan to be even more traditionial you can prepare yourself a few tostadas topped with some heavy clotted cream and a sprinkling of salt to go with it.
After preparing this post on pozole I am now starving. Luckily it is now near our lunchtime and we have some leftover pozole from yesterday that should be even better than freshly cooked. I am really looking forward to it.
Here is the recipe again step by step…
The pozole
Ingredients
1. Complete chicken breast with skin and fat removed
2. 1 Kg bag of pre-cooked pozole corn
3. 1 chile ancho
4. 1 chile pasilla
5. 1 chile guajillo
6. 1 1/2 tbs dessicated garlic
7. 1 tbs dried oregano
8. 3 tbs dessicated onions
9. 2 tbs powdered chicken broth
10. 8 or more cups of water
11. Water to cover the chicken
Instructions
1. Place the pre-cooked corn in a large cooking pot
2. Wash it well changing the water at least 3 times until the water is clean
3. Add the oregano, 1 tbs garlic, and 2 tbs of onions
4. Add the 8 cups of water and simmer for at least 2 hours on a low setting you might need to add some water as it evaporates and gets absorbed by the corn
5. After about an hour than the corn is simmering place the chicken breast in another pot
6. Put the remaining onions and garlic and the powdered chicken broth
7. Cover with water and simmer on a low setting for about an hour until the chicken is well cooked. Add water if the level goes down too much.
8. Around the time that the chicken and corn are ready, seed, devein, and wash the chiles well
9. Place the cleaned chiles in a blender and cover them in water and reserve them until ready
10. Remove the chicken from the cooking stock and place in a large bowl to cool
11. Pour the stock from the cooked chicken into the pot with the cooked corn
12. Microwave the chiles and water for about a minute and a half on high to bring the water to a boil
13. Blend the chiles until you have a smooth paste
14. Pour the chiles in the pot with the corn through a fine sieve
15. Mix well the finished pozole in the pot
Garnishes and How to Serve
Ingredients
1. Shredded cooked chicken breast
2. Finely diced onions
3. Finely dices radishes
4. Oregano
5. Shredded iceberg lettuce
6. Chopped avocado
7. Fresh limes
8. Hot sauce
9. Tostadas
10. Heavy clotted cream
11. Salt
12. Pozole
Preparation
1. Once cooled shred the cooked chicken breast with your fingers into small pieces
2. Prepare the various garnishes and place in individual bowls
3. Place some of the shredded chicken in the bottom of large bowls and cover with cooked corn and broth
4. At the table add the garnishes of your choice to the pozole, mix well and enjoy with some tostadas with a buttering of heavy cream and a dash of salt
Lucito
In this first entry of the "Daily Express" I prepared something very quick. For the past few days we have been frenetically working to give a new look for both this blog and the main site. We were supposed to go food shopping yesterday as we normally do, but with both of us concentrating on finishing this work (Normita on the main site which should be uploading as I write this, and me on the blog) we decided to finish the work instead and leave the shopping for later in the week.
I had a look at what we had in the refrigerator early this morning and found out I had a bit of frozen medium-sized cooked shrimps, and found that we still had half a pot of Mexican-style rice Normita prepared yesterday. She had made it with a bit of frozen veggies (peas, carrots, corn) and used some sushi rice as we had an old bag of it we recently found hidden in the back of the larder, and we want to use it before using fresher stuff. Due to the type of rice it is a bit stickier than normal, but it is very tasty indeed.
About an hour before lunch I threw the frozen shrimps in a bowl of water to thaw them and about 10 minutes before we wanted to eat I went to the kitchen. I took out my trusty wok and stir fried the leftover rice in a bit of soy oil. I then added some May Ploy oriental sweet chili sauce, some soy sauce, a big handful of crushed nuts and tossed in the shrimps.
It turned out to be so tasty that we ended up finishing even the portion we were planning to give to the dogs tonight… It's their lost!
Lucito
Last weekend when we went food shopping we found on sales some huge shrimps at a price so low to make a ham and cheese sandwich look expensive. Strangely enough they were actually fresh, or at least freshly thawed, and they did smell like proper shrimps.
In the last year in the area where we now live, due to the financial crisis, the availability of any decent produce has been marginal at best and normally leaves us wondering about what to eat. A lot of times even the dogs do not want to eat what they sell around here. It is one of the main reasons we want to move back closer to civilization as the local stores do not stock anything decently edible as it does not sell at all. Besides chicken which is somewhat edible when you are lucky, normally any meat or fish is a luxury as nothing of quality or that is actually safe to eat is on sale. Judging from the smell in the stores, most of it just rots away, and we are talking major supermarket chains like Wal-Mart or others.
In any case we were pleasantly surprised to find very nice large shrimps at a very low price and we bought some for our Sunday meal. I had planned to do some brochettes or something similar on the grill, but the weather did not cooperate. I ended up inventing a recipe on the spur of the moment with whatever leftover ingredients I encountered in the larder.
With what I found it ended up to become a nice pasta in an Mexican-Oriental style that turned out extremely good and satisfying. It was a long time that we had not enjoyed something so good at home, just due to the unavailability of good products at the supermarket.
Ingredients
¾ to 1 pound cleaned and deveined large shrimps
1 medium échalotte chopped fine
3 chiles guajillos seeded, deveined, and cut into thin strips
3 pieces of candied ginger finely chopped
3 garlic cloves
3 sundried tomatoes in oil
A small handful of shelled walnuts
½ tsp Sambal Oelek chili paste
2 tbs of a mixture of dried citrus peels, salt, pepper, and sesame seeds
Tequila reposado
Olive oil
½ pound dried pasta of your choice
Salt and pepper to taste
Preparation
1. Cook the dried pasta until al dente in plenty of boiling salted water.
2. Once cooked strain the pasta, return it to the pot, and fill with cold water to stop the cooking.
3. After a minute or so strain the pasta again and return to the pot. Put a tablespoon or two of olive oil on the pasta and mix well with a spoon. Cover and set aside for now.
4. About 10-15 minutes before cooking the meal, place the cleaned and deveined shrimps in a bowl, sprinkle the mixture of citrus peels and sesame seeds, and add a few tablespoons of the tequila.
5. In a very hot wok sauté the shrimps in a little olive oil. When they start to be opaque carefully add some tequila to the wok and flambé them. Return them to the bowl.
6. Add a bit more olive oil to the wok and briefly sauté the échalotte, guajillos, and garlic.
7. Add the reserved pasta, the sundried tomatoes, the walnuts, the candied ginger, and the Sambal Oelek. Sauté until warm.
8. Add the shrimp and warm them up in the mix and add a splash of tequila, and some sesame oil to finish them.
Lucito
As mentioned previously we had a great Halloween party last Saturday night and I prepared all sort of silly stuff, some of it inspired by things I saw on the Internet. I plan to post a recipe tomorrow for the Witche's Hands with Pus Sauce, and if you want recipes for some of the other stuff I prepared please let me know in comments or via mail. Pictures of the party are at the Sassquatch's Lair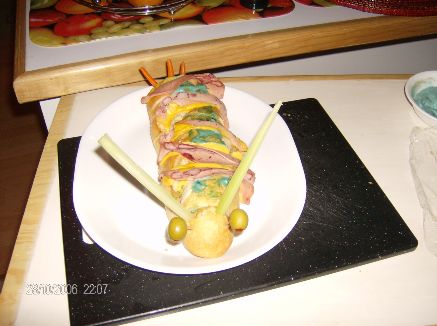 Here is a nice baked giant caterpillar ready to be munched by all the creepy critters invited to the party.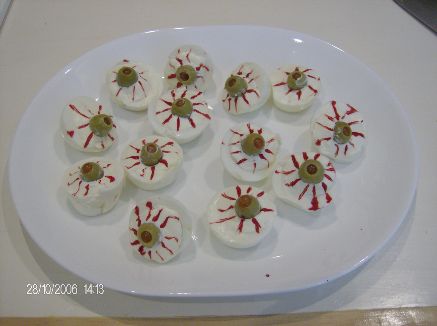 Here are some Vampire's Eyes. This one did not go to well as we had four vampires at the party and they did not like the idea of some of their friends being harvested for a meal…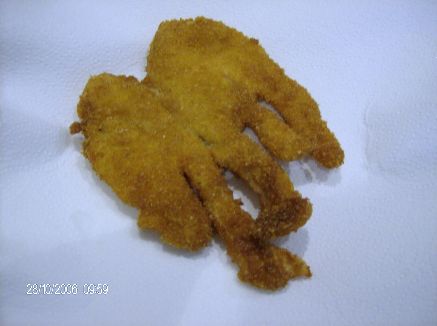 The Witche's Hand did not fare too well either as there were 2 Witches and a Wizard present.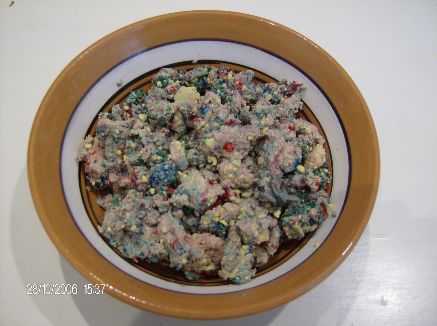 The Rat Roadkill Paté was much better appreciated, except for our pet rat who had lost his cousing in the accident that yielded the paté.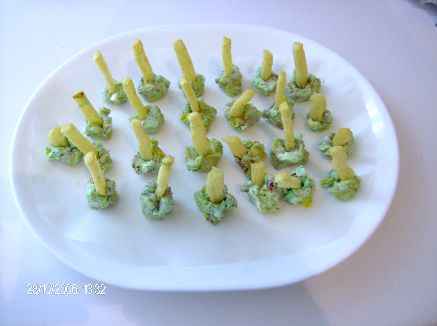 Nobody at all complained about the Crab Snot on a Stick!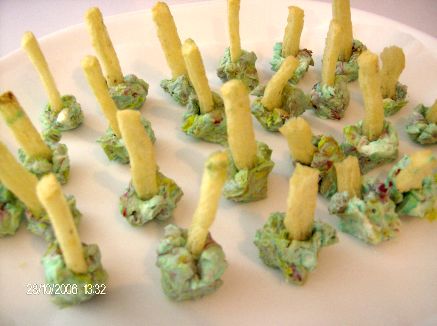 Here is a closup of those deliciously rich little morsels of snot!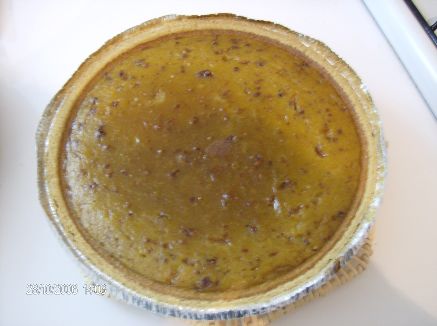 The pumpkin pie was not too scary except for the poison that the Wicked Witch Normita added to it. Our guess will enjoy the effect at the next full moon!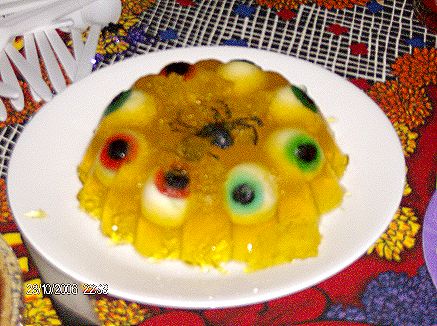 My favorite… Dragon Piss Jelly with Spiders and Vulture's Eyes. It is a great delicacy where I come from…
Lucito
Today I was going through hundreds of photos to select some that I will use for the redesign of the blog. I came across some pictures of dishes I cooked or cooked by great chefs I know. They all brought back some fond memories and I would like to share a few with you today.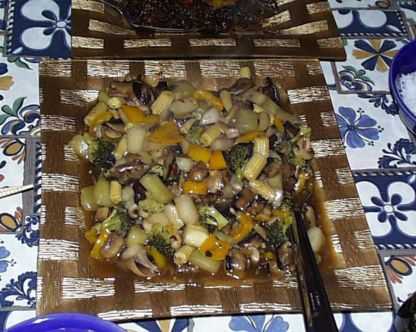 Here is some Sweet and Sour Pork Cheng Tu Style from a Chinese meal I did for a Christmas party for Normita's office a few year's back.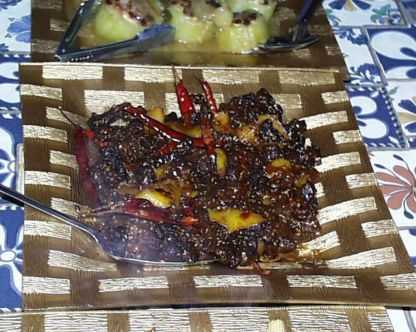 Orange Beef from the same meal.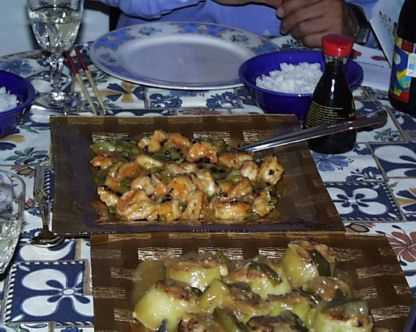 Shrimps in Black Bean Sauce .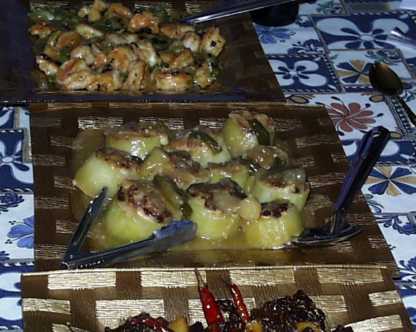 Chicken Stuffed in Cucumbers.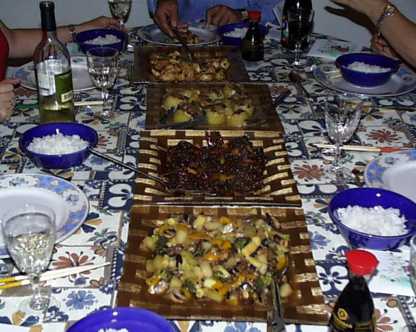 And finally the entire table with the light meal…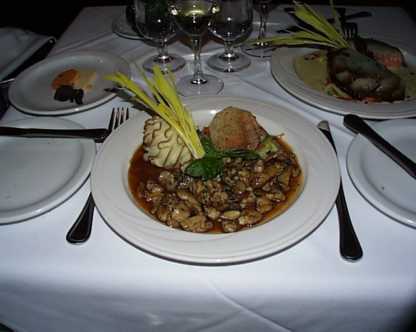 The marvelous sweetbreads prepared by Chef Olivier of Cheval de Jade, our favorite restaurant in Mont-Tremblant. I proposed to Normita there a crazy summer on her birthday!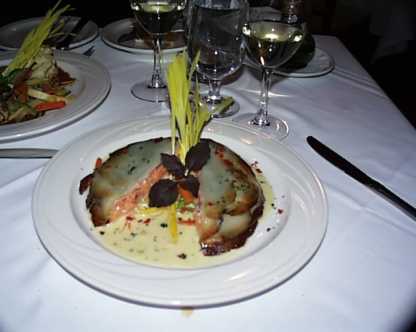 What Normita had the same night at Cheval de Jade, Salmon in Potato Crust.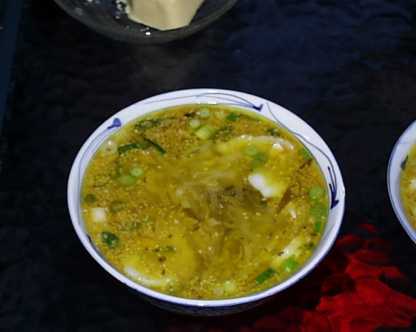 My famous Oriental Scallop and Leek Soup that always makes a stunning start to a meal.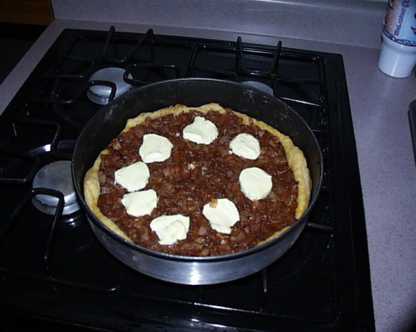 A Sweet Onions and Port Pie with a topping of goat cheese that I invented for our wedding anniversary a few years back.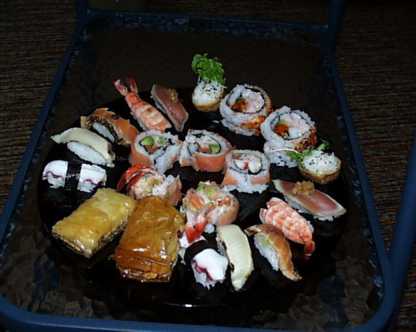 A nice array of Sushi that our Japanese Chef friend Koishi prepared for us and delivered home in the woods, back in the days we were living at the edge of a wonderful lake in Québec.
Fried Shitakes at Soto the japanese restaurant where Koishi worked at the time.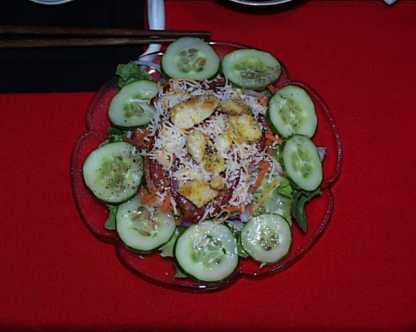 A nice Japanese Fish Salad that I prepared as part of a nice homemade sushi meal.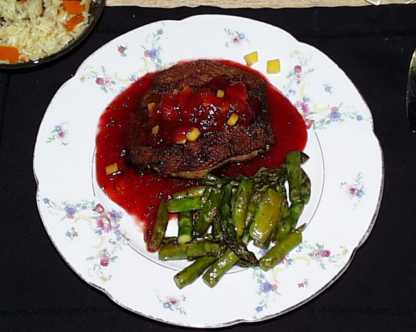 A nice invention of mine for Valentine day somes years ago. Duck Breast Glazed in Honey with a Mango and Strawberry couli.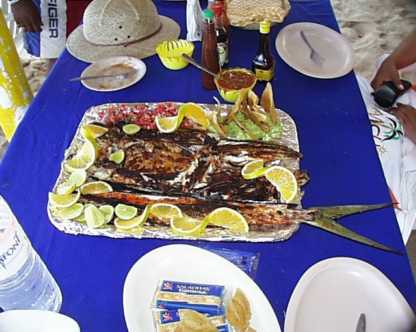 Memories from our honeymoon in Ixtapa. We went fishing one day and I caught a nice Dorado. We stopped at Isla de Ixtapa on the way back and they prepared it grilled on wook fire. A wonderful Dorado a las Brazas.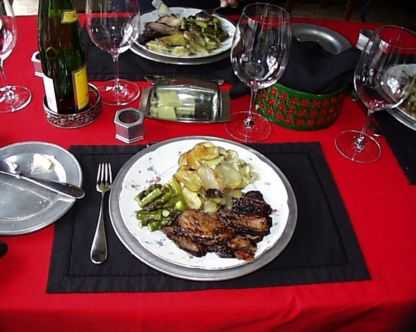 One of my all-time favorite creations, Grilled Bavette de Boeuf with Port Sauce with Salardaise Potatoes. The Padrino was known to fly to Canada, back in the days we lived there, just to have his fix of it. That and incredible quantities of fermented beverages.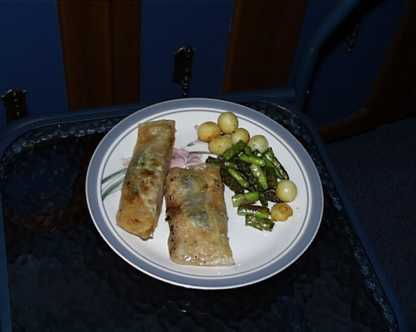 A nice creation of mine from years ago, Thai Style Fish in Rice Paper. I found a full pictorial on how to prepare it that I will post one of these days.
I hope that you enjoyed the little pictorial history, and now I am starving from looking at the pictures, so I will go to the kitchen and prepare something tasty to eat…
Lucito