I had a long day working straight since early this morning, and by this time I can barely keep my eyes open due to the inordinate amount of pollution in town the last few days, compounded by a bad cold I have been dragging since last week. I was trying to come up with a great subject for today's post, and came up empty as my mind feels blank, and I am too lazy right now to write a recipe post. This would actually entail some actual work and thoughts and this would be too much for my poor addled brain.
I decided to fire up the text editor and see if I could get some stream of consciousness post going, but staring at the blinking cursor on a blank screen did not stimulate my mind enough. I then thought at recycling some old stuff I wrote ages ago and the digging through the archives was way too much like real work for my lazy mood to tolerate, so I guess you will have to read this short note about my writer's block to satisfy yourself today. Hopefully when tomorrow rolls in my brain will come back to it's usual self and I will find the energy to post something coherent and sticking to the topic of this blog. This reminds me to ask yet again the Padrino and Normita to write a few posts, as they promised many times, that I will be able to use on days like these in the future. Until then…
Lucito
While we were in Canada we attended a wide variety of holiday-related meals and as usual one of the most appreciated hors d'oeuvre was my Aunt Michèle's 'Croutes Bernard'. They are delicious hot canapés that the entire family adores and if you are not careful you could eat the equivalent of a whole meal of them alone. For us the holidays would not be the same without enjoying them at least at one party. Try them and let us know how you like them.
Ingredients
1/2 lb mushrooms, chopped finely
3 slices of bacon cut in small pieces with scissors
1 small onion, finely chopped
1 cup dry white wine
1 cup gruyère cheese, grated
1 cup medium cheddar, grated
1 egg
1 tsp butter
Slices of bread
Preparation
1. Sauté in the butter the mushrooms, bacon, and onion.
2. When the bacon is cooked add the wine.
3. Simmer until the liquid evaporates.
4. Cool the mixture and add the cheeses and the egg and mix to a sticky paste.
5. Roll the sticky paste in sheets of waxed paper and tie the ends.
6. Freeze the rolls. It should yield two 7" rolls.
7. To serve, cut circles from the slices of bread with a glass and place on a cookie sheet.
8. Cut thin slices of the frozen mixture and place on the bread circles.
9. Put in the oven under the broiler until the mixture is bubbly and golden.
10. Watch them disappear quickly when you serve them.
Lucito
We returned from a trip to visit the family in Canada last Friday and we learned an humbling lesson in traveling light. We used to carry a huge amount of stuff, most of it we never used, and in recent years decreased the amount of luggage we travel with dramatically, especially for Normita. Now with long delays in airports and major weight restrictions during peak seasons we are even more conscious about what we bring with us. Being stuck in Montreal at the airport most of the day last Thursday and needing to spend the night at a nearby hotel has us rethinking our traveling style even more.
For the first time since we met, Normita's suitcase was even lighter than mine when we left, and due to some shopping even when we returned. This time we had packed only the essentials and brought with us only small format containers of things we really needed, like some cosmetics and creams for Normita and some vitamins for me. The rest like shampoo or mouthwash we bought when we arrived, and left there when we returned. We only brought a few changes of clothes and washed them a few times while we were there, thus reducing what we had in our suitcases.
My main problem is that I always need to bring my laptop with accessories, and since it died on me during this trip, I plan to buy the smallest one I can find for the next trip so I do not have to carry a huge clunker again next time. Since it was getting old I also needed to carry an external hard drive for extra storage and a bunch of adaptor cards for connection to the drive, modem, wireless networking, etc. Luckily a new machine will have all of that built-in with enough space on the hard drive for all of my stuff. This will make things much more compact, and also less painful to carry around the airport.
The next step will be to get lighter suitcase, as our old ones have been around the world a few times, and are showing it, and they are very heavy even empty. I'll research what is available now and let you know what we find that is light, solid, and affordable. I brought back a nice leather computer case for the laptop that I had in storage in Canada, and found out yesterday, when I emptied it, that it was very heavy for its size, so I might shop around for something lighter too while we are at it.
After having to carry heavy suitcases for two days in the airport and hotels we made a New Year resolution of traveling extra light in the future.
Lucito
It is strange to be back home after a few week's of traveling. Especially since I managed to catch a bad cold over the weekend as the weather has been very cold here, and the new apartment freezing as it is not heated or insulated. I guess that I will have to stay active and wear warm clothes inside for the next month or so until the warm weather returns. As with most people, over the holidays, we managed to overeat more than a little bit. Combine that with a general lack of exercise and we both feel horribly bloated these days. Yesterday we mostly picked some fresh veggies and fruits at the tianguis for the week, and we will eat lightly and exercise a lot to get back in shape. Normita is starting her regular daily exercise regiment at the gym today and I will be taking long walks to go everywhere, so things should be back to normal in a matter of weeks. Today, to give some zest to a simple salad, I am offering a simple recipe of a tasty salad dressing that gives a lot of flavor without adding to many calories. That, of course, is if you do not use too much of it or munch on too many 'nuez garapiñadas'. Have fun trying it and let's start the New Year in style and try to keep our resolutions for more than a few days.
Ingredients
1/4 cup extra-virgin olive oil
3 tbs balsamic vinegar
3 tbs orange juice
2 tbs whole grain mustard
1 tbs rice vinegar
1 tbs honey
1 tsp sesame oil
2 limes, juiced
Salt and pepper to taste
2 Belgian endives
1 package of mixed baby greens
1/2 cup nuez garapiñada cut in half (sugar-coated walnuts)
Preparation
1. In a bowl put the ingredients up to, but not including the endives, and whisk together.
2. On individual serving dishes, place some Belgian endive leaves and add some mixed baby greens on top.
3. Sprinkle some of the nuez garapiñadas on top and drizzle a few tbs of the dressing over the prepared salad plates.
Lucito
We finally arrived back home after a day's delay. Our flight was overbooked and we had to take a later flight a day later. We spent most of the day on Thursday at the airport waiting for flight status, until our travel agent told us to go to a nearby hotel and wait there overnight. There were only two Internet terminals in the entire airport and both were out of order. I managed to get online a few times on them, and found out when we arrived at the hotel that my laptop had finally expired.
The evening was salvaged by a great meal at a very nice Thai/Chinese restaurant next door to the hotel. We had some light Cantonese style food with a few pots of tea, as we did not want to indulge in spicy Sechuan or Thai food just before spending a day in airports and airplanes. It had been a while that I had a decent Chinese meal in a restaurant instead of at home.
Yesterday morning we were at the airport at 3am and were finally on our way to arrive home around 2pm local time. It was a great trip that permitted us to visit family and friends and to eat way too much on the way. We'll take the day to catch up with life and unpack, and will resume regular postings tomorrow. Have a wonderful weekend and lets start planning the next great meal together.
Lucito
As most of you must have noticed, the posting has been extremely light over the past few weeks. We had planned to post daily while we were away visiting the family in Canada, but circumstances beyond our control prevented us to do so. Everything from lack of time, minor family crisis, to technical problems with a broken laptop preventing us to connect to the Internet prevented us from updating the site. We are packing our bags today and we should be back home by tomorrow afternoon so regular posting should resume by Friday. We wish you all the best for the New Year and may the Gods of Food and Wine be on your side and make your bellies full.
Lucito
Hi, this time I am writing from Canada because we came to celebrate the Holidays with the family. I have prepared a nice "cocktail de camarones y ostiones" (Shrimps and oysters cocktail) that everyone has loved so I decided to share the recipe with you. This can be the first course for a nice meal.
Ingredients
1 pound of shrimps
1 pound of oysters
3 Italian tomatoes, chopped
1/2 red onion, chopped
1 avocado, cut in small pieces
1 chile jalapeño, chopped
1 or 2 limes, juiced
3 tbs olive oil
200 ml ketchup
Cilantro (coriander), chopped
Salt to taste
Salsa Valentina (Louisiana hot sauce, Tabasco, or any hot sauce to taste)
Preparation
1. In a bowl put the chopped onion, tomatoes, chile jalapeño, cilantro and the avocado.
2. Add salt to taste.
3. Add the lime juice, the olive oil, and the ketchup.
4. At the end add the shrimps and the oysters.
5. Mix all the ingredients smoothly.
6. Serve in small bowls and decorate with a slice of avocado and a leave of coriander. Everyone adds the hot sauce to taste.
Normita
Normita and I wish you the best for Christmas and we are very sorry for not posting any updates in the past few days. We have been very busy with family matters and we will try to resume posting by next week. Have a great time and we will be back with lots of new recipes and interesting news soon.
Lucito y Normita
Posting will be light for the next day or two as I am not in the office these days with access to all my resources. Hopefully things should go back to normal by tomorrow once this hectic period will be over. Until then enjoy yourselves and don't party too too much.
Lucito
While I was going through my notes of what we recently cooked I remembered that I did not post the main course from when we had company last weekend. It is a very simple dish that is a nice solid main course for a small group of people like 2 couples. You can prepare it and put it in the oven and forget it for an hour or so while you are enjoying the company of your guests, then you just need to prepare the sauce quickly and carve it to get ready for the table. With a minimum of preparation and fuss you have a nice main course. We served it with a nice bowl of mixed lettuce with a simple dressing of some herbs, olive oil, and sherry vinegar, and a few chile de arbol. A quickly prepared feast for the holiday season. We served the roast with a young (2004) Chilean red wine called Trio that is a blend of cabernet sauvignon, shiraz, and cabernet franc.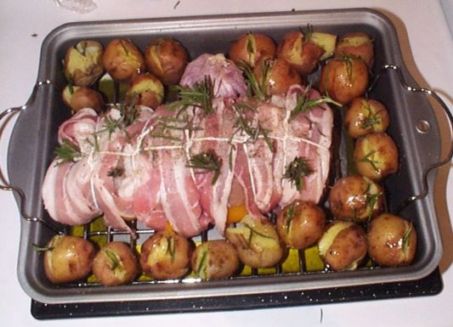 Ingredients
2 pounds boned pork loin
1/2 pound bacon
1 stick of butter at room temperature
1 bunch of fresh rosemary
1/2 cup of chopped dried apricots
1 small bulb of garlic
1 pound baby potatoes
2 tbs olive oil
1/2 cup red wine
3 tbs flour
1 cup chicken stock
Salt and freshly ground pepper to taste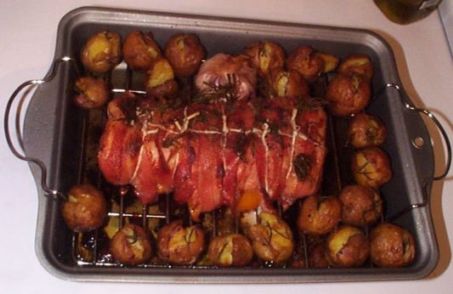 Preparation
1. Boil the baby potatoes until they are cooked but still firm, then drain them well
2. Preheat oven to 400F
3. Dry the pork loin with paper towels then cut a pocket in it on the long side from close to an end to slightly short of the other end. The incision should be deep past the center of the meat
4. Mix the softened butter with the apricots and the broken leaves of 2 or 3 sprigs of rosemary
5. Stuff the pocket with the butter mixture
6. Salt and pepper the meat
7. Lay the bacon on top of the pork loin wrapping it underside and tied it neatly with butcher twine
8. Place the prepared roast on a rack in the middle of a shallow roasting pan
9. Take a sharp knife and poke holes about 1 inch deep in the meat and stick pieces of rosemary in the meat through the bacon
10. With your fingers break open the baby potatoes and arrange them around the roast
11. Put some bruised rosemary leaves in the opening of each potato
12. Salt and pepper the potatoes then drizzle some olive oil in them
13. Place the garlic bulb on the rack with the potatoes
14. Place the roasting pan in the middle of the preheated oven and cook for approximately an hour until the bacon is nice and crisp
15. Remove the pork, garlic, potatoes, and the rack and all but 3 tbs of the rendered fat in it
16. Cover the roast and potatoes with a piece of foil and a towel to keep warm
17. Place the roasting pan on the stove at medium heat and add the flour to the fat and cook it while stirring for a few minutes
18. Take the roasted garlic bulb and remove the cloves and squeeze them into the pan
19. Deglaze the pan with the red wine and stir well until the flour is well incorporated
20. Add some rosemary and the chicken stock and stir until you have a nice smooth thick sauce
21. Taste and adjust seasoning with salt and pepper to taste
22. Carve and serve the meat covered in a thick layer of sauce
Lucito