Yesterday we went shopping in one of those huge mega-stores that are increasingly common here in the city and becoming the plague of most North-American cities. It is a grueling experience just from the huge size of the store. We ended up exhausted from walking from one end of the place to the other and back, since we had forgotten to pickup some dental floss when we had entered the store. We have been there a few times recently as the food is around 15-20% cheaper than at our local small supermarket, especially for the household items we cannot get at the tianguis. The only drawback is that some items I like to cook with are not available as the neighborhood is different than ours and they have less foreigners living there. I normally end up walking to the local store during the week to get whatever we could not find at the mega-store.
We were looking at the fruits and vegetables available there, and were very disappointed of what was available, and even so more at the prices. Luckily we had picked up most of what we needed at the tianguis early Sunday morning. The fruits and veggies there are always much fresher, of higher quality, and very cheap compared to any store. Since there are over 100 merchants, you are always assured of finding what you want. There are also specialists that only sell one produce like limes, papayas, or bananas and they are normally better than the more general stands. They have more to lose if they have bad products on display. Even though we have only been living in this 'colonia' for around 6 months, we have been regular customers of some of these merchants for a few years. Since the tianguis is an itinerant street market that appears on a regular schedule on different days in different neighborhoods, we knew some of the merchants in our old neighborhood in the tianguis we had there on Mondays.
Both Normita and I love the street market atmosphere of the tianguis. You can find anything including fruits, vegetables, chicken, beef and pork, seafood, spices, and dry goods in the food stalls that make up about 40% of this particular one. The rest is divided between clothes, hardware, utensils, jewels, incense, pirated CDs and DVDs, toys, decorations, plants, etc., and of course prepared food of all kinds from 'barbacoa' to 'carnitas', from 'mariscos' to tacos and 'huaraches', and a huge variety of other food, one more appetizing than another. If you really want you can go around the tianguis and sample fresh fruits and food all morning and have a huge free breakfast or lunch that way. It really beats the reheated frozen food samples that are typically available in the mega-stores. We normally have a solid late breakfast of lamb consommé with rice and garbanzos, followed by some soft tacos of juicy lamb 'barbacoa' or golden fried tacos. They are served with a variety of spicy sauces (green, red, and 'borracha') and accompaniments like chopped onions, cilantro, lime, and 'nopalitos' with chipotle. With a tall glass of cool and refreshing 'agua de jamaica' it makes for a solid breakfast that permits you to explore the tianguis on a full stomach.
Lucito
I was recently researching various kitchenware offerings online when I was looking to purchase a fondue pot. Normita wanted to have a cheese fondue for Valentine day, and all of our fondue pots are in storage in Canada. Fondues are not very popular here in Mexico, so most regular stores do not carry anything useful. I turned to the major department stores and found some offerings online, but they were uniformly overpriced for what they were. I walked to a nearby major department store to see what they had, as their website did not list anything at all, and I found some nice looking fondue pots. They were also high priced, but when I looked at them closely I noticed that they were very cheaply made. The nice shiny stainless steel was very flimsy and I decided to pass on buying one, and we ended up eating something else that I invented for the occasion. More on that another day…
Thinking back on what I saw in the department stores and what is available everywhere else, I came to realize that cooking is now at the level of expensive hobbies where a huge amount of companies are offering a lot of products more from the show factor, than for cooks to actually use them. There seems to be so many types of kitchen gadgets these days, and the price you pay does not insure of quality.
First there are the cheap mass market gadgets that are useless at any prices. Soon after we moved I noticed that I could not find my vegetable peeler. Later that day, at the local supermarket, they had two different vegetable peelers on sale. One was a low-priced one of a generic style I have been using all of my life and the other a fancy brand one that looked cumbersome and useless and that was offered at a ridiculously high price. I opted for the cheap one, as they are normally solid and work very well.
When I returned home I washed it and after one minute of use the blade had broken off. I was very disappointed as the design normally works perfectly for years, but the one I had bought was obviously of very bad quality. Thus beware of the very cheap kitchen gadgets that however low the price is, are not worth it.
The next Sunday, when we were shopping at the tianguis, I found a solid looking vegetable peeler that was not much more expensive than the one at the supermarket. It was built solidly, was very sharp, and turned out to work perfectly for all normal purposes that you would put a vegetable peeler to do. Those unglamorous, well made gadgets that are a tad higher priced than the bargain basement variety are great values. Of course they might clash with the stunning decor of your fancy ultra-modern laboratory kitchen, but what to you want from a lowly vegetable peeler.
Of course, if money is not a factor and you want pure style, there are a lot of high quality kitchen gadgets that offer both good looks, and great function. These tools seem to be very popular now with cooking becoming a spectator sport and getting to be a hobby for many. The main complaint I have with a lot of those branded gadgets, is why in the world would you want to pay upwards of $50 for a whisk or similar tool, when you can buy a commercial duty one at a restaurant supply shop for about 5 times less? I know that the commercial one does not have the branding of the fancy, endorsed by a famous chef, one, and might be a tad less stylish, but unless you want to decorate the kitchen with it instead of using it, the commercial whisk will just as well or better.
There is also a proliferation of kitchen gadgets that are advertised in infomercials and in boots in various malls. Most of them offer solutions to kitchen problems you never had, and some are so specialized that they make you part with your money for things that you will only use once or twice a year. How often do you need to make heart-shaped pancakes or carve a 10 pound melon in the shape of a swan? Occasionally you manage to find some interesting gadget that is both well-made and very useful, and I have indulged with those in the past and will certainly do so again in the future. One thing to keep in mind is do you really need the gadget, can you afford it, and most importantly how often will you use it. If the answer is yes for the first two and very often for the second, then you should seriously consider it.
In coming months I will talk more about gadgets and make a list of essentials that every cook should have in their kitchens. Until then keep cooking and don't buy too many kitchen gadgets you will never use.
Lucito
A few weeks back, for the Chinese New Year, I created a new recipe for the occasion. I researched a bit what would be traditional, and after finding such a great variety of dishes I could not decide on a single thing. I also read that it was traditional to give kids oranges and to eat a lot of them as they are representative of the sun; so I decided to make something with oranges or 'mandarinas' in it, as the later are currently in season here. Normita felt like having a chicken dish so this Orange Chicken was born. It could easily be made with turkey or other types of poultry. I opted to make it with oranges as I had some very nice seedless ones, and the 'mandarinas' we had were full of seeds. If I remember right we probably made it with turkey breast as we had some frozen ones marinated 'arrachera' style. I will talk more about 'arrachera' in the coming weeks as the Padrino as requested a recipe and we will provide in time. Enjoy this nice light oriental dish with the chicken served on a nice bed of steamed rice…
Ingredients
1 full chicken breast skinned and deboned then cut in cubes
1 tsp soy sauce
1 tsp orange juice
1 egg yolk
1 tbs cornstarch
12 green onions cut diagonally into 2" pieces
1 small can of water chestnut slices
1 large seedless orange peeled, broken into segments, and with the segments cut into cubes
1 1/2 cup orange juice
3 tbs honey
2 tbs Hoi Sin sauce
1 tbs cooking sherry
1 1/2 tsp Chinese chili paste or to taste
1/4 tsp salt
2 tbs sunflower oil
1 1/2 tbs cornstarch
1 1/2 tbs water
1 tsp sesame oil
Preparation
1. With your hands mix the chicken cubes with 1 tsp of soy sauce and 1 tsp of orange juice until well incorporated.
2. Add the egg yolk and mix well again.
3. Add 2 tbs of cornstarch and mix until you get a very sticky mess.
4. In a measuring cup put 1 of cup orange juice, 2 tbs honey, 2 tbs Hoi Sin sauce, 1 tbs cooking sherry, 1 1/2 tsp chili paste, and salt and mix well to make the sauce.
5. Put 2 tbs cornstarch and 2 tbs water in a small bowl and mix well together with finger.
6. In a large wok on high heat place 1 tbs of oil and heat 30 seconds.
7. Stir-fry the chicken cubes until they are well cooked. Around 5 minutes depending on the heat of your fire.
8. Reserve the chicken.
9. Add the other 1 tbs of oil and place on high heat to stir fry.
10. Add the green onions and water chestnuts, and stir fry for 1 minute.
11. Add the prepared sauce, the orange cubes, and the reserved chicken, and bring to boil covered.
12. Add the cornstarch in water to the mix and bring to boil to thicken.
13. Add the 1 tsp sesame oil to give a nice shine to the dish and mix well and serve while still hot.
Lucito
You have probably noticed that posting had been somewhat light in recent weeks. This was due to many factors, both Normita and I were swamped with work, and the Padrino was away on a business trip. To make matters even more fun Normita had a very bad cold a few weeks back and then, as a gift of love, gave it to me. So, a few weekends back, I ended up making several batch of her chicken soup. I love this chicken noodle soup and it is very simple to make. It really helps you when you have a bad cold, and I find it extremely tasty for all occasions. She adapted the recipe from the way they traditionally do it here in Mexico. The standard 'sopa de fideos' or noodle soup is normally made with a chicken and tomato broth, but I personally prefer the plain version without the tomatoes. It can be served with or without chicken meat in it, and my preference again is with lots of noodles and no meat. The soup tastes much better if you prepare it with chicken bones. We either make it with drumsticks, or with breast meat. We normally buy our chicken at the tianguis and they prepare it to our taste. When we buy breasts to make soup we normally have them remove the skin and bones, and we keep the bones separately and freeze them to make soup. The recipe bellow calls for cooking a deboned breast with some bones for flavor, and you can dice the meat when cooked, place it in the serving bowl and ladle soup over it. You can also keep the cooked chicken to make a salad or sandwiches the next day. Either way it will make a wonderful soup that will likely cure all of your troubles…
Ingredients
1 large chicken breast half skinned and deboned
1 bones from chicken breast
1 clove garlic, peeled
1/2 a medium onion
1 chile jalapeño
2 1/2 tbs powdered chicken stock
5 ounces vermicelli or the type of soup pasta you prefer
2 1/2 quarts water
Preparation
1. Place the chicken and bones in a medium sauce pan.
2. Place the half onion and the clove of garlic with it.
3. Make a slit the length of the jalapeño and place in the pot with the rest of the ingredients.
4. Add chicken stock powder and water to the pot and place on stove at high setting.
5. Reduce fire to simmer and cook for around 30 minutes until reduced by 1/3.
6. Remove from fire and skim the surface of the soup and remove and discard the bones, the onion, the garlic and the jalapeño.
7. Reserve the chicken for other use, or cut in pieces and place in soup bowls.
8. Return the pot to the fire and bring to boil then add the noodles.
9. Cook until noodles tender and serve.
Lucito
As you might have noticed, our Padrino, Kurtito has finally posted his first entry to the blog. He wrote a wonderful review of a beer tasting event that he recently attended in Vienna. He promised me more posts in the coming weeks and we want to extend to him the warmest of welcomes as a semi-regular contributor to the blog. If you want to see more of his writing in his native German please go visit his wonderful website on Viennese lifestyle at Life-Style.at
I'll be back to regular posting in the coming days. Things have been very hectic here in the past week with too much work and too little rest. I have a nice recipe in store for you coming up in the next few days that I invented in honor of the Chinese New Year last Sunday. More on that and other things later.
Lucito
With support from Austrian brewery Eggenberg, 'Beer Pope' Conrad Seidel presented 'Vienna's most serious beer-tasting' at the Glacis Beisl. The journey went from Eggenberg to St-Louis in 20 delicious stations of beer.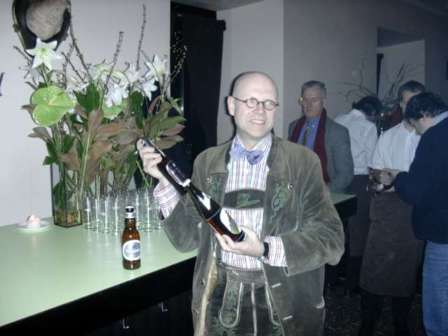 'Beer Pope' Conrad Seidl, a well known Austrian journalist and leading German language specialist on beer, is also known as great speaker and lector, always drawing vast crowds. The crowd at the beer tasting event in Glacis Beisl however surpassed everything so far, with the event selling out days after it was announced. An interesting side note: while beer is often considered a man's beverage in Europe, more than a third of the audience was female.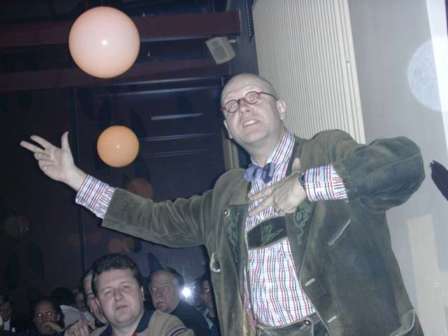 Right to the point the event started with a non-alcoholic beer, although Mr. Seidl explained right away that there is nothing like a completely alcohol free beer, only beer with a very low alcoholic content. His reason for starting with a non-alcoholic variety? It's educational – everybody should remember how little he or she poured from that one and never pour more from any of the later, more potent beverages.
After a quick start we embarked on a fascinating tour through beers of very different styles from all over the world, 20 samples altogether. A lot was to be discovered and realized in the process, for example how different a Czech Budweiser was from an American Bud, or about the differences between Pilsener Urquell, the 'inventors of Pilsen style' and a modern Pils. We also learned why Bavarian wheat beer is not brewed according to the German Reinheitsgebot (German Purity Law) that strictly specifies rye as base for the malt and was passed in order to give the Duke of Bavaria the monopoly on wheat beer brewing. We tasted and realized that dark beer is not necessarily sweet in taste and where the name 'Stout' comes from (referring originally to a stouter type of porter)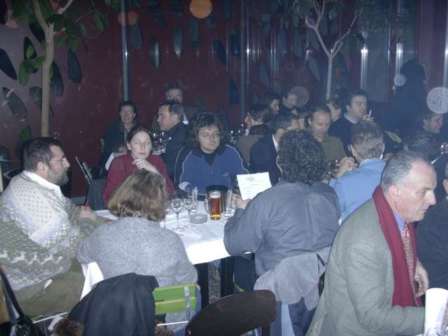 Of special interest was the vertical of assorted beer types brewed by Eggenberg that ended with two legends, Eggenberger Urbock, a double bock of desert wine character and the Samichlaus, an even stronger and more aromatic double bock originally invented by Swiss brewer Hürlimann. Unfortunately Hürlimann stopped the production after being taken over. However Eggenberg acquired the recipe and license and is now brewing this unique delicacy. On the aromatic side, the tasting also included very interesting aromatic beers from Belgium. Of course Guinness stout wasn't missing either as representative of British Isles beers.
To sum things up, a very high level tasting that gave those new to fine beers a great introduction to styles and types while still containing enough new and interesting information for beer connaisseurs, and even those beer specialists who already knew most of the information found enough incentive for a satisfying event – like a good glass of exclusive Samichlaus and the amusing and amazing presentation by Conrad Seidl … and free fresh pretzels.
Kurtito
More pictures of the event are available here
Yesterday I prepared my adapted version of Szechuan Orange Beef that does not have too too much in common with the traditional version. I like both versions very much and will post the traditional recipe at a later date. I came to create my version when we ran across some beef dish that we liked a lot at a Chinese buffet restaurant in Québec years ago. I looked into adapting one of my recipes and the one that came the closest to the style was orange beef. This recipe can be done with beef tenderloin, but I normally prefer a cut of meet that is stringier in nature like flank or 'bavette' (bottom sirloin butt or flap meat). Yesterday I prepared it with extremely tender marinated 'arrachera', a juicy staple of Mexican cuisine. To achieve the desired texture to the meat I prepare a tasty coating and then deep fry it first until the outside is crispy and the inside is still nice and tender. This is followed by stir frying before serving. To easily make strips of the orange skins use a sharp vegetable peeler and cut long strips of the orange skin, cutting just into the orange colored part, without cutting into the white flesh. Yesterday we served the dish with a nice rice dish with vegetables, or you can add some snow peas or other vegetables to the meat if you wish. We really like this dish, and last year we had a vegetarian acquaintance over for a meal and she ended up eating two plates of the stuff. I guess that says enough about how good it is…
Ingredients
1 1/2 pound beef tenderloin or flank cut into short thin strips with the grain
1 tbs Hoi Sin sauce
1 tsp Chinese chili paste
1 tsp soy sauce
1 tsp sesame oil
1 tsp orange juice
1 egg yolk
1 tbs cornstarch
2 cups sunflower oil
Skins of two medium oranges without the white par cut into strips
8 chiles de arbol or thin red chilies
1 cup orange juice
2 tbs sugar
2 tbs Hoi Sin sauce
1 tbs soy sauce
1 tbs cooking sherry
1 1/2 tsp Chinese chili paste or to taste
1/4 tsp salt
2 tbs sunflower oil
1 1/2 tbs cornstarch
1 1/2 tbs water
1 tsp sesame oil
Preparation
1. With your hands mix the beef slices with 1 tsp of Hoi Sin sauce, 1 tsp of chili paste, 1 tsp of soy sauce, 1 tsp of sesame oil, and 1 tsp of orange juice until well incorporated.
2. Add the egg yolk and mix well again.
3. Add 2 tbs of cornstarch and mix until you get a very sticky mess.
4. In a measuring cup put 1 of cup orange juice, 2 tbs sugar, 2 tbs Hoi Sin sauce, 1 tbs soy sauce, 1 tbs cooking sherry, 1 1/2 tsp chili paste and salt and mix well to make the sauce.
5. Put 2 tbs cornstarch and 2 tbs water in a small bowl and mix well together with finger.
6. In a large wok place the 2 cups of oil and heat until ready to deep fry.
7. Deep fry the beef strips in batches until the outside is very crisp and the inside is still tender. Separate the strips as they cook, and drain them well after they are ready.
8. Clean up you wok and add 2 tbs of oil and place on high heat to stir fry.
9. Add the beef, the orange skins, and the chiles and stir fry for 3 minutes.
10. Add the prepared sauce mix and bring to boil covered.
11. Add the cornstarch in water to the mix and bring to boil to thicken.
12. Add the 1 tsp sesame oil to give a nice shine to the dish and mix well and serve while still hot.
Lucito
We just got up from the table after a late breakfast and something dawned on me. Where did the taste go in most commercial food products? Recently I bemoaned the lack of taste in high production commercial cheeses that tastes more of plastic than of milk products, but why is this happening with most mass-market food products? I know that according to modern corporate practices and the search for the holy bottom line, large corporations tend to homogenize their products and go for the least common denominator, but is there a universal ingredient called 'flavor' that is so expensive in the future market that most corporations shy away from using it in their products? This morning we opened a new package of margarine, as well as new packages of 'spreadable' cream cheese and peanut butter. All were supposedly 'new and improved' and were definitely more 'spreadable' than older formulations, but all were lacking taste. In the quest for 'spreadability' the core of the product flavor was forgotten. The margarine was bland and tasted of nothing, the cream cheese could have been bland thick cream as there was no hint of the slight sourness that is normally associated with the product, and you would have been confronted with a difficult task in trying to decide what was put in your mouth if you had tasted the peanut butter blind. The peanut taste was so light that you had to double the normal amount used to get any hint of it. Maybe that's what they are trying to make happen… All of those products were not 'light' versions of the regular brand, so that was not the problem. I looked into it a bit and found out that all the brands we had opened this morning were brands from the same mega-food conglomerate, so this might be a problem that is more specific to them, but I have noticed the trend in recent years in a variety of other brands. Has anybody out there found the same thing recently? Come on big food conglomerates; let's put the taste back in your products…
Lucito
Last weekend I was cleaning up the refrigerator of leftovers, both fresh and frozen, and ended up making one of our favorite stand-by. I have been preparing this great Szechuan recipe on a regular basis ever since I first learned it while taking Chinese cooking classes at the Chen School of Art in Montréal close to 25 years ago. It is very easy to prepare and I have cooked it with chicken, pork filet, beef filet mignon, scallops, or shrimps since then. It is normally served on a bed of stir-fried spinach, but I have rarely made it like this as I normally serve it with mixed stir-fried vegetables. The recipe I am presenting today uses what I had on hand in the refrigerator last Sunday, but could be made with a wide variety of vegetables. I also experiment a lot with the sauce's ingredients to make it even more versatile. On Sunday I replaced the chicken with a medium-sized pork filet, that I had frozen since before the holidays, cut in 1/4" thick diagonal slices, but any meat or seafood can do in a pinch. I hope that you enjoy this quickly prepared recipe as much as we have done over the years.
Ingredients
1 pound chicken breast meat cut is bite-sized cubes
1 tsp soy sauce
1 egg yolk
2 tbs cornstarch
2 tbs sunflower oil
1" piece of ginger peeled and chopped finely
3 cloves of garlic chopped finely
2 green onions sliced thinly
1/2 pound broccoli florets cut in bite-sized pieces
1/2 pound cauliflower florets cut in bite-sized pieces
1 medium cucumber peeled and seeded cut in bite-sized pieces
1 small can of sliced peeled water chestnuts
1 can of baby corns cut in bite-sized pieces
1/2 pound mushrooms sliced
2 tbs sunflower oil
1 1/2 cup of chicken stock (can be made with powder)
3 tbs sugar
3 tbs sherry vinegar
1 tbs soy sauce
2 tbs cooking sherry
1 1/2 tsp Chinese chili paste or to taste
2 tbs cornstarch
2 tbs water
1 tsp sesame oil
Preparation
1. Mix the chicken cubes with the egg yolk and the soy sauce with you hands.
2. Add the cornstarch and mix until the mixture clumps together.
3. Chop vegetables and mushrooms, and put in a large bowl.
4. Chop ginger, garlic and green onions and put in a small bowl.
5. Put chicken stock, sugar, sherry, vinegar, soy sauce, and chili paste in a measuring cup and mix well together.
6. Put 2 tbs cornstarch and 2 tbs water in a small bowl and mix well together with finger.
7. Heat a large wok over high heat and add 2 tbs of oil.
8. Stir-fry chicken until firm and no longer pink in center. The chicken will easily unclump when cooked. Put it back in its bowl when cooked.
9. Put another 2 tbs of oil in the hot wok and add the ginger, garlic, and green onion followed by the vegetables and mushrooms.
10. Stir-fry until cooked but still a bit crunchy.
11. Add sauce mixture and bring to boil covered.
12. Add the reserved cooked chicken and bring to boil again.
13. Add the cornstarch/water mixture to thicken and bring to boil while stirring.
14. Add sesame oil and stir well to add shine and taste to the mixture.
15. Serve on warmed plates.
Lucito
On our recent trip to Québec I was reminded of one of the few things that I was missing from living there. Cheeses! Tons and tons of varieties, the tastier the better… As with many places I have lived in the past, the cheeses available, in most supermarkets here in Mexico, tend to be bland and boring. Strangely enough, for a population that is so strongly attracted to tasty and spicy food, strong tasting cheeses are not very appreciated. It is somewhat understandable as a lot of time cheeses are used to cool off the taste of other stronger tasting ingredients, and as toppings. Most supermarkets have commercially-made high production cheeses of the common local varieties. Panela, a fresh cheese of wet rubbery consistency, Oaxaca, a tasty cheese made for melting that is available in long ribbons formed into balls, and some firm varieties, namely Manchego and Chihuahua. Strangely enough the local variety of Manchego is made with cow's milk and is more reminiscent of a mild cheddar than the firm ewe's milk Manchego of Spain. Of course, if you like shopping for fresh produces at the tianguis like we do, there are much tastier varieties of the same cheeses available there that have much fuller flavors as well as other small production farm cheeses. As always these cheeses have much better flavor and less of a bland taste as most large production cheeses. This is something that I have found in most countries that I have visited.
Being raised in a French household and surrounded by cheeses since infancy my understanding of the cheese culture is a bit different than most North American. My Dad's taste for cheeses was always on the hard varieties like strong aged cheddars and a local semi-firm variety made by Trappist Monks in Oka, a small town near Montréal, and surprisingly named Fromage Oka. The later was, in its original incarnation, an incredibly pungent cheese that took a very strong stomach to approach from the smell alone, but that was of surprisingly mild and beautiful taste once you got past the smell. My own personal taste runs to the tasty, high fat, soft textured French cheeses with a mold crust like Brie, Camembert, Reblochon, but I have not met a well-made cheese so far that I do not like.
In the past 10 years the cheese industry in Québec has evolved greatly in new directions. Still available are the high production commercial cheeses, but a new industry has developed that has created a huge variety of small-production artisan cheeses of all types and flavors that rival the French by their quality and creativity. It is too bad that they also rival them with their prices, but I guess that quality always has its price. Traditional techniques have been imported from France and, to lesser extent, other countries, and the use of 'lait cru', unpasteurized milk, is on the rise. As an unabashed lover of 'lait cru' cheeses I am very happy of the later development. By not pasteurizing the milk and letting its natural bacterial flora flourish these cheeses develop a much more interesting taste that can become very addictive.
It is common, here in Mexico, to serve some cheese as appetizers, but personally I much prefer to have a nice platter of room-temperature cheeses after the meal, to the point of replacing desserts with it. It is a fitting finish to an elaborate meal and it is normally the correct point in the evening to open the best bottle of wine. In my life, many fond memories were made over some nice runny, pungent cheeses with a fittingly appropriate potent wine bottle or three. It leads to inspiration and long lasting friendship of the best kind.
I will have more to say on cheeses in coming weeks, and in the meantime I hope that you can look for a nice piece of cheese to experiment with, for a nice bottle of wine to go with it, and more importantly for the time to relax and truly appreciate them with good friends.
Lucito