In olden days before train or automobile became common, transportation was mainly by carriages pulled by horses. While this was quite feasible for shorter distances, like going from your rural farm to market or the village pub and back, it was a pin for long distances as it took a lot of time. This in return resulted in a lot of inns and roadhouses along well-traveled roads where people would stop overnight during their travels.
Even for shorter trips, like a trip to the countryside on the weekend, it was quite common to take one way trip on Friday, then have an extensive meal and stay over night, only to return the next day. This was not only done to more extensively enjoy the countryside, but for practical reasons, comfort and safety. After all there were no well-paved roads, broken wheels were common, no illumination along the roads and thieves and thugs roamed many parts of the countries. Add to that the fact that many overnight trips to the countryside had a certain gallant element; this was a very viable model.
Today the need to stay over night after a dinner in the countryside is not as pressing anymore, though it still can have its advantages. As thugs and thieves have been replaced by police testing for alcohol it allows for adequate consumption of fermented beverages to accompany a nice meal without fear or guilt. The comfort factor holds still true – walk up a flight of stairs and collapse in a well made bed instead of driving back late on unknown roads for an hour or two and top it of with breakfast being ready for you the next morning. Pair that with the gallant element that still applies today and you get the picture.
This said, yes, we do enjoy it occasionally, whenever our schedule permits it and we get a little incentive (that usually has to do with fine food or wine or both). It's nice to flee out of the hectic city and enjoy a stay outside our busy lives. Last Thursday we had the latest of those escapades and it's what I'm writing about today – after an admittedly long start. It is still winter in Vienna, unusually enough as normally at that time we get tulips and daffodils instead of this year's ice and snow. Still we decided it was time for a road trip again, overdue actually, the last had been October 31st last year.
The incentive was easy enough to find. A quite well-known inn about 1 hours from Vienna, Jeitler by name, had received it's first Michelin star and has been celebrating this every Thursday with a 'star menu', a degustation menu with many samples of dishes that had helped the Chef, Gerald Jeitler, win the desired star. The one last Thursday was supposed to be the final one, though eventually they decided to do 2 more. Nevertheless we didn't want to miss and took to the road.
As we live in the North of Vienna and left around afternoon rush hour we took about 2 hours to get to the place. It's located on the Eastern outskirts of the alps, an area that is looking quite alpine with lots of hills and smaller mountains, woods and an overload of nature. Beautiful in summer, but in winter a little challenging. Luckily it only started snowing when we were within 15 minutes of the target. We arrived, carried our suitcase up to the room and went for the dinner.
We nicely started it off with a glass or local sparkling wine, nice, crispy, lightish, a very good aperitif. As if we needed anything to whet our appetites – we were all but starving as we hadn't had a bite since morning. Of course they could help us there – with then aperitif, as if to keep us from starving, they served fresh cuts of baguettes with different herbs in them and little plates with butter, pumpkin seed spread and homemade 'tapenade' of black olives. The later was a very good preview of the kitchen's talents as it was the best I ever had outside of those regions of France where they invented it.
Politely they inquired whether we wanted the 'star menu' or would like to choose our own dishes. Well, we came for the 'star menu' so there was no discussion. Next they brought the amuse bouche or, as it's called over here, 'Regards from the chef'. A nice lengthy plate with three delicious samples: left to right vegetable timbale with thyme, crème of sweet bell peppers and white fish carpaccio with fig confit. Each of them very distinctive and an explosion of taste on the tongue. Investigating why the tastes were so abundant we found out that they are using 100% natural ingredients, no substitutes or taste enhancers and prepare everything from scratch. Obviously a great idea in the age of convenience products and artificial flavors.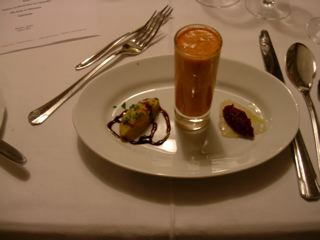 The menu started with a seared scallop on balsamic-spinach. Daring at first look, as good scallops are very delicate and their taste can easily be overwhelmed by strong aromas. The combination turned out stunning, not only for the eye as the pearly white of the scallop contrasts nicely with the dark leafy green, but also to the tongue. The scallops themselves were premium quality and prepared to the point and the balsamic aroma was discrete enough to underline them. We had a glass of nice local Muskateller wine, a very aromatic yet light and dry white made by a vintner named Broli from Gamlitz, Styria (Southern Austria).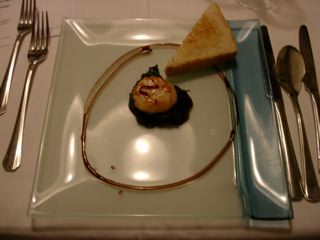 Next up was another stunner: goose liver crème brulée. Rich, soft, creamy with a crisp crust of caramelized brown sugar on top, properly burned. We enjoyed a very nice Austrian sweet wine with that, a Traminer Auslese from one of the great ones, Ernst 'E.T.' Triebaumer of Rust at the Lake Neusiedl.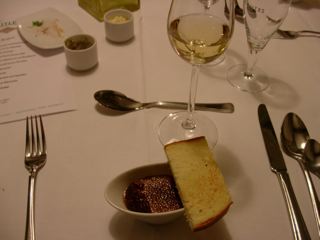 The third course was a crème of leek. Actually it was creamy but lighter, more like a foam or froth, topped with a hint of sweat crème. Again we were enticed by the intensity and naturalness of the aromas. We finished the glass of Muskateller with it.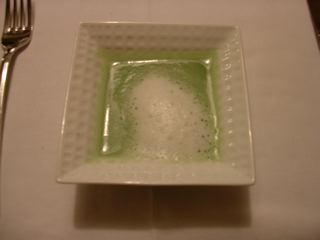 Next up was a filet of St-Pierre with an allspice and citrus nage. The St-Pierre was served a little bit of mashed potatoes and – surprise – a slice of black pudding pancake. While the fish and the black pudding don't combine directly, they formed an interesting contrast, while each of them combined surprisingly well with the aromatic nage. We started a bottle of white with that, a chardonnay from the wine growing region South of Vienna called 'Thermenregion', vintage 97 and made by well-known vintner Reinisch of Johanneshof. A real whopper, broad, full-bodied with nice oak and lively acidity. It reminded us a lot of a very good Merseault once it opened up.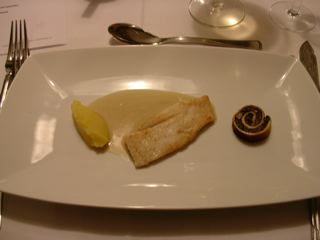 The meal continued with slightly smoked catfish (the European variety which doesn't have red meat and is a tad more delicate in aroma) served with crème of potatoes and wasabi caviar. Again an explosion of flavors and aromas that combines formidably. The wasabi caviar turned out to be greenish in color with a hint of wasabi aroma but no spiciness and was similar to flying fish roe in size and consistency. The catfish had the most complex smoke aromas I've tasted in a long time and that in turn combined very nicely with the vegetable side.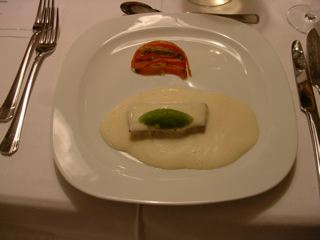 To spoil us further, the next course was quail breast, crisply grilled, on a risotto with sweet and sour mushrooms. While I usually prefer a red, a good Pinot if possible or it's Austrian cousin, St-Laurent, with quail, the delicate sweet and sour aromas of the mushroom risotto found a wonderful partner in the chardonnay that had opened up by now. What else, as expected, the consistency of the risotto was perfect, the proper bite and the right creaminess.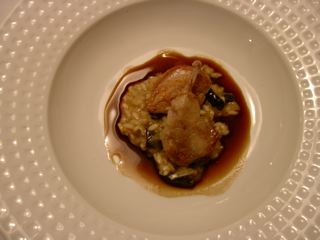 The next course – and it was starting to get tough – was an Eastern Austrian specialty called 'Kalbsbeuscherl', a ragout containing calf lungs and heart that have been marinated in Riesling. Typically it's finished with cream and served with some type of dumpling. The dish was delicious though abundant for a degustation menu.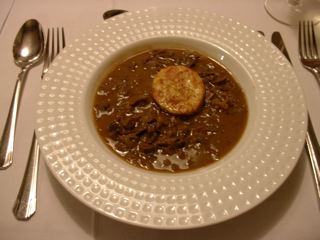 To cool things off we were next served a very intense pear sorbet that helped us consider any further food – the true purpose of a sorbet as alternative to the 'Trou Normand'. We joked about the next course mentioning just young lamb, not which cut so I teased my wife about a full lamb to come.
Of course it wasn't, instead it was a nice, perfectly cooked, medaillon on the bone with a crispy olive crust and 'topinambour', a slightly sweetish root vegetable that has been widely replaced by more versatile and better producing potatoes centuries ago. The lamb was to the point, actually to my preferred point which is medium rare, juicy, tender and delicate in taste. I had a glass of wonderful Barbera with it, from Alba, the Italian truffle capital in Piedmont- a good idea as it turned out with the next surprise course.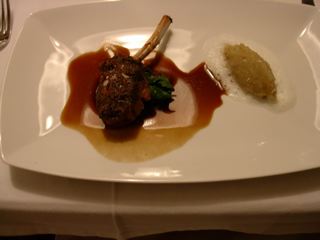 Not mentioned in the menu list was the surprise cheese course. A dish that reminded me of Lucito's legendary Pommes Salardaise. They took a nice, not too salty blue cheese, put several slices of truffles on it, next a buttery Gouda-like cheese, again a few slices of truffles, and topped it off with a ripe goat cheese, white culture, and again truffle and some truffle oil. As the top was warm and slightly melting I suspect they briefly put the plate under top heat. The result was unbelievable and the different cheese aromas and the truffle flavor mixed stunningly. As indicated, the Barbera was a perfect match here.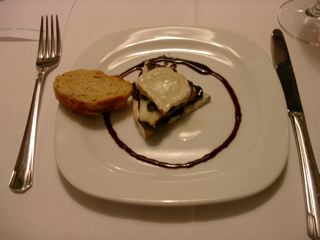 As Austria is a desert country the degustation menu ended with two instead of one deserts. First was a Mille Feuilles with very nice coffee crème and baby pineapples and sliced figs and finally, more traditional, cheese dumplings with homemade plum compote. By then it was eleven and we were both, stuffed and tired so we retired upstairs and fell into bed. We slept very well until about 8:30 – usually we both work already at 8:30! The bathroom held another surprise for us – a wonderful whirlpool with air jets that helped to wake us up properly. Surprisingly we were not stuffed anymore and as breakfast was included with the room we went downstairs.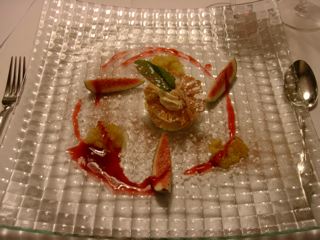 The breakfast kept up with the dinner indeed. Choice of coffee, tea or espresso, assorted bread, homemade jams, fine cold cuts and chesses and what they called 'a few little side dishes from the kitchen'. This turned out to be a bit of a understatement, what they brought was delicious and rich in flavor again. First was mashed potatoes with two colors of fish roe and crème fraiche, next some truffled scrambled eggs and to finish the 'light' breakfast off the richest and most intense chocolate mousse cake I had in ages. I'm afraid that asking for the recipe specifies something like '23 egg yolks per head' but it was worth it, I won't take a blood test for the next week. As this final tidbit was a bit intense they served a glass of champagne with it. As you can imagine after a breakfast like that the first idea is to return to the room and dream off another cold and gray late winter day…
Kurtito