Monthly Archives:
October 2006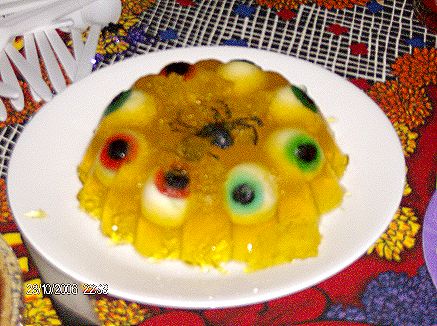 This was a nice finish to the buffet and the kids were very impressed by it and were very reluctant to eat it at first.
Ingredients
1 package of pineapple dessert gelatin
1 envelope clear powdered gelatin
1 plastic spider
8 jelly eyeball candies
Preparation
1. Mix the pineapple gelatin as directed on the package and add the envelope of clear gelatin.
2. In a jelly mold place a thin layer of the prepared mix in the bottom and float the spider on it.
3. Refrigerate until set.
4. Place the candy eyeballs at the periphery of the mold and pour enough of the mix to cover them a bit more than halfway.
5. Refrigerate until set.
6. Pour the rest of the mix filling the mold.
7. Cover and refrigerate overnight.
8. Unmold prior to serving and present on a platter.
Lucito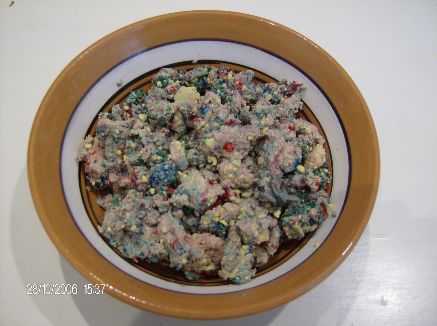 This recipe was the quickest one to prepare and used some of the leftover hard boiled yolks of the eggs used for the Vampire's Eyes.
Ingredients
8 ounce tube of pork liver paté
2 hard boiled egg yolks
Drops of red, yellow, green, and blue food coloring
Preparation
1. Mix all the ingredients together.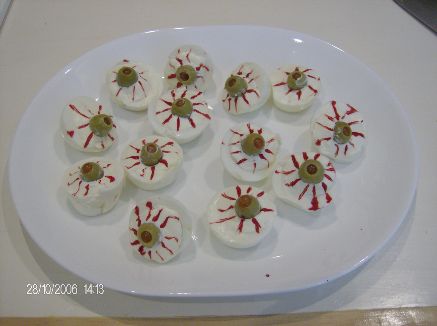 This was one of the fun recipes to prepare. It was relaxing to form them and paint the veins on the eyeballs.
Ingredients
6 hard boiled eggs
4 ounces cream cheese at room temperature
12 stuffed olives
Red food coloring
Preparation
1. Shell the hard boiled eggs.
2. Cut in half and remove the yolks.
3. Fill the hole left by the yolk with the softened cream cheese.
4. Stick an olive in the cream cheese and smooth the cheese around it.
5. Using a tooth pick dipped in red food coloring draw veins in the cream cheese
Lucito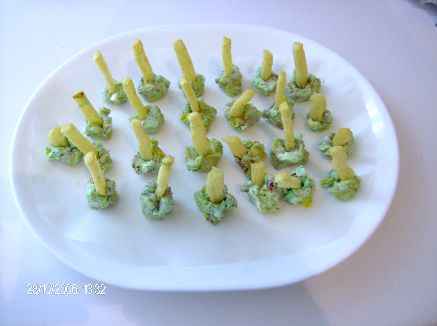 The easiest of the recipes of the evening and one that had the most success, as they disappeared entirely in only a few minutes.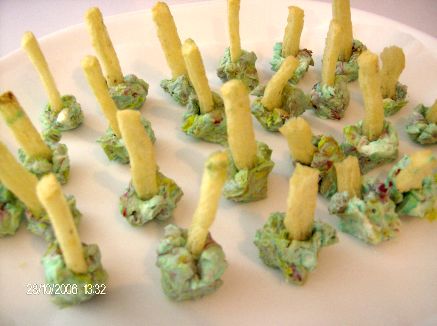 Ingredients
1 small package of cream cheese at room temperature
1 container of oven-baked potato sticks (straight pretzels can also be used)
2 tbs chopped salted peanuts
8 drops green food coloring
4 drops yellow food coloring
4 drops red food coloring
Preparation
1. Mix the softened cream cheese, the peanuts, and the green food coloring.
2. Add the yellow and red food coloring and mix leaving streaks.
3. Form into small balls and stick a potato stick in them.
4. Place on a wax paper sheet on a plate and refrigerate to firm up.
Lucito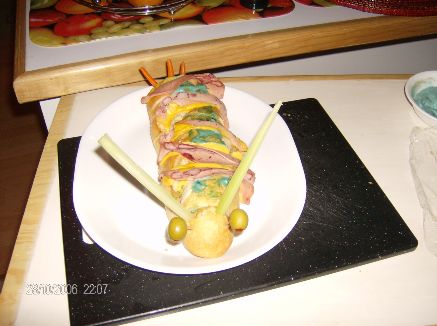 Here is another simple recipe for Halloween. A simple baked sandwich decorated like a huge caterpillar. It is essentially a short baguette cut almost through in slices with some cheese and cold cuts stuck in it with a mayonnaise sauce. They are extremely tasty and look kind of great on the platter.
Dressing
Ingredients
3 tbs mayonnaise
1 tbs ketchup
1/2 tsp dried mustard
1/2 tsp dried chives
1/2 tsp dried oregano
1/2 tsp onion salt
1/4 tsp ground pepper
4 drops blue food coloring
Preparation
1. Mix all the ingredients together.
Caterpillar
Ingredients
1 short baguette
6 slices yellow American cheese
6 slices cold cuts
2 thin celery sticks
2 olives
3 thin baby carrots
Preparation
1. Make 12 cuts in the bread almost all the way through.
2. In each alternate cuts place a tsp of the dressing and a slice of cold cut in a folded slice of cheese.
3. Wrap the baguette in aluminum foil and heat in a 375F oven for 10 minutes until the cheese melts and the bread is nice and crisp.
4. Unwrap the baguette and spread the remaining dressing on top of the baguette.
5. Punch 2 holes in the front and insert the celery sticks to act as antennas.
6. Place the two olives on toothpicks and place in front of the antennas.
7. Make 3 small holes in the back and place the small carrots in them.
8. Serve by cutting the bread in the slices where there is not stuffing.
Lucito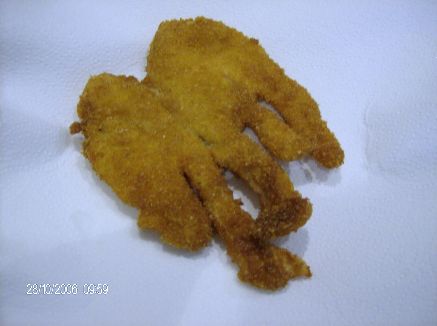 One of the Witches' Hands well cooked.
The Padrino wrote to me tonight that I should put the recipes for the silly Halloween food I prepared for the party last Saturday, as there was still time to do so before Halloween. So here it goes. The first recipe is simply made with some flattened chicken breast cut in the shapes of hands with a pair of scissors, then breaded and deep fried. They are simple to make and looks very realistic. The pus sauce is simply some mayonnaise mixed with ketchup and a few drops of yellow food coloring. If you mix it unevenly leaving some streaks of red and yellow the effect is pretty realistic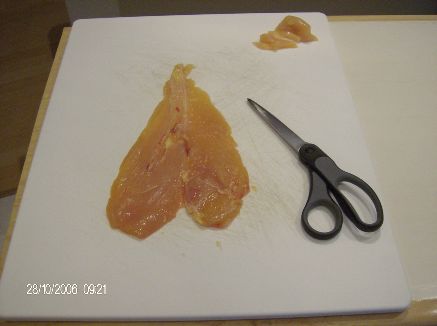 A flattened 'bistec' of chicken breast. Each breast half yields 2 'bistecs'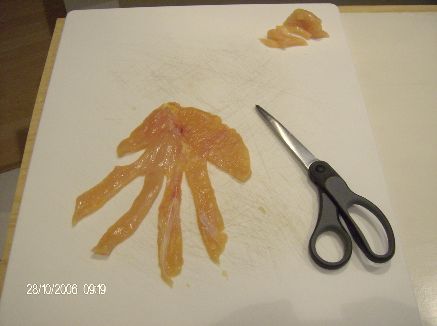 The 'bistec' cut into a hand shape.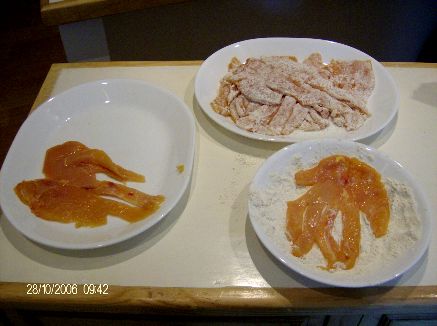 Dredging the chicken in flour.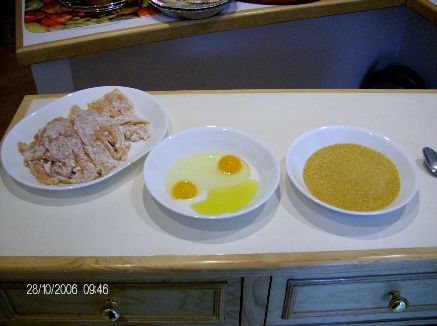 Ready to do the breading.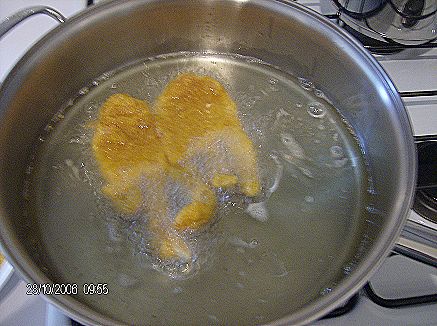 Cooking one of the hands.
Witches' Hands
Ingredients
4 'bistecs' of chicken breast
4 heaping tbs flour
1 heaping tsp onion powder
1 heaping tsp dried herbes de Provence, finely ground
1 tsp garlic powder
1 tsp salt
1/2 tsp black pepper, freshly ground
2 eggs
1 tbs extra virgin olive oil
1 tbs heavy cream
1 1/2 cups finely crushed Corn Flakes cereal
Enough vegetable oil to pan fry the 'bistecs'
Preparation
1. Prepare 3 bowls wide enough to be able to dip the 'bistecs' in them.
2. In the first bowl place flour, onion powder, herbes de Provence, garlic powder, salt and peppers, and mix with spoon until well combined.
3. In the second bowl break the 2 eggs, the tbs of olive oil, and the tbs of heavy cream.
4. With a fork whisk the eggs gently until you have a smooth homogeneous mixture.
5. In the third bowl place the crushed Corn Flakes.
6. Take the 'bistecs' and cut them with a pair of scissors to look like hands.
7. Take a 'bistec' and place in the flour bowl until well coated on both sides.
8. Pass the 'bistec' through the egg mixture until well coated on both sides, then let drip the excess.
9. Place the egg-coated 'bistec' in the crushed Corn Flakes until both sides are coated well.
10. Place on a wire rack to dry.
11. Rinse your fingers and repeat with the other 'bistecs'.
12. Place the wire rack in the refrigerator for 20-30 minutes for the breading to dry.
13. In a large frying pan, place about 1/4" of extra virgin olive oil and heat up on a medium fire.
14. Place the breaded 'bistecs' in the oil and cook about 3-4 minutes per side, until well browned.
15. Put on a plate lined with paper towels to drain, and then keep warm in a low oven until all the 'bistecs' are cooked.
Pus Sauce
Ingredients
3 tbs mayonnaise
2 tbs ketchup
3 drops yellow food coloring
Preparation
1. Mix ingredient together unevenly leaving red and yellow streaks in the mayonnaise.
2. Use as a dipping sauce for the hands…
Lucito
As mentioned previously we had a great Halloween party last Saturday night and I prepared all sort of silly stuff, some of it inspired by things I saw on the Internet. I plan to post a recipe tomorrow for the Witche's Hands with Pus Sauce, and if you want recipes for some of the other stuff I prepared please let me know in comments or via mail. Pictures of the party are at the Sassquatch's Lair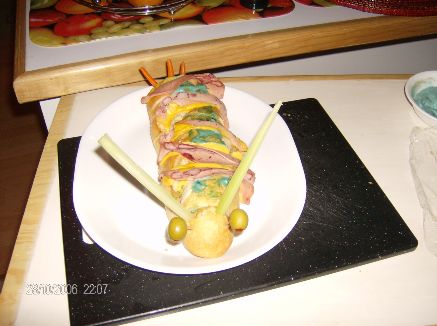 Here is a nice baked giant caterpillar ready to be munched by all the creepy critters invited to the party.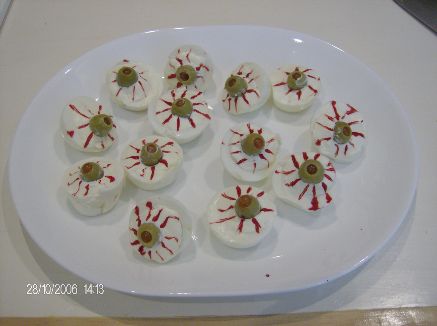 Here are some Vampire's Eyes. This one did not go to well as we had four vampires at the party and they did not like the idea of some of their friends being harvested for a meal…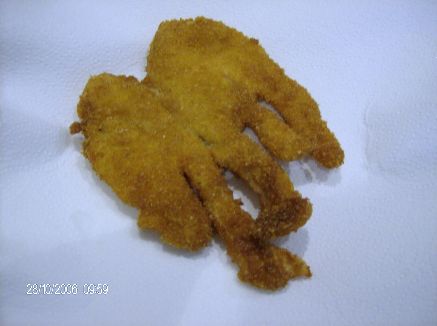 The Witche's Hand did not fare too well either as there were 2 Witches and a Wizard present.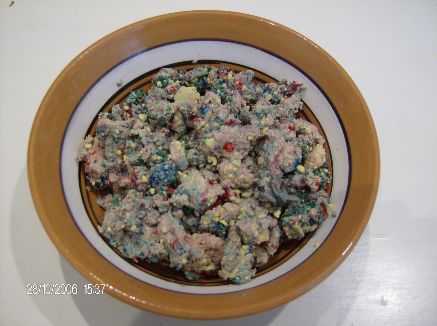 The Rat Roadkill Paté was much better appreciated, except for our pet rat who had lost his cousing in the accident that yielded the paté.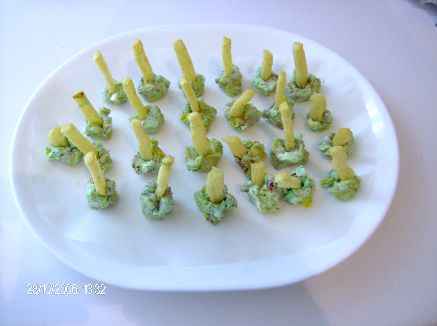 Nobody at all complained about the Crab Snot on a Stick!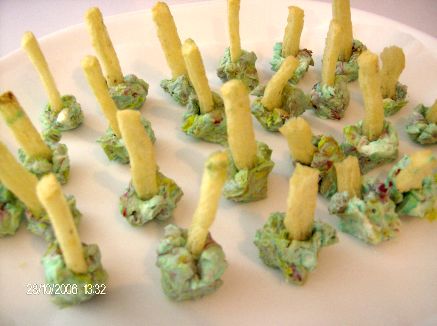 Here is a closup of those deliciously rich little morsels of snot!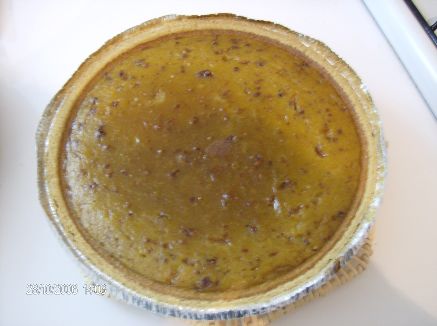 The pumpkin pie was not too scary except for the poison that the Wicked Witch Normita added to it. Our guess will enjoy the effect at the next full moon!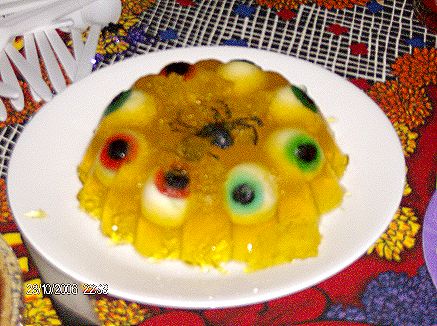 My favorite… Dragon Piss Jelly with Spiders and Vulture's Eyes. It is a great delicacy where I come from…
Lucito
It is usual for Normita and I to return to childhood at this time of the year. We both like to decorate the house for Día de los Muertos and for Halloween. The holiday that is most celebrated here is the former, and the later is only a recent commercial import from the North. The sad thing is that the rich and colorful traditions of Día de los Muertos are slowly getting replaced by Halloween in a lot of families with young kids.
As usual we decorated the house with a hybrid of both holidays and we have our altar with offers to the deads, as well as all kid of silly Halloween decorations. Today I will carve my small pumpkin, which is about the only farm product that is very expensive here as they are all imported from the North. Only 3 years ago I could not find a proper Halloween pumpkin and I had to carve the standard 'Calabasa de Castilla' that most people cook with at this time of the year. In recent years small Halloween pumpkins have appeared in supermarkets, but at a ridiculous price compared to what I am used to in Canada. We used to buy fairly large pumpkins for less than $1.00 over there but here they are close to $1.00 a pound… Luckily most of the ones you find are fairly small, so you get off reasonably well.
Last year we hosted my uncle Pierre and friends who were visiting from Canada at this time of the year, and this year we decided to make a real Halloween party for the kids, meaning the both of us. Tonight we are hosting Normita's sister with her two girls, and a friend of the family with her young son. Everybody gets disguised, and there will be prizes for the best costume, as well as lots of games for all, and a silly Halloween menu that I will prepare using some recipes that I found on the Internet. I probably heavily modify the recipes as I prepare them today, and I will keep a photographic log as I go along that I will post later in the week. Here is the menu in Spanish, and its approximate translation to English:
Halloween Menu
– Palomitas de Sangre – Bloody Popcorn
РPat̩ de Rata Atropellada РRat Roadkill Pat̩
– Mocos de Cangrejo – Crab Snot
– Ojos de Vampiro – Vampire's Eyes
– Ponche de Mano Sangrienta – Bloody Hand Punch
– Manos de Bruja con Salsa de Pus – Witches' Hands with Pus Sauce
– Bolsas de Granos con Salsa de Acne – Pimple Bags with Acne Sauce
– Orugas al Horno – Baked Caterpillars
– Gelatina de Pipi de Dragon con Araña y Ojos de Buitre – Dragon Piss Jelly with Spiders, and Vulture's Eyes
– Pay de Calabasa de la Muerte – Pumpkin Pie of Death
As you might have noticed by now, both Normita and I are slowly regressing to childhood, but we enjoy the process tremendously. Hopefully next year by this time we will have moved to a larger house and we will be able to really go crazy with decorations. In the meantime we will truly enjoy our party tonight, and take pleasure in the joys of childhood as best as we can.
Lucito
Normita makes large pots of vegetable soup regularly and then brings some to work with her lunches. It is a nice complement to whatever we are eating and gives us a healthy dose of vegetables and fiber. Recently, when I was chatting with my dad on the phone from Canada, he asked me to post a good soup recipe for fall that is easy to make. This recipe from Normita is both easy to make and great tasting. It makes a large portion of soup that will last the week. We normally make it on Sunday and when cooled put it in smaller plastic containers and we have soup for 4-5 days.
Ingredients
2 16 ounce cans of diced tomatoes
1 bunch of green onions, chopped
4 quarts of chicken stock (can be home made, canned, or made with powder or cubes)
1 entire bunch of celery, chopped
1 pound of fresh string beans cut into 1" pieces
1 pound carrots, chopped
2 sweet green peppers, chopped
1 1/2 cup of small soup pasta
Salt and pepper to taste
(optionally 1 jalapeño pepper cooked with the vegetable to enhance the flavor)
Preparation
1. Place the vegetables with the chicken stock in a large stock pot and simmer over low heat until the vegetables are cooked but still crunchy. About 30 minutes.
2. Add the pasta and simmer a few minutes, then cut the heat to let them absorb the stock.
3. Serve immediately or separate in plastic containers to have soup for the week.
Lucito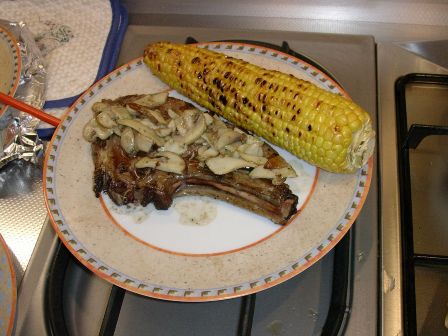 Dinner is served…
Summer is drawing to an end in Europe but in our equivalent of Indian summer, we still enjoy barbecue a lot. Evenings may be a little chilly, but we have that big Weber monster of a gas grill on our balcony right in front of our living room/kitchen and it's easy and convenient in almost any weather. So for yesterday we decided to invite my mom for dinner and treat her with some nice barbie-food.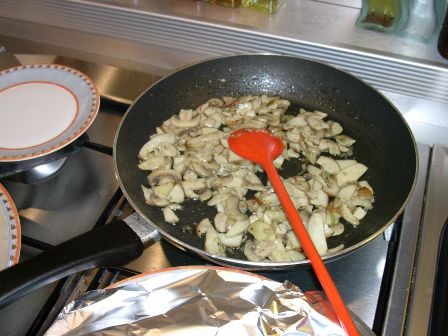 The mushrooms cooking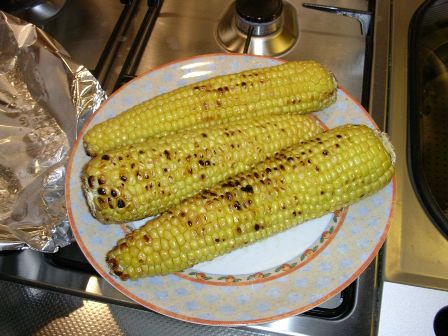 The tasty corn is ready…
We started with aperitif on the balcony and served an light, dry, Austrian white of SÅ mling 88 varietal, also called Scheurebe, with some olives and marinated mushrooms. Around Sundown we moved to the table and had appetizers – sweet melon with prosciutto and our own balcony-grown cherry tomatoes with little mozzarella spheres, basil (also from the terrace plantation) and an abundance of olive oil. Then we fired up the grill for the following recipe:
Ingredients
4 veal chops with the bone in, about 1" thick
1 lime
8 sprigs of thyme
4 tbs extra virgin olive oil
4 small porcini mushrooms
4 small regular mushrooms (as porcini are pretty expensive over here, instead you could double the porcini)
2 échalottes
1 tbs butter
Salt & pepper to taste
Preparation
1. Blot the meat dry with a paper towel and salt and pepper it to taste.
2. Prepare the marinade by removing 8 zests from the lime with a peeler.
3. Juice the lime and mix the olive oil with the lime juice.
4. Put a lime zest and a thyme sprig on each side of every chop.
5. Put them in a non-corrosive bowl and pour the marinade over them.
6. Let the chops marinate for at least 3 hours, occasionally pouring the marinade over them with a spoon.
7. For the corn, remove any leaves or 'hair', cover them with olive oil (or butter if you prefer)
8. If you want some more smoke flavor on the gas grill, fill the smoking compartment with soaked wood chips or prepare a 'smoking pouch' by wrapping them in double heavy duty aluminum foil, poke some small holes in the foil and place on the flavorizer bars.
9. When ready to grill, preheat the grill to high, brush and oil the grate. Put the chops on first, followed by the corn on the cob.
10. For medium doneness, turn the chops 90 degrees after 3 minutes.
11. Turn them over after another 3 minutes and 90 degrees again after 3 more minutes, for a total of 12 minutes. The 90 degree turns ensure that your cops will get handsome criss-cross marks on them.
12. You can turn the cobs as needed, depending on the heat.
13. When done put the chops on a plate, add some olive oil, thyme and salt to them as desired and cover with aluminum foil. Let them rest – we usually use the oven for that, preheated to 125F and double use it to warm the plates to be used. The meat should rest about 10 minutes for best results.
14. When the corn is finished – easy to see as the color is turning to bright gold – put it on a plate and likewise cover with aluminum foil.
15. For the sautéed porcini the mushrooms are cut in thin slices. The échalottes are to be cut in small cubes.
16. Heat the butter in a pan, add the échalottes and once they turn nicely glaassy, add the sliced mushrooms.
17. Sauté at medium heat for about 8-10 minutes. After 4-5 minutes you will notice the intense aroma of the porcini in the air, reduce the heat as required so the mushrooms don't dry out.
18. Serve by putting a chop on each preheated plate, put the corn on the side and cover the chops with the sauteed porcini. If you like, you can decorate with further thyme sprigs.
Enjoy with a nice, full bodied white – we had an Austrian chardonnay from Weingut Leberl which is only partly oaked and comes at a good natured 12.5% Alcohol.
Kurtito