Monthly Archives:
August 2006
Here is the spicier brother of the other dip I prepared for this afternoon's event. It can be made as spicy or mild as you want and it makes a nice contrast with the other dip.
Ingredients
2 cups plain unsweetened yogurt
1 cup sour cream
2 tbs curry powder
1 tbs sweet and sour paprika
1 tbs marinated sushi ginger very finely chopped
1 tsp Sambal Oelek (fresh ground chili paste)
1 tsp Spiracha (spicy oriental salsa)
1 tsp salt
3/ tsp black pepper
Preparation
1. Place all the ingredients in a bowl and mix with a spoon.
Lucito
We are invited to a meal at Normita's boss' place later this afternoon and Normita was asked to bring some veggies and dips. I just finished cleaning and preparing the veggies, and I prepared two different dips to go with them. We are bringing some baby carrots, celery, cucumber sticks, and some jicama. I made one of the dip fairly pungent but mild tasting and the other one a bit spicier. We bought a container of plain yogurt and of sour cream last night and I did the dips with what I had at hand this morning. The first recipe is for the nice garlicky dip that I made with some great elephant garlic I have lying around in the fridge. It could be made with some regular garlic, but the flavor would be a tad sharper.
Ingredients
2 cups plain unsweetened yogurt
1 cup sour cream
1/2 clove elephant garlic or 2-3 cloves regular garlic very finely chopped
3 tbs fresh parsley very finely chopped
1 tbs dried herbes de Provence
1 tbs dried ciboulette
1 tsp salt
1/2 tsp black pepper
Preparation
1. Place all the ingredients in a bowl and mix with a spoon.
Lucito
We suffered from major power trouble here at the office since late last week, and we were mostly offline as we could not plug the server in as the voltage was way too high blowing al the UPS in the office. After 3 trips from the electrician to fix the worse of the problems including the main electrical entrance wires not being screwed in at all, and no ground connection in the entire place we finally had a bit more reliable power. The voltage is still too high, but we will not hold our breaths waiting for the city to fix the problem.
We decided to fix the problem by purchasing a bunch of big voltage regulator and a bunch of new UPSs. I reinstalled everything yesterday and brought back the server online and will return to regular postings shortly.
Lucito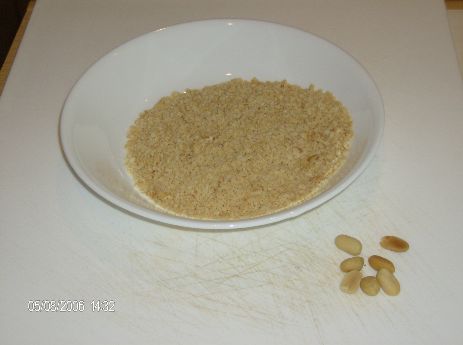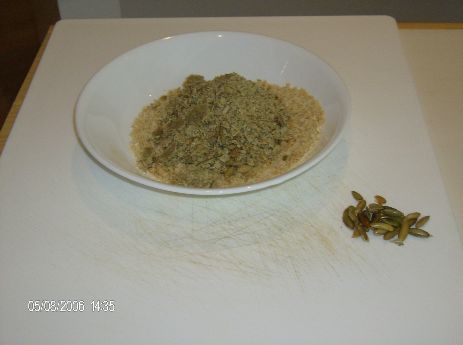 Here is another new recipe from last Saturday when Johnny Boy dropped by. When we left for the market I asked Normita what she felt like eating, and she wanted some fish. Our fish merchant had some nice thick robalo filets, a common fish here from the snook family, fresh from Golf Coast. We selected a particularly thick one and had 6 nice fish sticks about 1" square and 5" long cut out of the filet. I still was not sure how I would prepare them, but I finely decided to do something simple and bread them in a crust of peanuts and pumpkin seeds.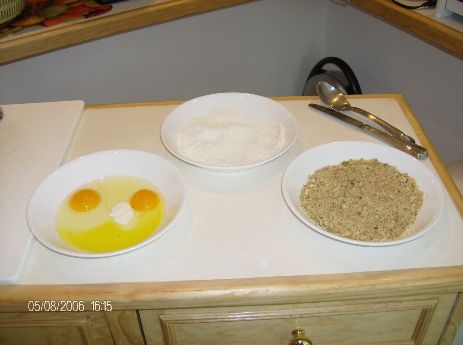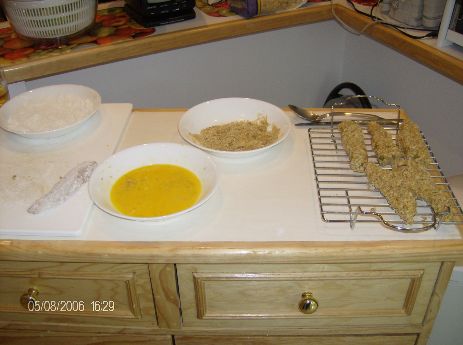 The fish turned out meltingly juicy and tender, in a nice crispy crust. A great tasting combination, from a very simple and easy recipe.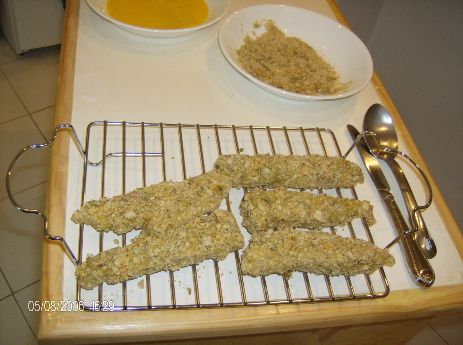 Ingredients
1 1/4 pound robalo cut into 8 fish stick about 1" square by 5" long
4 heaping tbs flour
1 heaping tsp onion powder
1 tsp salt
1/2 tsp white pepper, freshly ground
2 eggs
1 tsp extra virgin olive oil
1 tsp heavy cream
3/4 cup ground peanuts
3/4 cup ground pumpkin seeds
2 tbs butter
1 tbs olive oil
Preparation
1. Prepare 3 bowls wide enough to be able to dip the fish sticks in them.
2. In the first bowl place flour, onion powder and salt, and mix with spoon until well combined.
3. In the second bowl break the 2 eggs, add the tsp of olive oil, and the tsp of heavy cream.
4. With a fork whisk the eggs gently until you have a smooth homogeneous mixture.
5. In the third bowl place the ground peanuts and pumpkins and mix together well.
6. Take a fish stick and place in the flour bowl until well coated on both sides.
7. Pass the fish stick through the egg mixture until well coated on both sides, then let drip the excess.
8. Place the egg-coated fish stick in the nut mixture until all sides are coated well.
9. Place on a wire rack to dry.
10. Rinse your fingers and repeat with the other fish sticks.
11. Place the wire rack in the refrigerator for 20-30 minutes for the breading to dry.
12. In a large frying pan on a medium fire melt the butter and add the olive oil.
13. Cook fish sticks in the butter 3-4 minutes per side, until well browned for a total of around 7-8 minutes.
14. Put on a plate lined with paper towels to drain, and serve.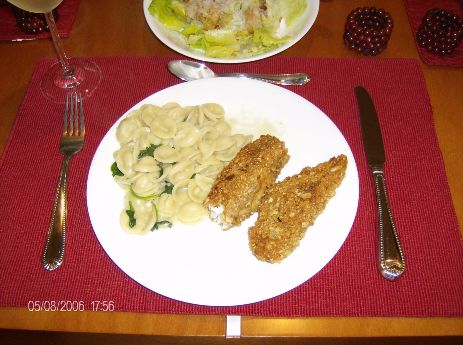 Lucito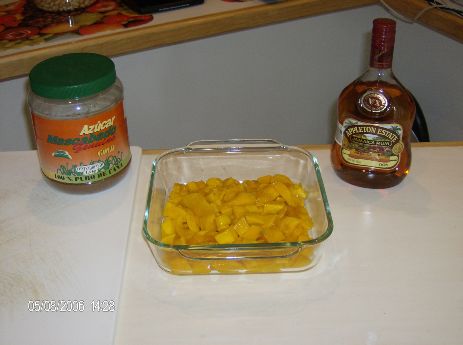 erday we had had a friend of Normita's from work drop by for supper. For desert I made a version of a simple fruit pudding based on my mother's recipe. She used to bake those all the time during the berry season, mostly with strawberries or raspberries.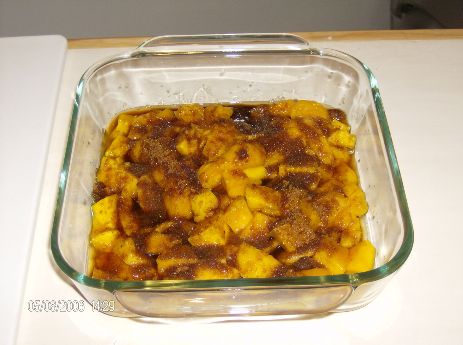 I had some manila mangos leftover from the previous week and I decided to create a version of the pudding with them. It turned out very nice and was a nice finish to the meal. The only problem is that everybody was very full after it…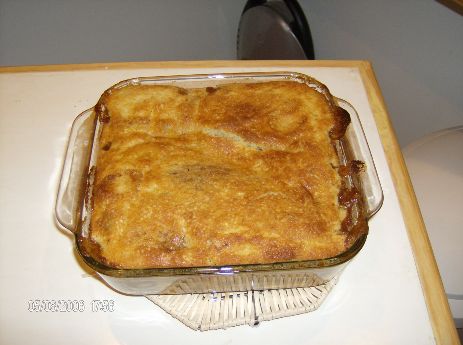 Ingredients
1 3/4 cups white flour
3/4 cup white sugar
1/2 cup margarine
1/4 cup maple syrup
1/4 cup dark rum
6 tbs dark brown sugar
1 large egg
1 tbs vanilla
1 tbs baking powder
1/2 tsp salt
1/2 cup milk
1/4 cup orange juice
2 tbs finely shaved orange zests
1 tbs finely shaved lime zests
5 medium manila mangos peeled and cubed
Preparation
1. In a buttered baking dish place the mango flesh and top with brown sugar and rum.
2. Cover and let marinate for half and hour to an hour.
3. In a large bowl place the margarine and white sugar and mix until well blended.
4. Add the maple syrup, the egg and the vanilla and mix again.
5. Mix the flour, the baking powder, and the salt, and then add to the sugar and egg mixture.
6. Mix well and add the milk, the orange juice and the zests, yielding a thick running batter.
7. Pour the mixture over the fruits in the baking dish and smooth the top.
8. Bake in a 350F for about 35 minutes, until the top is dark gold and a toothpick inserted in it comes out clean.
9. Serve with a nice dollop of heavy clothed cream.
Lucito