Cooking
General cooking tips and rumination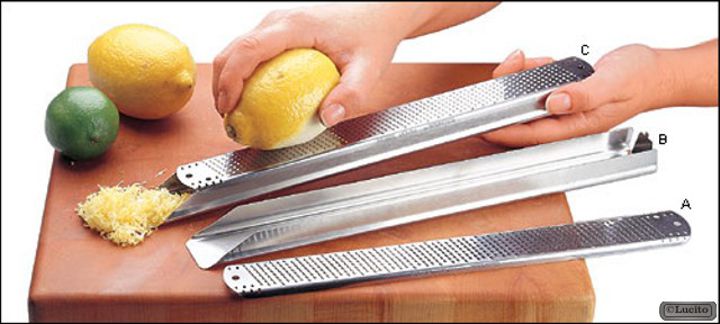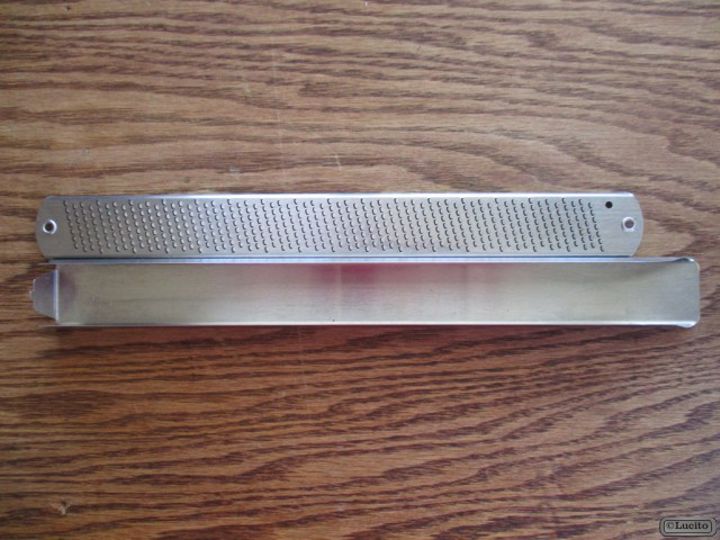 Lee Valley: 27W02.12
This rasp has been the subject of articles in The New York Times, the Chicago Tribune, the Los Angeles Times, The Globe and Mail (Toronto), and dozens of other newspapers. It can be seen regularly on TV cooking shows and is enthusiastically praised by leading chefs. For a tool that started life as a lowly wood rasp, this is high living.
Fame in the food world came about when a Lee Valley woodworker's wife discovered that her husband's new wood rasp would zest oranges. This discovery rapidly led to expanded uses such as zesting lemons, grating nuts and ginger, reducing a clove of garlic to near liquid in seconds, etc.
The single most spectacular and practical use was with hard cheese for use on pasta or in salads. Because it actually cuts the cheese into gossamer-thin shavings rather than grating it into small chunks, it is possible to use much less cheese for equivalent flavor impact when compared with grated cheese. Rasp is stainless steel, 12″ long.
All of this utility has been enhanced by our patented design of a stainless-steel base that makes the rasp easier to hold and also contains the zested material.
Rasp made in USA, zester holder made in Canada.
Lucito
Measures for Pans and Dishes
Inches
Centimeters
9 by 13 inches baking dish
22 by 33 centimeter baking dish
8 by 8 inches baking dish
20 by 20 centimeter baking dish
9 by 5 inches loaf pan (8 cups in capacity)
23 by 12 centimeter loaf pan (2 liters in capacity)
10 inch tart or cake pan
25 centimeter tart or cake pan
9 inch cake pan
22 centimeter cake pan
Lucito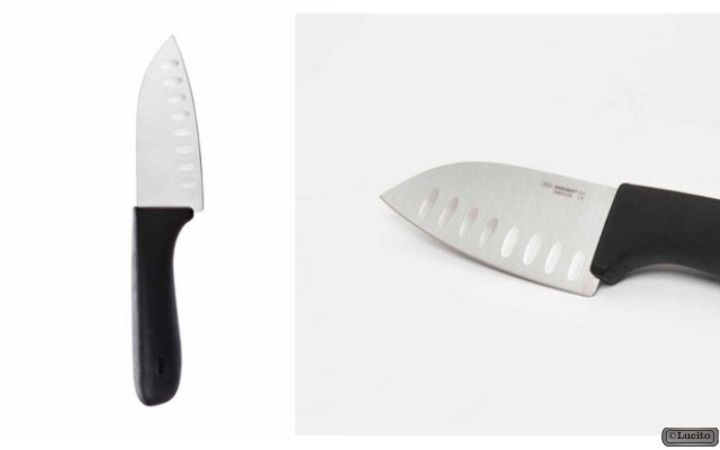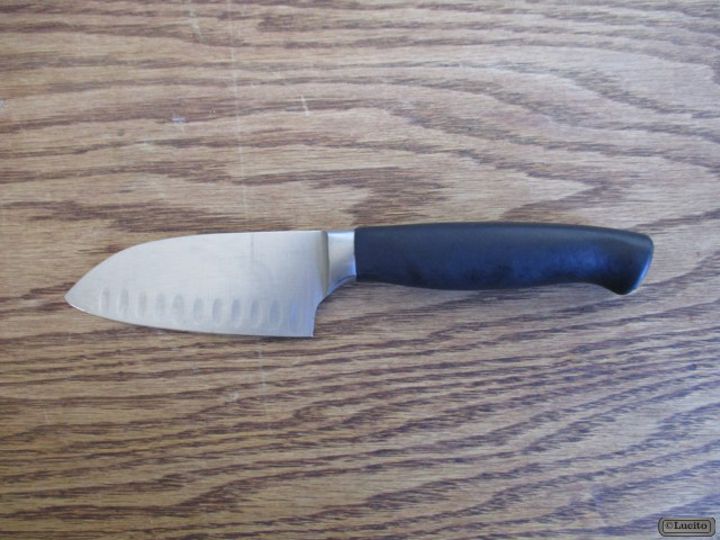 OXO: # 23081V2
Overview
The OXO Good Grips Mini Santoku Knife functions like a Santoku with the ease of a parer and is perfect for chopping, dicing and mincing herbs and vegetables. The sharp, stainless steel blades glides easily through foods and the soft, non-slip handle is shaped for a comfortable grip that won't slip, even when wet.
Features & Benefits
The 4″ Santoku Knife is an Asian-style chef's knife with blade indentations to reduce drag during chopping and mincing
Fully forged blade, bolster and tang for superior balance, strength and durability
German stainless steel with high carbon content for lasting sharpness and edge retention
Contoured handle provides optimal control while chopping, cutting or slicing
Curved bolster supports thumb and forefinger for a comfortable, chef's style grip
Dimensions: 9″ x 1.75″ x 1″
Weight: 3 oz.
Lucito
New Year 2018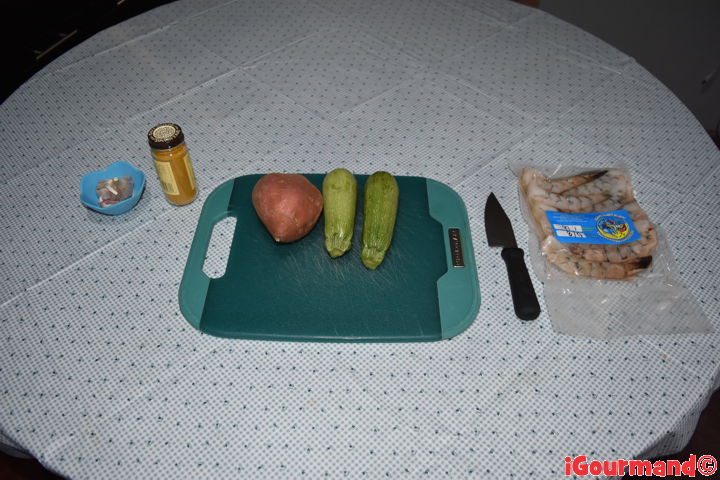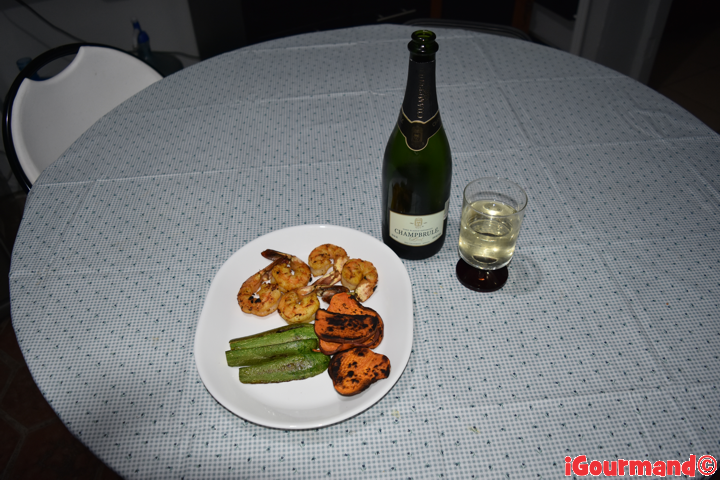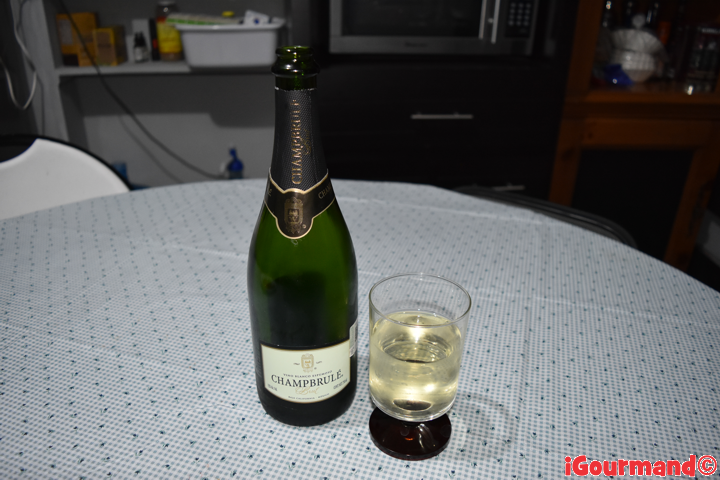 Ingredient
9 giant shrimp
3 cloves garlic
1 sweet potato
2 zucchini
Curry
Olive oil
Preparation
1. Zucchinis 4 cut lengthwise.
2. Sweet potato cut rounds of thickness.
3. Garlic chopped.
4. Giant shrimp towels.
5. Sweet potato, olive oil fried skillet.
6. Zucchini, olive oil fried skillet.
7. Giant shrimp, olive oil fried wok.
Lucito
| Oven Temperature Conversions | | |
| --- | --- | --- |
| Fahrenheit | Celsius | Gas Mark |
| 275F | 140C | Gas Mark 1 – Cool |
| 300F | 150C | Gas Mark 2 |
| 325F | 165C | Gas Mark 3 - Very Moderate |
| 350F | 180C | Gas Mark 4 – Moderate |
| 375F | 190C | Gas Mark 5 |
| 400F | 200C | Gas Mark 6 - Moderately Hot |
| 425F | 220C | Gas Mark 7 - Hot |
| 450F | 230C | Gas Mark 9 |
| 475F | 240C | Gas Mark 10 - Very Hot |
Lucito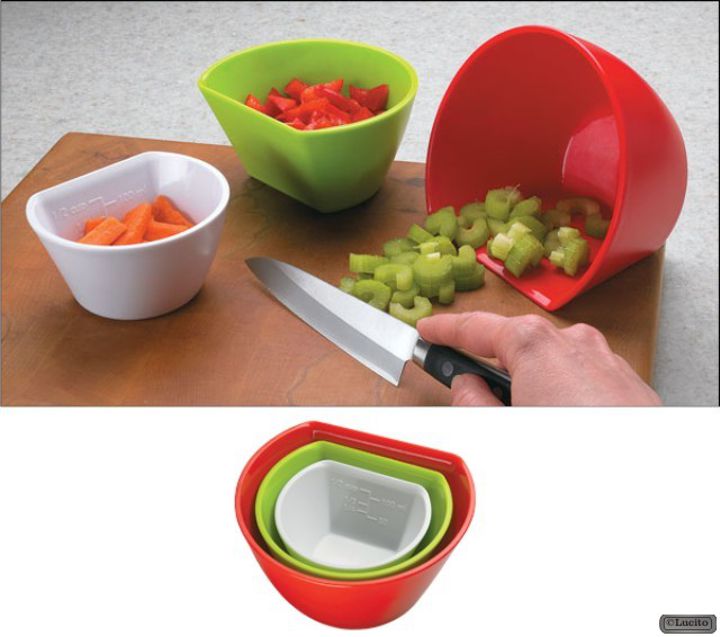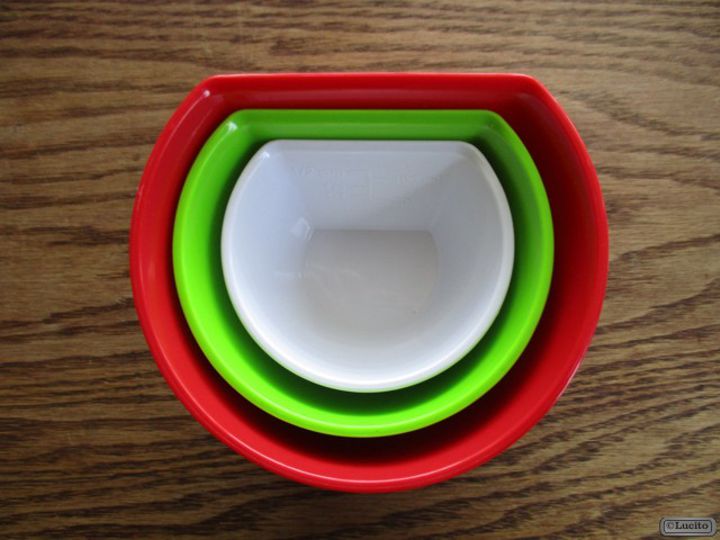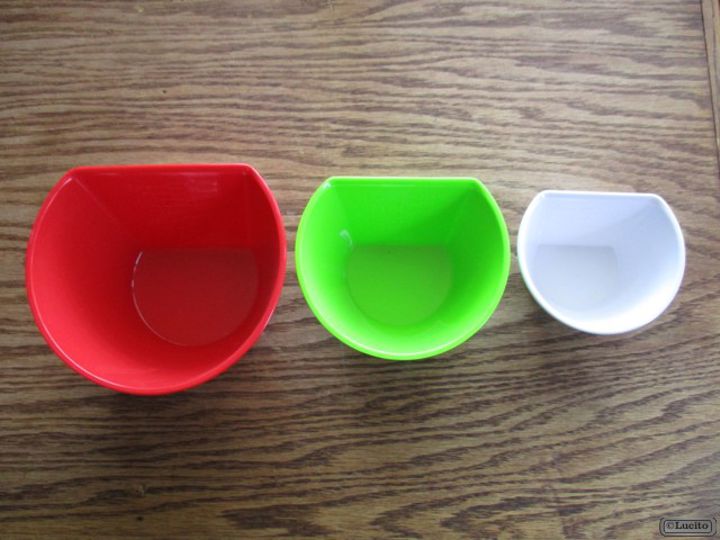 Lee Valley: EV149
The broad, flat side of these bowls makes collecting ingredients directly from a cutting board a snap. The bevelled edge rests flush on the cutting board to ensure ingredients go into the bowl, not under the lip, and you can use one of the corners as a pouring spout.
Comes as a set of three nesting bowls (1/2 cup, 1 cup and 2 cups) with Imperial and metric graduations marked on the inside. Made of hard ABS plastic, they are BPA free and dishwasher safe in the top rack. Not microwaveable. A practical improvement over regular prep bowls.
Lucito
Ratios for Selected Foods
Measure
Equivalents
Butter
1 stick
4 oz = 113 grams
8 tbs
1/2 cup
4 sticks
16 oz = 452 grams
32 tbs
2 cups
Lemon
1 lemon
1 to 3 tbs juice, 1 to 1? tsp grated zest
4 large lemons
1 cup juice
1/4 cup grated zest
Chocolate
1 oz
1/4 cup grated = 40 grams
6 oz chips
1 cup chips = 160 grams
cocoa powder
1 cup = 115 grams
Creams
Half and Half
1/2 Milk 1/2 Cream
10.5-18% Butterfat
Light Cream
18% Butterfat
Light Whipping Cream
26-30% Butterfat
Heavy cream
Whipping Cream
36% or More Butterfat
Double Cream
Extra-Thick Double Cream,
Clotted or Devonshire
42% Butterfat
Lucito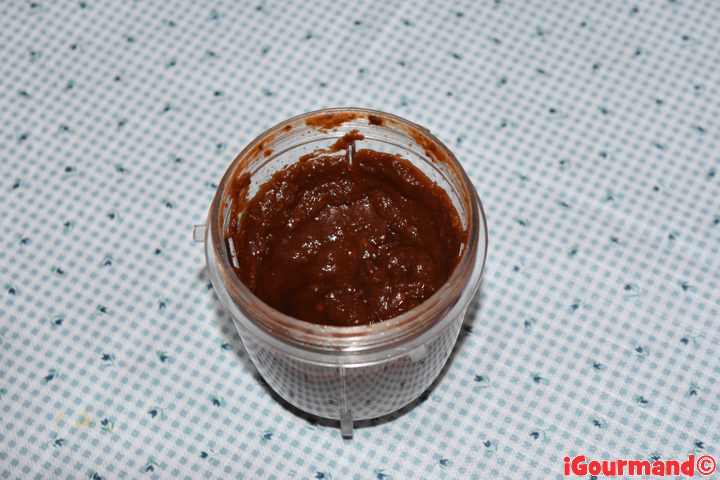 Ingredient
7 oz chipotle peppers in adobo sauce
1 tbsp honey
1 tbsp maple syrur
1 tsp nutmeg ground
1 tsp ginger ground
Preparation
1. Prep all the ingredients and put into a blender.
2. Blend until smooth.
Lucito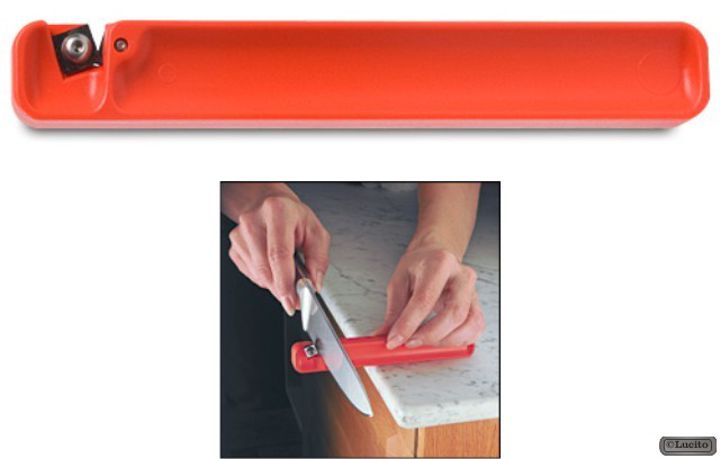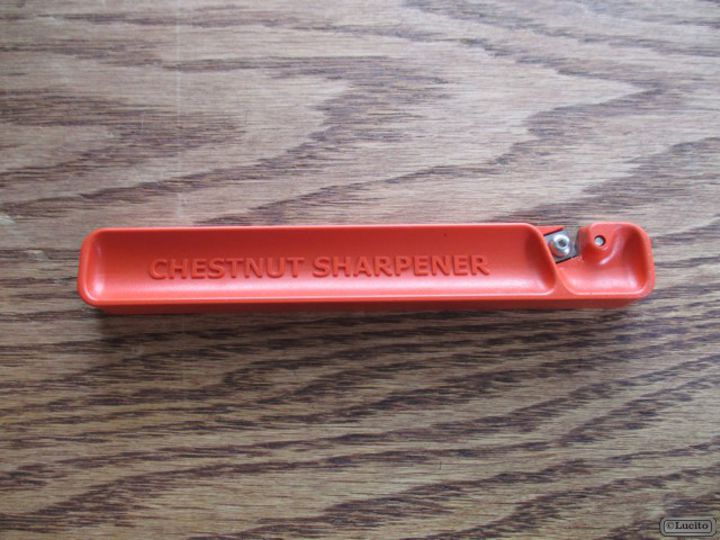 Lee Valley: 70M46.50
Sub-micron carbide particles in this sharpener are about one-fortieth the diameter of a human hair and are the kind used in the most demanding of metal-machining processes.
Extremely hard and durable, the carbide can be ground to a much keener and more durable edge than common carbides. Each of the two blades has four edges and can be rotated to a new edge if one is accidentally damaged.
The sharpener comes as a right-handed version but the blades are easily reversed to convert it for left-handed use.
To sharpen a knife you just draw it through the intersecting carbide blades with light pressure. A very dull knife may initially require several light passes but can be maintained thereafter with a single pass for touch-ups.
Not only is it easy to use, but if used with care, it should last for as long as you (or we) live.
Lucito