We had bought a nice big chicken breast yesterday and decided at the last minute not to prepare it and use it today. Normita prepared her famous chicken noodle soup again and she cooked the chicken in it. We had that as a first course. We had some mole almendrado we had used a while back and that we had frozen the leftovers. We normally buy fresh mole paste at the market and we use it in a variety of way. Normita added the freshly cooked chicken after finely shredding it with her fingers and reheated it in the mole.
We had also bought some "chalupas" literally some "rowboats" yesterday. Chalupas are made with the same dough as corn tortillas and are shaped like little rowboats thus the name. They are about as thick as 3 tortillas and are normally handmade with a little rim. The ones we bought looked machine made evenly cut from a thick sheet of dough, instead of hand-formed. They are easy to prepare, you put a few tablespoons of oil in a hot pan, or a comal and fry the chalupas in the oil until golden and crisp. You place the fried chalupa after draining the oil on a paper towel on your plate and butter them with a nice layer of refried beans. You then add to it some of the mole with chicken, and you traditionally top them with some grated cheese. Since we did not have any cheese to grate, we topped them with a dollop of heavy cream.
They turned out to be very satisfying and like many traditional Mexican dishes that you eat with your hands they were also very messy to eat, but that is part of the fun of good Mexican food.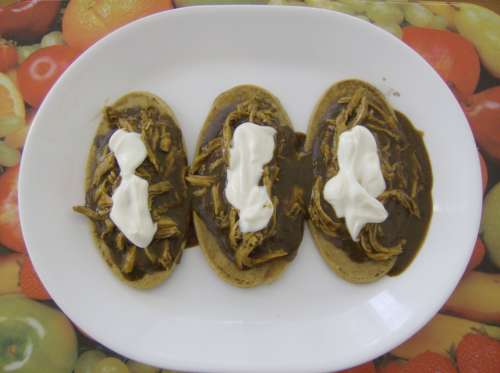 Lucito