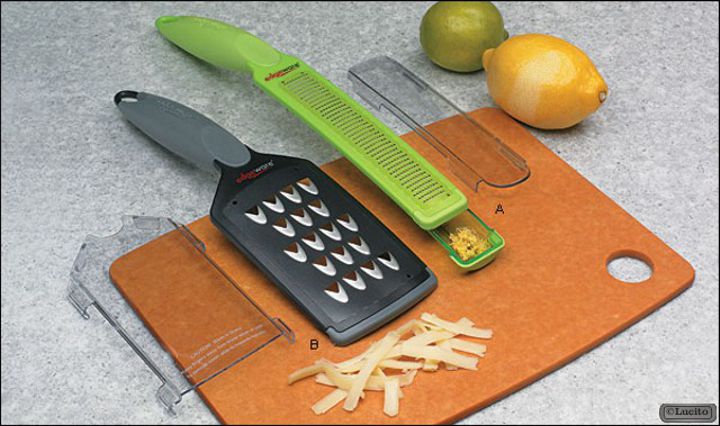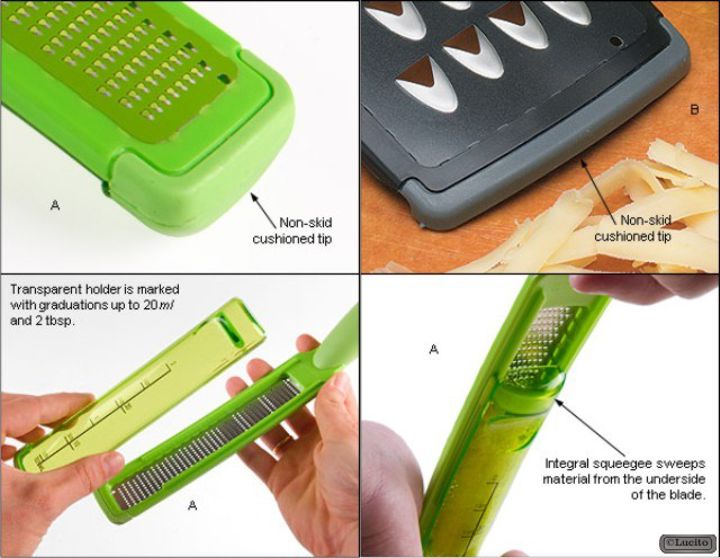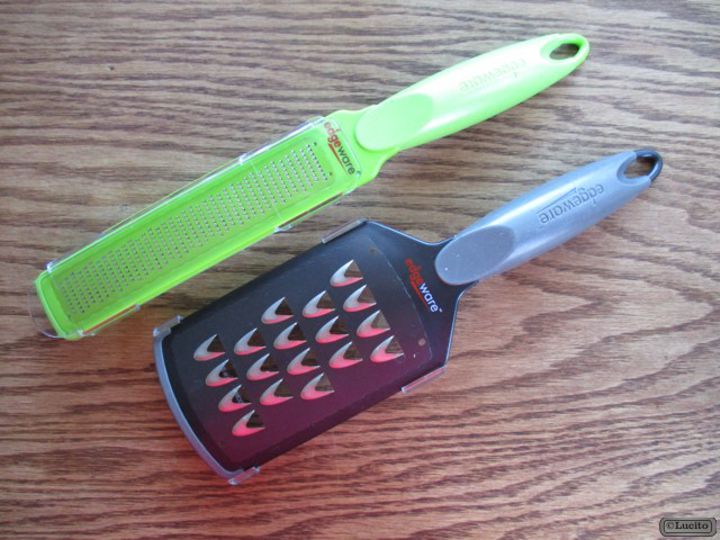 Zester
Lee Valley: EV530
Grater
Lee Valley: EV531
These are outstanding kitchen tools. Each has a pattern of raised V-shaped teeth that have been chemically etched to a sharp edge for almost effortless cutting. Additionally, the blades have a non-stick coating that lets material glide smoothly over the surface and reduces the potential for clogging.
The generously sized handles are offset to let you hold your wrist at a natural angle, and are coated in soft thermoplastic rubber for a secure, comfortable grip. A non-skid cushioned tip helps prevent slippage when braced against a surface. Both tools come with a removable storage cover.
The zester has hundreds of tiny perforations to quickly produce ultra-fine shavings with a light, feathery texture. Not just for zesting citrus, it is also useful for grating hard cheese, chocolate, nutmeg or cinnamon, as well as puréeing garlic or ginger. To contain zested material, a transparent holder marked with graduations up to 20ml and 2 tbsp is included. The holder's integral squeegee sweeps material from the underside of the 1″ x 6″ blade as the holder is removed.
The grater has oversize perforations in the 4-3/4″ x 2-3/4″ face to allow softer cheeses to pass through easily without sticking. It is also suitable for shredding apples, carrots and other foods when you want a coarser cut. Highly recommended tools.
Lucito
Single Malt Whisky – Laphroaig 10 Year Old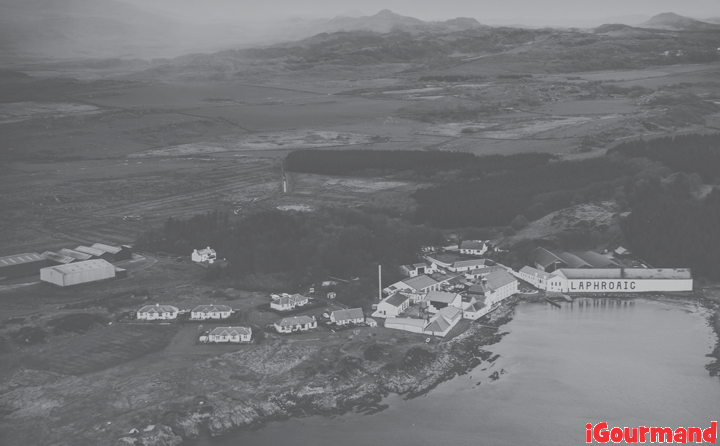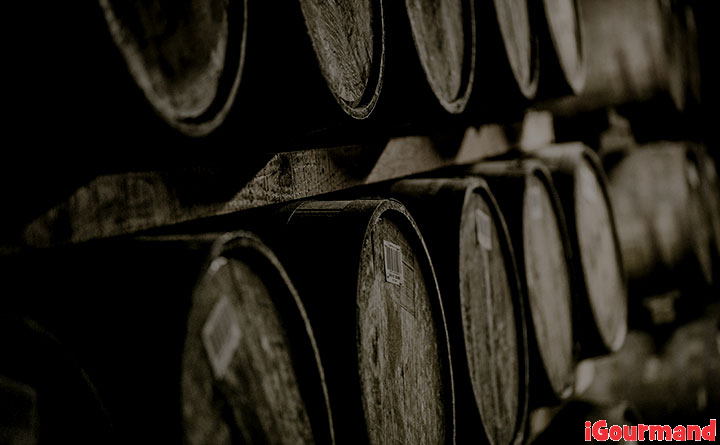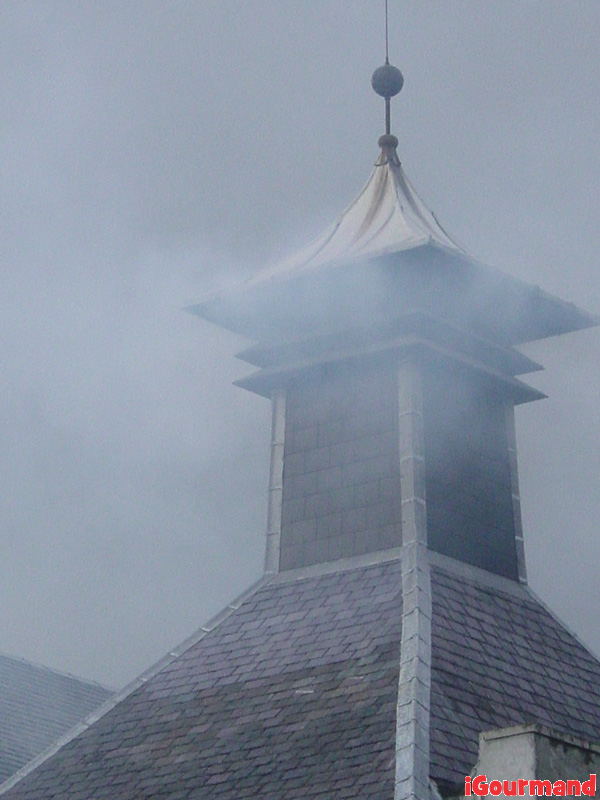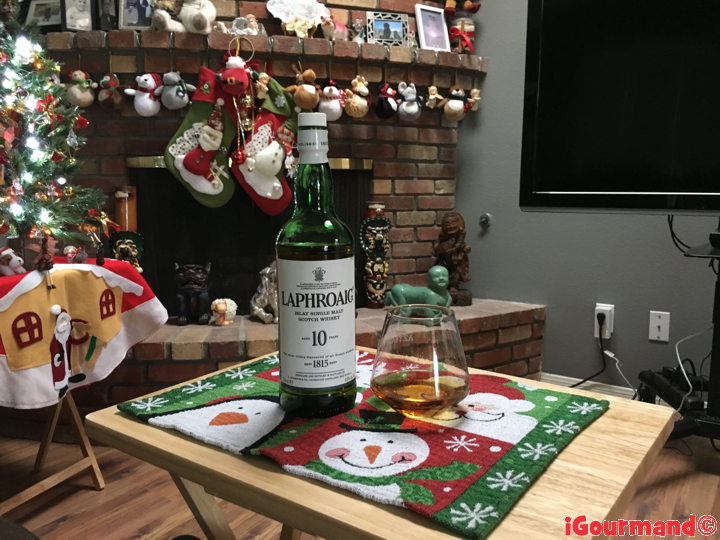 Our 10 Year Old is the original Laphroaig, distilled the same way today as when Ian Hunter invented it more than 75 years ago. It is the foundation of all other Laphroaig expressions.
In making Laphroaig, malted barley is dried over a peat fire. The smoke from this peat, found only on Islay, gives Laphroaig its particularly rich flavour.
Those enjoying the 10 Year Old will first notice the bold, smoky taste, followed by a hint of seaweed and a surprising sweetness. This full-bodied variant is the foundation of all Laphroaig expressions and comes with a long finish.
Laphroaig distillery is an Islay single malt Scotch whisky distillery. It is named for the area of land at the head of Loch Laphroaig on the south coast of the Isle of Islay. The meaning of the toponym is unknown, but a commonly suggested etymology includes the elements "lag" (Gaelic: hollow), "breid" (Norse: broad) and "vik" (Norse: bay), implying an original Gaelic form something like "Lag Bhròdhaig" (the hollow of Broadbay). The name may be related to a placename on the east coast of Islay, "Pròaig", again suggested as meaning "broad bay".
Laphroaig – pronounced La-froyg – is one of the most divisive Scotch whiskies, loved by those who enjoy its medicinal, smoky flavour and looked on in amazement by those who don't, it remains one of the most popular. Laphroaig distillery sits on the south coast of Islay, the first of the three Kildalton distilleries.
Lucito
Ingredient
2 pounds minced beef
4 onions chopped
4 carrots chopped
4 celery chopped
3/4 pound mushrooms chopped
1 sweet green pepper chopped
1 sweet yellow pepper chopped
2 larges cans tomatoes crushes
1 larges cans tomatoes
2 cans concentated tomatoes pasted
2 oz double concentated tomatoes pasted
3 bay leaves
6 chile de arbol
2 tbs honey
4 tbs dried parsley
4 tbs dried sweet basil
4 tbs dried oregano
4 tbs dried thyme
2 tbs dried mustard
4 cloves
4 garlics minced fine
1/2 cup olive oil
Parmesan
Preparation
1. Cooks meat & olives oil
2. Melt onions & garlics
3. Put ingredient in larges pot
4. Cook very low simmmer open for 3-4 hours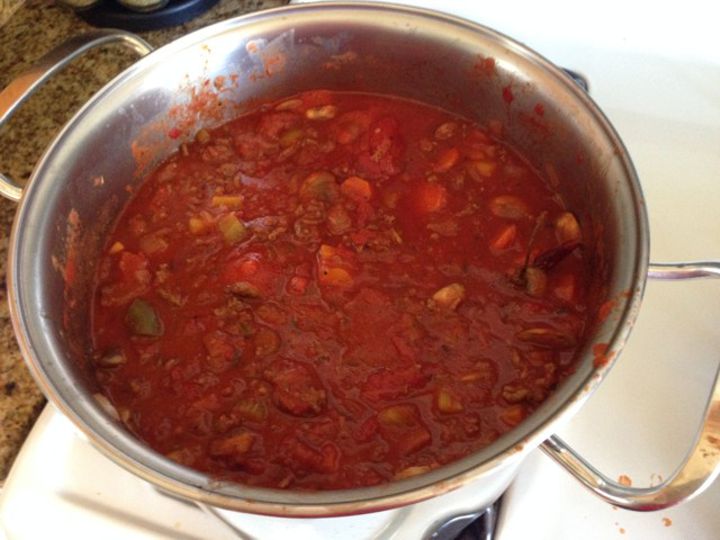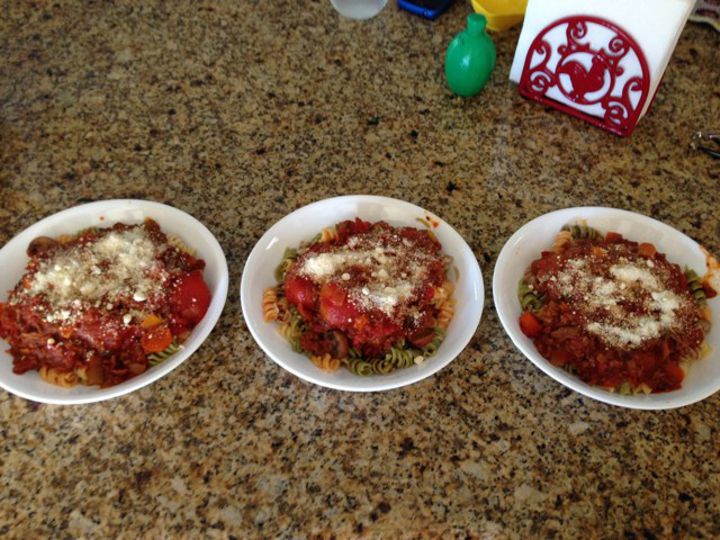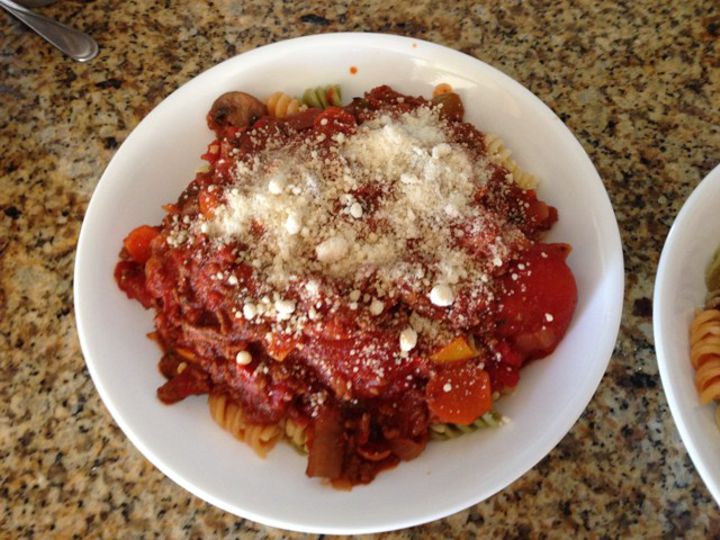 Lucito
Ingredients
2 Eggs
5 Sausage Cheese Lit'l Smokies
2 tbs Cheese Italian Truffle
1 tsp Basil
1 tsp Chives
Olive Oil Spray
Hawaiian Black Salt
Peppercorn Medley
Preparation
1. Chopped sausage.
2. Olive oil, eggs, sausage, cheese, basil, chives, peppercorn and salt.
3. With a fork whisk the eggs gently until you have a smooth homogeneous mixture.
4. In a frying pan on a medium fire the olive oil spray.
5. 2 minutes scrambles eggs.
Lucito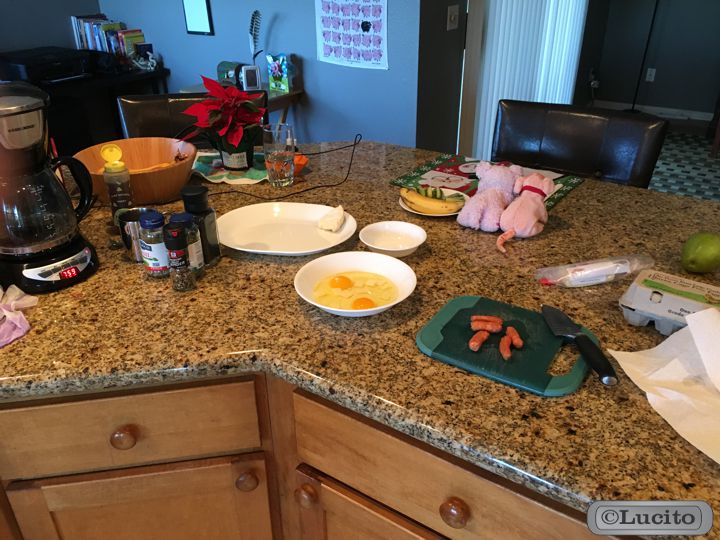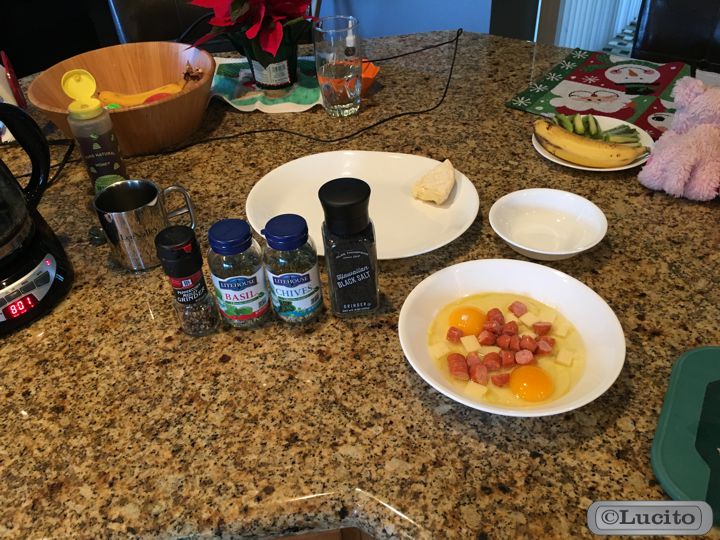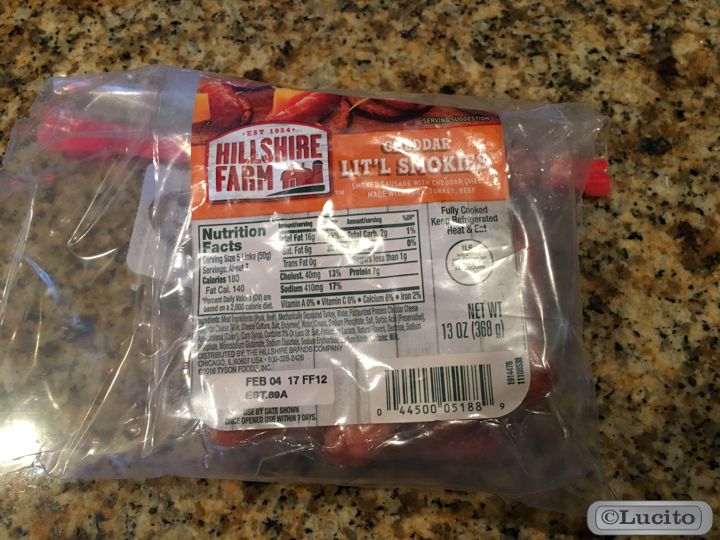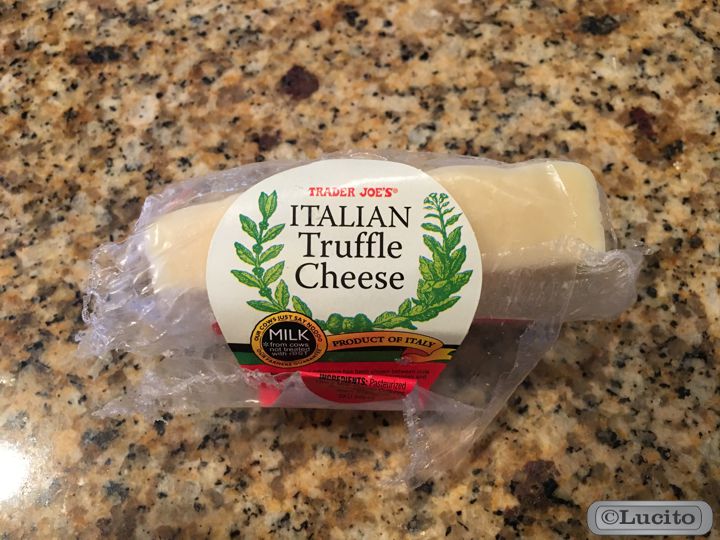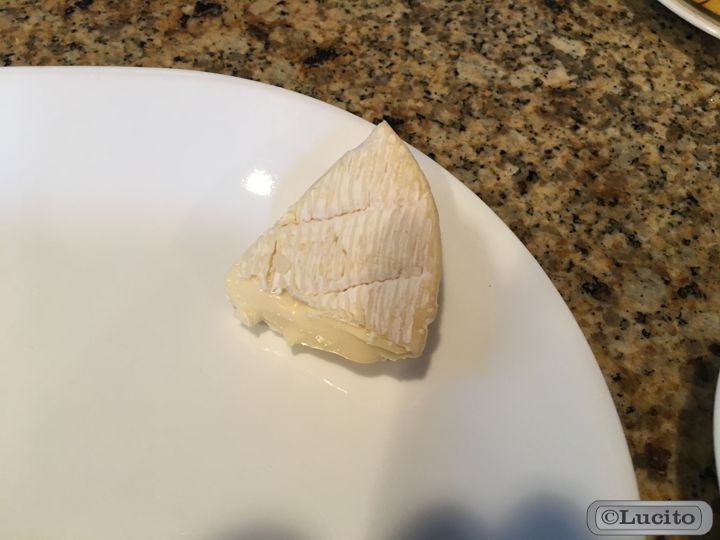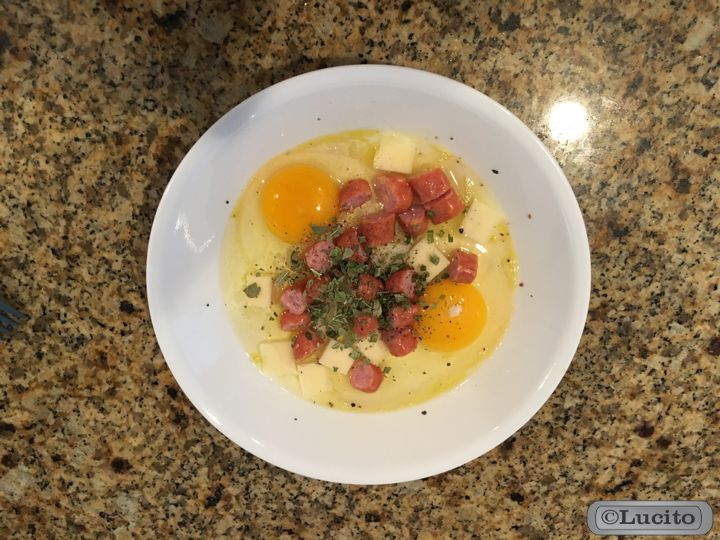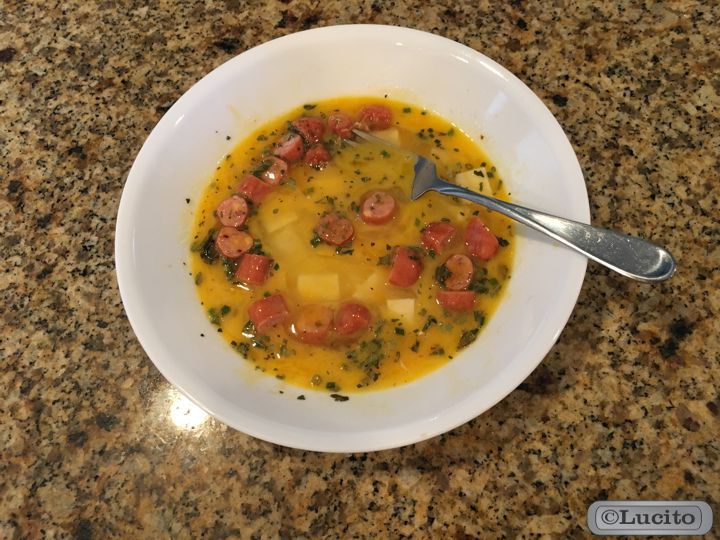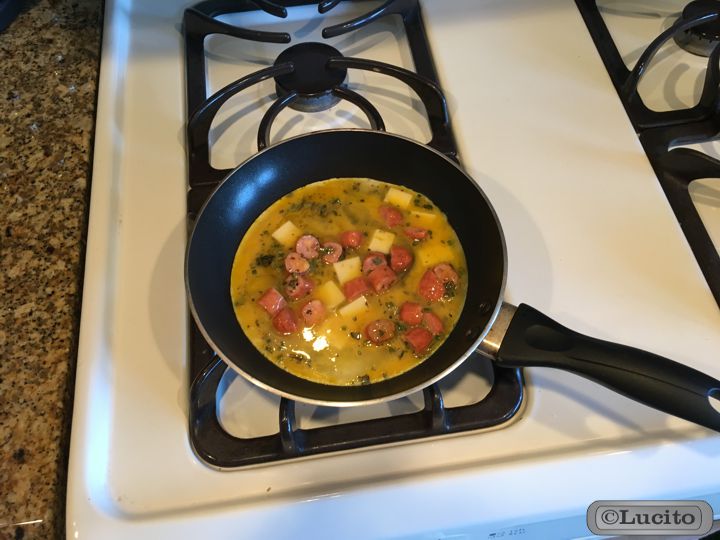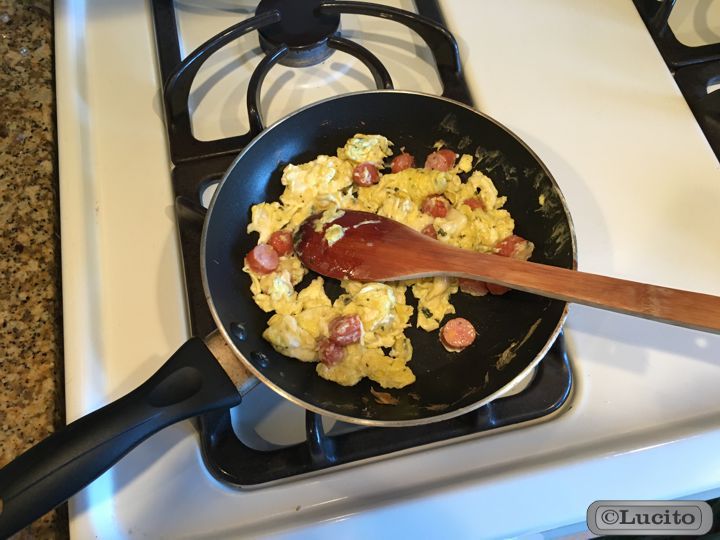 Lee Valley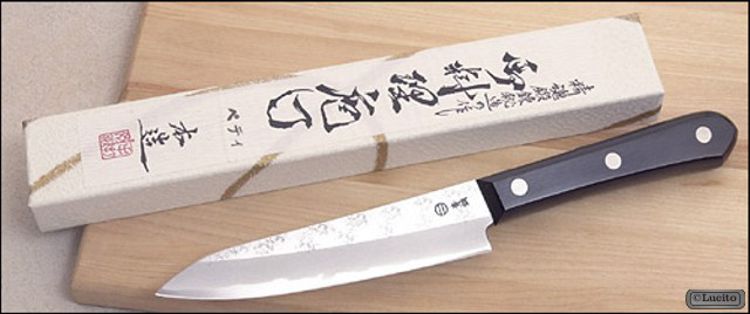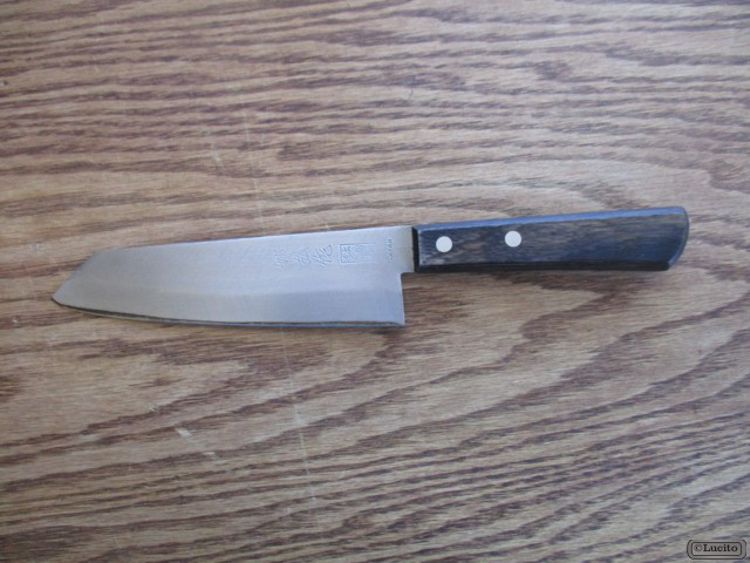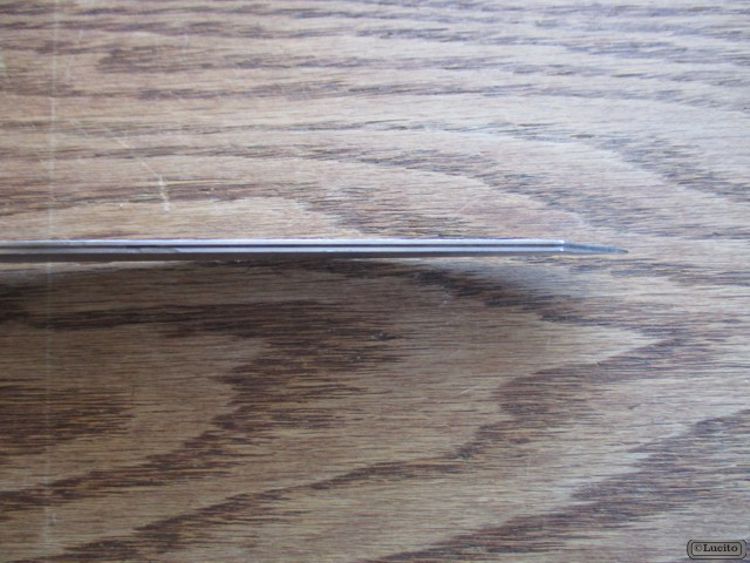 The wavy line along the forge weld is known as the "hamon" and was one of the judgment points of traditional Japanese swords.
11″ long overall with an ebony composition handle, this knife has a particularly beautiful, lightly textured blade.
The knife has exterior layers of stainless steel forge-welded to a high-carbon steel core. The carbon steel central layer gives you a knife that will hold a razor edge, but has the easy maintenance features of stainless steel.
It is best sharpened on a 1000 grit water stone which uses ordinary tap water for flushing. (Do not use sharpening steels.)
Comes in a decorative presentation box.
Lucito
Victorinox: 47022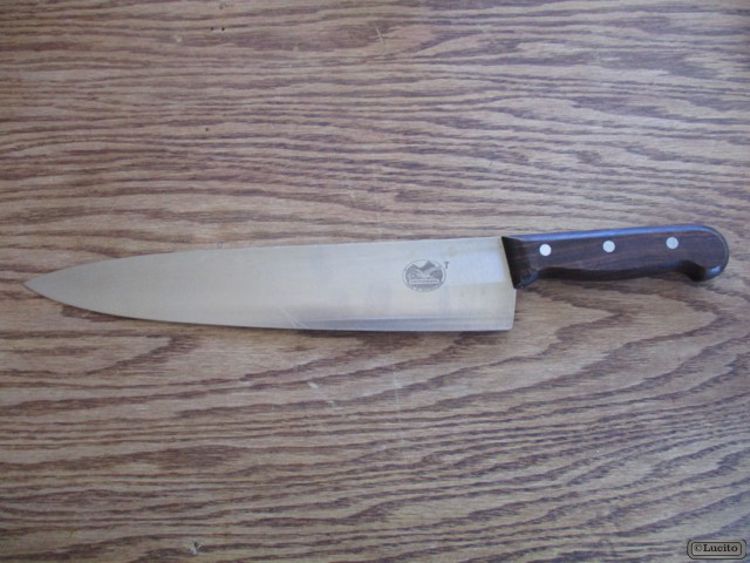 As one of our most popular knives, we know that the 12-inch Chef's Knife can handle any kitchen task we put it through. The stainless steel blade can move from job to job without ever compromising its sharpness.
Details
One of our most popular knives, the versatile, multipurpose 12″ Chef's Knife is a must-have for every serious cook. The high-carbon stainless steel blade is perfect for large chopping jobs and carries a lifetime warranty against defects in materials and workmanship. And the natural beauty of our Rosewood design is ergonomic, lightweight, balanced for extended use, and will not discolor or corrode.
12″ Stainless Steel Blade
Ergonomic, lightweight, and balanced for extended use
Will not discolor or corrode
Lifetime warranty against defects in materials and workmanship
Lucito
The hot weather is back with us again today and after we had lunch we went back to the offices and after a few hours it was too hot to work. I went to give the dogs their supper and when I was coming back inside Normita wanted to go get a bit of fresh air. I joined her and we kept company to the boyz while they literally wolfed down their big bowl of food. I don't know where they get the energy to eat so quickly on a hot day like this.
We walked around the yard a bit and then decided to harvest the peaches from the small tree next to the kitchen entrance. We had been saying we would do it since last week, but never got around to it. The neighborhood's birds came down on that tree last week in day and feasted on the peaches and destroyed over 80% of the crop by eating half of most of the fruits and letting the other half rot. Normita went for a bad and a small stepladder and I went up in the tree and tried to salvage most of the peaches that were ripe and not half eaten by the birds.
Bacchus and Uriel, the boyz, were around us and catching whatever peaches they could grab that were falling from the tree. They eat them in one bite crushing the stone. It is awe inspiring to see them do it. I hope that tomorrow that tomorrow they do not wake up with a store stomach, but from past experience they have eaten much worse without any problems. They seem to have cast iron stomachs.
Here is a picture of the peaches that awaits in the sink the first one who will have the courage to go wash them:
We will keep the ripest ones to eat and tomorrow or Friday we will probably prepare some "compote de pêches" with the rest. We will use that as a dessert over ice cream and I think that I did see that we had a frozen Cornish hen the other day and we might roast it covered with the peaches next weekend if we have some time.
Lucito
Yesterday when I posted the Daily Express I mentioned that I came in so quick that I did not even think of take a picture of the finished hamburger. Today I could correct my mistake as we thawed 2 of the frozen patties and made hamburgers again with some grilled potatoes. Normita had her's Mexican Style with avocados, ketchup, mustard, tomatoes, onions, pickles, Oaxaca cheese, and a nice big chipotle.
I am a lot more simpler in my taste and I simply put some ketchup and some pickles over the Oaxaca cheese and it was enough for me today.
Lucito