Bread
Recipes involving bread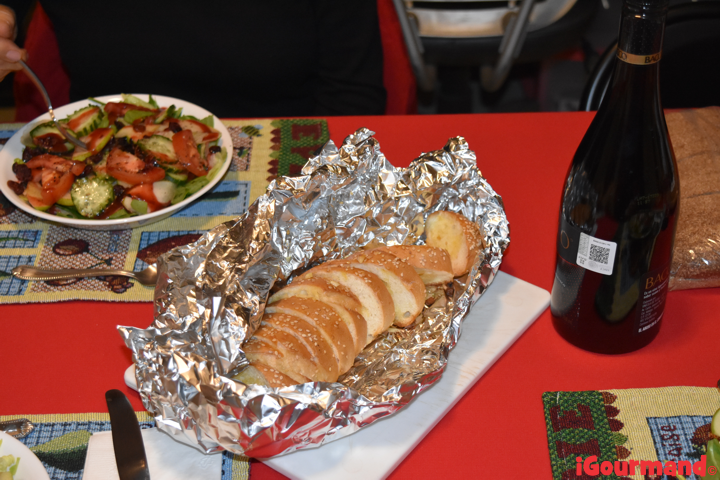 Ingredient
4 oz butter
5 cloves garlic
1 bread loaf
Preparation
1. Preheat oven to 350 degrees F (180 degrees C).
2. Garlic chopper.
3. Put microwave oven. In a small bowl over melt butter, garlic of microwave 1 minute.
4. Sliced bread is a loaf of bread.
5. Using a basting brush, brush generously with the butter mixture.
6. Put wrapping in aluminium foil.
7. Bake in the preheated oven approximately 15 minutes.
Lucito
A bit after the holiday season this year Normita was in the mood for something different for breakfast one weekend. We used to occasionally buy some bran muffins at the local supermarket when we were grocery shopping to eat for breakfast when we returned home. As everything happening in Mexico in the past few year, things are going down dramatically in quality and prices are increasing just as dramatically. I've noticed in the past few months at our local Walmart that baked goods have gone up as much as 50% and the size of the items has been reduced by about one third. Quality is also a lot worse than before.
Due to all of the above we stopped buying most baked goods there, but the craving for something nice remained. Ages ago I used to bake a tropical banana bread with lots of rum inside that the girls at my dental clinic at the time used to enjoy a lot. The recipe is probably in storage up in Canada with most of our things, so that weekend I decided to improvise something. Since baking at very high altitude like where we live (close to 9000 feet) things can be a bit tricky at first, so by trial over the next few weeks I adjusted the recipe until it yields great results all the time. For those who live at saner altitudes adjust the recipe accordingly by adding a bit more baking powder and sugar, and reducing the liquids.
It is something very easy to make and I normally prepare a batch when I get up early in the morning and then bake it slowly. Since we normally have breakfast late around 10am or so, we have some nice warm bread just out of the oven at that time. I had been planning to bake one for the last 3-4 days, but each day we were doing something in the morning that prevented me to do so. Tomorrow morning is our normal house chores morning so I decided to bake one this afternoon while I was in the kitchen preparing other things so that tomorrow and most of the rest of the week we will have some nice banana bread for breakfast.
It is a very easy recipe to make. You start by mixing the dry ingredient together in a big bowl with a spoon.
You then prepare the wet ingredients in another bowl and mix them well with a spoon.
You then pour the wet ingredients in the dry ingredient and mix well with a spatula and when everything is well incorporated you fold in the garnish.
That's it! You then butter a bread mold, pour in the batter and bake in the oven. It is THAT easy!
The resulting bread is nice moist and heavy and the richness of the ingredient and the bite of the various alcohol makes it most importantly very tasty. It is a great way to start a day first with a nice fresh grapefruit which are in season and very cheap here these days, followed by a nice piece of moist banana bread with a great cup of very strong coffee. I am drooling just thinking about tomorrow morning's breakfast.
Recipe
Dry Ingredients
1 cup flour
1 cup lightly crushed Bran Flakes type cereals
1 cup oat bran
1/3 cup sugar substitute (low calorie fruit sugar)
1 tbs baking powder
1/2 tsp salt
1 tbs ground cinnamon
1 tsp ground nutmeg
1 tsp ground dry ginger
3 tbs caramelized sesame seeds
Wet Ingredients
2 mashed bananas
1/2 cup milk
2 tbs margarine
3 beaten eggs
2 tbs honey
1 tbs vanilla
2 tbs orange liqueur
4 tbs rum
2 tbs coffee liqueur
Garnishes
2 handfuls raisins
2-3 handfuls had crushed walnuts
Preparation
1. Mix the dry ingredients together with a spoon in a large bowl
2. Combine wet ingredients and mix them well in another bowl
3. Pour the wet ingredients into the dry ones and mix with a large spatula
4. Add nuts and raising and fold them in with the spatula
5. Pour in a buttered loaf pan
6. Bake at 350F for 1 hour 15 minute to 1 hour 40 minutes until a toothpick inserted in the center comes out dry
Lucito
I have been asked a lot in the past about what to do with leftovers. I always try to use all the food that we buy as I do not like throwing things away and wasting them. Yesterday was our usual shopping-for-the-week day and we bought some stunning fresh chucked oysters in their juice, and some nice small cooked shrimps that were unbelievably tender and sweet. That fish merchant that we discovered at the Jamaica market last month really has some stunning fresh fish and seafood, and at a very low rice as the shrimps and oysters came up to a total of around $6.
For supper last night Normita prepared her world famous shrimp and oyster cocktail and I have to confess that we did throw out the nice oyster juice, as it does not really keep and we were not planning to cook anything else within the day, as today we are going out for lunch with the in-laws for an early father's day and mother in law's birthday celebration, as they will be out of town on a trip during both occasions. The family will meet at a restaurant that specializes in roasted goat, I think, and I will be sure to let you know how it turns out.
Going back to my story, I was in the mood for a nice fresh baguette to go with the shrimp cocktails, and we were doing our rounds of shopping and I realized that we did not pick up any bread when we passed by the supermarket. Since we both were dead tired, and did not feel like making another stop on our way back home, I looked for some baguettes in the store we were at the moment, and the only thing they had was packages of 3 freshly baked baguettes. It was a tad more than even I can eat in one sitting, but I was dead set in having my baguette. I assured Normita that I would find something to do with the leftover bread and we took it back home with us.
Last night we were discussing that Normita would invite some of her friends for supper next Saturday night, and I was starting to plan the meal ahead. The last few months have been totally crazy and I have not had the chance to spend as much time in the kitchen as I normally do, and I am looking forward to plan a decent meal. Time will be tight, as we will both be busy at work all week, and Friday night the cleaning people are coming to clean up the place, and they normally leave around 9pm, thus not leaving me with much room to prepare things ahead of time, and I do not want to spend all of my day in the kitchen on Saturday, especially since we will have to go pickup some fresh ingredients at the market early Saturday morning.
As a first course I will do my Vichyssoise, as I still have not had time to do it since I posted the recipe the other week, and I still have a nice craving for it. I can easily prepare that after the cleaners leave of Friday night. I settled for preparing my shrimps with chile guajillo as the main dish, as the fish merchant always has some stunning juicy ones, and it is a very quick and easy plate to prepare, as the only time consuming part is removing the heads and shelling the shrimps. I have still to settle the side dish for that main course but I have all week to think about it. I also though of a quick an easy way to accompany the meal, and at the same time take care of the leftover baguette. I decided to prepare some nice garlic bread this morning and to freeze it, and then I will only have to broil it before serving next week, as is or with some nice grated cheese on top.
We had also picked up some nice sweat Mexican bread for breakfast today, and we shared one piece, and we were both stuffed. I still have two pieces leftover, and they are too heavy for my regular weekday breakfast. I decided to salvage them again by preparing a typical dessert from my native Québec, some 'pouding au pain au sirop d'érable', a bread pudding made with stale bread and maple syrup. I will post the recipe later in the week once I actually prepare it. For now I will let the bread go stale for a few days, and then freeze it until I decide to prepare the pudding, probably Saturday afternoon. Enjoy these simple leftover recipes, and I will make sure to post more whenever I prepare some.
Ingredients
3 French baguettes
1/2 pound room temperature butter or margarine
4 large cloves garlic
1 tbs finely chopped fresh parsley
1 tbs finely chopped fresh basil
1/2 pound grated cheese (optional)
Pinch of salt
Preparation
1. Chop the garlic finely and but in a bowl.
2. Add the softened butter or margarine, the parsley, the basil, and the salt and mix thoroughly with a fork.
3. Cut the baguettes in half lengthwise, and then again in half in the thickness.
4. Cut the split baguettes in 3" pieces and spread a generous amount of the butter mixture in them.
5. If you plan to eat them right away, place on cookie sheet and sprinkle with some grated cheese if you want it.
6. Place in a hot over under the broiler until the bread is golden, or until the cheese is melted if you prefer the bread with cheese.
7. If you plan to freeze it, place the separated pieces of bread back together without any cheese, buttered side against butter side, and place them in zip-closure bags. Put in the freezer and they will keep for about a month if well sealed. Thaw and broil as above with or without the cheese.
Lucito
I am finally catching up with work enough to start posting regularly. It has been a hectic last week and to get back into the heart of things here is a nice recipe that I have adapted from one of Normita's. It is simple to make and is a great addition to the holiday table. I noticed that when it is freshly baked it has a tendency to be a little dry, but if you wrap the cake in aluminum foil for 3-4 days it ripens to perfection. If you want an extra special version you could soak a piece of clean cheesecloth with a few tbs of Grand Marnier and wrap the cake first in the soaked cheesecloth before wrapping in foil. To bring this to the next level you could also inject a small quantity of Grand Marnier all over the cake with a basting syringe on a daily basis for 4-5 days before serving. This will yield a very flavorful alternative to fruit cakes that people will actually eat.
Ingredients
2 1/4 cups flour
3/4 cup white sugar
2 tsp baking powder
1 tsp salt
1/2 tsp sodium bicarbonate
2 tbs butter melted
1 egg, beaten
2 tbs finely chopped orange zest
2 tbs Grand Marnier or orange liqueur
3/4 cup fresh orange juice
1/2 cup chopped candied walnuts (nuez grapiñada)
1/2 cup golden raisins soaked in 3 tbs of dark rum
Preparation
1. Preheat oven to 350F
2. Grease a bread pan (~9"X5"X3")
3. Sift all the dry ingredients together in a large bowl and mix well with a large spoon
4. In a large measuring cup or bowl mix the melted butter, the egg, the orange zest and juice, and the Grand Marnier
5. Add the soaked raisins and the nuts to the dry ingredients and mix well with your spoon
6. Add the remainder of the rum from the raisins, if any, to the liquid ingredients
7. Add the liquid ingredient to the large bowl and slowly incorporate them well with your spoon, but do not mix to the point of a smooth batter
8. Pour the mix into your prepared bread pan
9. Cook in the middle of the oven for about 60 to 70 minutes when a toothpick inserted into the middle will come out dry and clean
10. Take out of the oven and let cool for 15 minutes
11. Demold and let the bread cool on a rack until it reaches room temperature
12. For best results, wrap the bread in aluminum foil and let ripen for 3-4 days at room temperature
Lucito