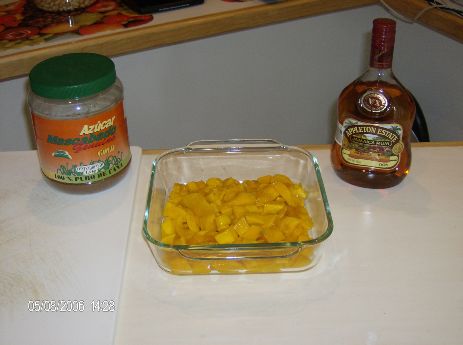 erday we had had a friend of Normita's from work drop by for supper. For desert I made a version of a simple fruit pudding based on my mother's recipe. She used to bake those all the time during the berry season, mostly with strawberries or raspberries.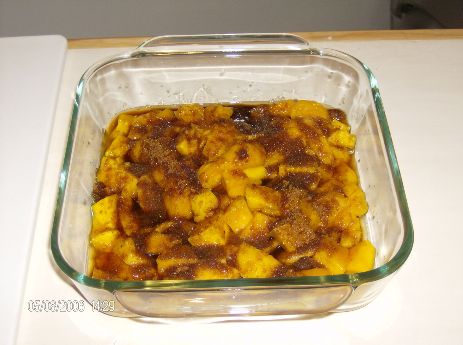 I had some manila mangos leftover from the previous week and I decided to create a version of the pudding with them. It turned out very nice and was a nice finish to the meal. The only problem is that everybody was very full after it…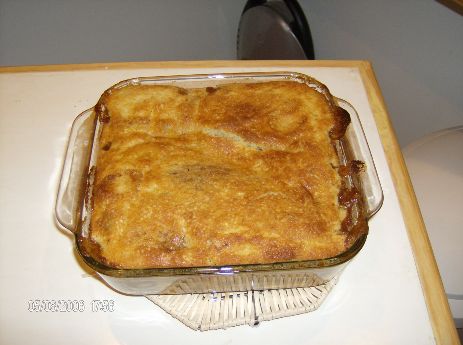 Ingredients
1 3/4 cups white flour
3/4 cup white sugar
1/2 cup margarine
1/4 cup maple syrup
1/4 cup dark rum
6 tbs dark brown sugar
1 large egg
1 tbs vanilla
1 tbs baking powder
1/2 tsp salt
1/2 cup milk
1/4 cup orange juice
2 tbs finely shaved orange zests
1 tbs finely shaved lime zests
5 medium manila mangos peeled and cubed
Preparation
1. In a buttered baking dish place the mango flesh and top with brown sugar and rum.
2. Cover and let marinate for half and hour to an hour.
3. In a large bowl place the margarine and white sugar and mix until well blended.
4. Add the maple syrup, the egg and the vanilla and mix again.
5. Mix the flour, the baking powder, and the salt, and then add to the sugar and egg mixture.
6. Mix well and add the milk, the orange juice and the zests, yielding a thick running batter.
7. Pour the mixture over the fruits in the baking dish and smooth the top.
8. Bake in a 350F for about 35 minutes, until the top is dark gold and a toothpick inserted in it comes out clean.
9. Serve with a nice dollop of heavy clothed cream.
Lucito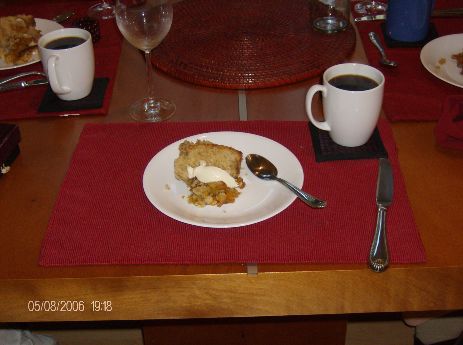 I had promised a few weeks back to publish this recipe, but work took the better of me, and I never got around to it. Last night I was still in the office late in the evening cleaning up odds and ends that needed to be attended to, and I finally decided to do something about it. I was planning to post the recipe last night, but the pictures were on Normita's computer instead of on a network drive and I was too lazy to start her machine to move the files.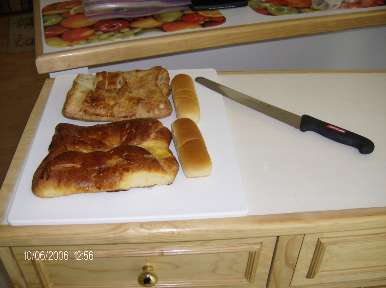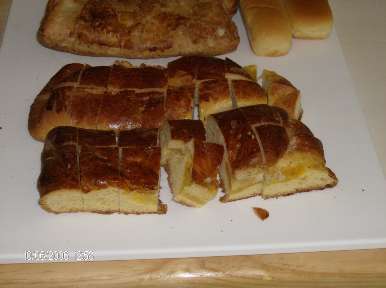 'Pouding au Pain' is a typical French Canadian dessert from my natal Québec. It was originally a recipe made by the poorer classes of society as it is based on stale bread and was usually made with leftover bread to make a cheap dessert that did not use to much fresh products beside some milk and sugar. The version I created here is more upscale and make for a great end to a nice meal. I replace the traditional brown sugar or molasses with maple syrup. Luckily, when I made it the other week when we had invited Normita's friends over for lunch, I still had a can of nice maple syrup from Québec in the cupboard, as it can be difficult to find here in Mexico City. The last time I saw some was a few years back at Costco, and I have not checked recently if they still have it in stock. I am sure that the gourmet section of the major department stores like Liverpool or Palacio de Hierro might have some, but probably at a price I would not want to pay for it.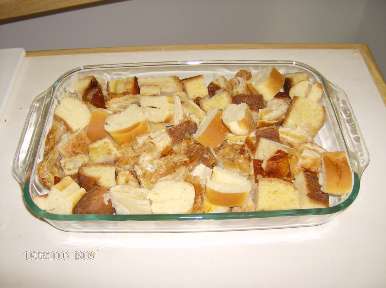 Pouding au Pain is better made with stale bread, and I used a variety of leftover sweet Mexican breads, plus whatever was left in the cupboard that was not fresh. You can freeze your leftover bread like I did, once it is somewhat stale, and use it at a later date. You can use anything from sliced white bread, to leftover hotdog or hamburger buns, to whatever stale bread you have. The sweet Mexican breads I used are typically eaten here in the evening as a light supper accompanied by 'atole', a flavored drink made and thickened with cornstarch.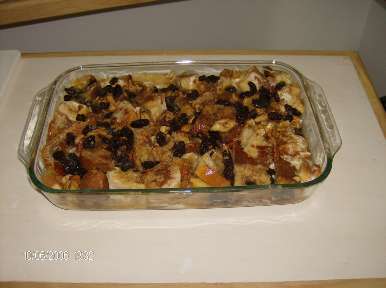 Our friends like this bread pudding so much that we ended up sending them home with most of the leftovers, so I guess that I will have to make more in the coming weeks as I still have some maple syrup left from the last batch.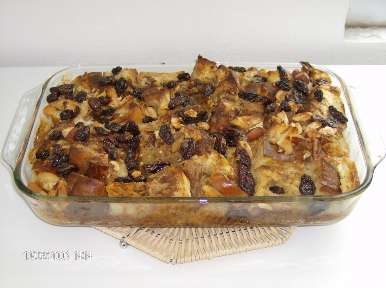 Ingredients
6 cups stale bread cut in cubes
1 1/2 milk
3/4 cup maple syrup
1/2 cup chopped mixed nuts
1/2 cup raising soaked in 3 tbs dark rum
1/2 cup heavy cream
1/4 cup brandy
5 eggs
2 tbs melted butter
2 tbs cinnamon
1 tbs nutmeg
1 tbs pure vanilla extract
1/4 tsp salt
Maple syrup and vanilla ice cream
Preparation
1. Place the stale bread cubes in a large buttered ovenproof baking dish
2. Mix the milk and heavy cream and pour over the bread and make sure that all the bread is well soaked
3. Let the bread absorb the milk mixture for 10 minutes
4. Dust the surface of the bread with the cinnamon and nutmeg
5. Spread the chopped nuts and the soaked raising evenly on the surface and push some of them in the soaked bread
6. In a bowl place the eggs and whisk them well
7. Add salt, vanilla, maple syrup, melted butter, and brandy, then whisk until well incorporated
8. Pour the egg mixture evenly over the bread making sure that there is some everywhere
9. Let soak for 10 minutes and then bake in a preheated 375F oven for around 30 minutes until the pudding is set
10. Serve warm with some maple syrup on it and a scoop of vanilla ice cream
Lucito
This afternoon Normita invented a fantastic dessert. We were shopping for things for supper, as my parents are visiting with us from Canada for some days, prior to us driving them down to Acapulco later in the week. We had already picked up some arrachera for the main course, with some large potatoes for baking, some nice string beans, and some mushrooms. We were looking for something simple to have for dessert when she remembered that we had some nice Manila mangos that were perfectly ripe at home, and some nice thick farmer's cream that has a nice sweet aftertaste. The medium sized Manila mangos are of a stunning bright yellow and they are the ones that we find the tastiest and the sweetest. They are currently in season and Normita loves them with a passion, so much that I get jealous at time…
She decided to scoop the flesh of the remaining mangos and add the heavy cream, and simply puree them for a dessert that was a stunning mango mousse. She had put it in the freezer to cool it down, and we had it while it was still like a thick liquid. The texture and taste was incredible, and we will leave it to freeze overnight and see what it will look in the morning. Hopefully it will have turned into a rich mango ice cream. My mother liked it so much that she already had 2 bowls, and we are all worried that when we get up in the morning nothing will be left of what we put in the freezer.
Ingredients
2 pounds ripe Manila mangos
1/2 pound heavy clotted cream
Preparation
1. Scoop the flesh of all of the ripe mangos and place in a deep bowl or into a large water pitcher.
2. With a stick mixer puree the mango until you have a thick creamy liquid.
3. Add the cream and mix with the mango until well incorporated.
4. Place the liquid in a container and put into the freezer until it thickens.
Lucito
For all of those wondering, YES we did get our new car, and we took a few days off driving around town to break it in. Yesterday was a holiday here and Normita took Monday off to make an extra-long weekend. We would have like to go out of town for 4 days, but since we did not get the car until Monday evening, we could not do that. This will have to wait for another weekend.
We decided to celebrate the coming of spring and I researched what was traditional for this time of the year. It seems that egg dishes are the norm and also desserts with honey in them. I prepare a nice smoked salmon quiche for the main course, and I will post the recipe in coming weeks. For desserts I instantly thought about Baklava, but I did not have the patience to bake some as the weather was too nice and the new car was beckoning. I then decided to create a nice honey pie recipe. It turned out stunning so I decided to share it with you. It is very easy to prepare and I baked it before leaving for the day, yesterday morning. Once it was out of the oven and cooled I left it on the counter with a clean dish clothe on top, so it was ready for when we returned.
You can bake this easy pie in a prepared uncooked pie shell, prepare you own dough, use some frozen puff pastry, or do like I did, buy some fresh puff pastry at the supermarket and roll your own pie shell in a few minutes.
An easy trick there is to use a large plastic cutting board so that the puff pastry dough does not stick. Make sure that you put enough flour on both the board and the top of the dough before rolling. With light pressure roll a square of dough to a size that is about 2-3 inches bigger than you pie plate. While rolling the dough flip it over a few times and dust it and the board with flour every time you do so. It only takes a few minutes and I find this much better than most regular prepared pie shells. I prefer to use a sturdy non-stick-coated metal pie plate as they conduct heat better than glass ones.
Ingredients
1 1/4 cup of honey
4 large eggs, beaten
3 tbs butter
1 tbs vanilla extract
2 tbs Scotch
1 cup chopped walnuts
1/2 tsp ground nutmeg
1/2 tsp ground dried ginger
1/2 tsp ground cinnamon
9" unbaked deep pie shell
Preparation
1. In a saucepan heat the honey until it boils, then retire from the heat.
2. Slowly add the beaten eggs while stirring continually so as not to create an omelet.
3. Add the butter and stir until melted and well incorporated.
4. Add vanilla, Scotch, and spices. Stir until you have an homogeneous mixture.
5. Fold in the chopped walnuts.
6. Pour the mixture into your prepared pie shell.
7. Bake in the middle of a preheated 350F oven for about 30 minutes, or until the center of the pie is set.
8. Cool down on a rack before serving.
Lucito