Traditions
Various Traditions are discussed
Yesterday Kurtito discussed at length the various Easter traditions that his family followed in Vienna. Today I want to talk a bit on how we celebrated in Québec. I grew up in a Catholic family and Easter was normally celebrated with the entire family getting together for dinner at my paternal grandparent's house in St-Jovite. When I was very young, before the 'Révolution Tranquille' of the 60's when most people in Québec stopped going regularly to church due to their dissatisfaction with the church meddling with the government, we used to follow lent before Easter and also eat fish on Fridays most of the year.
I have vivid memories of sitting at the table in my grandmother's kitchen and eating hot-crossed buns during the weeks before Easter, and of going to get palms blessed at the church on Palm Sunday. Our regular family reunions were always on the small size, as the entire family from grandparents to grandchildren normally hovered around a dozen people. Only my uncle Jacques was living permanently with my grandparents, as my uncle Pierre was studying in Montreal at the time, and my father and us, and also his older sister Jeanine were living in Montreal. Normally on weekend the entire clan would drive up to my grandparent's place and spend the weekend there. In the summer, we were spending the entire season at the lake, where we used to live until recently, and my grandparents would visit us every Sunday for the ritual barbecued standing rib roast beef.
The door to my grandparent's house was rarely locked and you could walk in at anytime of the day or night and there would be food on the stove or in refrigerator. Normally there was a freshly cooked ham in the refrigerator that my grandmother would prepare before the weekend, and whenever somebody would arrive from Montreal the ritual was to go to the refrigerator, take the ham out, and cut and eat thin slices out of it, even on Friday nights when we were supposed to only eat fish. Looking back at it I guess that ham was not considered meat in those days. I have a few Jewish friends that similarly have always told me that ham and bacon are not pork, so I guess that every religion has its exceptions.
For Easter we normally would go to church in the morning, and I remember receiving all kinds of chocolate eggs and bunnies. I remember a type of egg in particular, that came in a yellow box. The chocolate egg was large around 3-4" long and wrapped in foil. Beneath it soft chocolate shell there was a white filling based on marshmallows and a yellow center. We would cut slices from it and eat it throughout the day. Normally the meal was either a huge roast beef or some nice large glazed ham.
In later years when most of the family stopped congregating weekly at the family house, we started to celebrate at the lake, and Easter was one of the few occasions throughout the year where the family would come together. The other occasions would be for Christmas and New Year, and irregular meetings throughout the year. Now that the family is spread all over the place we normally are all together only for Christmas and New Year, and we manage to attend those meeting only every few years since we moved to Mexico.
During the period I was in charge of cooking for the Easter feast at the lake, my dish of choice was always some nice deboned butterflied legs of lamb that I would marinate for a few days in a concoction made with pureed onions and jalepeños, honey, soy sauce, and other pungent ingredients. The lamb was almost cooked by the mixture…
I would sear the lamb on a very hot barbecue until a nice crust would form, then finish it slowly in a low oven. The meat would just melt in the mouth and would be accompanied by a variety of side dishes. As usual I would probably prepare a fish or seafood-based first course, and finish with a variety of desserts and a wide assortment of cheeses. Of course plenty of wine of all types would be served.
Regrettably in recent year we have not had the occasion to celebrate Easter with the family. The last few times we were in Canada for the occasion we went to a nice brunch all together. Since we arrived in Mexico we did celebrate it once with Normita's family, but for the last few years we did not have a chance to do so, as everybody was not in town at the time, so we did only did prepare a nice meal just for the both of us.
It seems that sadly some traditions are lost in our case, and that we should try to start new ones or revive old ones in the coming years.
Lucito
Every country with a noticeable Christian population has its own traditions around Easter. What's more, there are even different traditions for subpopulations in a single country due to religious and regional distinctions. The longer the Christian history, the more diversity you will find and even in a small country like Austria with barely 8 million people, due to long Christian history you will find hundreds of such subpopulations with different traditions.
As long as traditions are kept, they will start getting mixed when members from different beliefs and/or regions marry and both bring their own traditions to the new family. This is exactly what happened when my mom, who is from Styria province in Southern Austria and was brought up a Catholic, married my dad who was living in the capital city of Vienna all of his life and of European Protestant faith. The results are a host of nice traditions that we children have kept until today. Thus for example we don't eat meat in Good Friday and we eat the traditional (in Austria and Southern Germany) spinach and sunny-side up eggs the Thursday before, both from Catholic tradition, while we do celebrate Good Friday as highest clerical holiday from Protestant tradition, with our church ringing it's Lutheran bells and can start celebrating Easter Saturday early afternoon.
Even when we were kids and still went for the eggs, sweets and toys the 'Easter Bunny' hid for us, the main event always was the traditional Easter dinner on Saturday. When our grand parents were still alive, they often joined us as did my mother's sister, until she got married and founded a family of her own, sometimes friends, but always a happy family affair with lots of food and good times and memories.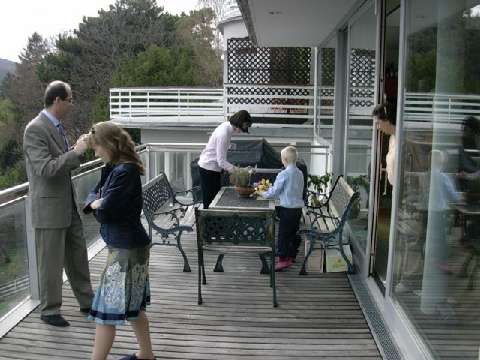 This year, like the last few, we invited the families – my wife's and mine – for the traditional lunch and it was great fun as always. And while we have subtly varied the beverages over the years and added a little here and there, the differences to the traditional Easter dinner from our childhood are minimal. The ingredients sound simple but trust me, it's a wonderful ensemble.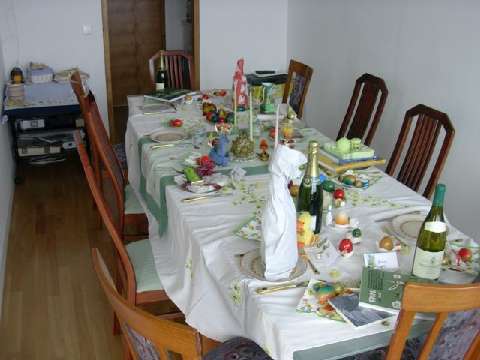 One basic ingredient for our traditional Easter meal is sweet bread. There are at least two varieties we have been using over time, one is called a 'Pinza' and it's made from biscuit dough and formed to show three loafs interconnected in one corner. The other is from my mom's home region Styria and is called 'potato bread', quite similar to traditional Irish soda bread in structure, and even taste, the recipe includes potato starch for a special taste. Potato bread is usually formed in a single extended loaf and it's available with or without raisins.
The next essential ingredient is cooked ham, which is sliced thickly from the bone, resulting in mighty chunks of rather varied geometry. As the Easter dinner traditionally marks the end of Catholic lent, this ham needs to be rich, both in flavor and in fat. Thus no fat is removed from it when slicing and everyone needs to decide for himself whether he wants to eat it or leave it on the side.
A variation of Easter ham is pre-cooked ham that is wrapped in some type of bread dough. That could be biscuit for a sweetish taste or sour bread for a more interesting contrast. The bread stuffed with ham is then baked and sliced. An interesting side effect of this process is that a lot of the fat will melt away while baking and is soaked up by the bread making its taste delicious.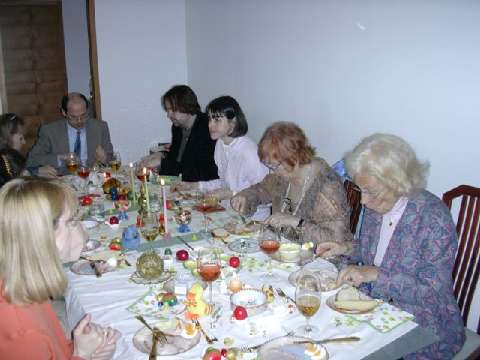 The third essential component is horseradish, and lots of it from the Styrian roots of the family. Combined these ingredients already give you an explosion of aromas, sweetness from the fresh bread, thickly covered with rich, fresh butter, topped with chewy, succulent ham and the harsh sharpness or fresh horseradish. For those who prefer it less spicy, there usually is also horseradish that has been marinated to reduce it's tanginess. Two year ago, as most recent addition to the menu, we discovered egg horseradish, a delicious mixture of finely chopped up or processed egg with horseradish, a good alternative if you're not that much into horseradish.
Finally the symbol of spring and fertility, Easter eggs with all their ancient heathen tradition are added. The special tradition with them is, after kid's search for them, they go for 'egg pecking'. Each contestant holds his egg and one hit's the other's egg with his own. Due to the properties of the shell usually only one egg will survive the contest. In olden days, when people were poorer and kids didn't get abundant amounts of sweets and Mattel brand toys, they went out for the contest and if you damaged another egg, you were allowed to keep it and take it home. Today eggs are cheap and we do it just for the glory. After they've been pecked the shells are peeled off and discarded and the eggs are cut in wedges or slices and used as side to the ham sandwiches.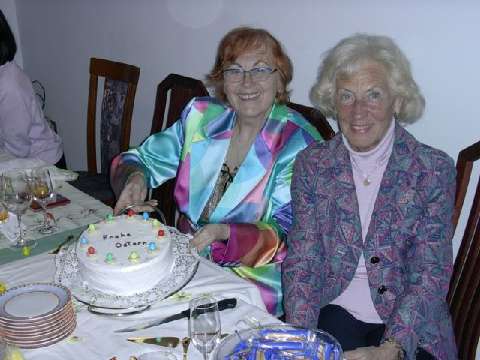 As for beverages, this is a tough one as horseradish is as tough on wine as it gets, next to vinegar and tomatoes. Again our family has established a tradition here, serving a choice of strong Easter Bock beer or an aromatic and acidic rose from Styria called 'Schilcher'. The Schilcher is made from an autochthonous grape called 'Blauer Wildacher' that can also produce fruity though acidic reds of light to medium body, but it's excellence is definitely in the rosé Schilcher and his family – some vintners also prepare sparkling wine varietals including a slightly sparkling Schilcher Frizzante that makes a wonderful apéritif.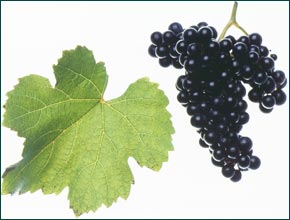 What about your families Easter traditions? Or maybe you're observing pessach? If so, what spices does your family use on the lamb? Share your tastes with us!
Kurtito
Palm Sunday has mostly clerical traditions over here in Austria, a country with a noticeable catholic majority, though the nonbelievers are catching up. Typically kids take 'palm twigs' (willow catkin) to church and get them blessed and not much more. Also the palm weekend is the start of local school holidays and people in Vienna flock to the countryside like crazy.
With this background, we are getting to our friend, who has been 'domesticated' recently. The Greek, as we'll call him though he has no blood line to this beautiful country, has always been a wild one and one of the last holdouts about marriage or fixed relationships. However a few years back one of his earlier infatuations, the one he never had any real thing going with, became divorced and he jumped in to help and emotionally stabilize her. Thus he got a nice step family and became a replacement dad.
As he has to work this week and the girls are in the country side, he's returning to his primordial male lifestyle. Going out with friends, playing computer games until after midnight, guzzling humongous amounts of beer, eating unhealthy and abundantly, and so on… To help him in his temporary 'misery' – and to make sure for one day he would not eat nothing but junk food, we decided to invite him over. Why not start a new tradition, a Palm Sunday barbecue?
The weather is beautiful, lot's of sun, few clouds, temperature around 20C (70F) and thanks to daylight saving time it doesn't get dark until 8pm. Ideal weather to roll out the Webber gas grill and get broiling. It was easy to decide on the meat – chicken is very, very affordable right now while chicken flu hysteria is raging on. At the same time it's of good quality and better controlled for health than anytime else. So we had to decide which style to prepare things today. We considered some North African and Caribbean and then, thinking of Normita and Lucito, settled for Mexican.
As Normita was attending a family party yesterday we had no chance to ask her advice, but thanks to the web and some fine cooking books we found our way to – hopefully – proper recipes… though I'm sure that Normita will provide some fine tuning, refinements and corrections eventually. So this is what we decided on, with a little explanation on why:
Appetizer: We would have loved to try Lucito's Volcano-recipe alas we ran out of refritos so this has to wait for another time. Thus we'll settle for grilled quesadillas. The recipe we found sounds delicious though a tad risky as it mentions that they go up in flames easily. We'll see.
Main course: Both Aglaja and I love the taste of chipotle, the smoked jalapeno peppers. Unfortunately they are hard to come by over here. While it's too early to use homegrown jalapenos and smoke them – the plants are just starting to bloom – the canned variety is very nice and, for the adobo marinade we intend to make, even better. The marinade will add a lot of spice to the outer crust and provide a wonderful smoky flavor even on a gas grill. To enhance the smoky taste we'll add some mesquite chips in an aluminum foil pouch.
Sides: The Adobo is pretty spicy; I tried it while it's cooling. Thus we'll have a rather mild salsa on the side, a guacamole recipe from Oaxaca that has no tomatoes in it but a little spice from jalapenos – we're using our own, harvested last year, cut in thin slices and frozen. We'll also serve some corn tortillas, admittedly frozen ones, but at least they are really from México. I checked and we have both in the freezer, regular yellow-orange colored ones and my favorites, the blue ones. I might also to a freshly prepared Salsa Verde if I'm ambitious. I have a recipe I wanted to try for quite a while. We'll see. (Ed. I'm pouting because he didn't try the recipe we posted in the last weeks)
As for desert, let's see if we still are able to eat by then. I was thinking about frozen Margaritas or something with pineapples. Or we will just finish it off with a few shots of Tequila. That reminds me of the beverages and I have to admit, I'm a sucker for Mexican beer, especially Bohemia. Aglaja prefers white wine so we'll see what we can find that's up to the challenge. We'll report back soon with the results and recipes, provided all turns out as planned. Cheers from the pit in Vienna, saluting all reader with my grilling prongs.
Kurtito