Kurtito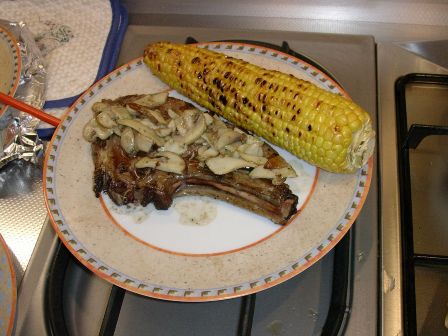 Dinner is served…
Summer is drawing to an end in Europe but in our equivalent of Indian summer, we still enjoy barbecue a lot. Evenings may be a little chilly, but we have that big Weber monster of a gas grill on our balcony right in front of our living room/kitchen and it's easy and convenient in almost any weather. So for yesterday we decided to invite my mom for dinner and treat her with some nice barbie-food.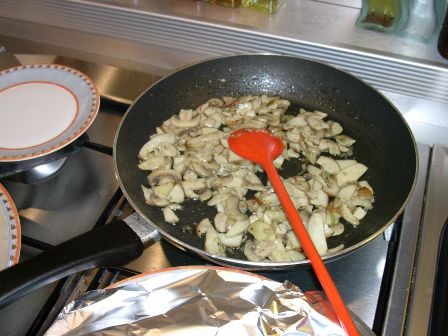 The mushrooms cooking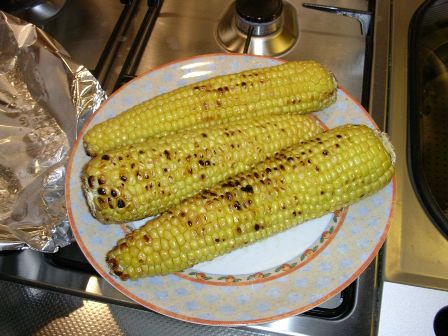 The tasty corn is ready…
We started with aperitif on the balcony and served an light, dry, Austrian white of SÅ mling 88 varietal, also called Scheurebe, with some olives and marinated mushrooms. Around Sundown we moved to the table and had appetizers – sweet melon with prosciutto and our own balcony-grown cherry tomatoes with little mozzarella spheres, basil (also from the terrace plantation) and an abundance of olive oil. Then we fired up the grill for the following recipe:
Ingredients
4 veal chops with the bone in, about 1" thick
1 lime
8 sprigs of thyme
4 tbs extra virgin olive oil
4 small porcini mushrooms
4 small regular mushrooms (as porcini are pretty expensive over here, instead you could double the porcini)
2 échalottes
1 tbs butter
Salt & pepper to taste
Preparation
1. Blot the meat dry with a paper towel and salt and pepper it to taste.
2. Prepare the marinade by removing 8 zests from the lime with a peeler.
3. Juice the lime and mix the olive oil with the lime juice.
4. Put a lime zest and a thyme sprig on each side of every chop.
5. Put them in a non-corrosive bowl and pour the marinade over them.
6. Let the chops marinate for at least 3 hours, occasionally pouring the marinade over them with a spoon.
7. For the corn, remove any leaves or 'hair', cover them with olive oil (or butter if you prefer)
8. If you want some more smoke flavor on the gas grill, fill the smoking compartment with soaked wood chips or prepare a 'smoking pouch' by wrapping them in double heavy duty aluminum foil, poke some small holes in the foil and place on the flavorizer bars.
9. When ready to grill, preheat the grill to high, brush and oil the grate. Put the chops on first, followed by the corn on the cob.
10. For medium doneness, turn the chops 90 degrees after 3 minutes.
11. Turn them over after another 3 minutes and 90 degrees again after 3 more minutes, for a total of 12 minutes. The 90 degree turns ensure that your cops will get handsome criss-cross marks on them.
12. You can turn the cobs as needed, depending on the heat.
13. When done put the chops on a plate, add some olive oil, thyme and salt to them as desired and cover with aluminum foil. Let them rest – we usually use the oven for that, preheated to 125F and double use it to warm the plates to be used. The meat should rest about 10 minutes for best results.
14. When the corn is finished – easy to see as the color is turning to bright gold – put it on a plate and likewise cover with aluminum foil.
15. For the sautéed porcini the mushrooms are cut in thin slices. The échalottes are to be cut in small cubes.
16. Heat the butter in a pan, add the échalottes and once they turn nicely glaassy, add the sliced mushrooms.
17. Sauté at medium heat for about 8-10 minutes. After 4-5 minutes you will notice the intense aroma of the porcini in the air, reduce the heat as required so the mushrooms don't dry out.
18. Serve by putting a chop on each preheated plate, put the corn on the side and cover the chops with the sauteed porcini. If you like, you can decorate with further thyme sprigs.
Enjoy with a nice, full bodied white – we had an Austrian chardonnay from Weingut Leberl which is only partly oaked and comes at a good natured 12.5% Alcohol.
Kurtito
Every country with a noticeable Christian population has its own traditions around Easter. What's more, there are even different traditions for subpopulations in a single country due to religious and regional distinctions. The longer the Christian history, the more diversity you will find and even in a small country like Austria with barely 8 million people, due to long Christian history you will find hundreds of such subpopulations with different traditions.
As long as traditions are kept, they will start getting mixed when members from different beliefs and/or regions marry and both bring their own traditions to the new family. This is exactly what happened when my mom, who is from Styria province in Southern Austria and was brought up a Catholic, married my dad who was living in the capital city of Vienna all of his life and of European Protestant faith. The results are a host of nice traditions that we children have kept until today. Thus for example we don't eat meat in Good Friday and we eat the traditional (in Austria and Southern Germany) spinach and sunny-side up eggs the Thursday before, both from Catholic tradition, while we do celebrate Good Friday as highest clerical holiday from Protestant tradition, with our church ringing it's Lutheran bells and can start celebrating Easter Saturday early afternoon.
Even when we were kids and still went for the eggs, sweets and toys the 'Easter Bunny' hid for us, the main event always was the traditional Easter dinner on Saturday. When our grand parents were still alive, they often joined us as did my mother's sister, until she got married and founded a family of her own, sometimes friends, but always a happy family affair with lots of food and good times and memories.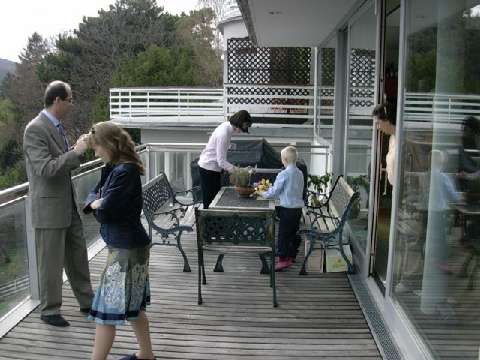 This year, like the last few, we invited the families – my wife's and mine – for the traditional lunch and it was great fun as always. And while we have subtly varied the beverages over the years and added a little here and there, the differences to the traditional Easter dinner from our childhood are minimal. The ingredients sound simple but trust me, it's a wonderful ensemble.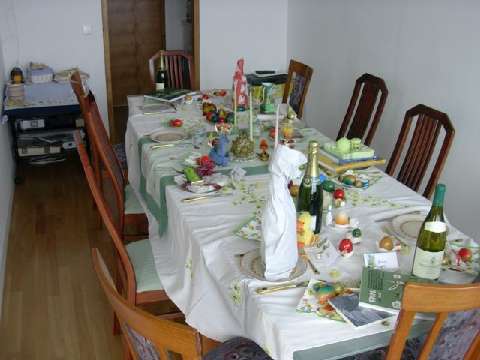 One basic ingredient for our traditional Easter meal is sweet bread. There are at least two varieties we have been using over time, one is called a 'Pinza' and it's made from biscuit dough and formed to show three loafs interconnected in one corner. The other is from my mom's home region Styria and is called 'potato bread', quite similar to traditional Irish soda bread in structure, and even taste, the recipe includes potato starch for a special taste. Potato bread is usually formed in a single extended loaf and it's available with or without raisins.
The next essential ingredient is cooked ham, which is sliced thickly from the bone, resulting in mighty chunks of rather varied geometry. As the Easter dinner traditionally marks the end of Catholic lent, this ham needs to be rich, both in flavor and in fat. Thus no fat is removed from it when slicing and everyone needs to decide for himself whether he wants to eat it or leave it on the side.
A variation of Easter ham is pre-cooked ham that is wrapped in some type of bread dough. That could be biscuit for a sweetish taste or sour bread for a more interesting contrast. The bread stuffed with ham is then baked and sliced. An interesting side effect of this process is that a lot of the fat will melt away while baking and is soaked up by the bread making its taste delicious.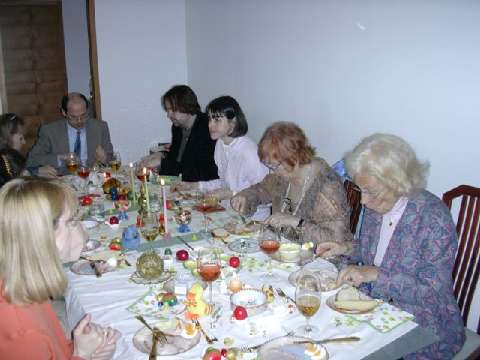 The third essential component is horseradish, and lots of it from the Styrian roots of the family. Combined these ingredients already give you an explosion of aromas, sweetness from the fresh bread, thickly covered with rich, fresh butter, topped with chewy, succulent ham and the harsh sharpness or fresh horseradish. For those who prefer it less spicy, there usually is also horseradish that has been marinated to reduce it's tanginess. Two year ago, as most recent addition to the menu, we discovered egg horseradish, a delicious mixture of finely chopped up or processed egg with horseradish, a good alternative if you're not that much into horseradish.
Finally the symbol of spring and fertility, Easter eggs with all their ancient heathen tradition are added. The special tradition with them is, after kid's search for them, they go for 'egg pecking'. Each contestant holds his egg and one hit's the other's egg with his own. Due to the properties of the shell usually only one egg will survive the contest. In olden days, when people were poorer and kids didn't get abundant amounts of sweets and Mattel brand toys, they went out for the contest and if you damaged another egg, you were allowed to keep it and take it home. Today eggs are cheap and we do it just for the glory. After they've been pecked the shells are peeled off and discarded and the eggs are cut in wedges or slices and used as side to the ham sandwiches.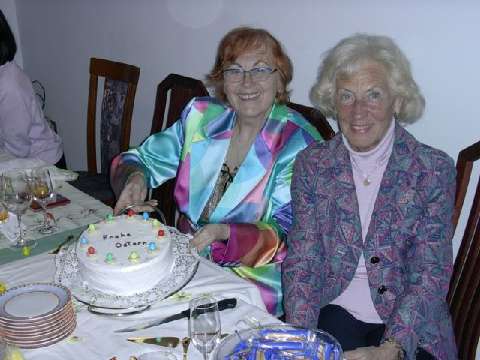 As for beverages, this is a tough one as horseradish is as tough on wine as it gets, next to vinegar and tomatoes. Again our family has established a tradition here, serving a choice of strong Easter Bock beer or an aromatic and acidic rose from Styria called 'Schilcher'. The Schilcher is made from an autochthonous grape called 'Blauer Wildacher' that can also produce fruity though acidic reds of light to medium body, but it's excellence is definitely in the rosé Schilcher and his family – some vintners also prepare sparkling wine varietals including a slightly sparkling Schilcher Frizzante that makes a wonderful apéritif.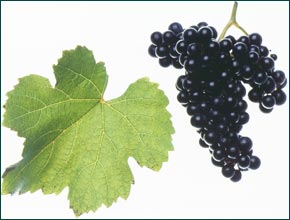 What about your families Easter traditions? Or maybe you're observing pessach? If so, what spices does your family use on the lamb? Share your tastes with us!
Kurtito
Palm Sunday has mostly clerical traditions over here in Austria, a country with a noticeable catholic majority, though the nonbelievers are catching up. Typically kids take 'palm twigs' (willow catkin) to church and get them blessed and not much more. Also the palm weekend is the start of local school holidays and people in Vienna flock to the countryside like crazy.
With this background, we are getting to our friend, who has been 'domesticated' recently. The Greek, as we'll call him though he has no blood line to this beautiful country, has always been a wild one and one of the last holdouts about marriage or fixed relationships. However a few years back one of his earlier infatuations, the one he never had any real thing going with, became divorced and he jumped in to help and emotionally stabilize her. Thus he got a nice step family and became a replacement dad.
As he has to work this week and the girls are in the country side, he's returning to his primordial male lifestyle. Going out with friends, playing computer games until after midnight, guzzling humongous amounts of beer, eating unhealthy and abundantly, and so on… To help him in his temporary 'misery' – and to make sure for one day he would not eat nothing but junk food, we decided to invite him over. Why not start a new tradition, a Palm Sunday barbecue?
The weather is beautiful, lot's of sun, few clouds, temperature around 20C (70F) and thanks to daylight saving time it doesn't get dark until 8pm. Ideal weather to roll out the Webber gas grill and get broiling. It was easy to decide on the meat – chicken is very, very affordable right now while chicken flu hysteria is raging on. At the same time it's of good quality and better controlled for health than anytime else. So we had to decide which style to prepare things today. We considered some North African and Caribbean and then, thinking of Normita and Lucito, settled for Mexican.
As Normita was attending a family party yesterday we had no chance to ask her advice, but thanks to the web and some fine cooking books we found our way to – hopefully – proper recipes… though I'm sure that Normita will provide some fine tuning, refinements and corrections eventually. So this is what we decided on, with a little explanation on why:
Appetizer: We would have loved to try Lucito's Volcano-recipe alas we ran out of refritos so this has to wait for another time. Thus we'll settle for grilled quesadillas. The recipe we found sounds delicious though a tad risky as it mentions that they go up in flames easily. We'll see.
Main course: Both Aglaja and I love the taste of chipotle, the smoked jalapeno peppers. Unfortunately they are hard to come by over here. While it's too early to use homegrown jalapenos and smoke them – the plants are just starting to bloom – the canned variety is very nice and, for the adobo marinade we intend to make, even better. The marinade will add a lot of spice to the outer crust and provide a wonderful smoky flavor even on a gas grill. To enhance the smoky taste we'll add some mesquite chips in an aluminum foil pouch.
Sides: The Adobo is pretty spicy; I tried it while it's cooling. Thus we'll have a rather mild salsa on the side, a guacamole recipe from Oaxaca that has no tomatoes in it but a little spice from jalapenos – we're using our own, harvested last year, cut in thin slices and frozen. We'll also serve some corn tortillas, admittedly frozen ones, but at least they are really from México. I checked and we have both in the freezer, regular yellow-orange colored ones and my favorites, the blue ones. I might also to a freshly prepared Salsa Verde if I'm ambitious. I have a recipe I wanted to try for quite a while. We'll see. (Ed. I'm pouting because he didn't try the recipe we posted in the last weeks)
As for desert, let's see if we still are able to eat by then. I was thinking about frozen Margaritas or something with pineapples. Or we will just finish it off with a few shots of Tequila. That reminds me of the beverages and I have to admit, I'm a sucker for Mexican beer, especially Bohemia. Aglaja prefers white wine so we'll see what we can find that's up to the challenge. We'll report back soon with the results and recipes, provided all turns out as planned. Cheers from the pit in Vienna, saluting all reader with my grilling prongs.
Kurtito
…that's the question as spring is approaching quickly in Europe. But what is the essence of grilling and barbecue? It seems there are many answers, leading to excessive disputes among grilling aficionados.
I was recently reminded of that dilemma when overhearing the discussion on a neighboring table during a nice dinner. Two couples in their late 40ies/early 50ies were celebrating a birthday and during the dinner, on of the guys mentioned that he had recently ordered a high-end Weber gas grill. That's when the other guy went ballistic and proclaimed that no matter how much one spends on a gas 'grill' real grilling would never be possible. The discussion continued for the rest of the evening.
So what is the essence of grilling? Personally I see two criteria and both should apply. One is procedural: meat, fish or whatever is grilled, is heated by applying radiation heat from a very hot surface. The other is more hedonistic and it's about grilling aroma that partly results from the procedural, partly from other causes as a lot of other factors are contributing to the aroma.
There are many ways to grill, modern and traditional ones – including some that simply are not feasible in our modern world, at least not for even very accomplished grill hobbyists. In our daily lives we typically use a compact grill that can be fired by charcoal or wood, by gas or even by electricity. The later is a matter of dispute as usually you don't get the intense heat and the heat capacity of the previous methods and, even worse, usually electric grills don't feature a real grate where fat and juices can drip through, but a wavy surface operating as a contact grill.
That is the same principle used in grilling pans, the meat (or whatever) only rests on minor part of its surface while the heat radiates and convects more or less freely in the wide 'valleys' between. I wouldn't consider it 'real' grilling but the results, if done properly, emulate 'real' grilling decently. The lack of real 'grill' aroma is balanced by a lower health risk from the nasty chemicals that are in the aroma. It's similar to grilling on a real grill but putting the meat or fish in aluminum pans – healthier, maybe, but way duller – eat your heart out, George Foreman!
In a 'real' grill there are three key elements to the procedural criteria. For heat radiation to function properly you need proper distance and high temperature on the heat source's surface. And you need the capability to either provide high amounts or to store heat energy, as the environment will cool the heat source's surface. This can be effectuated by the possibility to produce a lot of heat and/or by storing – which is the secret of lava stone grills and the famous Weber Flavorizer™ bars. Charcoal is perfect in this way as it can produce searing heat, especially if 'encouraged' by a blow dryer, and it stores a lot of energy on the inside.
The results of the high temperature, the right distance and high heat capacity are simple yet stunning. The surface of the meat or fish will get denaturized very quickly, sealing off juices, moisture and flavors on the inside while making fatty tissue and skin crispy. Any liquids dripping on the heat source will evaporate quickly adding to the aromas. If the meat of fish has been marinated or basted or rubbed, the aromates on the surface will be melted into the crust adding to its taste.
This said, there are several considerations for grilling and some do depend on the type of grill you use. Generally speaking, fatter meat or fish comes out juicier and tastier but it's a matter of personal preferences and health considerations. If you want or have to stick with leaner cuts or types, you may consider marinating. High heat for short grilling times is also essential so it doesn't dry out. Thus a charcoal grill may be the better bet here. Also keep in mind that many flavors and spices are not only enhanced by fat, they dissolve and spread in it. Thus for lean cuts the spices and herbs should work well without fat – examples are salt, lime and lemon juice, beer, chiles. Marinating lean cuts with olive oil can be a healthy alternative too.
Another great enhancer, no mater what type of grill you use and no matter whether you prepare lean or fatty, is smoke. Nothing beats the delicious aromas of a wood grilled steak. If you're firing gas or charcoal, use wood chips to add to the flavor. Depending on heat, duration and amount of chips this can reach from just a touch to hot smoking. I remember one occasion where we ran low on charcoals so we marinated the salmon a bit, put a lot of wood chips in the grill, closed the lid and 30 minutes later we had the most tender, juicy and delicately grilled/smoked salmon ever. In a charcoal grill you can simply throw the chips on the coal. Gas grills sometimes feature smoker compartments. A cheap and easy alternative is a small smoking pouch made of aluminum foil (thanks to grill guru Steve Raichlin for this tip – his books are the best on this matter). Also keep in mind that usually you will soak the chips in water, beer or cider for 20 minutes before using them so they burn and smoke slowly. If you're doing thinner cuts of meat or fish that only take a short time, using dry chips instead will enhance the aroma.
While dripping fat that flares up (bursts in flames) does provide strong aroma, it's also very unhealthy. If you grill frequently, you should thus limit flare ups. There are several ways to do it, depending again on your grill. Gas grills usually limit them automatically. On charcoal or wood you can quickly move the meat, spray some water or beer or use an indirect grilling approach where the charcoal is on the sides with a dripping pan in the middle. The meat sits atop the dripping pan and is heated from the sides, fat drips into the dripping pan – this by the way is the only valid use of aluminum containers in real grilling. This works extremely well but isn't fit for all kinds of dishes and usually takes way longer. Spare ribs are a good example of a perfect fit for indirect grilling. On a gas grill you can use the technique by only heating some of the burners.
Talking health, if you're grilling over charcoal you need to start the fire. Never use liquid starters as they add a lot of unwanted and unhealthy 'aromas'. For best results use a grill starting chimney that works fine with newspapers and even better with those little solid starter cubes.
As for sides, many come out wonderfully on the grill, so get them out of the kitchen. Among our favorites are tortillas, oven potatoes (we just wrap them in foil and put them close to the heat), corn on the cob, green onions and sweet bell peppers. Even if you prefer rice, noodles or couscous you can still add some smoke aroma by keeping them close to the barbecue.
A final word on cleaning. Many people love to grill but hate to clean the grill afterwards. This need not be as some simple routines will take care of the cleaning almost by themselves. First of all, when you're done with pre-heating, use a wire brush to clean the grate. Next rub it well with oil or fat, using your grill thongs. If the grate is hot and well oiled, meat and fish will not stick to it easily. When you are done grilling, let the grate reheat well – on a gas grill turn the burners to high again. After 5 minutes or so most residues will have burned off and you can remove any leftovers with the wire brush.
So are you getting ready for the new grilling season? You bet we are – we already bought a new gas bottle for the big Weber monster on the balcony and a few bags of charcoal for the cheap little one on the roof. We prefer to have some choices, you know, and the best tool for every dish. Most important of all we will have fun and delicious food and often invite friends or family to join in – the more, the merrier. And we will NOT discuss what is grilling and what is not, we'll just do it.
Kurtito
In olden days before train or automobile became common, transportation was mainly by carriages pulled by horses. While this was quite feasible for shorter distances, like going from your rural farm to market or the village pub and back, it was a pin for long distances as it took a lot of time. This in return resulted in a lot of inns and roadhouses along well-traveled roads where people would stop overnight during their travels.
Even for shorter trips, like a trip to the countryside on the weekend, it was quite common to take one way trip on Friday, then have an extensive meal and stay over night, only to return the next day. This was not only done to more extensively enjoy the countryside, but for practical reasons, comfort and safety. After all there were no well-paved roads, broken wheels were common, no illumination along the roads and thieves and thugs roamed many parts of the countries. Add to that the fact that many overnight trips to the countryside had a certain gallant element; this was a very viable model.
Today the need to stay over night after a dinner in the countryside is not as pressing anymore, though it still can have its advantages. As thugs and thieves have been replaced by police testing for alcohol it allows for adequate consumption of fermented beverages to accompany a nice meal without fear or guilt. The comfort factor holds still true – walk up a flight of stairs and collapse in a well made bed instead of driving back late on unknown roads for an hour or two and top it of with breakfast being ready for you the next morning. Pair that with the gallant element that still applies today and you get the picture.
This said, yes, we do enjoy it occasionally, whenever our schedule permits it and we get a little incentive (that usually has to do with fine food or wine or both). It's nice to flee out of the hectic city and enjoy a stay outside our busy lives. Last Thursday we had the latest of those escapades and it's what I'm writing about today – after an admittedly long start. It is still winter in Vienna, unusually enough as normally at that time we get tulips and daffodils instead of this year's ice and snow. Still we decided it was time for a road trip again, overdue actually, the last had been October 31st last year.
The incentive was easy enough to find. A quite well-known inn about 1 hours from Vienna, Jeitler by name, had received it's first Michelin star and has been celebrating this every Thursday with a 'star menu', a degustation menu with many samples of dishes that had helped the Chef, Gerald Jeitler, win the desired star. The one last Thursday was supposed to be the final one, though eventually they decided to do 2 more. Nevertheless we didn't want to miss and took to the road.
As we live in the North of Vienna and left around afternoon rush hour we took about 2 hours to get to the place. It's located on the Eastern outskirts of the alps, an area that is looking quite alpine with lots of hills and smaller mountains, woods and an overload of nature. Beautiful in summer, but in winter a little challenging. Luckily it only started snowing when we were within 15 minutes of the target. We arrived, carried our suitcase up to the room and went for the dinner.
We nicely started it off with a glass or local sparkling wine, nice, crispy, lightish, a very good aperitif. As if we needed anything to whet our appetites – we were all but starving as we hadn't had a bite since morning. Of course they could help us there – with then aperitif, as if to keep us from starving, they served fresh cuts of baguettes with different herbs in them and little plates with butter, pumpkin seed spread and homemade 'tapenade' of black olives. The later was a very good preview of the kitchen's talents as it was the best I ever had outside of those regions of France where they invented it.
Politely they inquired whether we wanted the 'star menu' or would like to choose our own dishes. Well, we came for the 'star menu' so there was no discussion. Next they brought the amuse bouche or, as it's called over here, 'Regards from the chef'. A nice lengthy plate with three delicious samples: left to right vegetable timbale with thyme, crème of sweet bell peppers and white fish carpaccio with fig confit. Each of them very distinctive and an explosion of taste on the tongue. Investigating why the tastes were so abundant we found out that they are using 100% natural ingredients, no substitutes or taste enhancers and prepare everything from scratch. Obviously a great idea in the age of convenience products and artificial flavors.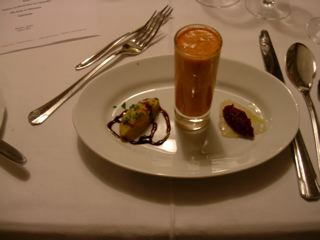 The menu started with a seared scallop on balsamic-spinach. Daring at first look, as good scallops are very delicate and their taste can easily be overwhelmed by strong aromas. The combination turned out stunning, not only for the eye as the pearly white of the scallop contrasts nicely with the dark leafy green, but also to the tongue. The scallops themselves were premium quality and prepared to the point and the balsamic aroma was discrete enough to underline them. We had a glass of nice local Muskateller wine, a very aromatic yet light and dry white made by a vintner named Broli from Gamlitz, Styria (Southern Austria).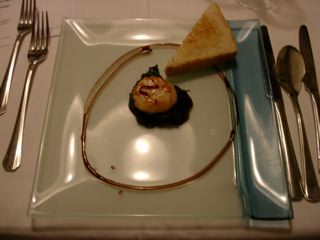 Next up was another stunner: goose liver crème brulée. Rich, soft, creamy with a crisp crust of caramelized brown sugar on top, properly burned. We enjoyed a very nice Austrian sweet wine with that, a Traminer Auslese from one of the great ones, Ernst 'E.T.' Triebaumer of Rust at the Lake Neusiedl.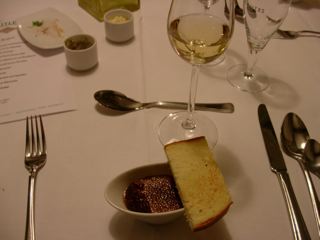 The third course was a crème of leek. Actually it was creamy but lighter, more like a foam or froth, topped with a hint of sweat crème. Again we were enticed by the intensity and naturalness of the aromas. We finished the glass of Muskateller with it.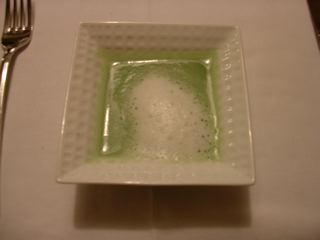 Next up was a filet of St-Pierre with an allspice and citrus nage. The St-Pierre was served a little bit of mashed potatoes and – surprise – a slice of black pudding pancake. While the fish and the black pudding don't combine directly, they formed an interesting contrast, while each of them combined surprisingly well with the aromatic nage. We started a bottle of white with that, a chardonnay from the wine growing region South of Vienna called 'Thermenregion', vintage 97 and made by well-known vintner Reinisch of Johanneshof. A real whopper, broad, full-bodied with nice oak and lively acidity. It reminded us a lot of a very good Merseault once it opened up.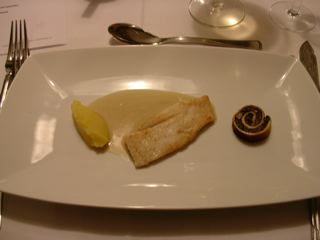 The meal continued with slightly smoked catfish (the European variety which doesn't have red meat and is a tad more delicate in aroma) served with crème of potatoes and wasabi caviar. Again an explosion of flavors and aromas that combines formidably. The wasabi caviar turned out to be greenish in color with a hint of wasabi aroma but no spiciness and was similar to flying fish roe in size and consistency. The catfish had the most complex smoke aromas I've tasted in a long time and that in turn combined very nicely with the vegetable side.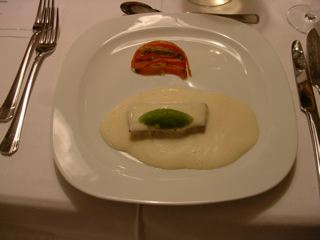 To spoil us further, the next course was quail breast, crisply grilled, on a risotto with sweet and sour mushrooms. While I usually prefer a red, a good Pinot if possible or it's Austrian cousin, St-Laurent, with quail, the delicate sweet and sour aromas of the mushroom risotto found a wonderful partner in the chardonnay that had opened up by now. What else, as expected, the consistency of the risotto was perfect, the proper bite and the right creaminess.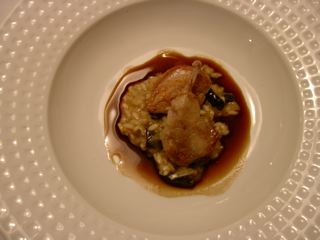 The next course – and it was starting to get tough – was an Eastern Austrian specialty called 'Kalbsbeuscherl', a ragout containing calf lungs and heart that have been marinated in Riesling. Typically it's finished with cream and served with some type of dumpling. The dish was delicious though abundant for a degustation menu.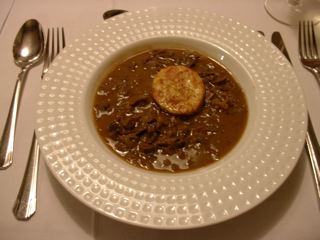 To cool things off we were next served a very intense pear sorbet that helped us consider any further food – the true purpose of a sorbet as alternative to the 'Trou Normand'. We joked about the next course mentioning just young lamb, not which cut so I teased my wife about a full lamb to come.
Of course it wasn't, instead it was a nice, perfectly cooked, medaillon on the bone with a crispy olive crust and 'topinambour', a slightly sweetish root vegetable that has been widely replaced by more versatile and better producing potatoes centuries ago. The lamb was to the point, actually to my preferred point which is medium rare, juicy, tender and delicate in taste. I had a glass of wonderful Barbera with it, from Alba, the Italian truffle capital in Piedmont- a good idea as it turned out with the next surprise course.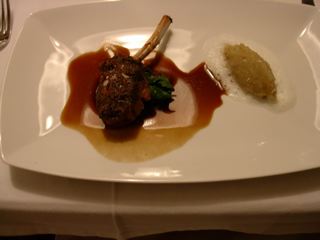 Not mentioned in the menu list was the surprise cheese course. A dish that reminded me of Lucito's legendary Pommes Salardaise. They took a nice, not too salty blue cheese, put several slices of truffles on it, next a buttery Gouda-like cheese, again a few slices of truffles, and topped it off with a ripe goat cheese, white culture, and again truffle and some truffle oil. As the top was warm and slightly melting I suspect they briefly put the plate under top heat. The result was unbelievable and the different cheese aromas and the truffle flavor mixed stunningly. As indicated, the Barbera was a perfect match here.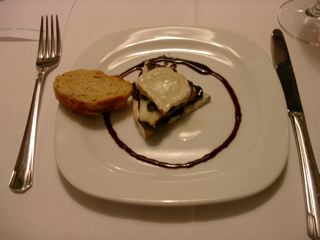 As Austria is a desert country the degustation menu ended with two instead of one deserts. First was a Mille Feuilles with very nice coffee crème and baby pineapples and sliced figs and finally, more traditional, cheese dumplings with homemade plum compote. By then it was eleven and we were both, stuffed and tired so we retired upstairs and fell into bed. We slept very well until about 8:30 – usually we both work already at 8:30! The bathroom held another surprise for us – a wonderful whirlpool with air jets that helped to wake us up properly. Surprisingly we were not stuffed anymore and as breakfast was included with the room we went downstairs.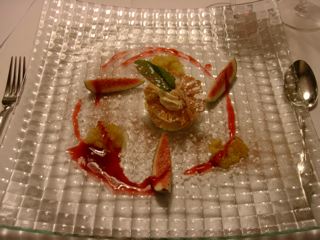 The breakfast kept up with the dinner indeed. Choice of coffee, tea or espresso, assorted bread, homemade jams, fine cold cuts and chesses and what they called 'a few little side dishes from the kitchen'. This turned out to be a bit of a understatement, what they brought was delicious and rich in flavor again. First was mashed potatoes with two colors of fish roe and crème fraiche, next some truffled scrambled eggs and to finish the 'light' breakfast off the richest and most intense chocolate mousse cake I had in ages. I'm afraid that asking for the recipe specifies something like '23 egg yolks per head' but it was worth it, I won't take a blood test for the next week. As this final tidbit was a bit intense they served a glass of champagne with it. As you can imagine after a breakfast like that the first idea is to return to the room and dream off another cold and gray late winter day…
Kurtito
Last week, before a lengthy trip to Canada's West coast, I was able to attend a great tasting of Austrian reds. While white wines from Austria have made a name in recent years – with a little help from Wine Spectator and such – Austrian whites have been widely disregarded in most parts of Europe and overseas. Undeservedly I think, just like the white, which have shown there strength in both the autochthonous Gruener Veltliner and the more international Riesling, Austrian winemakers have shown that once they sufficiently understood how to make fine red wine, they have fared equally well in local varietals as well as in blends using international varietals.
Regions, varietals, blends
Several varietals are considered autochthonous to Austria, including Blaufraenkisch (which is also grown in Hungary as Kekfrankos or in Germany and abroad as Lemberger), St. Laurent (a distant relative of Pinot Noir), Pinot Noir itself which is locally called Blauburgunder (= blue burgundy) and finally (and truly Austrian) the Zweigelt, named after it's inventor Prof. Zweigelt who successfully made a hybrid of St. Laurent and Blaufraenkisch. Other local specialties like Blauer Portugieser (mostly grown in Eastern Weinviertel and tending to produce thin acidic wines), Blauer Wildbacher (grown in Styria and most renowned for the rather acidic rose wine named 'Schilcher') are of limited local importance.
Four provinces in Austria have mentionable wine producing areas (Styria, Vienna the capital city, Lower Austria, and Burgenland) but only certain regions in the last two yield good to great reds in numbers. In Lower Austria it's focused around the area South to South-Eastern of Vienna, namely Thermenregion and Carnuntum (both bordering to Northern Burgenland) and to a lesser degree it's biggest wine growing area, Weinviertel. In Burgenland all four defined regions (Neusiedlersee, Neusiedlersee-Huegelland, Mittelburgenland and Suedburgenland) produce great reds thanks to the more Pannonic climate.
While Thermenregion is specialized in Burgundy varietals and Southern Burgenland is almost exclusively Blaufraenkisch county, the other regions offer an interesting mix of single variety wines and blends. Besides the autochthonous vines, Cabernet Sauvignon, Merlot, Syrah and to a lesser amount Cabernet Franc are grown, other international varietals don't have official status and are grown and used as specialties and experiments.
While some vintners try producing wines made only from one of the internationals varietals, which usually only works in hot years as Cabernet is ripening late, often too late, for Austrian climate, blends mixing autochthonous and international varietals have been vastly successful in recent years starting to turn heads at presentations from Berlin to London. Some of the best names among those 'blenders' are Rosi Schuster (famous for CMB, a blend of Blaufraenkisch, Cabernet and Merlot), Kerschbaum (Cuvée Impressario made from Blaufraenkisch, Zweigelt and Cabernet), Albert Gesellmann (Opus Eximium from Blaufraenkisch, St. Laurent and Zweigelt), Feiler Artinger (Solitaire, Blaufraenkisch, Cabernet and Merlot), A. Wendelin (Prophet, a succulent Syrah-blend), Johanneshof Reinisch (Grand Cuvée, a wonderful blend based on St.Laurent), Juris (Ina'mera from Blaufraenkisch, Cabernet and Merlot) or Franz Netzl (Cuvée Anna Christina, Zweigelt with Cabernet and Merlot). Josef Pöckl's 'Admiral', made of 70% Zweigelt with Cabernet, Merlot and Syrah, was selected as wine of the year 05 by Austrian wine mag Falstaff.
Blaufraenkisch uber alles
Blaufraenkisch typically features rich fruity flavors including dark berries and black cherries and some peppery spiciness, with middle strong tannins from thick grape skins. If harvested ripe and of good quality and concentration it can gain a lot from barrique development. Some of the best known names in Blaufraenkisch are 'ET' Ernst Triebaumer (famous for Mariental), Josef Leberl (his full-bodied Reisbühel is available in sufficient quantity and at a very affordably price), Paul Kerschbaum (Hochäcker is essential), Weingut Krutzler and Wachter Wiesler from Suedburgenland (Krutzler's Perwolff is legendary already), Domäne Pöttelsdorf (Baronesse) though today nearly every winery in Burgenland offers decent quality Blaufraenkisch.
The Professor and his creature
The situation is slightly different for Zweigelt, the one variety that is also grown in parts of Austria less supportive for red wine. Zweigelt is very fruity, with red fruit aroma, cherry, sour cherries, though thin skins don't contribute a lot of body, structure or tannin. Only the best Zweigelt will be able to sustain wood support and barrique aging. Those who do can be great while the others are best as lighter, fruity wines for younger consumption. Dependable names include Paul Triebaumer, Rosi Schuster, Josef Pöckl, Marko Markowitsch, Paul Achs and a few dozen others. One of those others should be mentioned separately: while most reds from Styria are Zweigelt and most of them tend to be thin and slightly sour, there is one to exempt: Schloss Winkler-Hermaden is producing a wonderful, though high-priced Zweigelt called 'Olivin', after a common mineral in this area.
From Burgundy with love
The Burgundy varietals show similar and still different characteristics. While Pinot Noir offers red fruity aromas with noticeable fruit tannins and at times hints of orange and bitter almonds, St.Laurent reminds of sour cherry, sometimes paired with smokiness or frankincense. Both, if well made, tend to be a little reclusive when young and need to develop to open up. Both are very successfully grown in all of the regions with a especially high density in Thermenregion, South of Vienna. Two groups of Winemakers there have been set up to further quality in this area, on called the Burgundermacher, the other the Thermenwinzer. Other wineries offering great Pinot Noir and/or St. Laurent wines include Josef Umathum, Sodlawirt, Helmut Lang, Hardegg, Schloss Halbthurm, Hannes Schuster, Weingut Rommer and Silvia Prieler (better known for great Chardonnay). Juris is offering a brilliant Cuvée of St. Laurent and Pinot Noir called St.Georg. Heribert Bayer isn't growing his own grapes but still manages to make one of the most interesting Pinots, In Signo Tauri.
More to discover
Further information on Austrian wines can be found at the website of Austrian Wine Marketing. Many of the best Austrian winemakers have organized themselves into marketing organizations and quality clubs (see list below). For information on special wineries or wines mentioned please refer to the following link list of winery web sites:
Marketing Groups and Quality Clubs:
RWB – Rennomierte Weingüter Burggenland
Pannnobile
Verband Blaufraenkisch Mittelburgenland
Vereinte Winzer Blaufraenkischland
Vitikult
Weinidylle Sueburgenland
Die Burgundermacher
Die Thermenwinzer
Weinbaugebiet Carnuntum
Websites of the Wineries mentioned:
Rosi Schuster
Albert Gesellmann
Feiler Artinger
A. Wendelin
Johanneshof Reinisch
Juris
Franz Netzl
Josef Pöckl
Ernst Triebaumer
Josef Leberl
Paul Kerschbaum
Weingut Krutzler
Wachter Wiesler
Domäne Pöttelsdorf
Günter Triebaumer
Marko Markowitsch
Paul Achs
Schloss Winkler-Hermaden
Josef Umathum
Sodlawirt
Helmut Lang
Graf Hardegg
Schloss Halbthurm
Weingut Rommer
Silvia Prieler
Heribert Bayer
Kurtito
All pictures © ÖWM
With support from Austrian brewery Eggenberg, 'Beer Pope' Conrad Seidel presented 'Vienna's most serious beer-tasting' at the Glacis Beisl. The journey went from Eggenberg to St-Louis in 20 delicious stations of beer.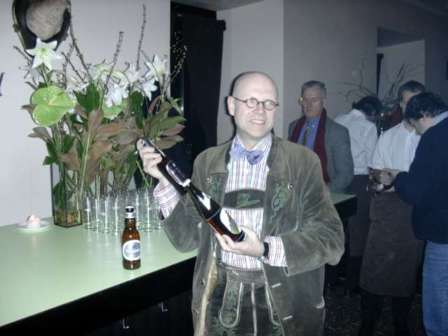 'Beer Pope' Conrad Seidl, a well known Austrian journalist and leading German language specialist on beer, is also known as great speaker and lector, always drawing vast crowds. The crowd at the beer tasting event in Glacis Beisl however surpassed everything so far, with the event selling out days after it was announced. An interesting side note: while beer is often considered a man's beverage in Europe, more than a third of the audience was female.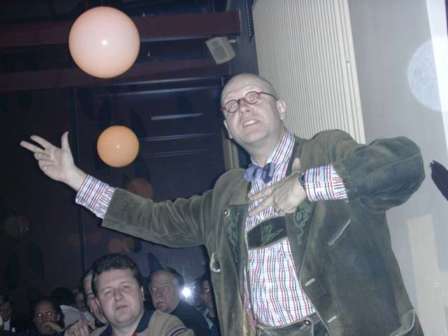 Right to the point the event started with a non-alcoholic beer, although Mr. Seidl explained right away that there is nothing like a completely alcohol free beer, only beer with a very low alcoholic content. His reason for starting with a non-alcoholic variety? It's educational – everybody should remember how little he or she poured from that one and never pour more from any of the later, more potent beverages.
After a quick start we embarked on a fascinating tour through beers of very different styles from all over the world, 20 samples altogether. A lot was to be discovered and realized in the process, for example how different a Czech Budweiser was from an American Bud, or about the differences between Pilsener Urquell, the 'inventors of Pilsen style' and a modern Pils. We also learned why Bavarian wheat beer is not brewed according to the German Reinheitsgebot (German Purity Law) that strictly specifies rye as base for the malt and was passed in order to give the Duke of Bavaria the monopoly on wheat beer brewing. We tasted and realized that dark beer is not necessarily sweet in taste and where the name 'Stout' comes from (referring originally to a stouter type of porter)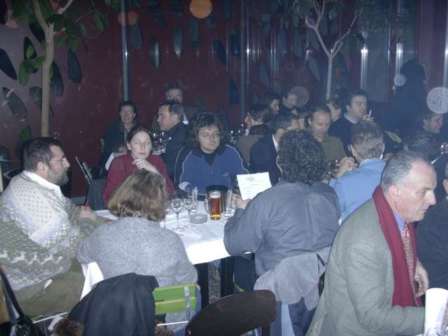 Of special interest was the vertical of assorted beer types brewed by Eggenberg that ended with two legends, Eggenberger Urbock, a double bock of desert wine character and the Samichlaus, an even stronger and more aromatic double bock originally invented by Swiss brewer Hürlimann. Unfortunately Hürlimann stopped the production after being taken over. However Eggenberg acquired the recipe and license and is now brewing this unique delicacy. On the aromatic side, the tasting also included very interesting aromatic beers from Belgium. Of course Guinness stout wasn't missing either as representative of British Isles beers.
To sum things up, a very high level tasting that gave those new to fine beers a great introduction to styles and types while still containing enough new and interesting information for beer connaisseurs, and even those beer specialists who already knew most of the information found enough incentive for a satisfying event – like a good glass of exclusive Samichlaus and the amusing and amazing presentation by Conrad Seidl … and free fresh pretzels.
Kurtito
More pictures of the event are available here